With winters getting colder and wetter, it can be hard to know what to wear to keep the chill at bay. Whilst layering clothing is a good idea, it can bulk up, restricting movement, and making slips and trips more likely. But imagine how cozy, and let's face it, smug you'd feel with your own warm-as-toast jacket. The cold air couldn't touch you, rain wouldn't be a problem, and you could still look stylishly non-bulked.
A battery powered heated jacket can do just that – whatever the weather outside, you'll remain warm and fully functioning. They all offer heating pads across the chest and back areas, but optional extras include heated pockets, sleeves and collars, ideal for that icy blast. Most have several adjustable temperature settings for the various areas, allowing for a fully personalized experience, and weather resistance comes as standard.
The heating elements are either segmented steel plates or, more usually, carbon fiber elements, and most jackets can be machine washed on a gentle cycle, but it's best to avoid tumble drying. The battery pack tends to be discreetly small, and fully rechargeable via a USB cable, either from a portable, pocket-size charger, or from the usual power socket.
We've fully tested these jackets, and these are our top three:
Overview
This super stylish women's heated jacket from Dewbu is well designed, and finished to a high quality. The soft shell fabric is fully weather and scratch resistant, yet offers flexibility, comfort and breathability. With a variety of large, accommodating pockets, and a decently fitting hood, it's looking good so far.
What We Like
The stylish good looks of this jacket are matched by its excellent performance. On one single charge, it kept us warm and extremely comfortable all day – approximately 10 hours. The fully adjustable heat settings are a nice touch, but we actually found the highest setting too warm, which meant the battery lasted longer than if we'd had it on full power for hours, and with Dewbu's intelligent heating system, you can set the perfect temperature, and it will remain constant. The carbon fiber heat pads stretch across the chest and around the back, and once switched on, power up to full temperature within a minute.
Using lotus leaf bionic technology, the rain just runs off without managing to penetrate the fabric, making it wind, snow and waterproof.
What Needs Improving
The sizing comes in a little small, so we would recommend going for a size up. But once we'd done that, the fit was perfect.
The Final Verdict
If you're after a heated jacket that has it all, this is a winner. Stylishly comfortable, fully waterproof, and with an efficient heating system, Dewbu's heated jacket is an easy recommend.
---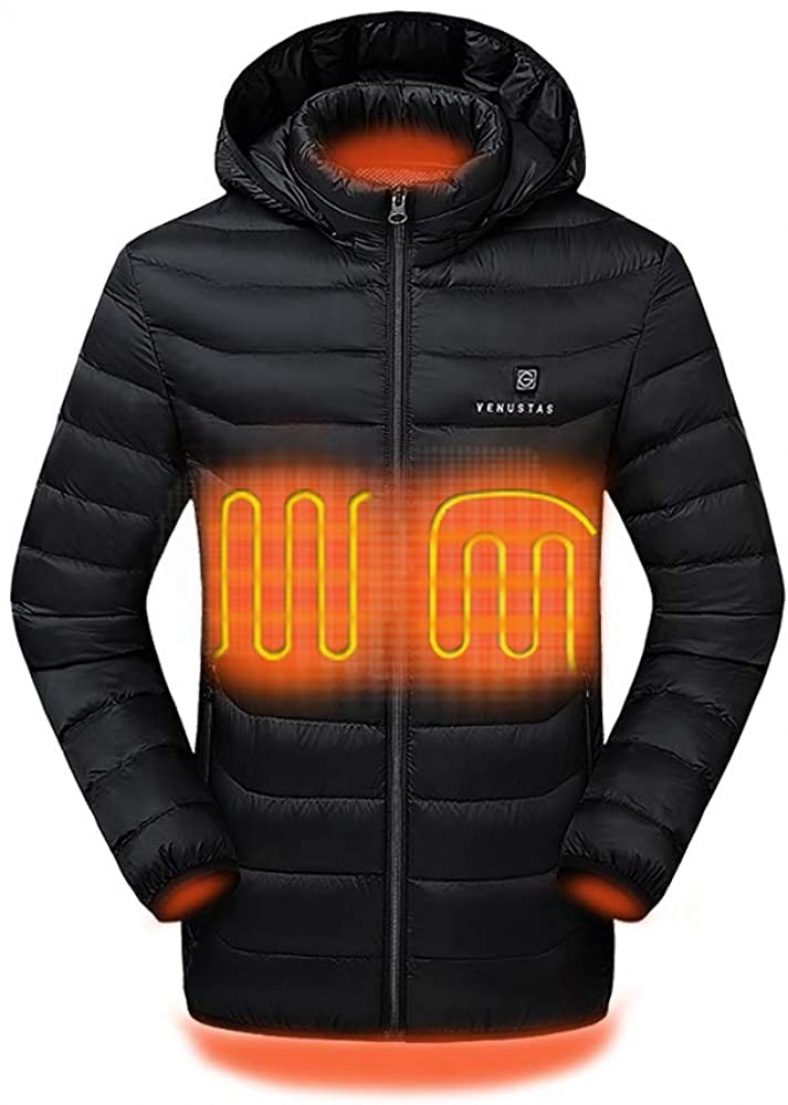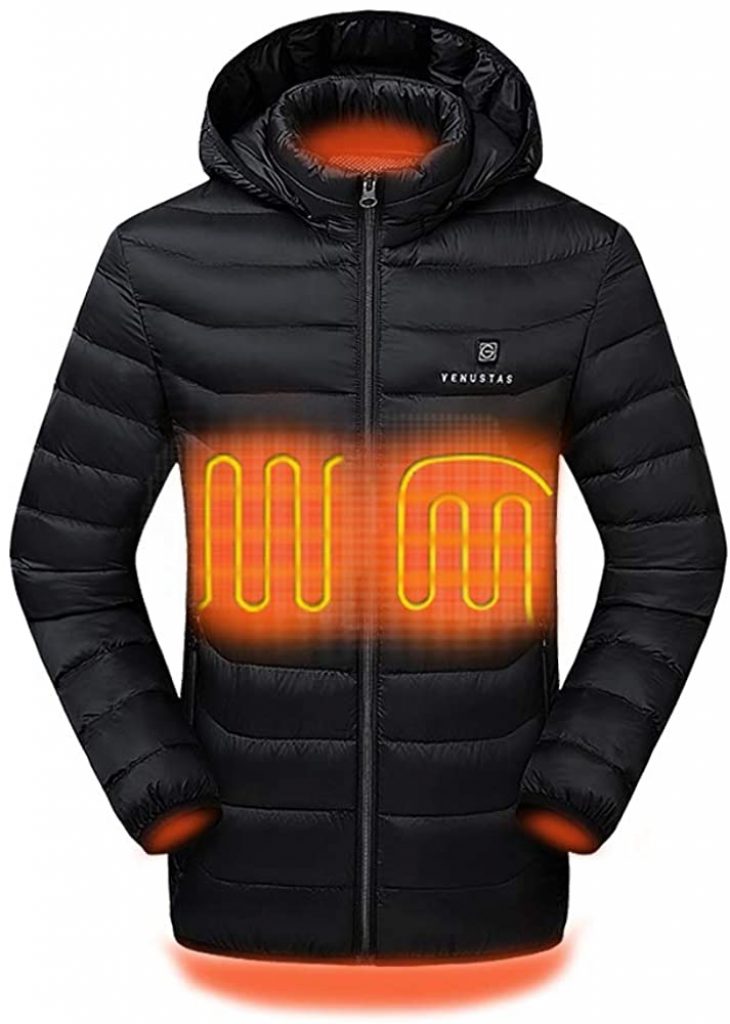 Overview
This durable fleece-lined jacket is soft enough to allow full movement, has well placed, good sized pockets, and contains carbon fiber heating elements across the chest and mid back areas. Venustas's upgraded hoodie also comes with a 2-port battery charger, a waterproof bag, and a budget friendly price tag.
What We Like
This lightweight jacket has a high quality feel and look, and would be warm even without the heating elements. These heat in seconds, have three settings and when set to the middle one, can keep going for a whopping 12 hours. The 2-port charger means you can charge your phone at the same time, and full charge is achieved within 4-5 hours. With the LCD screen notifying you of the remaining battery time left, we like this jacket.
What Needs Improving
The only thing we'd improve with this hoodie is the sizing. As with the previous jacket, it's worth ordering a size up just to be sure it'll fit.
The Final Verdict
Venustas have designed a good looking, responsive and super efficient heated hoodie that's not only warm and cozy, but machine washable. What more do you want!
2 new from $129.99
2 used from $64.57
Free shipping
as of June 5, 2023 7:17 am
---
Overview
Upon unpacking this jacket, we were immediately struck by the high quality workmanship and tailoring. The fleece lining and detachable hood are nice additions, and with plenty of pocket options, weather resistance properties and the ability to be machine washed up to 50 degrees, Ororo have produced an efficient jacket for a day spent outdoors.
What We Like
The carbon fiber heat pads cover the chest and mid back areas, offering three adjustable settings, allowinging each pad to produce a different level of heat. Depending on the power output, the battery lasts for an impressive 10-12 hours, and is fully charged within 5 hours. The included battery pack, small and neatly designed, comes with a universal travel adapter.
The full weatherproofing, high quality zippers and stylish design aside, it has to be said – and you all know what we're like with things that light up, the illuminated button on the chest is a really neat touch.
What Needs Improving
What is is with heated jacket manufacturers, we're not all built like svelte willow trees, so our advice, again, is to order a size up and then it fits perfectly.
The Final Verdict
Ororo have thought of everything - style, efficient heating all day, plenty of useful pockets and a button that lights up! Seriously impressive.
2 new from $149.99
Free shipping
as of June 5, 2023 7:17 am