With winters getting colder and wetter, it can be hard to know what to wear to keep the chill at bay. Whilst layering clothing is a good idea, it can bulk up, restricting movement, and making slips and trips more likely. But imagine how cozy, and let's face it, smug you'd feel with your own warm-as-toast jacket. The cold air couldn't touch you, rain wouldn't be a problem, and you could still look stylishly non-bulked.
A battery powered heated jacket can do just that – whatever the weather outside, you'll remain warm and fully functioning. They all offer heating pads across the chest and back areas, but optional extras include heated pockets, sleeves and collars, ideal for that icy blast. Most have several adjustable temperature settings for the various areas, allowing for a fully personalized experience, and weather resistance comes as standard.
The heating elements are either segmented steel plates or, more usually, carbon fiber elements, and most jackets can be machine washed on a gentle cycle, but it's best to avoid tumble drying. The battery pack tends to be discreetly small, and fully rechargeable via a USB cable, either from a portable, pocket-size charger, or from the usual power socket.
We've fully tested these jackets, and these are our top three:
Overview
Dewbu brings to the table this ultra-chic women's heated jacket, a mix of fashion and utility. Carefully designed, this high-quality piece sports soft shell fabric, offering flexibility, comfort, and breathability. It's weather and scratch resistant – talk about toughness in a pretty package! The jacket provides ample space with its generous pockets, and the well-fitting hood adds another notch to its functionality belt. So far, it's serving style with a dollop of practicality.
What We Like
The aesthetic appeal of this jacket is beautifully complemented by its standout performance. With a single charge, it kept us cozy and snug for an entire day – around 10 hours. The customizable heat settings are a welcome feature, but brace yourself – the highest setting is like a tropical summer! That meant the battery life extended beyond expectations. Dewbu's smart heating system lets you dial in your ideal warmth and maintains it consistently. The carbon fiber heat pads span across the chest and wrap around the back. Once activated, they reach maximum temperature within a swift 60 seconds.
To top it off, the use of lotus leaf bionic technology makes the jacket wind, snow, and waterproof. Rain? It simply rolls off, not getting a chance to soak the fabric.
What Needs Improving
The one snag we noticed was the sizing – it runs a bit on the smaller side. Our recommendation is to go for a size larger than your usual. Once we made that adjustment, the fit was just right.

The Final Verdict
Looking for a heated jacket that ticks all the boxes? You've hit the jackpot. Blending style, comfort, and functionality, Dewbu's heated jacket checks all the right boxes. Whether you need to brace the rain or want a warm hug on a cold day, this jacket delivers. It comes highly recommended.
2 new from $149.99
Free shipping
as of November 27, 2023 10:11 am
---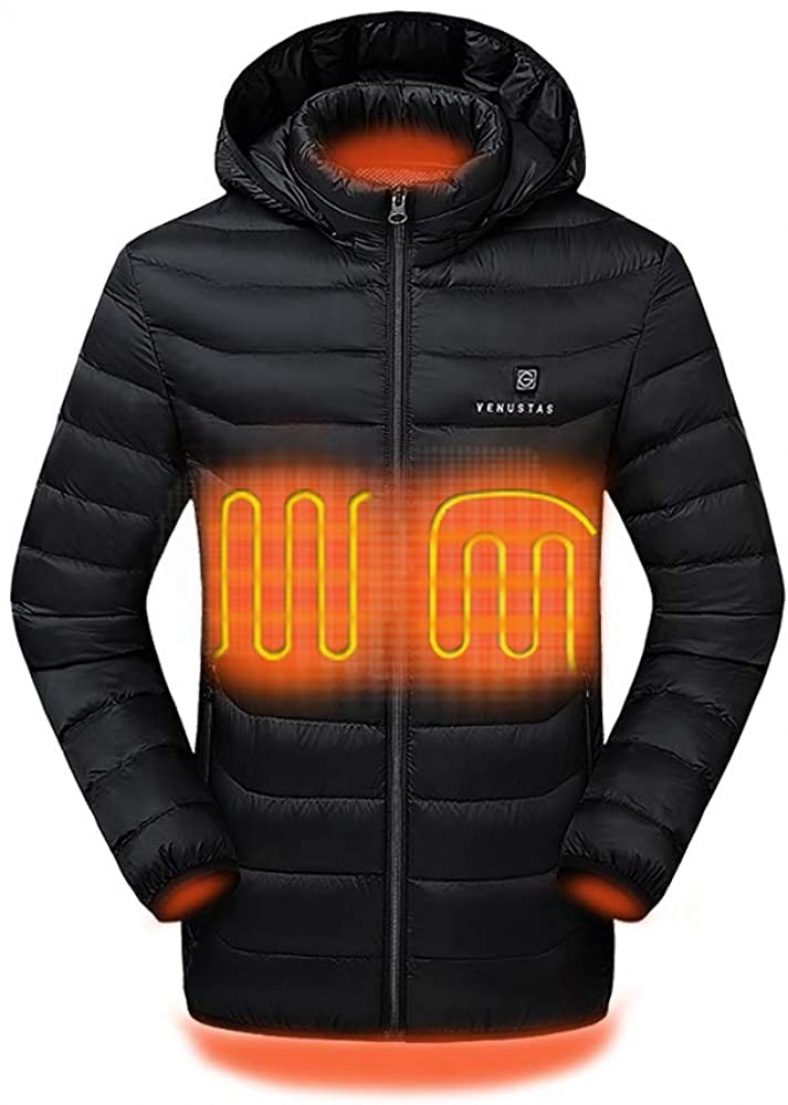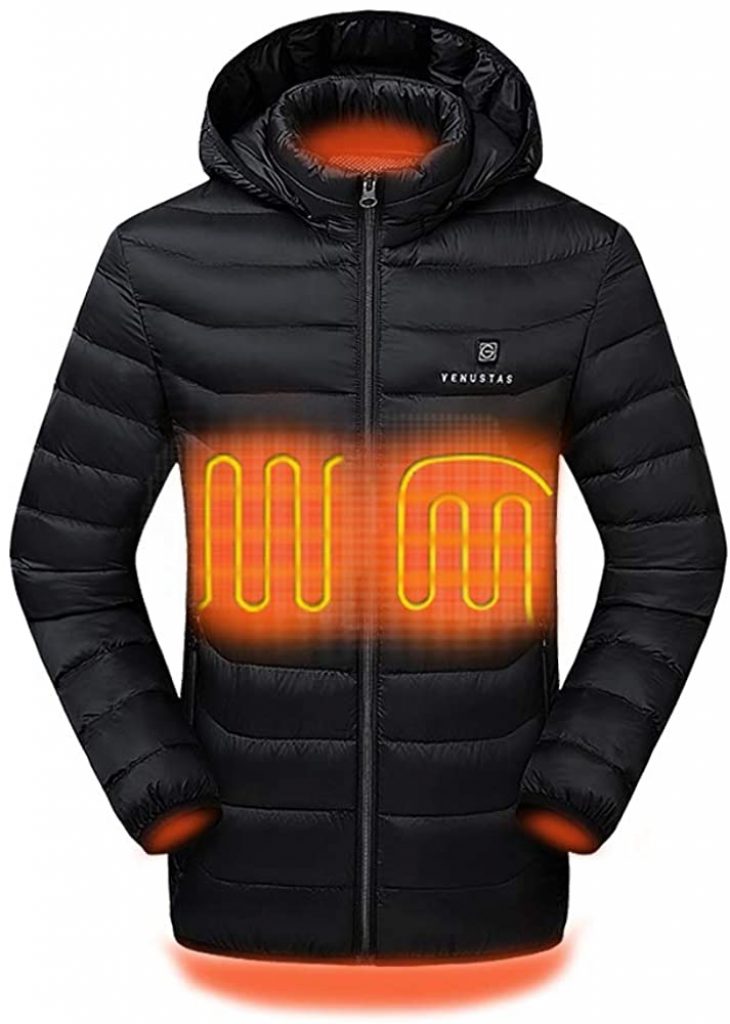 Overview
Meet the Venustas's upgraded heated hoodie, your comfy companion for those chilly days. This robust, fleece-lined jacket is as soft as it is durable, ensuring full freedom of movement. Its cleverly placed, ample pockets are a boon for storing your essentials, while the carbon fiber heating elements offer targeted warmth for your chest and mid-back. The jacket also comes equipped with a two-port battery charger, a waterproof bag, and – surprise, surprise – it doesn't demand a king's ransom!
What We Like
This Venustas creation sports a premium look and feel, minus the bulkiness usually associated with warm jackets. Even without the heating elements, it'd still be your go-to for those brisk days. The heating elements heat up within seconds and come with three different settings. Set it to medium, and voila, you've got a 12-hour-long warm embrace! The two-port charger lets you juice up your phone on the go, and the jacket itself hits full charge in just 4-5 hours. Add in an LCD screen that keeps you updated on the remaining battery time, and we're definitely fans of this jacket.
What Needs Improving
The hoodie does falter a bit in the sizing department. Just like with the Dewbu jacket, we'd advise ordering a size up for a snug fit. But that's a minor bump in an otherwise smooth road.
The Final Verdict
Venustas has knocked it out of the park with this heated hoodie. It's sleek, quick to heat, impressively efficient, and doesn't shy away from a machine wash. Want a cozy, toasty, and trendy way to beat the cold? Look no further.
---
Overview
Unboxing the Ororo heated jacket is like unwrapping a much-anticipated gift. We were instantaneously enamored by the jacket's exquisite workmanship and smart tailoring. The cozy fleece lining and removable hood make this jacket a versatile addition to any winter wardrobe. The jacket offers ample pocket options, sturdy weather resistance, and the bonus of being machine washable up to 50 degrees. Ororo seems to have cracked the code to a day well spent outdoors!
What We Like
The carbon fiber heat pads strategically cover the chest and mid-back areas, offering three adjustable settings. Each pad can emit a unique heat level, adapting to your needs. Depending on the power output, the battery can keep you warm for a whopping 10-12 hours, fully recharging in just 5 hours. The package also includes a compact battery pack and a universal travel adapter – talk about a pocket-sized powerhouse!
And we can't miss the fashionable design, high-quality zippers, and weatherproofing. But let's admit it – we're suckers for shiny things, and the illuminated button on the chest had us sold. Light up your style!
What Needs Improving
Our bone to pick with heated jacket manufacturers is the sizing – we're not all built like skinny fashion models, are we? So, once again, we recommend ordering a size up for a truly perfect fit.
The Final Verdict
Ororo's heated jacket leaves no stone unturned - style, efficient heating, a plethora of useful pockets, and a button that lights up! This is not just impressive, it's practically a winter marvel.