California based Sceptre have been making waves within the tech field for many years since hitting the ground running in 1984. Respected manufacturers of LCD TVs from their inception in 1993, they then went on to make successful inroads into the LED and HDTV markets.
Unashamedly catering to a budget-conscious audience, Sceptre recognize that quality counts, even if it means missing out on a couple of the more specialized features, and that quality is certainly there in bucketloads.
Whilst many don't have fully smart options, Sceptre Group TVs are absolutely ideal as second screens for kitchens, bedrooms, children's rooms, or for taking away on vacation. People purchase them for elderly relatives who want a large, easily watchable screen, and for students and college dorms they are perfect. Readily replaceable if damaged – which, let's face it, students, the elderly and children are prone to do, and easy to move, install and use – all great features for a second TV to possess.
Dedicated to the production of innovative, streamlined technology, and continual research within the field, Sceptre can only go from strength to strength. Here's our review of Sceptre TVs.
Overview
The well-designed boomerang-shaped feet provide a decently solid and stable base for this large screened TV, however, it can be wall-mounted if you prefer, and is light, but durable, enough to be moved around. Full of great 4K features, multiple ports, and the ability to stream movies, music or whatever you like at 60 frames a second, Sceptre have produced a TV to rival some of the best in the business.
What We Like
Featuring two HDMI ports, and one for USB devices, this, we feel is better than a lot of smart TVs with those incessant adverts really can spoil the whole viewing experience.  The 4K color variation is stunning, with contrasting and details to match, all stemming from the 8 million pixels that make up every frame. Offering realistic images and smooth uninterrupted scrolling, the UHD upscaling improves every angle.
The sound, which can be lacking in the lower-priced TVs, is full-bodied, giving access to a fulsome audio theater. All it did lack, thankfully, was any annoying hissing when the volume was cranked up.
What Needs Improving
The only thing we'd improve is the remote control – although perfectly functional and useable, we found it a little 'clunky' and not particularly well designed; however with a machine this good, that issue fades to nothing.
The Final Verdict
What's not to love about this TV? Fantastic visuals, awesome audio, and at a great price.
---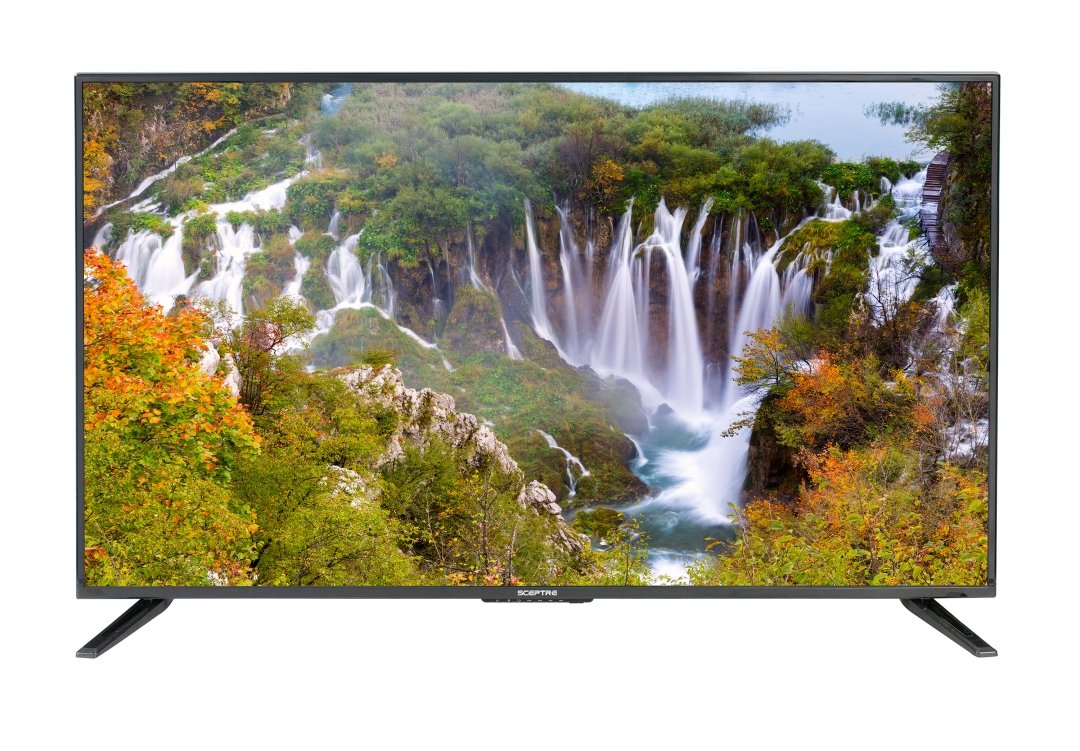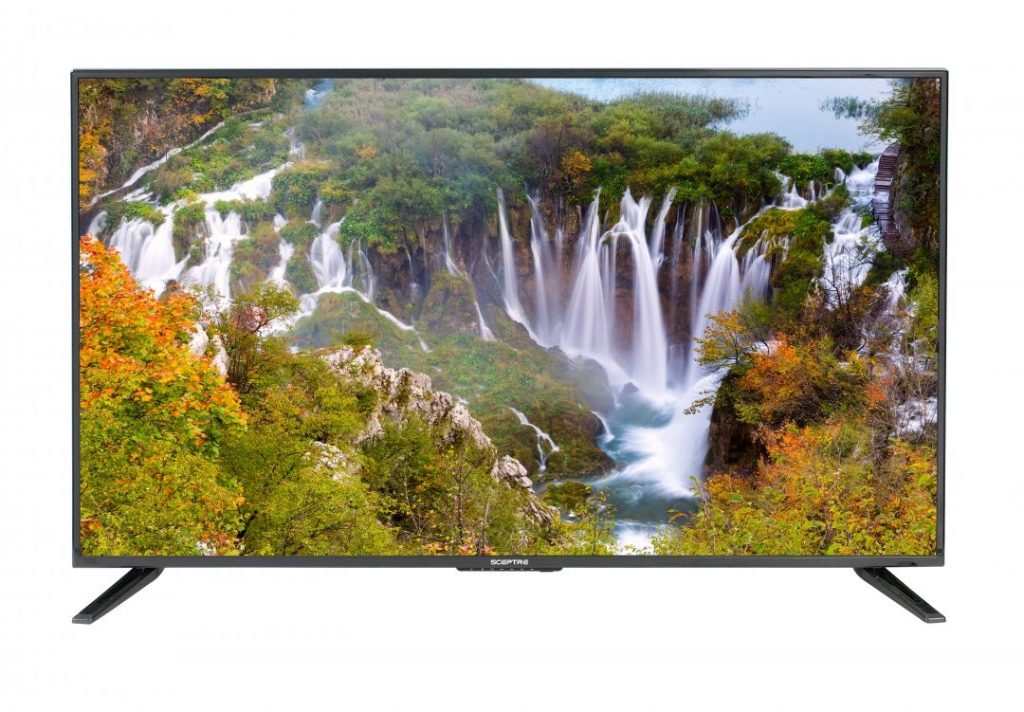 Overview
With slimline, minimalist bezels, this LED TV provides a full 43-inch edge to edge viewing space. Stylishly designed and including a wall mount, this would look great in any setting, and with multiple HDMI and USB ports, it's infinitely versatile.
What We Like
All in all, this is an impressive TV.
Sceptre's Motion Estimation and Motion Compensation, unimaginatively acronymed as MEMC, allows great free-rolling content that flows smoothly from scene to scene, while the LED display shows off the rich colors available, contrasting exceptionally well with the deep, dark blacks. Scenes are crisply rendered alongside touchably realistic textures. The three HDMI ports allow for full device integration, and with the ability to play from your flash drive via the USB port, this TV offers a thoroughly rounded experience.
Sceptre have even included remote control batteries – awesome!
What Needs Improving
Although the set up was simple, it took a while to arrange the screen settings exactly how we wanted.
The Final Verdict
Coming in at a very budget-friendly price, Sceptre have produced an impressive TV that performs as well as any set that's double the price. The colors, contrasts and sound quality are all awesome, and with the multiple ports, we can't help but recommend this TV.
3 new from $239.99

as of September 30, 2023 12:11 pm
---
Overview
Easily wall-mountable, this lightweight model is another well constructed Sceptre TV. With impossibly shiny, thin bezels, and an unobtrusive sturdy stand, there's a whole lot to like about this baby. Hidden away around the back, there are seven labeled slots, three HDMI ports, a headphone jack, and USB port and more. Looking good so far!
What We Like
Sceptre's diminutive TV packs a real punch when it comes to picture quality. Crisp, clear and well defined, the color range is vast, and alongside such vibrancy, the blacks feel like you could be enveloped by their inky depths.
The image quality is very enjoyable we were able to relive our favorite movie scenes as though watching for the first time thanks to the high definition images and quality audioscape.
What Needs Improving
To be honest, we don't understand why Sceptre's remote control uses a non-standard CR2520 coin cell battery. It's not a deal-breaker, but a little annoying nonetheless.
The Final Verdict
Compact, but still with a level of performance that beats its rivals into the ground, this is a quality TV, for a low, low price. It makes complete sense as to why we've included it in our list of top Sceptre models.