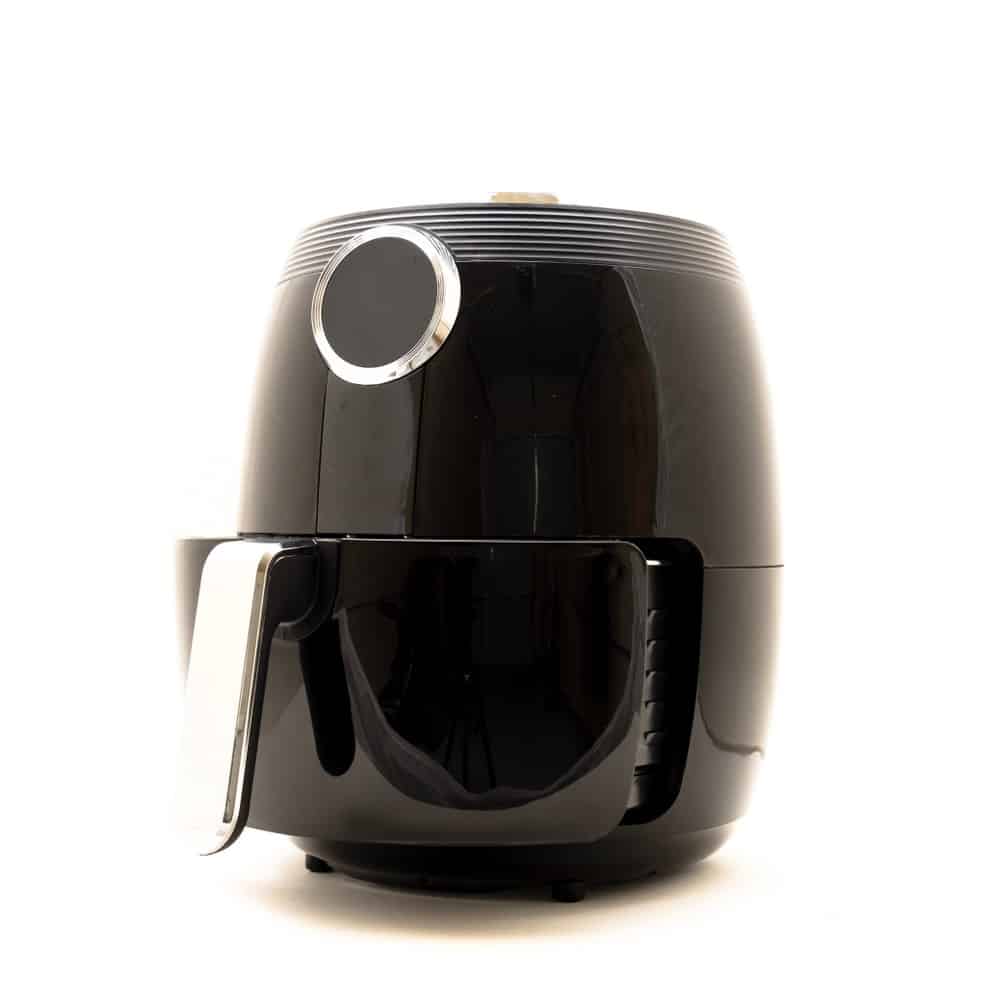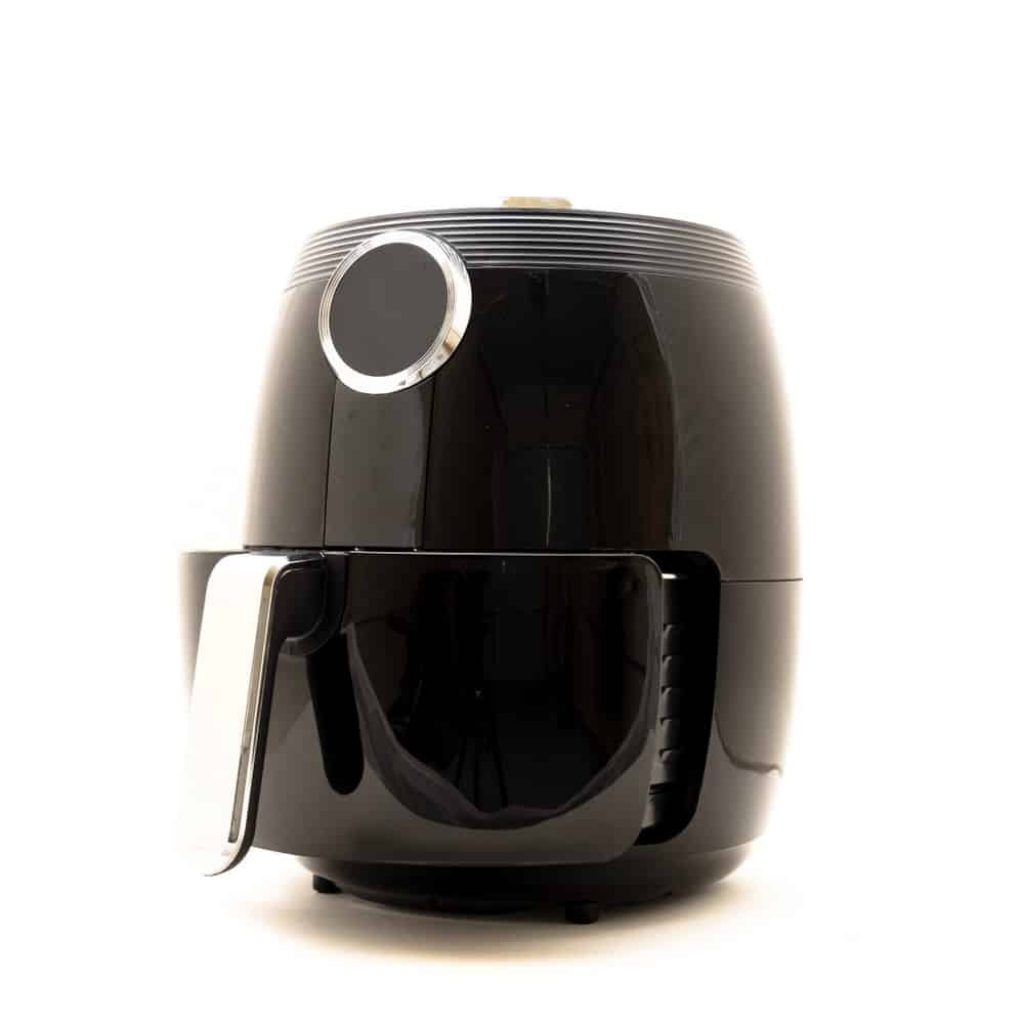 Guilt-free Frying
We Review the Best-Selling Air Fryers
Surely, 'healthy' and 'frying' are words that should never sit next to each other, but stick 'air' in the middle and lo – life is instantly better! The delightful crispiness of frying combined with the guilt-free smugness of 'healthy'.
What is an air fryer and how do they create such deliciousness?
Using hot air and minimal, if any, oil, fryers create a tasty, crispy layer that's synonymous with traditionally fried foods, but with an incredible 80% less fat, depending on the fryer. Like a regular convection oven, they have a heating element and a fan that circulates the hot air, keeping the temperature consistent throughout the cooking area.
Great for chips, chicken, fish, meat, and even doughnuts or cakes, there are several factors to consider when looking for an air fryer.
Capacity – The smallest air fryers we've tested can hold up to 800g of food – that's about four portions of chips. It's roughly equivalent to what you can fit on two baking trays in the oven.
Most air fryers can cook at least four portions in one go. The larger models can cope with approximately 1-2 kgs of food in one go, and are suitable for a big family.
Will it fit in the space available? Fryers come in all shapes and sizes and can take up a lot of room on your worktop.
How simple is it to use? The whole point of snacks is their immediacy, so you don't want to study the manual every time you feel peckish.
Choose the features that you want
Does it have a timer, or temperature control?
Do you want a fryer that can also roast, grill or reheat?
Does it allow you to cook two different types of food at once, such as fish and chips?
Is there a stirring paddle? Some air fryers come with a paddle that automatically moves the food around as it cooks.
Are the parts dishwasher-safe – and do you need them to be?
For the high tech amongst us, is it controllable from a phone app?
It's been a real hardship to review these fryers – how many healthy fries can we eat? Turns out, quite a lot!
Overview
The Actifry has been around in various forms for many years, and is as popular as ever. It's not the smallest appliance on the work top, but hopefully makes up for that with talent.
On unpacking this beast, we were pleasantly surprised by the size of the basket – it does indeed look like it could cook enough food for a family, and all the parts fitted together easily, so we predict a hassle-free dismantling for washing purposes.
What We Like

Tefal's Dual Motion feature works exceptionally well. The detachable paddle moves the food around continually, creating an even cooking and crisping process, and eliminating the need to stir – our chips were deliciously fluffy and light inside, crunchy and tasty on the outside. Healthy never tasted so good.
The removable timer means you'll always know when your meal is ready without having to watch it constantly. However, the audible alert can be heard from several rooms away if you don't want to carry the timer around with you.
We used Tefal's downloadable app MyActiFry to experiment with different recipes, including cakes and doughnuts, and we've been really impressed by the Actifry's  versatility. The recipes are straightforward and easy to follow, producing perfect results every time.
What Needs Improving
We don't know why but Tefal's timer doesn't turn the fryer off, and once it reaches zero, the food continues to cook. It's up to you to turn the cooking cycle off.
The Final Verdict
Despite the inconvenience of not possessing an auto-shut off feature, the Actifry more than makes up for it. Every snack or meal turned out perfectly cooked with the minimum oil and maximum taste. Eating healthily has never been as easy. We're definitely giving the Tefal Actifry space in our kitchen.
---
Overview
This sleekly designed fryer apparently uses cyclonic superheated air to cook to a golden brown, crispy outside while locking the moisture inside, so we're looking forward to that then.
Its user interface is simple to use, providing one-touch access to seven different preset programmes, along with a built-in timer and automatic shut off.
The fryer and the included baskets and trays look well made and stylish, and it's not an overly large appliance, so fits neatly on the work surface.
What We Like
The Power fryer is simple to use, with the touchscreen digital controls and preset programmes making it possible to get frying as soon as those hunger pangs hit. The meals we tried were all well cooked, and in double quick time. Chips, chicken, bananas (trust us, they're delicious), and doughnuts lived up to the Power fryer hype of crisp and crunchy outside, with the insides fluffy and moist. Being dishwasher safe, it's so easy to clean up after – no frustrating scrubbing for us.
What Needs Improving
Being picky, and slightly lazy, this Power fryer would be perfect if it had an automatic stirrer paddle like the Tefal model, other than that – it's ideal.
The Final Verdict
We have been thoroughly impressed with the Power Air Fryer XL right from the start. In appearance, it's sleek and stylish without taking up too much space. User-friendly and effective for both cooking and cleaning, the large capacity makes it a great fit for larger households. We're happy to give this a big chip shaped thumbs up!
---
Overview
This is a large front draw model, and being designed with the family in mind can easily cook 1KG. As it's their flag-ship model, you should be assured of a good level of quality and this doesn't disappoint on first appearances.
It feels weighty and durable enough to stand the test of time, and its sleek, stylish looks will fit in any modern kitchen. Simple to use, the initial setup took mere seconds, and we were ready to fry!
What We Like
The Philips HD9240/90 has a hugely powerful 2,100 watt heater which is much more powerful than other models of its type. This made a major difference to the cooking time and gave a consistent quality throughout the batch of food – everything was cooked evenly and perfectly, despite the lack of an automatic stirrer. Even hand-cut chunky chips came out with a lovely crispy coating and were well cooked inside.
The adjustable temperature, heat settings and timer, being digital, are infinitely controllable, and easily visible, for whatever you plan to cook, and how you prefer the finished result. The ready indicator, auto-off function, and preset programmes are also useful features for hassle-free cooking.
With an integrated air filter, Philips addresses the issue of the all-encompassing aroma of frying, and we were surprised at how effective this filter is.
What Needs Improving
We did find that when we paused the cooking to check the food, and left the drawer open for too long, the timer had a habit of resetting.  However, chip anticipation told us when the food was ready without the need for the timer anyway!
The Final Verdict
The Philips HD9240/90 air fryer performed exceptionally well in all our cooking tests. It's tough enough to last many years in regular use, comes apart easily for cleaning and is suitable for a dishwasher. No wonder this is so popular with consumers!
---
Overview
This sleek black and silver air fryer would look great in any kitchen. It is heavier than you'd expect, but is definitely built to last with durable, easy to use drawers and controls.
What We Like
Daewoo have had a stroke of genius by giving their air fryer cool-to-the-touch handles, which makes removing the basket even easier.
Using our toughest three chip test – hand-cut, oven, and french fries, the Rapid Air coped well, producing the perfect contrast between crunchy exterior/fluffy interior every time. Chicken was cooked evenly throughout, and even the quiche pastry bases were crispy.
What Needs Improving
Unfortunately, for such a high tech company, we feel Daewoo have let themselves down by not giving this fryer digital controls. Although the manual controls are very good, they don't feel as accurate as a digital display. That being said, everything was cooked perfectly, so obviously the manual controls do actually work well.
The Final Verdict
Daewoo's Rapid Air Fryer is good value for money, and while as not as high tech as some on the market, aesthetically it fits in nicely with a modern kitchen, and performed well in all our tests.
---
Overview
An innovation within the air fryer market, this top end Blusmart air fryer can heat, roast, grill, fry and bake – meaning that you can cook a whole meal for the family with no hassle. The rotating top plate can be used to cook meat and fish, while the bottom bowl can cook whatever you choose to accompany your meat.
What We Like
This air fryer comes with an ultra smart digital screen that allows you to set the precise temperature and/or cooking time to get your food perfect. Being able to cook a whole meal in one go is a great feature, so obviously we had to test this out with steak and chips, and can happily confirm that it really does a good job in half the time of a conventional oven, and with minimal work. Simply place all of the meal ingredients into the fryer, set the timer and walk away. The audible alert will tell you when it's time to serve up.
After you've eaten, it can all be throw in the dishwasher, meaning there's no worry to cleaning up, either.
What Needs Improving
We did find that the glass lid can get warm after it's been in use for a while, but that's not a deal breaker with so many plus points to counteract it.
The Final Verdict
This air fryer is brilliant for time saving efficiency with its ability to cook a delicious meal all at once. Easily controllable, aesthetically stylish, and dishwasher safe, what more do you want!