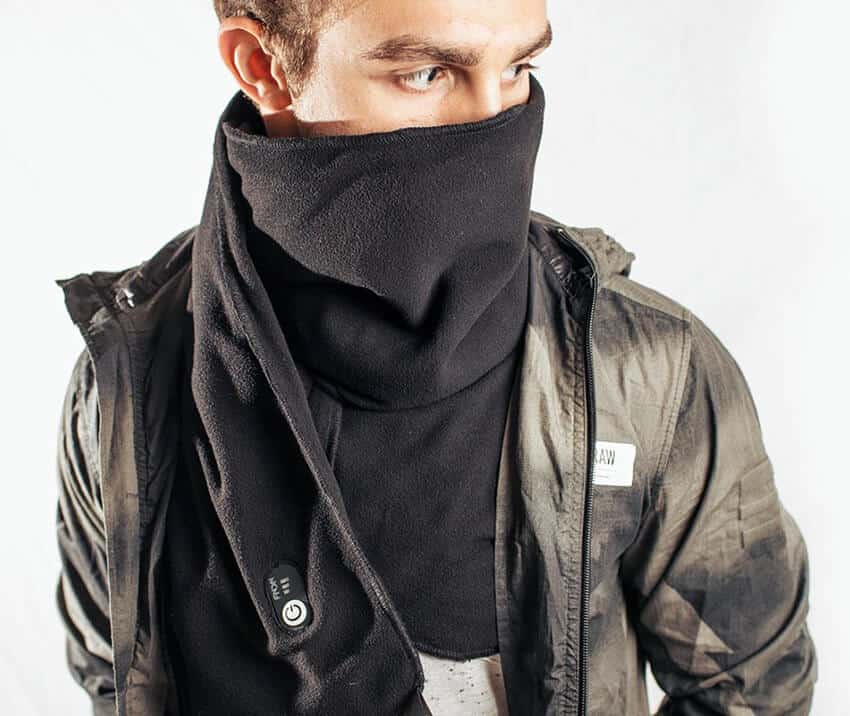 Keeping Warm:
We Review the Best-Selling Heated Scarves on the Market
On a cold winter's day, a lot of body heat is lost through the head and neck. Regular scarves and hats can help but if you really want to be warm and toasty, wearable technology has the answer.
Heated scarves combine practicality with cosy luxury – if your neck and upper body are warm, you'll generally feel warmer all over. This is even more necessary if you are one of the many suffering from arthritis, and other aches and pains.
The methods of heating are varied and include rechargeable batteries which are attached to very thin wires woven throughout the fabric. These thin wires still allow the flexibility to wrap the scarf around your neck. Some scarves require heating in a microwave, and others use a pouch, that when shaken, starts a chemical reaction to produce heat.
But, with so many variations of heated scarves on the market, which ones are worth considering?
Overview
Soft, cosy and very long, this heated scarf from Bits and Pieces, is everything you'd want in a scarf and more. It's long enough to wrap around several times, or to tuck into a jacket, and has hand pockets at either end for added comfort.
Both the battery pack and the scarf itself are well made and look as though they will last.                            
What We Like
The pockets are a nice touch to tuck cold hands into for a quick warm up. The scarf heats quickly with the batteries holding their own for a decent length of time. All in all, a great product.
What Needs Improving
Our usual complaint when something needs batteries – come on Bits and Pieces, including batteries would be a nice touch.
The Final Verdict
If your wanting a long, very soft heated scarf for those winter days, this is the one for you. Happy to recommend, and keep wearing, this.
---
Overview
Perfect Prime's heated scarf is gorgeously soft, luxuriously thick but not too bulky to slip inside a jacket. The USB ports and control are tough and durable, which makes it easy to power up.
What We Like

We have been impressed with how long the charge lasts, even on full power; it has kept us warm and comfortable for hours out on a cold, windy day.
What Needs Improving

The power bank not being included is annoying, however, it's not expensive to buy separately, and doesn't detract from the quality and useability of this scarf.
The Final Verdict
This is a smart looking luxury scarf that'll keep those aches and pains at bay for hours before recharging.
---
Overview
77 Mall have designed a great heated scarf, with cosy pockets located at either end. Hard wearing, but made from the softest, plushest velvet for extra comfort. The ports are decently placed, and look and feel durable.
What We Like

This scarf held the heat in well, and, despite minus temperatures coupled with a frightening wind chill, we remained as comfortable as if we'd never ventured forth. This heated scarf is perfect for using indoors as well as outdoor activities such as hiking.
What Needs Improving
Wanting to bring a touch of vibrancy to a dull grey day,  it would be nice if this scarf had more available colours.
The Final Verdict
A well made, comfortable scarf, that kept warm for hours - it delivers on perfomance.
---
Overview
This is a lovely addition to the heated scarf market. Made by Bloomma, it's tough but soft, cool in design but warm in comfort.
What We Like

The elegant design of this heated scarf is sure to impress, and the material feels high quality. Holding its heat for hours, Bloomma's scarf is a great length, weight and feel.
What Needs Improving
This heated scarf is perfect for limited outdoor activity, however if you're looking for something that retains heat in freezing temperatures, we recommend considering one of our other top choices.
The Final Verdict
Even without the great design, this is a thoroughly decent heated scarf, however with the cool, stylish plaid pattern, it's on every gift list this year!
---
Overview
This lovely and soft heated scarf by Lamptti is a winter saver. Made from pure wool and carbon fibre, this scarf is a must-have for drafty homes and going out in the cold weather.
What We Like
Aside the high quality material, this heated scarf comes with all important intelligent temperature adjustment. That means that it will automatically decrease temperature when over-heating, and increase it if it senses that the temperature is too low. The USB power source makes this easy to charge, and it can even power up your phone at the same time. The heat lasts for a good amount of time, which saves you having to charge it all the time.
What Needs Improving
We were very happy with this heated scarf. It delivers on its promises.
The Final Verdict
If you're looking for a versatile neck warmer that provides hours and hours of heat, this beautiful heated scarf is definitely worth considering. We know what our friends will be getting as gifts this winter!
---
If you enjoyed this review page, be sure to check out some of our other trending articles.