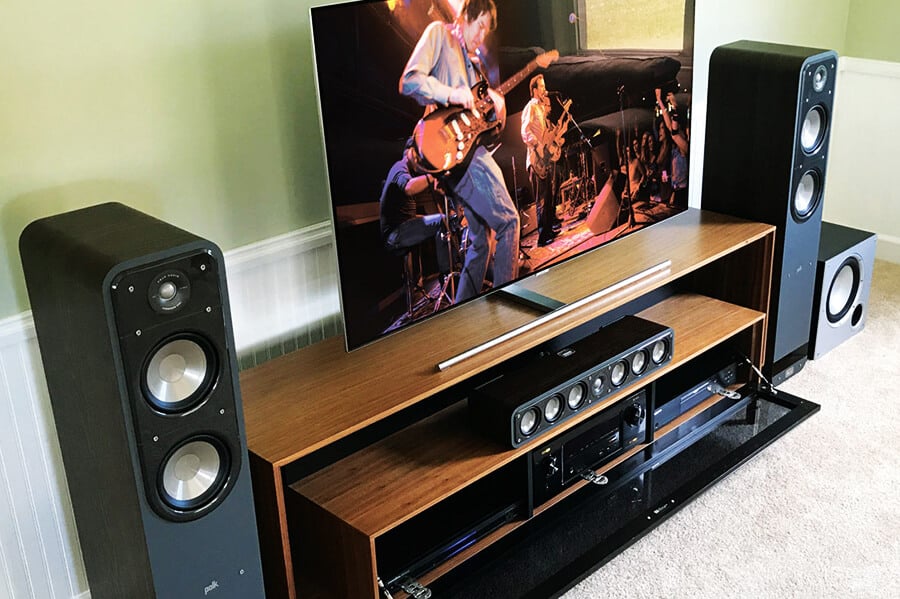 All Systems Roll – We put the best-selling home theatre systems through their paces!
More and more people are thinking about buying into the home theatre experience, and now, more than ever, it's easily accessible for the average consumer. These systems offer a complete and wide-ranging solution – from compact to beefy, two speakers right up to seven or more, and wired or wireless connections for a tidier finish.
What does a home theatre consist of?
A Display Device – In order to watch video content, you need a TV or video projector/screen.
One or More Sources – You need something to provide you with the content you watch or hear, such as a Blu-ray or DVD player, games console, or a satellite TV box.
A Sound System – In order to hear your films, TV shows, or other video content, you need to connect your source to a receiver and speakers.
What do I want from a home theatre? Do you want the biggest viewing image possible? Will you be spending more time watching TV, watching films, listening to music, or playing video games? Do you want to incorporate the internet into your home theater system?What type of system is best for you?
All-in-one systems
Containing everything you need to get started – the amplifier, speakers, cables, with a DVD or Blu-ray player sometimes included, these are the simplest way to get a home theatre system. Everything will be compatible and the price is usually cheaper than buying the items separately. Packages are available as 2.1, 3.1, 5.1 and 7.1 systems. The numbers represent how many speakers and subwoofers each system has, for example a 5.1 system would include five speakers and one subwoofer.
Individual set ups
This approach is more suitable for the enthusiast wanting to perfect their system, and while it's easier to upgrade the different components, it can work out pricier than the all-in-one set ups.A good home cinema set-up is the 2.1 system, which sees two speakers placed to the left and right of your TV set, and a subwoofer placed elsewhere in the room to add some body to the bass. A 3.1 system adds an extra front speaker that helps boost the sound of dialogue.
Overview
This super stylish Sony designed system carries the traditional  signature of the brand – well made and hard wearing, great quality, and easy to install and use.
What We Like
Featuring two tall, elegant speakers, an impactful subwoofer, and the satellite speakers, the sound quality produced by the Sony BDV-E4100 is impressively rounded and immersive. That along with an easy and reliable connectivity, and we felt we were onto a winner.
Putting the viewer at the heart of the action, this Sony is an impressive, all inclusive system.
What Needs Improving
This does appear to have a heftier price tag than its competitors, but the quality output is worth the outlay, in our opinion.
The Final Verdict
For an all-in-one system, containing everything you need to recreate the cinematic experience at home, this Sony is a great choice, and we're happy to recommend it..
---
Overview
The HKTS consists of four identical satellite speakers, with a 13mm dome tweeter and 80mm midrange driver per cabinet. Along with a heavy duty subwoofer, it all adds up to well thought out system. Harman Kardon has put a lot of thought into the sleek, good looking design, too, and it seems very durably constructed out of quality materials.
What We Like
This is a remarkably simple system to install, with easy to follow, accurate instructions, and once set up, we found the soundstage generated was respectably large, convincingly focused and extremely inclusive. The dialogue is robust, alive and fully rounded, while the speakers integrate effectively with the sub, with no distortion or lack of crispness.
What Needs Improving
An AV receiver is necessary to operate this product, but that didn't affect our enjoyment of this impressive system.
The Final Verdict
If you're after a decently priced all inclusive cinematic experience, this is the one for you. It has the looks, the quality and the accessibility that better known brands can only aspire to.
---
Overview
Damson have successfully created an incredibly compact, neat all-in-one system, with a decent 5.1 speaker configuration. Whilst  small and diminutive, the components are very well built, reassuringly weighty and feel as though they can pack a real punch.
What We Like
Installing this small, neat system was remarkably easy – quite literally plug-and-play, with the connectivity all on the subwoofer. The speakers communicate via the wireless platform, and the S-Cube has built in rechargeable lithium ion batteries, which can run for over 8 hours on full charge, thus avoiding the need for annoying, untidy cables.
Performance wise, the system delivers everything it promises, with robust, bold transitions throughout the speakers. Precision and clarity are the name of the game with the Damson S Series, with music, films and games never flooring the impressive 'ceiling deflection' approach. The depth of the subwoofer pulses, but remains comfortably, warm and round.
All in all, an quality audio performance.
What Needs Improving
Neither the subwoofer nor any other part of the system carries an LED display. Which, whilst a shame for us light show fans, isn't a deal breaker.
The Final Verdict
What the S Series lacks in size, it certainly makes up for in power and fullness. Damson have pulled out all the stops with this all-in-one system.
---
What else is trending?