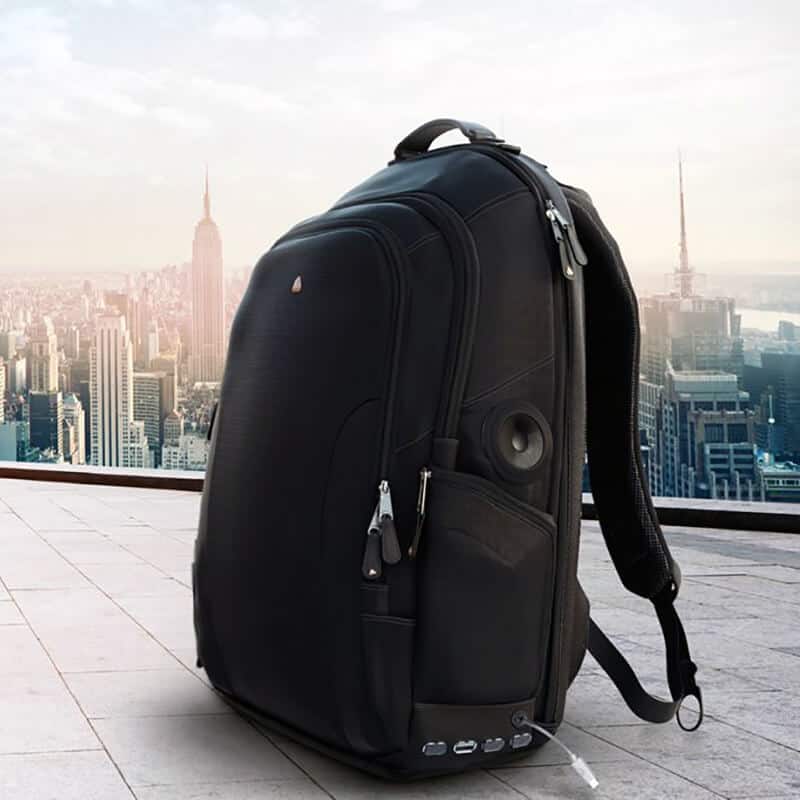 Look Smart:
We Try Out the Best-Selling Smart Backpacks
These days, backpacks are not just humble bags to carry your water bottle, or that one book you hear is really good that you're definitely going to finish one day.
Next generation smart backpacks can not only charge your phone and locate themselves – but come fitted with extra security measures to keep your valuables safe from theft.
If you're looking to upgrade to a smart backpack, check out our top 5 choices for September, 2019:
Overview
This multi-pocket backpack from Kopak looks and feels well made and sturdy enough to protect the contents well from outside interference. It's plenty big enough for a decent sized laptop and other items, and the security features are a comforting addition.
What We Like
We've tried every way to break into this backpack, and unless they have a heavy duty chainsaw handy, there's no way anyone's breaking in.
It's very comfortable, resulting in no aching shoulders or sore patches, even when loaded with books, laptop and more. It looks smart and any scuffs just brush off.
What Needs Improving
It would be great if it came in some other colours, but otherwise this smart backpack meets all our requirements on functionality and style.
The Final Verdict
If you're looking for a tough, but neat and attractive backpack that can not only keep the contents safe, but also recharge your devices, this Kopack is the one for you.
---
Overview
Sosoon have designed a great looking backpack, stuffed with useful sized pockets, and with nicely padded shoulder straps. It's extremely tough, with a really heavy duty outer shell.
What We Like
This is a great, useful backpack and should be much pricier than it is.
The padded shoulder straps and breathable design make the Sosoon easy to carry for long periods of standing and walking around, and for the security conscious, no one's getting into this baby.
What Needs Improving
Whilst this looks great in black, it would be nice to have some other colours available.
The Final Verdict
Sosoon's addition to the smart backpack market is cool, durable, comfortable and affordably priced. Definitely worth some serious consideration.
---
Overview
Matein have really put some thought into comfort here, creating an ergonomically designed backpack, jam packed with useful pockets. Hard wearing, with super comfy straps, it curves into your back in a very reassuring way, allowing it to be carried easily.
What We Like

With scuffs and scrapes just brushing off this backpack, it's definitely built to last the test of time.
It's really neat looking, but lovely and roomy inside, and when not in use, quite slimline and easy to store. The ergonomic design makes carrying heavy or awkward loads feel light and comfortable, with no stress on our shoulders, or backs. Also, you can relax knowing your devices, key or wallet are completely safe and tamper-free.
It comes in several great colours, too.
What Needs Improving

If we had one wish it would be to include lockable zippers, but other than that, this smart backpack delivers.
The Final Verdict
If you need to carry laptops, and other devices for work or school, and recharge on the go, this makes carrying a bulky load easy and comfortable.
---
Overview
Della Gao have pulled out all the stops when designing this smart backpack. It's extremely roomy with loads of pockets, internally and externally, very well made, highly secure and looks the business.
What We Like
This is a really well thought out backpack. We can't stress enough how much space this model has, and every pocket is perfectly proportioned for phones, keys, wallets and more. It also performed exceptionally well in our waterproof tests, keeping all the contents nice and dry.
The reflective strips are a great feature, especially if you have to walk or cycle at night.
What Needs Improving
This is a comfortable, premium, smart backpack that is built to last – we couldn't fault it.
The Final Verdict
This backpack is tough, secure, waterproof, and very spacious, and with the addition of high vis reflective strips, it's top of our gift list.
---
Overview
SLOTRA's slimline backpack, whilst not the largest in the world, is well made, with the useful feature of a detachable USB cable. Added padding enables this bag to mould to your body, meaning comfortable long term carrying, without increasing bulk.
What We Like
We were impressed with how comfortable this Slotra backpack was, even when carting around an awkward, heavy load for hours.
Water resistant, with a great security rating, and smart enough to fit in wherever you take it, this looks much more expensive than it actually is.
What Needs Improving
This is a slim line smart laptop backpack, so be mindful of this if you carry bulky devices.
The Final Verdict
With a detachable USB cable to allow for easy charging, this neat, durable SLOTRA bag is perfect for carrying, and keeping secure, your devices, and everything else you need to carry around.
---
If you liked this post then check out some of our other trending articles: