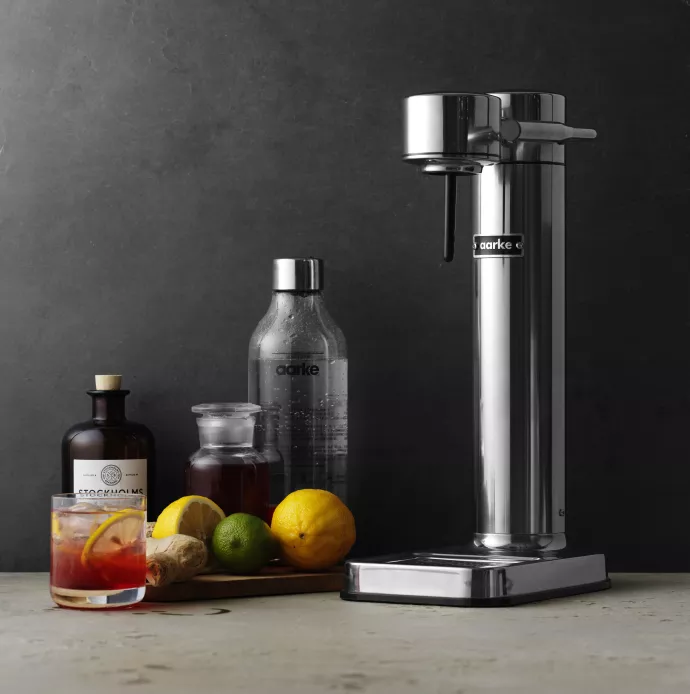 Get Busy with the Fizzy! – We try out the best-selling soda makers
Home soda makers are one of the most amazing modern marvels when it comes to kitchen convenience. These little devices let you make your own sodas and carbonated beverages at home, ending the need to splash out at the supermarket.
If you're thinking about making the switch to homemade sodas, but aren't quite sure about what soda maker you should get, here's the lowdown.
Broadly speaking, there are several categories to consider – soda siphons or soda makers. Siphon refers to a small device with an internal CO2 cartridge, that fits onto the top of a bottle. These are easy to use, but if you drink a lot of carbonated water, the process can be time consuming.
Soda machines actually produce soda and have a larger CO2 cartridge attached to provide the fizz. Easier and faster to use, the level of carbonation is adjustable, and although the initial cost is greater than a soda siphon, the price per drink is far lower. There is a third category that doesn't use CO2 canisters, instead have internal motors that handle the carbonation process.
Most soda makers advise that you only use water and carbonize before adding in the flavoring of your choice. Using a liquid that the machine isn't designed for can lead to blockages or overheating. You can, though, buy soda machines especially designed to add fizz to juices or iced drinks.
So say goodbye to flat boring drinks and come on in to easily produced fizzy fun with our review of the best-selling soda makers.
Overview
This compact, sleek looking SodaStream has all the features and functionality that the company is known for, but in a truly space-efficient design that will fit into any kitchen.
As you'd expect, this model feels well made and very sturdy.
What We Like
The photo instructions were simple to follow, the maker itself is easily adjustable, allowing different levels of fizz to suit every taste, and we were pleased to find that the SodaStream bottles are the perfect size to fit in the fridge, meaning perfectly chilled fizz at all times.
With all of us worried about the use of plastics, this machine, by eliminating the need for plastic soda bottles, means you can do your bit for the environment, whilst saving money – win/win.
What Needs Improving
Initially it was tough to release the bottles after carbonating, however it soon loosened up.
The Final Verdict
The SodaStream Spirit is a real find for small kitchens and is perfect for all fizz lovers at home or on the move. Convenient, compact and easy to use, we're happy to recommend the Spirit.
---
Overview
With a streamlined body and stainless steel touches, the Levivo is a good looking piece of kit that will enhance any kitchen worktop. It's sturdy, well made and easy to clean, while the PET bottles that come with it look like glass, giving the bottles an attractive crystal transparency. But unlike glass, they do not break easily, meaning they will serve you for a long time.
What We Like
The Levivo has a well thought out design that includes a secure bayonet lock to greatly simplify the installation of a carbonating bottle, and releases it with a simple push button. The addition of a neat drip tray ensures a mess free operation.
The taste and fizz of the drinks we made using the Levivo had a delicious sweetness, even plain tap water was greatly enhanced and drinkable. It so simple to use, and with the  two carbonating bottles, when one is empty, you'll have another one in reserve.
What Needs Improving
The main body is white plastic – it's very tough, but does show marks, so if you are a perfectionist, you'll have to wipe it over regularly. This is in no way a deal breaker for us.
The Final Verdict
If you're looking for a stylish, but functional, soda maker that will carry on fizzing all day, the Levivo is the model for you.
---
Overview
The Innovee siphon is a sleek-looking 1 litre aluminum bottle. It's dishwasher safe and uses any standard 8-gram CO2 cartridge. All the parts are well-made and feel sturdy. This also makes whipped cream and carbonated wine, according to the downloadable recipe book.
What We Like
This siphon is ridiculously simple to use, and we love the fact that we can get hold of any replacement parts easily, such as O-ring seals or the CO2 charger holder, if necessary, meaning you'll never need to buy another soda siphon.
With the Innovee, we were able to make about 3 cans worth of soda per bottle quickly and without hassle. We did discover that if you give the siphon bottle a little shake before each pour, it mixes the fizz perfectly throughout the drink.
What's more, the recipe book was right – perfectly whipped cream, and sparkling wine are well within the carbonating capabilities of the Innovee.
What Needs Improving
It's a shame that there isn't an easy way to determine the liquid level, so you'll have to measure out beforehand to avoid errors.
The Final Verdict
For a handy on-the-go solution for trips out, or for home carbonating, the Innovee is a great model to choose. Stylishly retro, simple to use, and very versatile, this is easy to recommend.
---
Overview
This sturdy soda siphon is stylish aluminium, dishwasher safe and neat enough to fit in with any kitchen decor. Lightweight enough to take on trips for freshly carbonated drinks, our siphon arrived well packaged and ahead of schedule.
What We Like
This is the plug-in-and-play siphon of the carbonation world, and provides just the right amount of fizz for drinks. We did find it was a good idea to put the cylinder in the fridge for 20 minutes, instead of the stated 10 – the colder was definitely better, and seemed to hold the fizz in more, for longer.
What Needs Improving
As with most siphons, it's hard to tell how full the cylinder is. We used a jug to transfer the liquid, so that we knew how much to use.
The Final Verdict
If you want a stylish, lightweight soda siphon that adds a great amount of fizz, anywhere, anytime, the Baskiss is one to seriously consider.
---
Overview
The SodaStream Jet differentiates itself from the other soda makers on the market mostly by its simplicity and ease of assembly. It's a very straightforward machine to use, and is sturdy enough to keep working for years.
What We Like
In terms of simplicity, this SodaStream is one step up from a siphon. It really is easy – just screw in the bottle and fizz away as much as you like. Being adjustable, you can make drinks exactly how you like them. Without the need for mains electricity or batteries, it's light enough to take on a day out, and each canister can last three months or more, depending on usage.
Okay, so this hasn't got all the bells and whistles of its competitors, but that what makes it so simple to use, and ensures a decent price.
What Needs Improving
The only other minor complaint is the appearance of this machine, which is less sleek than some of its competitors. But the performance more than makes up for this.
The Final Verdict
If your aim is to cut down on plastic bottles and cans, and save on the cost of them, then this reliable, well made SodaStream is a great choice. Producing perfectly fizzed drinks in a mess and hassle free way, this comes at a decent price, too.
---
---
If you enjoyed this review, take a look at our other favorites: