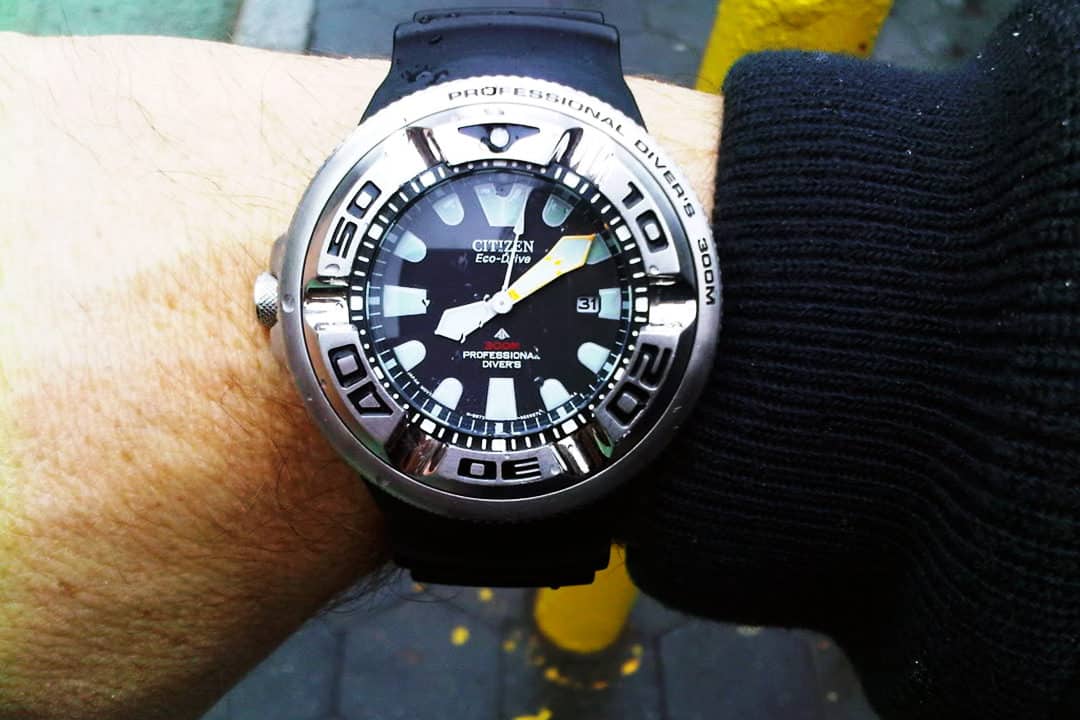 Harness The Power of the Sun
Watch batteries running out has to go down as the main reasons we buy new watches – you know how it is, the watch that no longer ticks is retired into a drawer, as it's just too much hassle to have to think about batteries. However, solar watches could be the answer, especially if you like the idea of doing your bit to save the environment.
Although "solar powered" suggests that you can only charge your watch in the sun, that's not totally accurate. The great thing about solar watches is that you can also charge them in artificial light. That means that you can literally charge up on the go.
Moreover, solar watches are more technologically advanced than ever before. Increasing in storage capacity, you can now run a solar watch on a single charge for upwards of 6-months.
Even though the name solar powered implies that the watches derive all of their power from the sun, they also charge via electric light, and as a result, are almost constantly charging up. This means that solar powered watches are an incredibly reliable, accurate timepiece.
So if you wish to use renewable energy and have a stylish, dependable watch, look no further.
Overview
This stylish wrist watch by Seiko has all the hallmarks of a great timepiece. A comfortable, well fitting strap, and a chic black face. It feels nice and solidly built, but isn't bulky or cumbersome at all.
What We Like
We love the simple good looks of the Seiko – it really is classy. With the luminous dial, it's always accessible, and naturally for a Seiko, always accurate.
What Needs Improving
If you have small wrists, you may need to take out a couple of links, but that's easily achieved.
The Final Verdict
If you want a simple and elegantly classy solar powered watch that keeps good time, and isn't bulky, this Seiko is a great choice.
---
Overview
Is there anything this solar powered watch can't do? Casio have included every feature imaginable and have created a great timepiece, especially for the more outdoorsy among us.
Despite being able to do everything, barring making a decent coffee, it isn't bulky, and the strap is remarkably comfortable.  The whole thing gives the impression of quiet superiority, wrapped up in a hard wearing case.
What We Like
This impressive watch can tell the moon and tide times, and has an efficient, accurate compass, altimeter, temperature, and barometer, estimating weather changes using that information.
The button controls are user friendly and accessible, and all the functions work well.
What Needs Improving
Some of the information displayed can be a little small and therefore hard to read.
The Final Verdict
Whether you love the great outdoors or not, this Casio is a good choice of watch. With easy-to-use controls, great features and a very comfortable strap, this is easy to recommend.
---
Overview
This beautiful showcase from Bering proves how good these watches really are. With date and day display, this is another stunning model with the classic styling. The strap is soft and comfortable to wear 24/7, but feels solidly attached with a durable buckle fitting.
What We Like
The scratch resistant sapphire glass makes this watch enduring. The classing design will suit anyone and the solar feature means you'll only need to charge this every 6 months.
Smart and classy, we really love this watch.
What Needs Improving
Some of us found this a little fiddly to set up, but certainly not enough to be a deal breaker.
The Final Verdict
Bering have done it again - great timekeeping, incredibly reliable, well made and designed to last forever, this certainly ticks all the boxes.
---
Overview
This Casio has a useful power save option and level indicator display, and with the 45 degree backlight, is full of great features. It looks powerful, impressively durable and super cool. Weightwise, it's surprisingly light, and much less bulky than it looks in photos.
What We Like

This is a classic solar watch that clearly displays the time, date and day information. Fitted with sapphire glass and waterproof up to 5m, this solar watch also adjusts automatically to timezones – making it the perfect choice for world travelers.
What Needs Improving
Initially it could be a little tricky to set up, but it's easy and very logical once you know how.
The Final Verdict
Casio have made a great looking watch with stacks of useful, and fun, features. Easy to use, built to last, this solar powered watch has something for everyone. Happy to recommend it time and time again (pun intended!).

Overview
Incorporating a voice feature is a great idea from Lifemax, and turns this good looking watch into a great watch. It might look heavy, but it's actually very light in weight. Well made, and tough, this is built to last.
What Needs Improving
The clear English voice is recorded by the RNIB, making it a great watch for the visually impaired, or those that would rather wake up to a friendly voice instead of an incessant alarm. The face is clearly marked, so even if you choose not to use the voice feature, it's easy to see the time, even in the dark.
The strap is soft and comfortable with strong, durable mounts.
What Needs Improving
The instructions are a little hard to follow. That said, we found it simple to set up without the manual.
The Final Verdict
Simple to use, with some nice features, there's nothing not to like with this Lifemax watch, including the price. Adding this to our gift list!