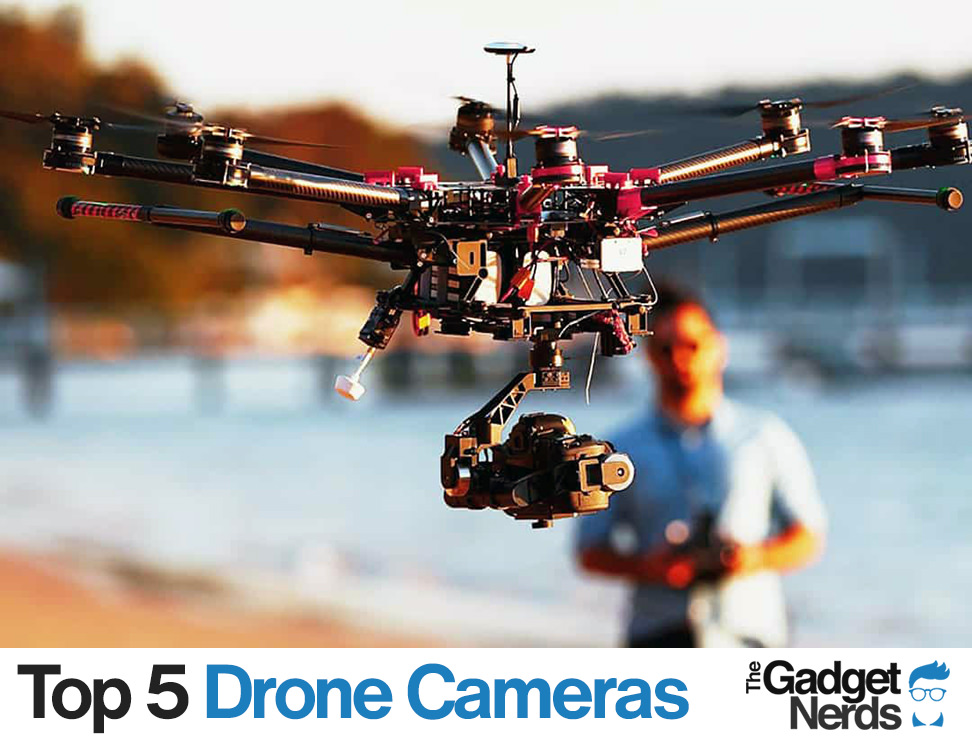 Experience the Best in Drone Photography
Imagine soaring sky high, getting a birds-eye view capturing nature's moments. Hi-tech drones with HD crystal-clear vision display professional aerial shots which allow you to do just that.
First, you need to figure out what kind of drone you want to buy. Do you need an industrial standard quadcopter camera for professional movie making or 3D modelling? Or are you looking for an affordable drone with HD camera for travelling or shooting footage in your own backyard?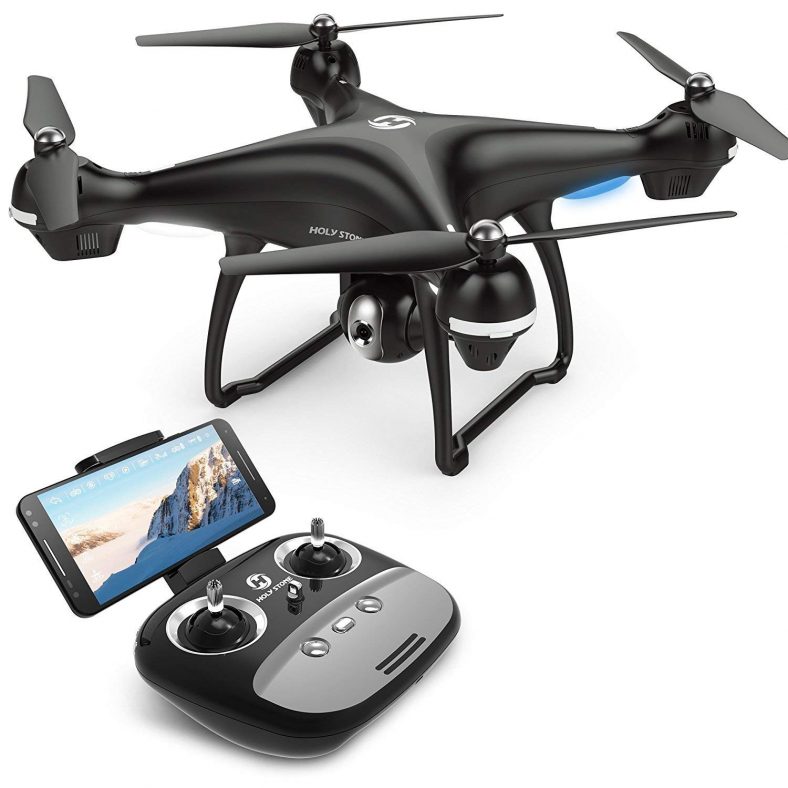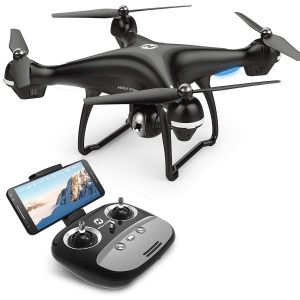 Overview
As kids, we dreamed of being pilots. Sadly life took a different path, but hey we got the next best thing: A Holy Stone drone. This hi-tech gadget served us a panoramic mid-air view of nature's scenery so that we can feel like we were actually in the cockpit.
What We Like
The Holy Stone is a perfect for beginners and a cash-saver. The drone comes almost completely assembled and calibrated so it's ready to fly right out of the box. No setup time needed. The holy stone is calibrated, assembled, and ready to fly right out of the box.
For advanced users, this drone is packed with endless features. The GPS-assisted flight navigation helps prevent flying aimlessly like a mindless drone. The Return to Home function ensures that you'll never have to worry about losing your drone into the abyss. Holy Stone notifies when you have low battery energy or a weak signal not within range.
Next, the Follow Me is a hands-free control mode perfect for family shoots during Christmas parties. You'll never be the one "out of the shoot" because you're the one taking the picture. Now everyone gets to be in ALL the photos. And newbies can easily take off/land with one button. Don't just take our word for it, a quick search on YouTube will reveal countless incredible shots taken by this super drone.
What Needs Improving
The camera is an HD 720P FOV first-person-view Wi-Fi camera which connects to your smartphone. But herein comes the first drawback: because the camera is Wi-Fi dependent, you'll have a limited flying range. The estimated control distance is around 500m with a flight time of 15 minutes.
That said, there is one safeguard: the camera will continue to record onto an SD card so you don't have to worry about immediately losing precious shots.
Here's the second weakness. It took around 2 hours to fully charge the drone on our first go, so it's really better suited if you use it when you have a power supply closeby. There are a few hacks around this, like using a faster charger from another supplier (although this isn't recommended by the manufacturer).
The Final Verdict
Hands-down the best part of this cam drone is the accurate GPS. I haven't come across any drone at a similar price point that offers technology as good. Overall, I'd give the Holy Stone a solid 9/10. Apart from the minor issues with the range and battery charge, this is an excellent drone with one of the best cameras out there. Fly it on a nice, smooth day and you're guaranteed to capture inspiring footage.
---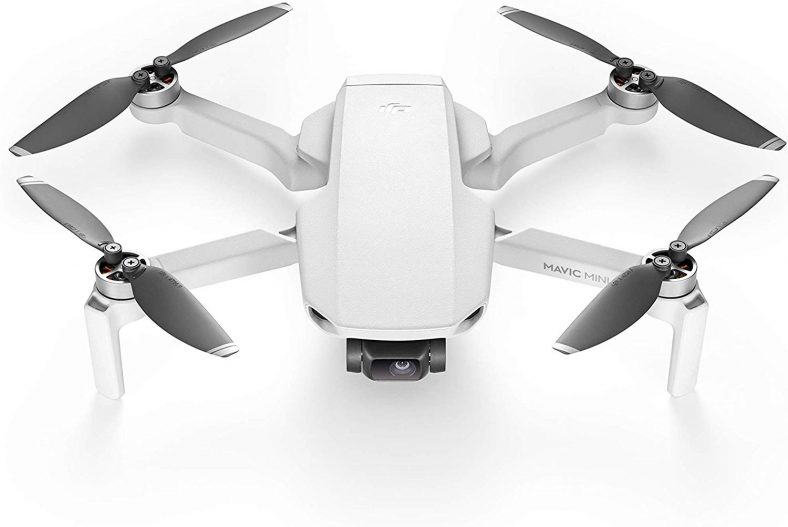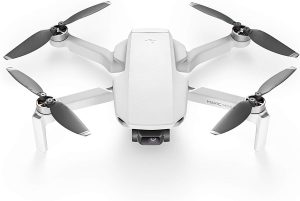 Overview
There are reasons why DJI video drones are trending right now. Every time they bring out a new model it comes with sleek, top-range technology that gives you spectacular footage. A DJI in the drone world is like an iPhone to smartphones, so if you're unfamiliar with different brands, this is a solid choice.
What We Like
First off, the Mavic Mini isn't style over substance. This time it's worth getting on the bandwagon. Why? This drone has a sophisticated 12 MP, 2.7K Quad HD video camera to give you a cinematic experience and flying it is a breeze. It comes already assembled saving you time and hassle. It offers a beginner mode, allowing you to get used to the drone flying mechanics. And when you're ready to really get going, the new powerful motors make the drone stable and agile at the same time.
It flew it over the ocean on a windy day and it ducked, swerved and soared effortlessly. The camera is excellent, images are crystal clear and thanks to the standard lens, there's no distortion. We even had someone ask whether one of our aerial photos was from the National Geographic. The ultrasonic sensors continually measure the distance between the drone and the ground so that you don't need to.
What Needs Improving
Let's talk battery life. The Mavic Mini battery life barely improved over its predecessor – maxing out at 30 minutes. The batteries are replaceable, which is good news.
The Final Verdict
It's true that there are more sophisticated (and expensive) drones available for pro use, but as far as aerial photography goes, this drone performs extraordinarily well. It's a solid buy.
---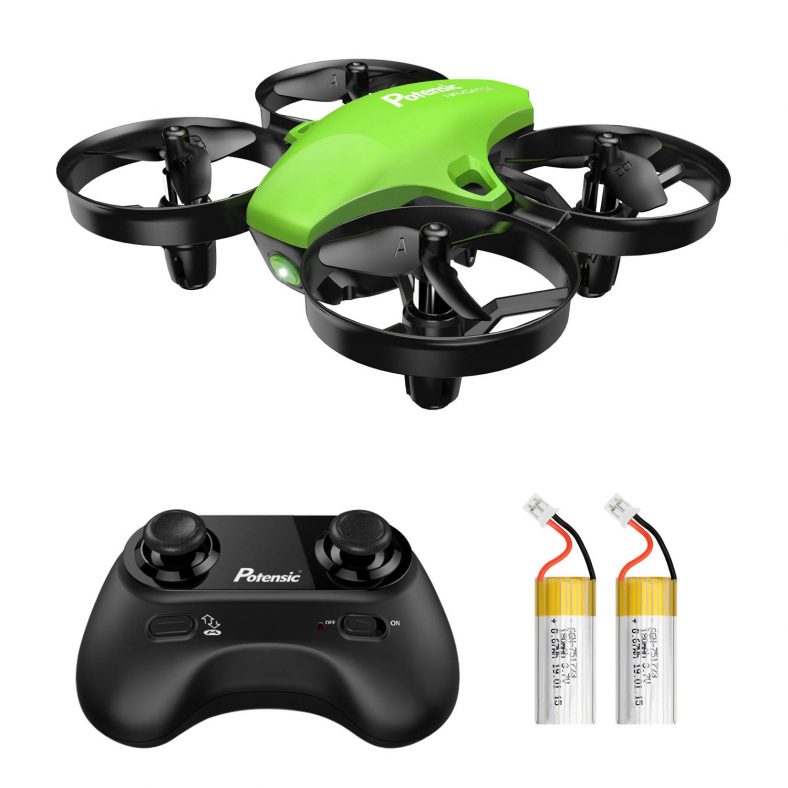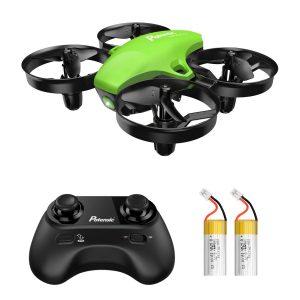 Overview
When it comes to quadcopters that are easy to operate, you can't get much better than this mini drone from Potensic. Perfect for beginners and leisurely flyers, this drone comes with all the trimmings to get you started in your new hobby.
What We Like
For less than $30 (!), you get a solidly built drone that will hold altitude, adjust speed, take off and land using one key,headless mode for easy flight and an out of range – alarm. Apart from the drone itself, you get a full starter kit: A transmitter, USB charging cable, manual and 4 x small blades.
What Needs Improving
They say you get what you pay for…and for this price you get a great drone. But it won't come with all the bells and whistles of an expensive model.
The Final Verdict
You'd be forgiven for thinking that this drone is a toy! But this drone is very much serious business. It's one of the most easy to operate out of all of the ones we tested. Our only wish, is that the controller was equipped with an option that allows the drone to return home. Apart from that, a solid purchase for a drone beginner.
---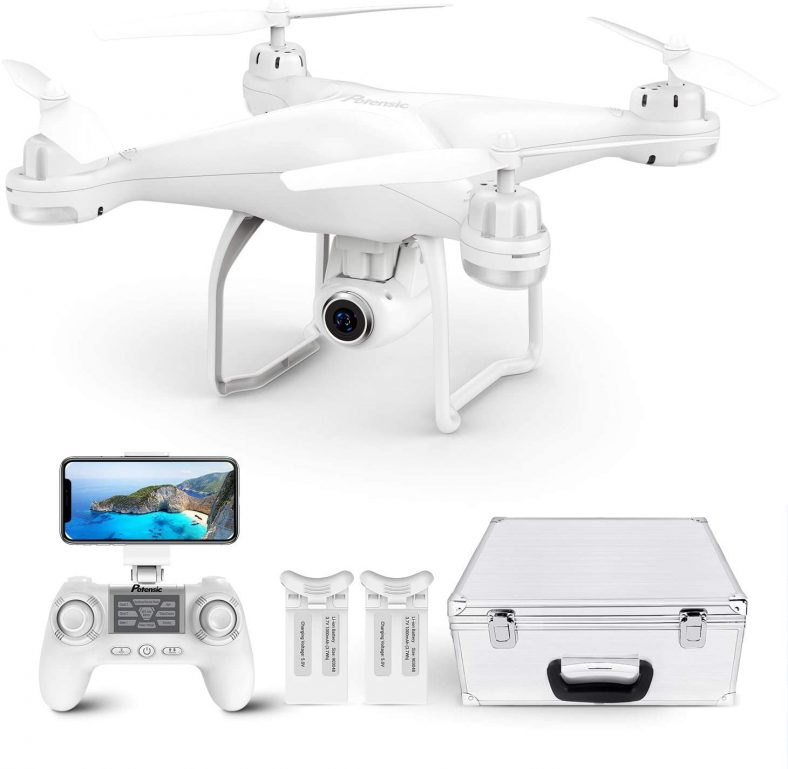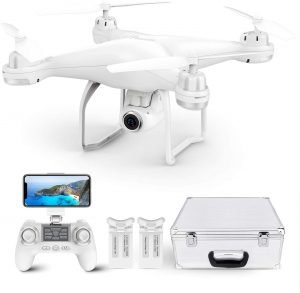 Overview
Here's another great drone that will save you money if you're tight on cash. The Potensic also features an auto-return function. This is a huge plus because it helps you avoid smashing your drone into a million pieces.
What We Like
The actual drone arrives assembled and partially charged. The controls feel solid, and the screen is big enough to follow your drone's movements.
Then for the kicker: The flight time is around 20 minutes. This drone is the best bang for your buck with its prices, and it beats some of its more expensive rivals.
What Needs Improving
Calibrating the GPS and the compass is a bit of a lengthy process at first, but once you set it up – it's perfectly smooth.
We should also mention that the range is slightly limited. In open areas it promises up to 600m, but we got less than that. It's no deal-breaker as admittedly we were flying in poor weather, but it's worth noting all the same.
The Final Verdict
All in all, this is a great basic drone that you can make even better with a few simple hacks. For example, you can put the money you save on the drone itself towards an extra battery – giving you even more time in the sky! And as an added bonus, there are a plethora of positive experiences that other people have had with Potensic customer service. A company that genuinely cares for its customers is always a good sign.
---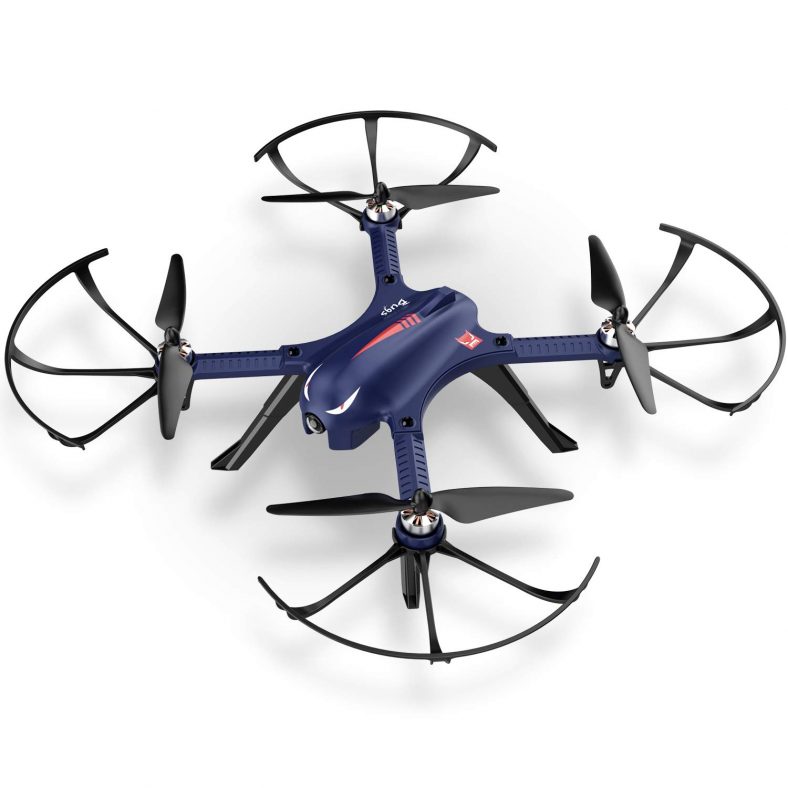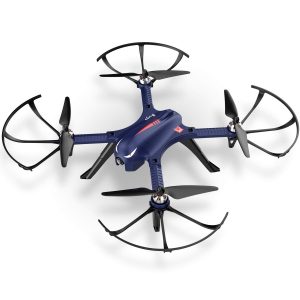 Overview
This is our top pick for beginners. The Drocon is built with newbie drone flyers in mind, while still catering on all the key features that make a great drone.
What We Like
First off, when you receive the drone it's almost ready to fly. Only a little bit of assembling is required in the form of attaching the blade protectors, but it takes only a few minutes of your time. The first flight is a pure delight. The controller is one of the easiest we tried, and we soon got the hang of it. As we practice our take off and landing (with a few flicks and fast turns to boot), we're impressed at how stable this drone remains throughout.
In terms of specs, there's everything you'd expect from an honest, basic drone. Plus the upgraded brushless motors mean that this drone is significantly more powerful than its previous models. The drone comes with an HD camera and real time tracking, headless mode and one-key return.
What Needs Improving
The image quality could be better definition, especially if you're looking to shoot intricate detail below. But if you're just looking to buy a drone for the sheer enjoyment, that won't matter.
The Final Verdict
Great drone for first-timers, and anyone who's looking for an easy and reliable gadget. There's no drama, no fuss - just a good product. If you're a little more advanced in drone flight, you may wish to consider a more intricate model (see above). Otherwise, this is a keeper.
---
If you liked this page then feel free to check out some of our other trending articles! For our friends in Germany, be sure to check out drohne-check.de for their amazing drone reviews.