Fidget spinners, since their surge in popularity back in 2017, have etched their place as one of the most ubiquitous toys across the globe. With nearly every child, teenager, and even some adults toting them, they seem to be a constant presence in our daily lives. Their meteoric rise to fame was astonishing, and by 2020, they were virtually inescapable.
At its core, the fidget spinner is a deceptively simple device. It features a ball bearing situated in the center of a multi-lobed structure. Yet this understated toy packs a world of fun, keeping hands busy and minds calm. Scott McCoskery deserves credit for the modern iteration of this little wonder. Devised in 2014 as a personal tool to combat his fidgeting during long meetings, McCoskery's creation swiftly garnered broader interest. As he began selling them online, the fidget spinner's popularity skyrocketed.
Fast forward to 2020 and beyond, fidget spinners continue to retain their allure. Recent statistics indicate that they are still a hot favorite amongst consumers. With their versatility, fun factor, and stress-busting qualities, it seems these spinning gadgets are here to stay for the foreseeable future. Whether they serve as a distraction, a tool for focus, or a way to keep hands busy, fidget spinners have certainly spun their way into our lives and hearts.
If you're interested in keeping your hands busy by clicking away, make sure to also check out our best gaming chairs that give you the ability to play for longer!
Without further ado, here are our top 5 best fidget spinners of the year!
---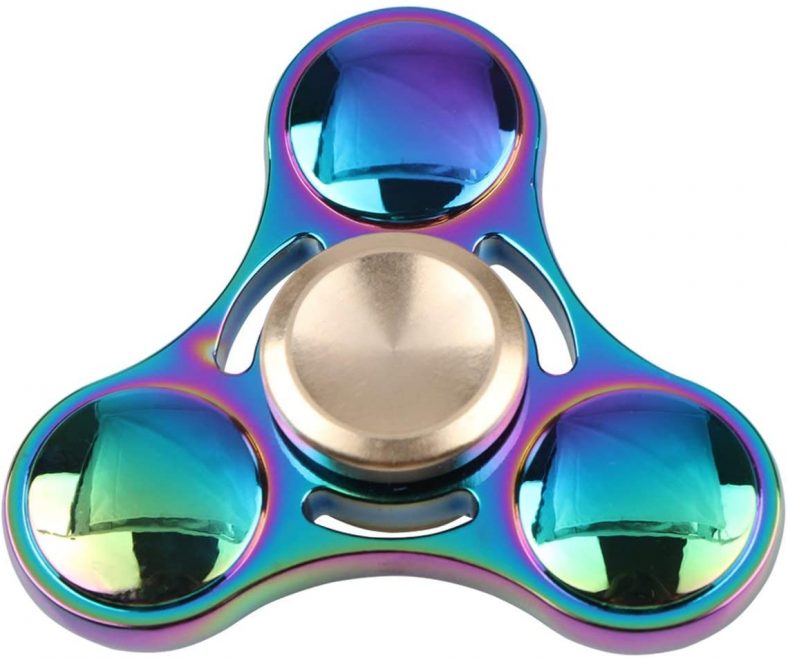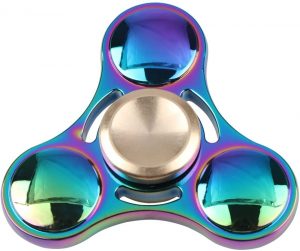 Overview
Made from highly durable stainless steel to last for decades, this fidget spinner is a thing of beauty. Bearings can revolve at an incredible speed to give you a very long spin that can last for up to five minutes. After all, the most important thing about a fidget spinner is to make it spin as much as you can, with the tabletop index-finger spin technique you will get the longest spin. It has a weight of 3.84 ounces, and its dimensions are 4.9 x 4.7 x 1.3 inches.
What We Like
We loved the rainbow colors on it, when you spin at full speed, it feels like you have Harry Potter's Snitch in your hand. I know that many fans of the wizarding world will enjoy looking cool while playing with this one.
What Needs Improving
You know that we at the gadget nerds like to test things and we decided to buy this fidget spinner. For us, it worked to perfection, and one of us managed to make it spin for almost five minutes (not going to tell who that was, because the others might get pissed!). However, reading some reviews, there were a couple of people that were complaining about the bearing, and that it was difficult to get a decent spin that would last more than 2 minutes. Nonetheless, the majority of reviewers were pleased with the quality.
The Final Verdict
For a small price, you will get a longlasting fidget spinner, with which you can have fun for years and not worry if it will break. The rainbow colors make it stand out from the other ones, while at the same time you will be having a relaxing time.
---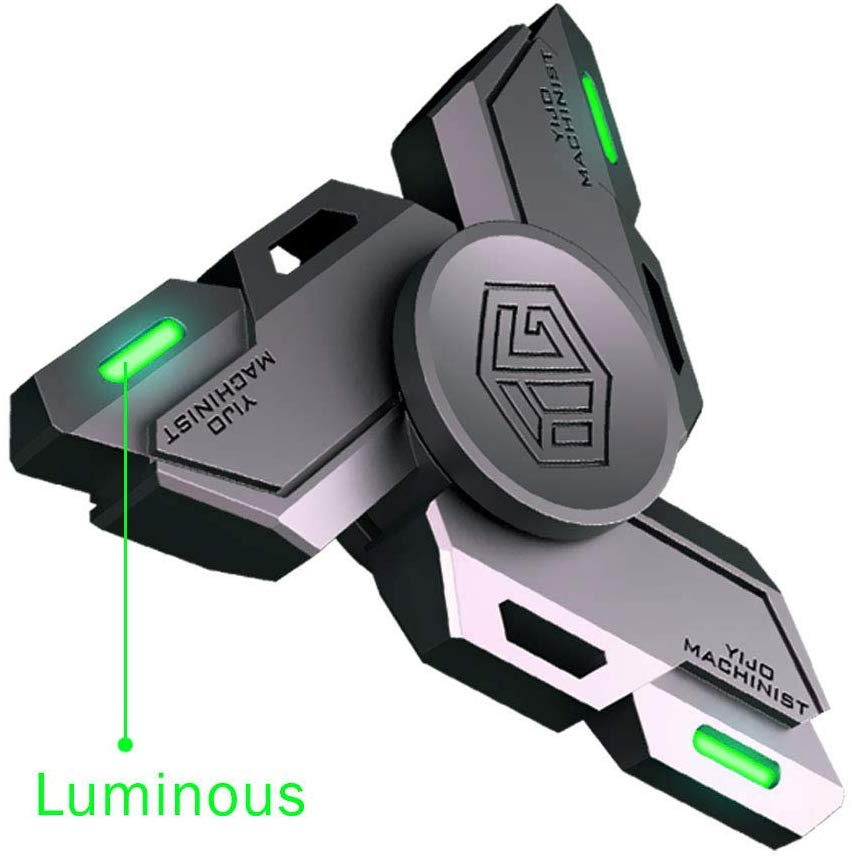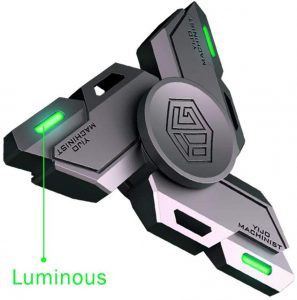 Overview
This fidget spinner looks more like something Batman would use to fight Joker rather than a toy. Made with highly durable metal-alloy. With the right technique, you can make it spin for a very long time because it has an ultra-high-performance ball bearing as well as specialized oil to make it spin longer and faster. "Charge" it in the sun or in the light of your phone's display and spin it in the dark for a super cool glow.
What We Like
We fell in love with its design as it feels like a shuriken darts in the hand. The black color fits the design since it makes it look a little bit more "dangerous". It's also lightweight, weighing 4.8 ounces, and its 4 x 3.9 x 1.2 inches
What Needs Improving
The only minor problem with it is that it wobbles from time to time, and that makes it lose the spinning time. However, we have tried, and we didn't have any problems with it, despite using it for a very long time. There was no noise, and it didn't wobble at all.
The Final Verdict
A fidget spinner that looks like a cool Batman gadget or a ninja shuriken is worth every penny. For next to nothing, you will get a highly durable fidget spinner that also looks amazing. We recommend you buy this one if you're looking for a fidget spinner that looks a little more special, and at the same time it's highly durable.
1 used from $21.04
Free shipping
as of November 27, 2023 3:10 pm
---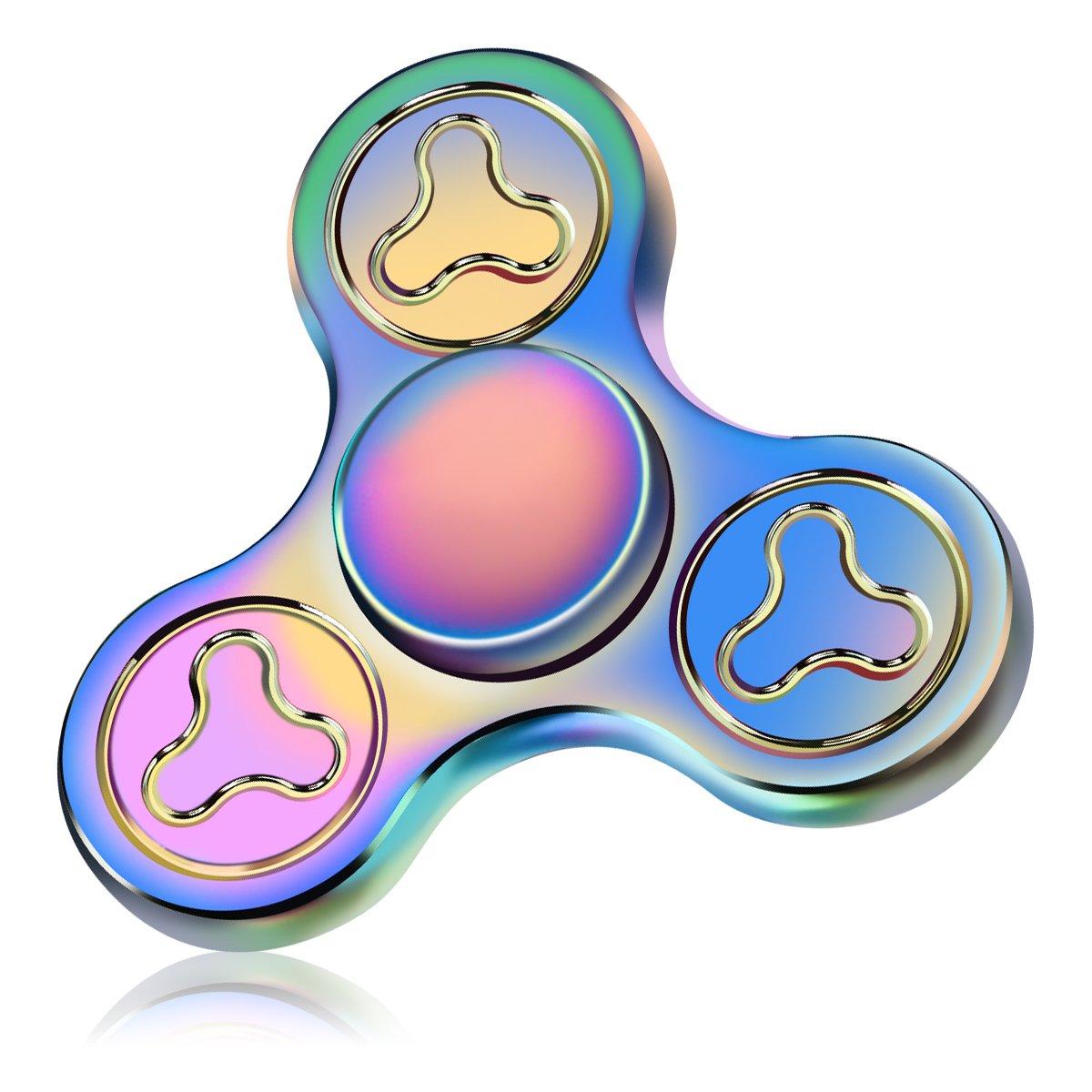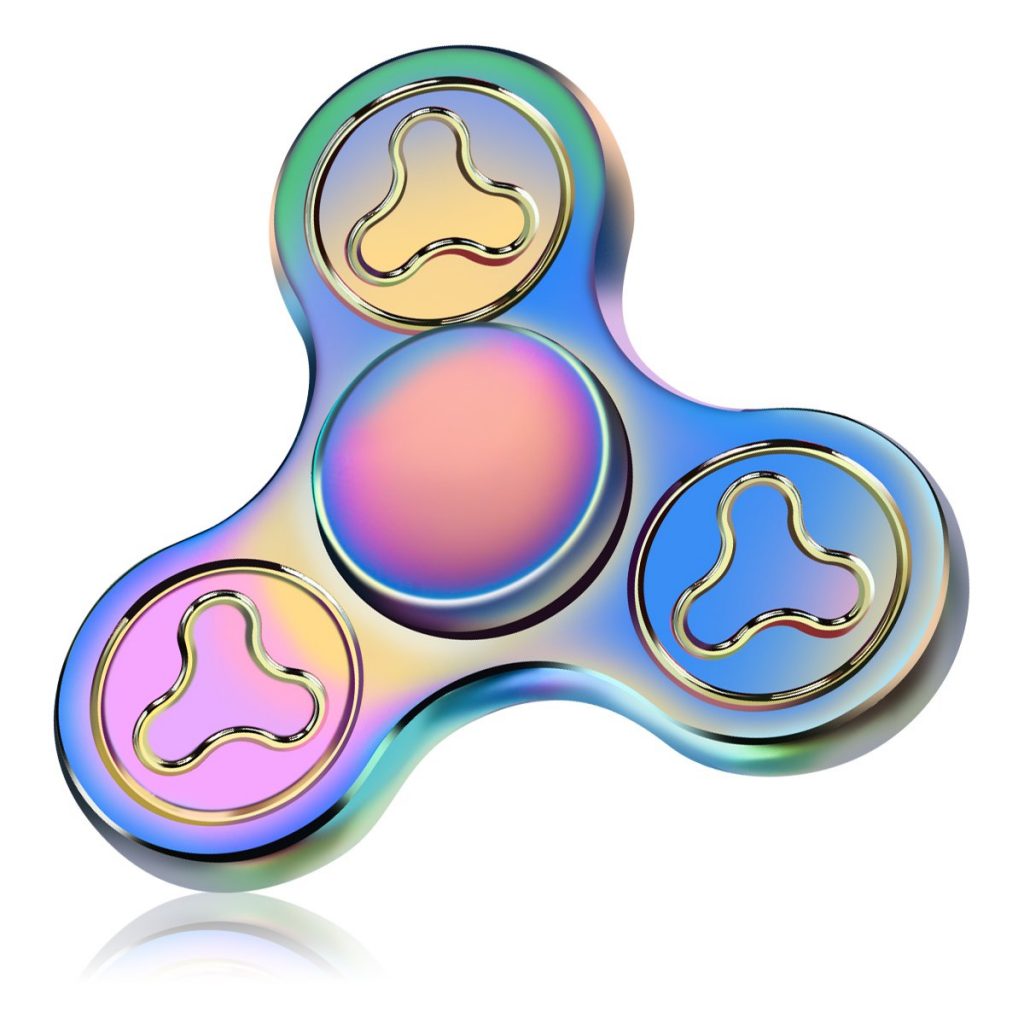 Overview
The ATESSON Fidget Spinner is an absolute monster, it can go on spinning for up to 10 minutes. If you love fidget spinners that don't make any noise, then look no further, because ATESSON has perfected the craft of making fidget spinners. It has a stainless steel bearing, to ensure that you will get excellent quality for your toy, and its body is made of high-quality aluminum. When you hold it in your hand, it feels very smooth, especially around the edges.
What We Like
We love the design because it looks sleek and futuristic at the same time. It's 4 ounces heavy, and its dimensions are 5.5 x 5 x 0.5 inches. The overall quality makes it worthwhile buying. Due to its sturdiness, you can expect it to last for years.
What Needs Improving
Just like the other fidget spinners on this list, this one is overall high-quality and fun. However, it can get a bit wobbly after some time.
The Final Verdict
This is a classy fidget spinner that will last for quite some time. For a small price, you will get a beautiful toy made of high-quality aluminum and stainless steel. We recommend this one, if you're looking for something more classy, that spins for quite some time, and it feels very smooth while you're holding it on your hand.
---
Overview
Meet the Umnodobn Gold Fidget Spinner Magic Orb – the golden child of the fidget world, inspired by none other than the mystical magic of the Middle Ages. This wondrous contraption brings not only a mesmerizing spin but also a shimmering presence that takes you back to the enchanted era of wizards and witches. All hail the trifecta of anxiety relief, fidget fun, and magical allure.
What We Like
There's a lot to love about this silent, smooth-spinning orb. Crafted from high-quality aluminum alloy, the spinner boasts a firm grip and a hypnotizing shimmer that's sure to turn heads. Whether you're an anxious adult, a restless kid, or a medieval magic aficionado, the captivating spin of this gilded gizmo is a delight to behold. And the way it comes packaged in its own zippered case? Pure class.
What Needs Improving
Despite its near perfection, there is a minor niggle. This mighty orb, while sturdy, may break if dropped from a height. A dash of invincibility could make it the Excalibur of fidget spinners. But until then, it remains a charmingly vulnerable piece of wizardry – handle with care.
The Final Verdict
An enthralling combination of focus, fun, and flair, this gilded spinner is a modern-day charm right out of a magical past.
---
Overview
Embrace the serenity of the Dr.Kbder Fidget Spinner Cube. This high-quality, metal fidget spinner toy combines the best of both worlds – it's both a fun plaything and a remarkable tool for managing stress. As the product of expert craftsmanship and top-tier materials, this toy appeals to both children and adults alike. With a wide array of color options, there's a style that suits everyone's tastes. Manufactured by the reputable brand, Dr.Kbder, the Spinner Cube is a testament to their unwavering commitment to customer satisfaction.
What We Like
The Dr.Kbder Fidget Spinner Cube is compact and practical, making it an ideal choice for those who like to fidget discreetly. Whether you're in a meeting, travelling, or simply relaxing at home, this little cube will always be at your fingertips. With its high-quality kirsite construction, noiseless spinning, and beautiful colors, it's a visually pleasing and tactile treat. We especially appreciated the thoughtfulness of the cube's design, from the easy-to-use spinning mechanism to the pocket-sized convenience.
What Needs Improving
While we're mostly pleased with this cube, there's always room for improvement. We'd appreciate if future iterations could improve the grip to ensure it's more comfortable for long-term use. Despite this minor gripe, the Dr.Kbder Fidget Spinner Cube remains a top-notch fidget toy.
The Final Verdict
After a careful review, we give the Dr.Kbder Fidget Spinner Cube a well-deserved score of 9 out of 10. Its striking design, sturdy construction, and effective stress relief properties make it a stellar companion for those who need a hand-held distraction. With this spinner cube in your arsenal, you can conquer stress with style and poise.
---
---
If you're super into fidget spinners and making the best out of them, check out these tips on how to do fidget spinner tricks!