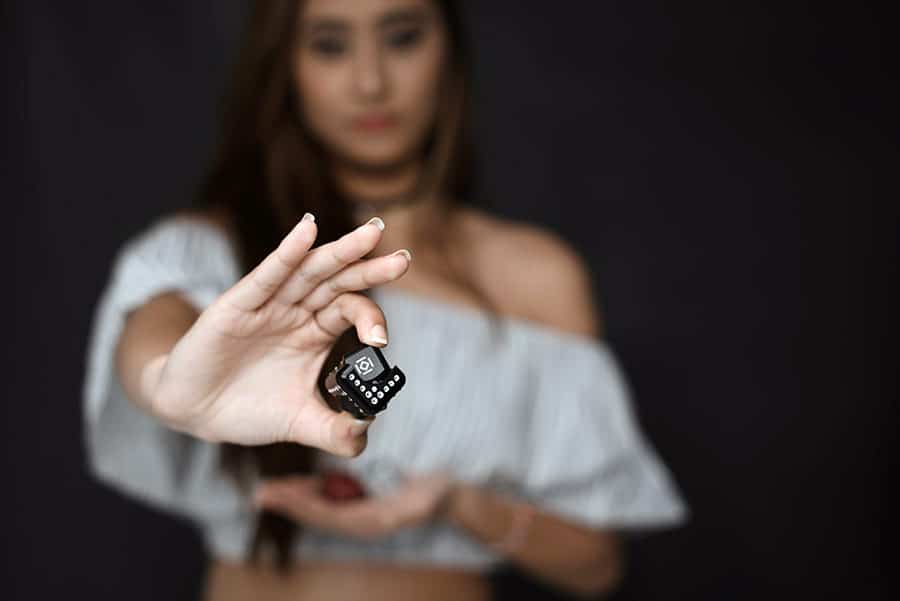 Who can forget the time when fidget spinners were the most prominent thing out there, where every child and teenager had one in their hands, playing with it at all times. It had caught the world by storm, and for some time, you could see it everywhere. The toy itself is quite simple, but it's also very fun to play, it has a ball bearing in the middle of a multi-lobed structure. While they became trendy back in 2017, similar toys like it were created back in 1993. Scott McCoskery came up with the idea back in 2014 when he wanted to cope with his fidgeting during work meetings. When he saw that other people were also interested, he started selling them online. With the increase in popularity, many schools began banning the toys, and in May 2017, 1/3 of the schools across America had banned the toy.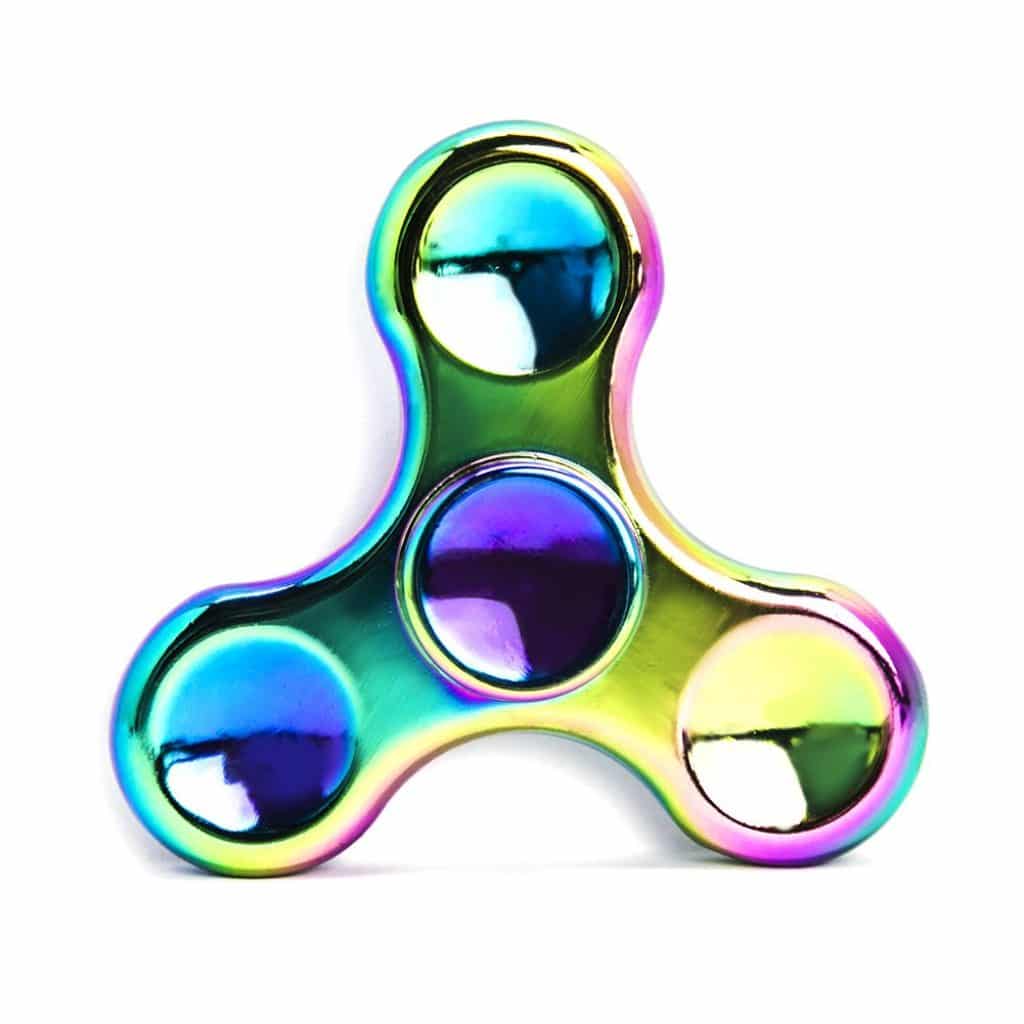 Overview
Made from highly durable stainless steel to last for decades, this fidget spinner is a thing of beauty. Bearings can revolve at an incredible speed to give you a very long spin that can last for up to five minutes. After all, the most important thing about a fidget spinner is to make it spin as much as you can, with the tabletop index-finger spin technique you will get the longest spin. It has a weight of 3.04 ounces, and its dimensions are 2.5 x 2.5 x 0.5 inches.
What We Like
We loved the rainbow colors on it, when you spin at full speed, it feels like you have Harry Potter's Snitch in your hand. I know that many fans of the wizarding world will enjoy looking cool while playing with this one.
What Needs Improving
You know that we at the gadget nerds like to test things and we decided to buy this fidget spinner. For us, it worked to perfection, and one of us managed to make it spin for almost five minutes (not going to tell who that was, because the others might get pissed!). However, reading some reviews, there were a couple of people that were complaining about the bearing, and that it was difficult to get a decent spin that would last more than 2 minutes. Nonetheless, the majority of reviewers were pleased with the quality.
9.5Expert Score
The Final Verdict
For a good price, you will get a longlasting fidget spinner, with which you can have fun for years and not worry if it will break. The rainbow colors make it stand out from the other ones, while at the same time you will be having a relaxing time.
---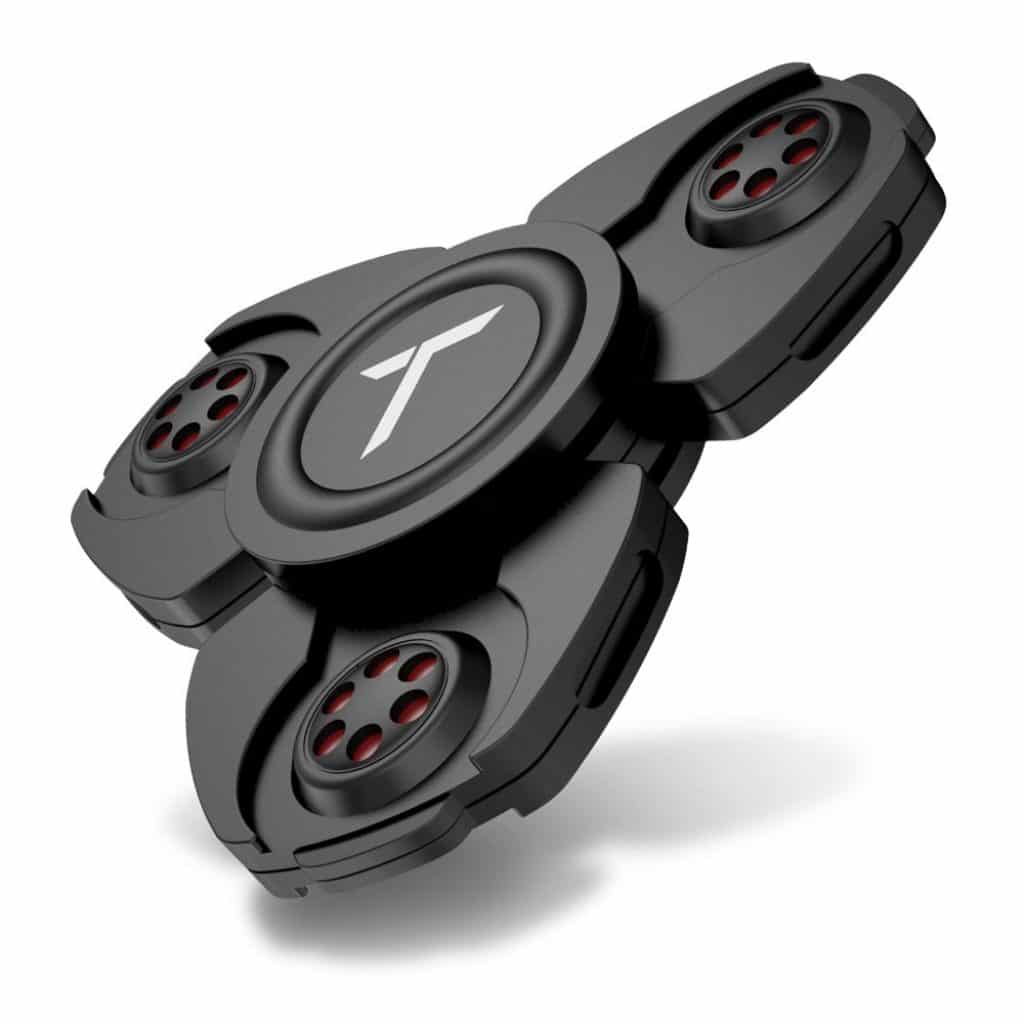 Overview
This fidget spinner looks more like something Batman would use to fight Joker rather than a toy. Made with highly durable metal-alloy, it comes with one year warranty. With the right technique, you can make it spin for a very long time because it has an ultra high-performance ball bearing as well as specialized oil to make it spin longer and faster.
What We Like
We fell in love with its design, when we first brought them to our offices, we felt like we had shuriken darts on our hands. The black color fits the design since it makes it look a little bit more serious. It's also super lightweight, weighing only 0.8 ounces, and its 3 x 3 x 0.3 inches.
What Needs Improving
The only minor problem with it, according to some users it's that it wobbles from time to time, and that makes it lose the spinning time. However, we have tried, and we didn't have any problems with it, despite using it for a very long time. There was no noise, and it didn't wobble at all.
9.6Expert Score
The Final Verdict
A fidget spinner that looks like a cool Batman gadget or a ninja shuriken is worth every penny. For next to nothing, you will get a highly durable fidget spinner that also looks amazing. We recommend you buy this one if you're looking for a fidget spinner that looks a little more special, and at the same time it's highly durable.
---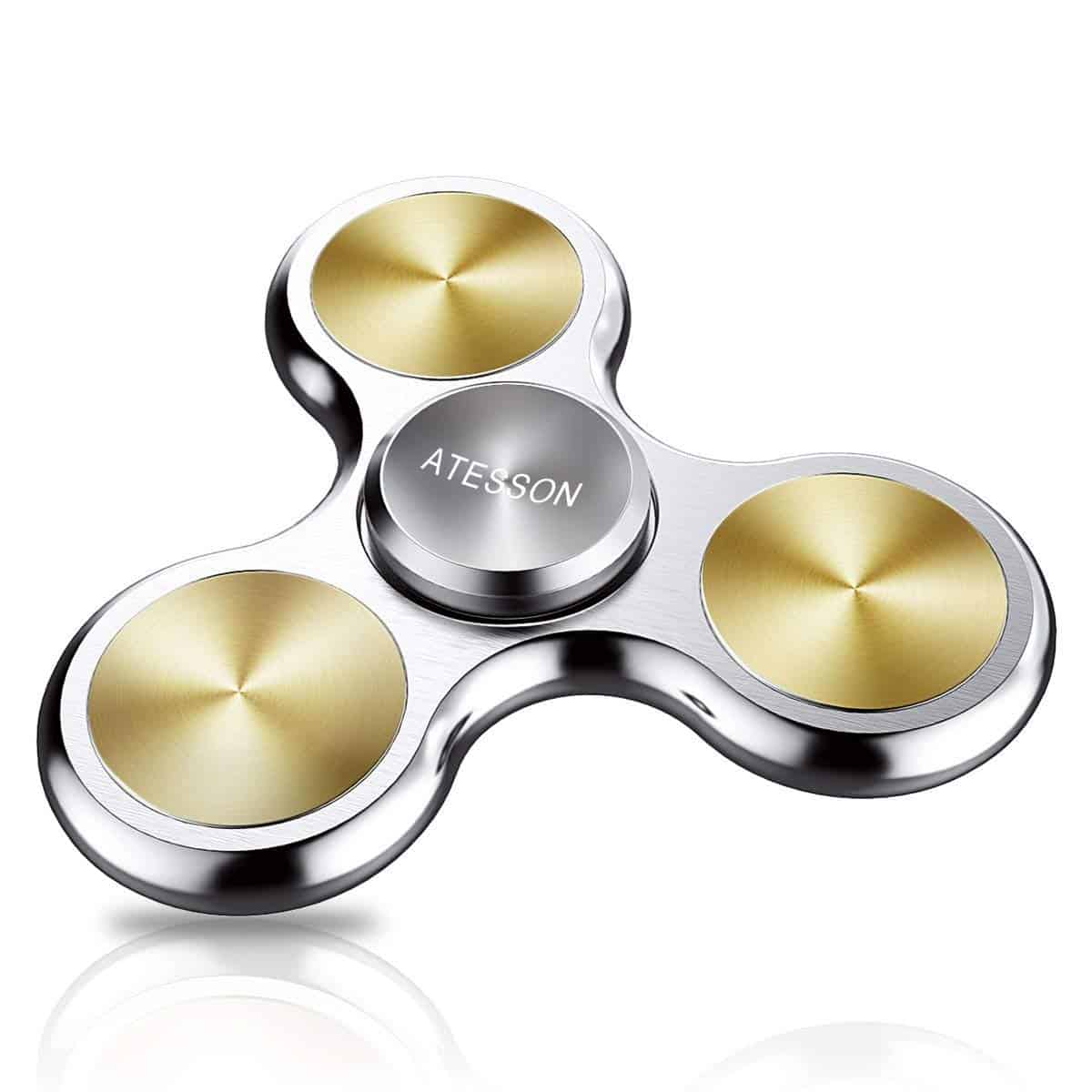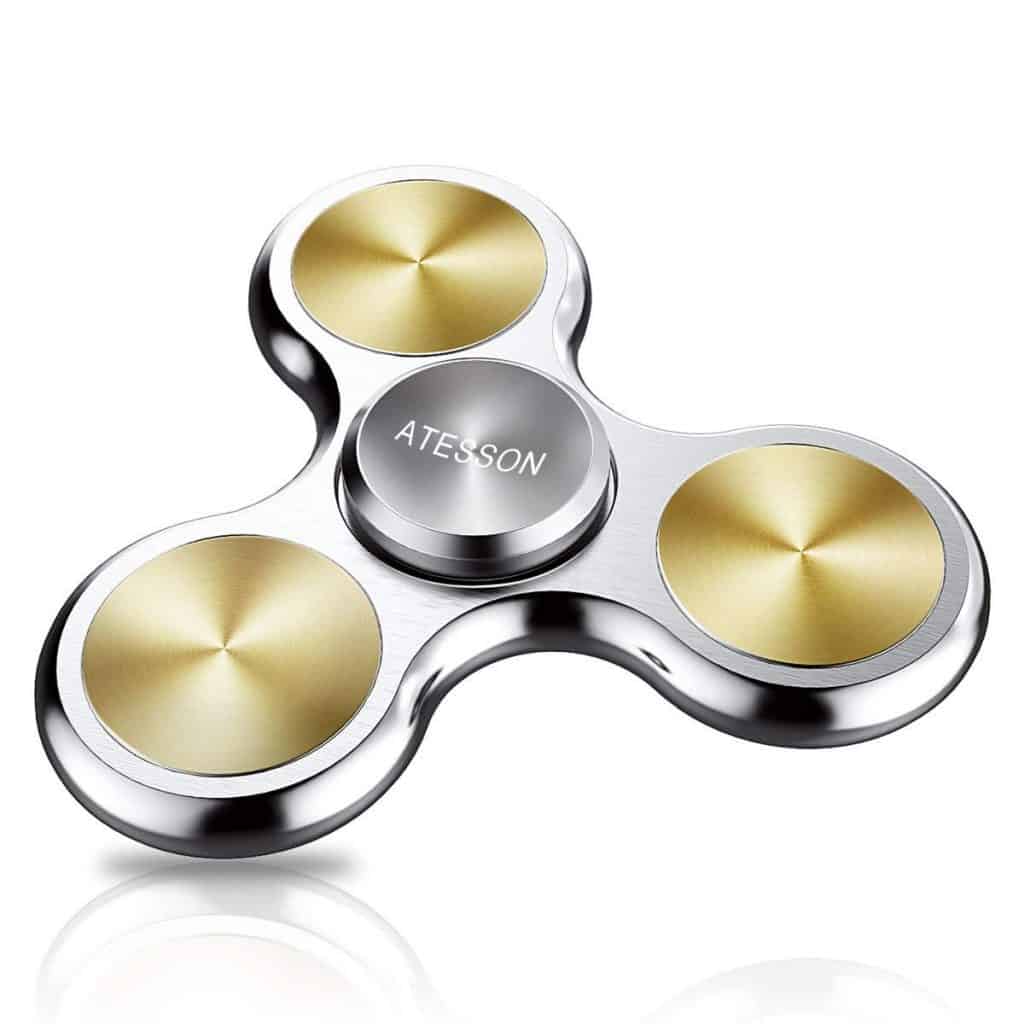 Overview
The ATESSON Fidget Spinner is an absolute monster, it can go on spinning for up to 10 minutes. If you love fidget spinners that don't make any noise, then look no further, because ATESSON has perfected the craft of making fidget spinners. It has a stainless steel bearing, to ensure that you will get excellent quality for your toy, and its body is made of high-quality aluminum. When you hold it in your hand, it feels very smooth, especially around the edges.
What We Like
We love the design because it looks sleek and futuristic at the same time. It's 4 ounces heavy, and its dimensions are 5.5 x 5 x 0.5 inches. The overall quality makes it worthwhile buying. Due to its sturdiness, you can expect it to last for years.
What Needs Improving
Just like the other fidget spinners on this list, the majority of reviews that we've read were unanimously positive. However, a small number of users have complained that it becomes wobbly after some time. On the other hand, that has never happened to us, as we've tested it on many occasions, and still works perfectly fine.
9.6Expert Score
The Final Verdict
This is a classy fidget spinner that will last for quite some time. For a small price, you will get a beautiful toy made of high-quality aluminum and stainless steel. We recommend this one, if you're looking for something more classy, that spins for quite some time, and it feels very smooth while you're holding it on your hand.