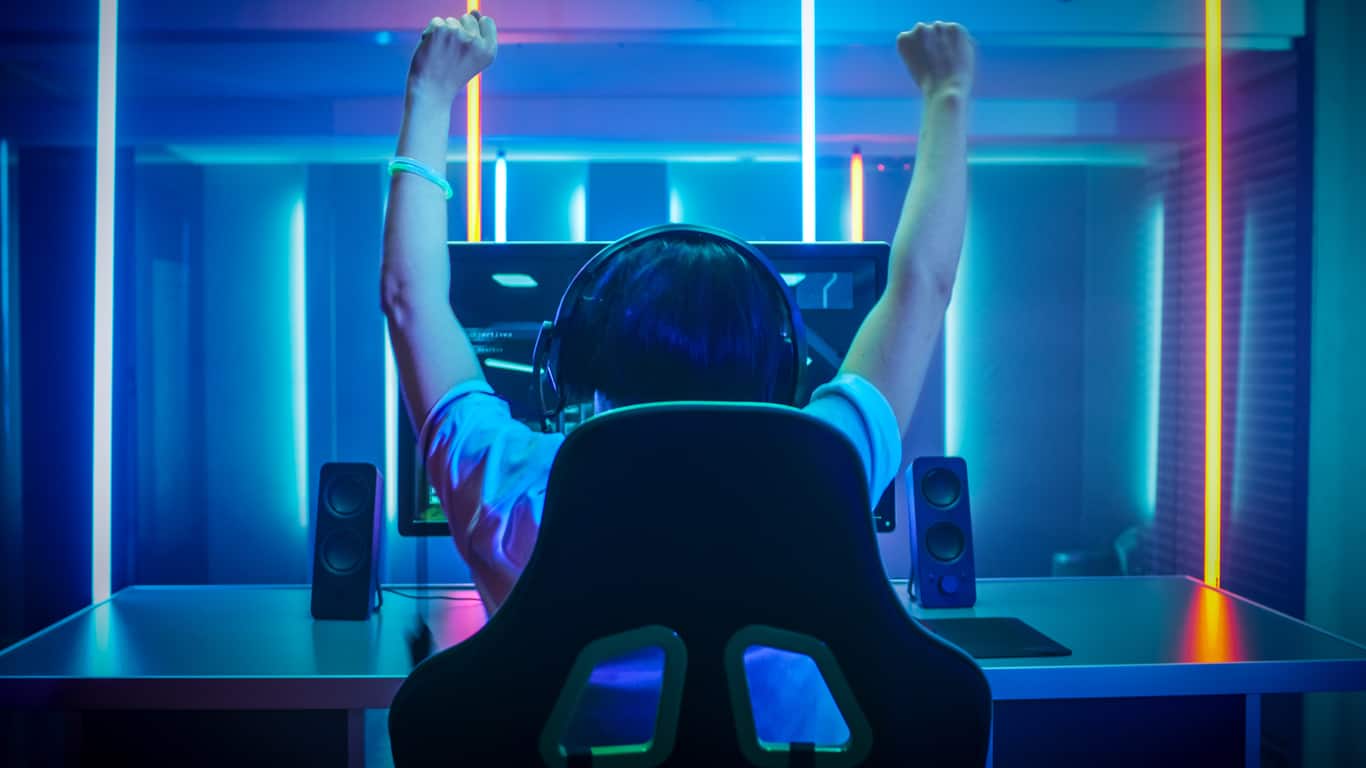 The Best-Selling Gaming Chairs: Which ones deliver in performance?
If there's anything better than kicking back and enjoying your favorite game, it's reclining in a gaming chair while you do it! One half control center and one half immersion therapy, gaming chairs are ideal for gamers who want to stay comfortable while beating the bad guys.
A gaming chair can really help with posture and spinal positioning, blood flow, but more importantly, improve your gaming ability, due to increased concentration and body comfort. But what to look for when choosing your throne? Which chair will enhance your experience?
There are several types of chair to think about, but style ultimately depends on personal choice, after all you're the one sitting in it for hours.
• Gaming Rockers: These are an L-shaped design, with a seat that rests directly on the floor. They allow reclining and rocking, sitting as close to the screen as possible for that full immersive experience.
• Racing Chairs: Racing chairs often come equipped with steering wheels and pedals, offering a realistic gaming experience, making them an especially good choice if you play racing type games. They also, however, work well for flight simulations. Many racing chairs are fully mobile on their base, allowing for 'cornering' etc.
• Pedestal Chair: Pedestal gaming seats elevate the player off the floor, allowing tilting, whilst providing a good view and a straight shot at the screen.
You also need to ensure that the chair you are purchasing fits well with your gaming setup. While some are designed to be fully compatible with all or most existing gaming consoles, others are built specifically for one model only. Some come with speakers which can enhance your playing no end, and some have wireless connectivity, eliminating the need for annoying cords.
Other features to look for include rumble functions, surround sound and the less technological – cup holders and arm rests.
So what are the Top 3 Gaming Chairs of May, 2019?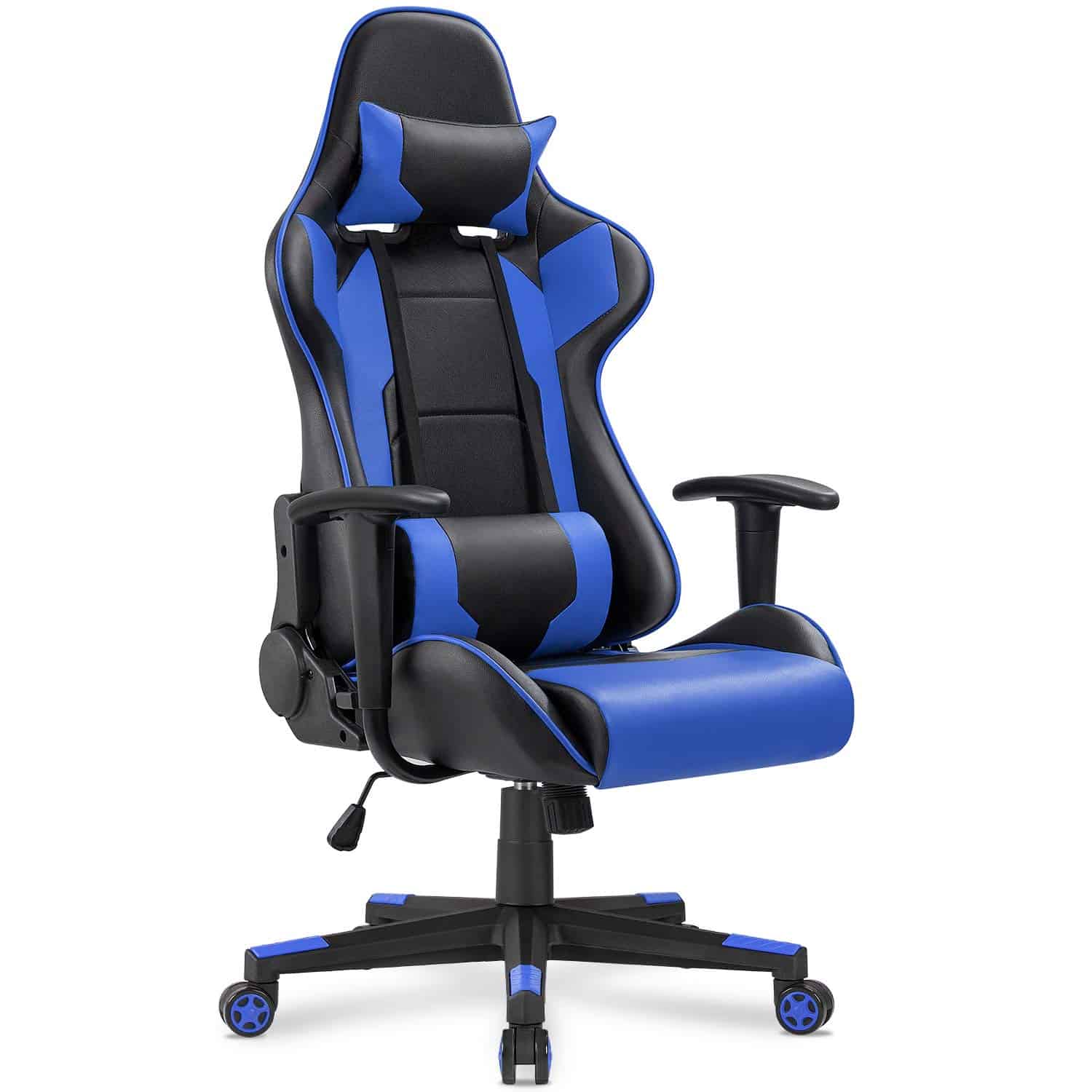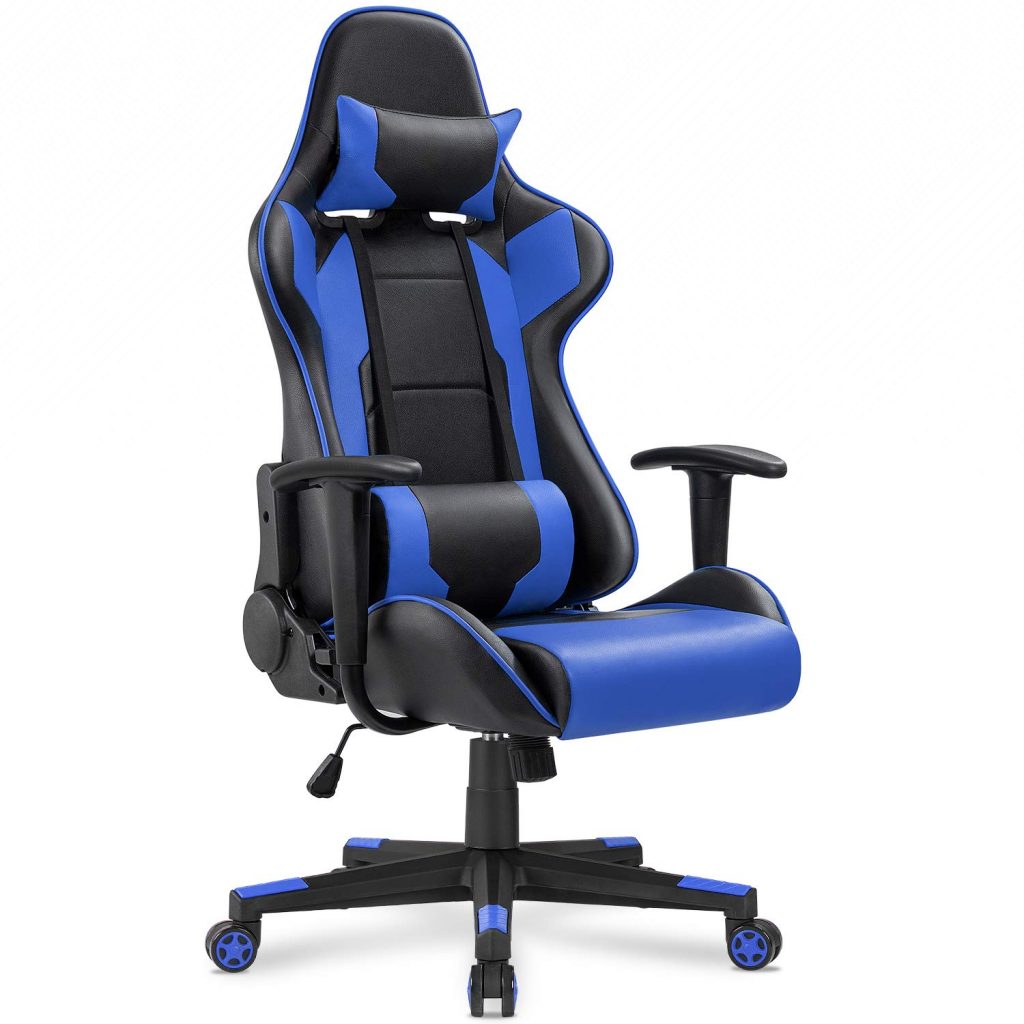 Overview
The good looking Homall gaming chair is an ergonomic racing style chair designed both for comfort and the all round gaming experience. This chair fully reclines, swivels and rocks, has arm and head rests and a very comfortable lumbar support cushion. The fabric is hardwearing, stain and scratch resistant. This chair feels very well made, sturdy and is so easy to assemble.
What We Like
This Homall chair is incredibly comfortable for a long heavy gaming session. We fully tested the 360° swivel action, reclining ability, and rocking functions, and found them all awesome, really adding to the immersive experience. Despite many hours of continuous gaming, we found this chair comfortable and relaxing, and were pleased to see no marks on the floor after a fair bit of sliding around.
What Needs Improving
The one thing that could be improved is to make the arm rests adjustable; they were the perfect height for us, but that might not be the case with everyone.
The Final Verdict
This is a really cool chair. It looks great, is sturdy and well made, and comfortable enough for many hours of continuous gaming with no resulting aches and pains. For the price, it's awesome, and we're happy to recommend the Homall.
Selected Material:High Density shaping Foam,more comfort,anti-oxidation,elasticity resilience and service life;1.8mm thick steel frame,more sturdy and stable;Pu Leather,skin friendly and wear-resisting.
Last update was on: May 24, 2019 7:45 pm
in stock
---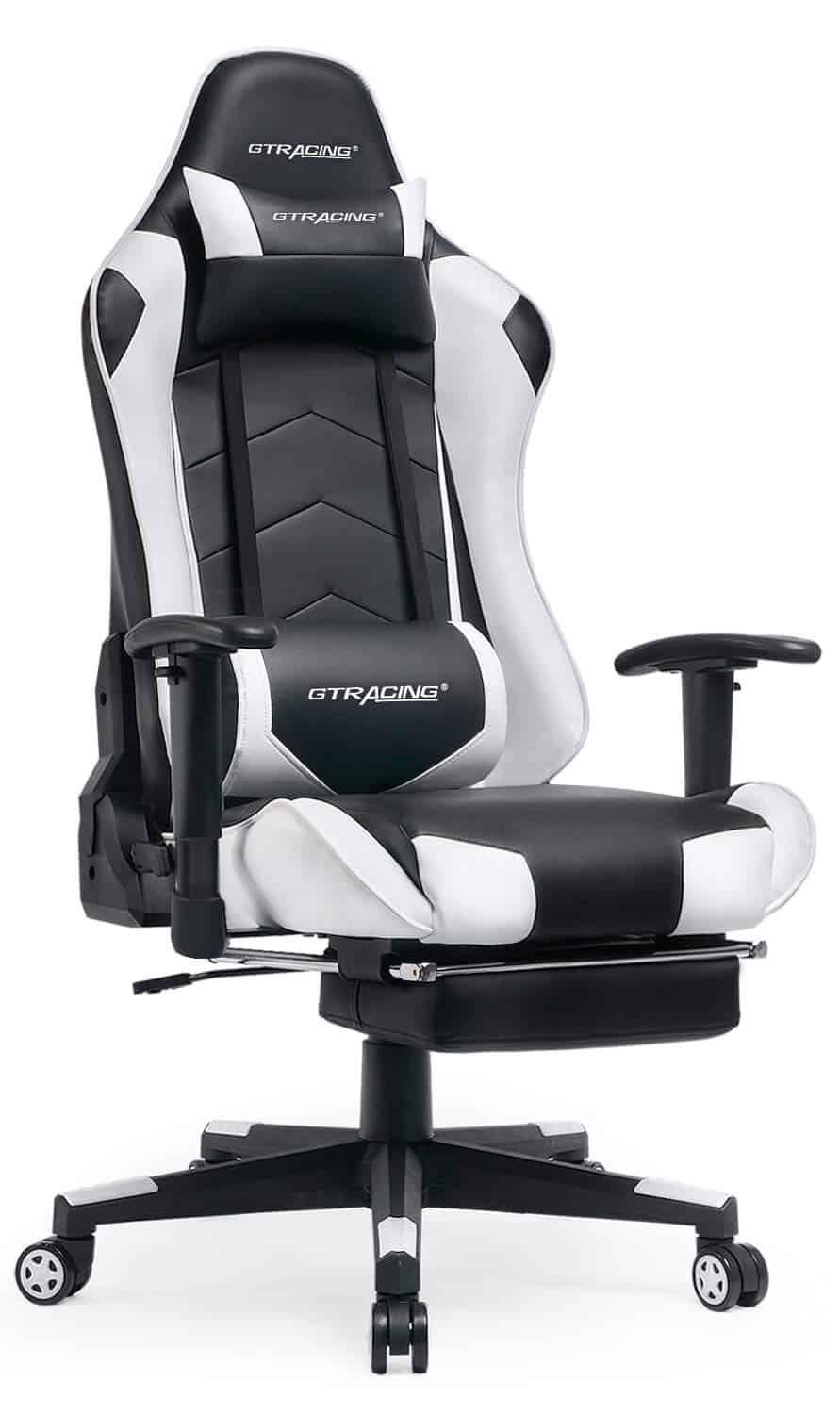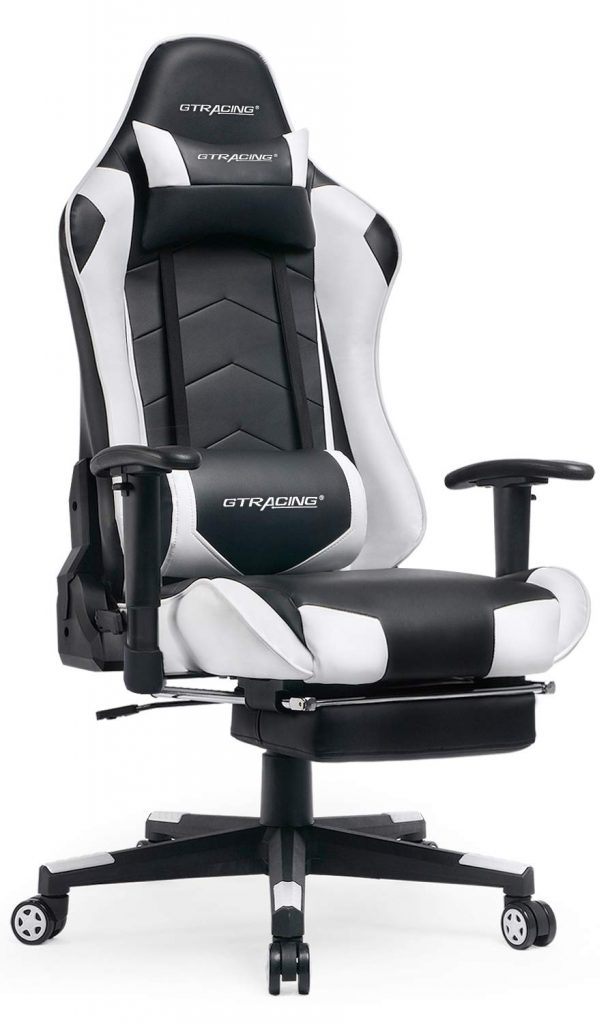 Overview
This GTRacing chair is rugged and tough. We found it super easy to assemble, and the ergonomic design provides support just where it's needed. With the ability to rock, swivel, tilt and recline, there doesn't appear to be much this chair can't do.
What We Like
Despite rocking, tilting and swivelling for hours on end, this chair coped very well. It's sleek looking, awesomely comfortable and fully adjustable. Heavy duty casters ensure the floor remained mark free.
We love the 'take a rest' mode – it allows you to completely stretch out, loosening your legs, back and neck muscles. You can recline the chair to be almost horizontal, and surprisingly, it's perfectly balanced in this position.
What Needs Improving
For taller players, the chair could do with another 2'' on the back, but this wasn't a deal breaker and it was still very comfortable.
The Final Verdict
You'd be forgiven for assuming this chair is in the high price bracket, considering everything it has going for it, but no, it's a great price for an awesomely good racing chair.
✔PERFECT FOR GAMING: GTRACING is dedicated to make the best gaming chair for pro gamers. Choose us, and improve your gaming experience! Dimensions:21.65"(L) x 21.65"(W) x 50"-53.94"(H); Maximum weight capacity: 330 pounds.
Last update was on: May 24, 2019 10:46 pm
in stock
---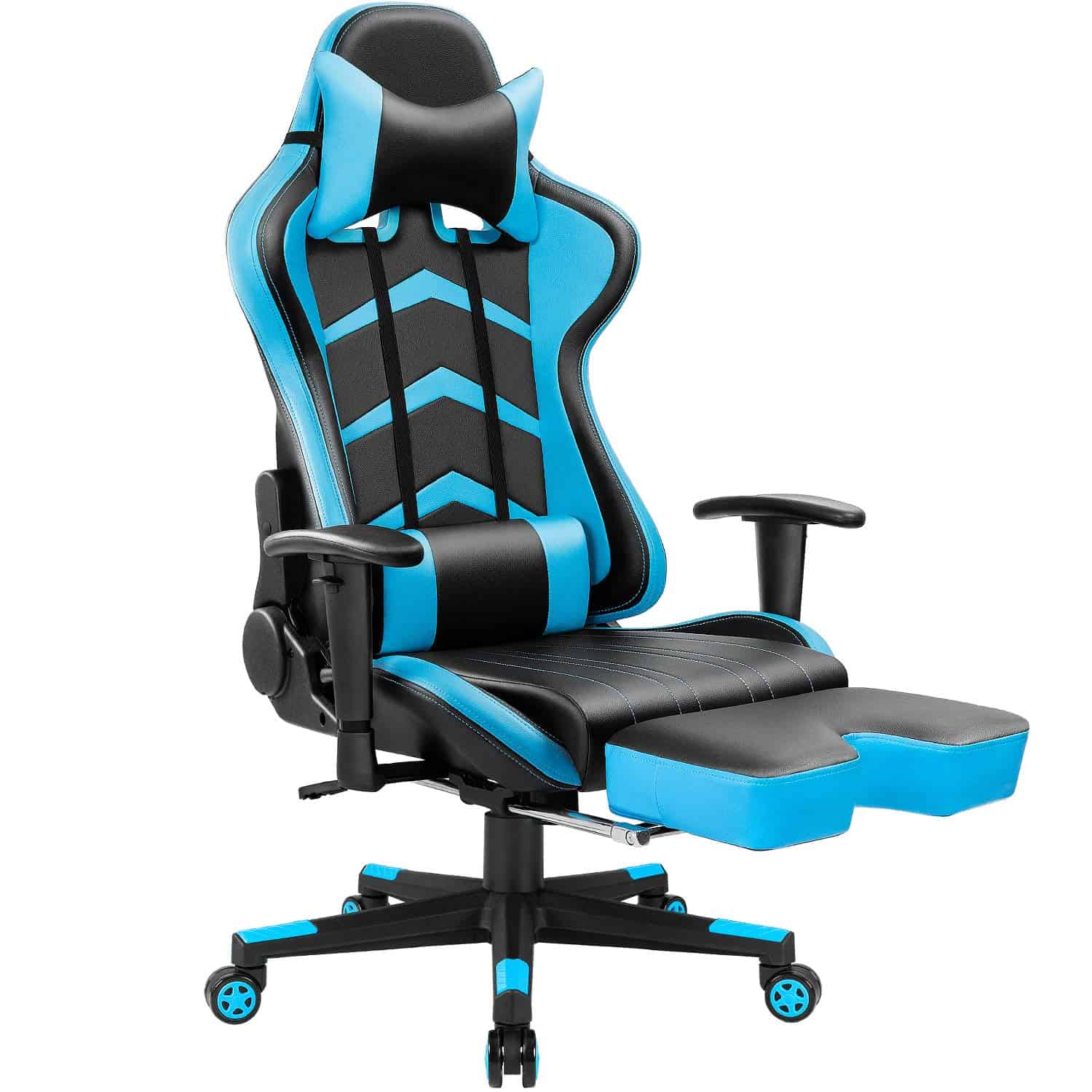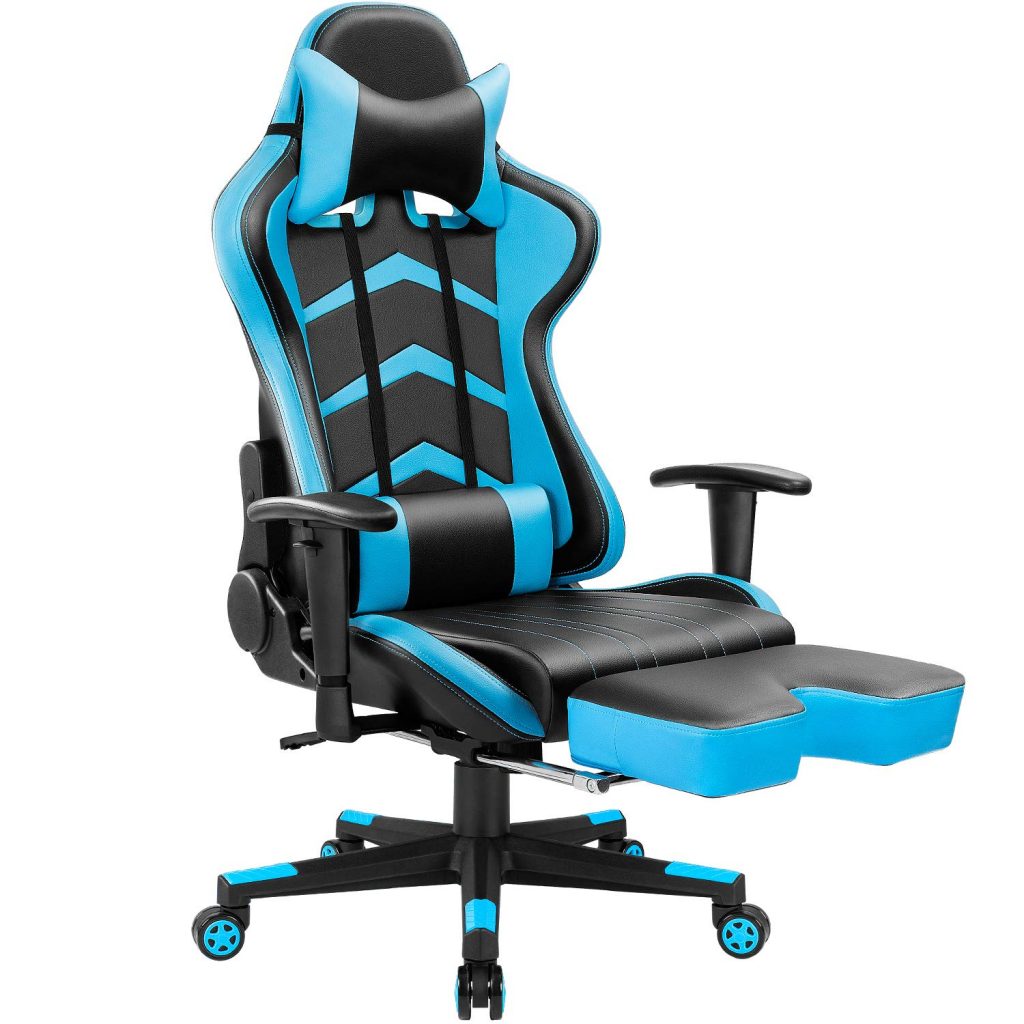 Overview
By day this Furmax is your standard work chair and by it night doubles as an excellent, ultra comfortable, gaming chair. Not to mention it comes in a bold blue and black colorway with a sci fi inspired design. This is heavy duty, hard wearing and very user friendly. We assembled it in minutes and were ready to play.
What We Like
We love this stylish design, and the fact it morphs from gaming chair to smart (but cool) office chair is awesome – what a way to cut costs! It swivels, tilts, reclines and supports, allowing for extra long gaming sessions. The foot rest is a huge bonus. The cushions are super comfortable, the material soft, but hard wearing leather, and everything is adjustable. Not only are they wheels scratch proof, but so silent as to be deemed 'mute'. Perfect for an undisturbed, immersive experience.
What Needs Improving
This chair had a strange, plasticky smell on unpacking. However, within a couple of hours this had faded completely. After then, we couldn't fault it.
The Final Verdict
This chair is near perfect – both as a stylish work chair and a comfortable, sleek gaming throne. It's durable, tough and coped well with everything we threw at it. We've never been so comfortable while dominating at Call of Duty.
Material: High quality leather and thick padding with Bucket Seat, provide a ultra comfortable experience
Function: Features a pull-out, flip over footrest which is perfect for relaxation during your busy working days and intense gaming time
Last update was on: May 24, 2019 7:45 pm
in stock
---
Just for you, we also recommend our brand new review of the best gaming mice as well as these trending articles: