Streamlining Your Gameplay
If you're a complete game addict then a dedicated, specialized keyboard can make the world of difference. It can streamline your gameplay, increase your effectiveness and turn something merely exciting into a full on gaming experience!
However, there are a couple of things to take into consideration before you splash the cash. With so many gaming keyboards on the market, you need to decide what you're looking for.
Are you hooked on the eSports scene, or do you prefer solo gaming adventures? Will a dozen extra buttons help your MMO raid party, or is the extra space required for a numpad cramping your style, and your wrist? Or do you need a keyboard to match your gaming mice?
Membrane, Dome or Mechanical?
Membrane keyboards has a sort of squishy membrane which has pressure sensitive pads that the keys press down on when you depress them. They tend to be cheaper, have a low profile and have a near silent key press.
Scissor switches are a type of dome switch. This is a hybrid button that puts a folding mechanism under each key that then presses down on a membrane when you depress the key. This has a tactile feel, but also benefits from the slim profile and quiet keys of the membrane keyboards. Most consumer keyboards, and some gaming ones, are dome keyboards.
Mechanical keyboards are made with springs, which allows for exact key presses – perfect for fast typers. Some laptops will light up a mechanical keyboard using LED lights. The drawback? Mechanical keyboards can be loud, which may make them less ideal for quiet environments.
One thing that many gaming keyboards have are the media keys. These are usually located in the right hand corner of the board, and have controls for play, pause, skip and some kind of volume control, some also incorporate a dial control. This means you can have ultimate control without removing your hands from the keyboard.
A lot of gaming keyboards also come with removable wrist rests, and so if you're prone to RSI this can make gaming more comfortable. Another option are tenkeyless decks which omit the number pad, leaving more space for the important stuff.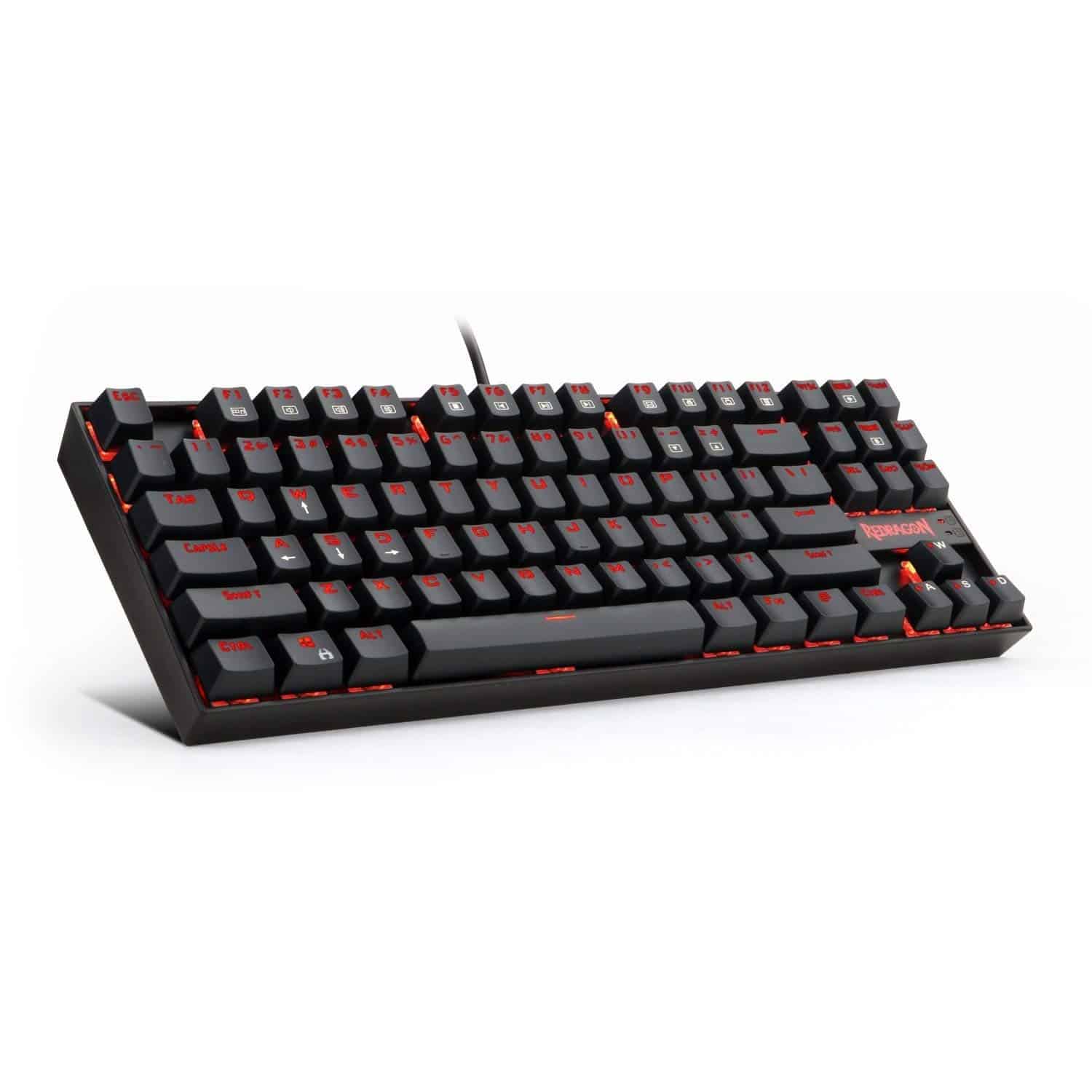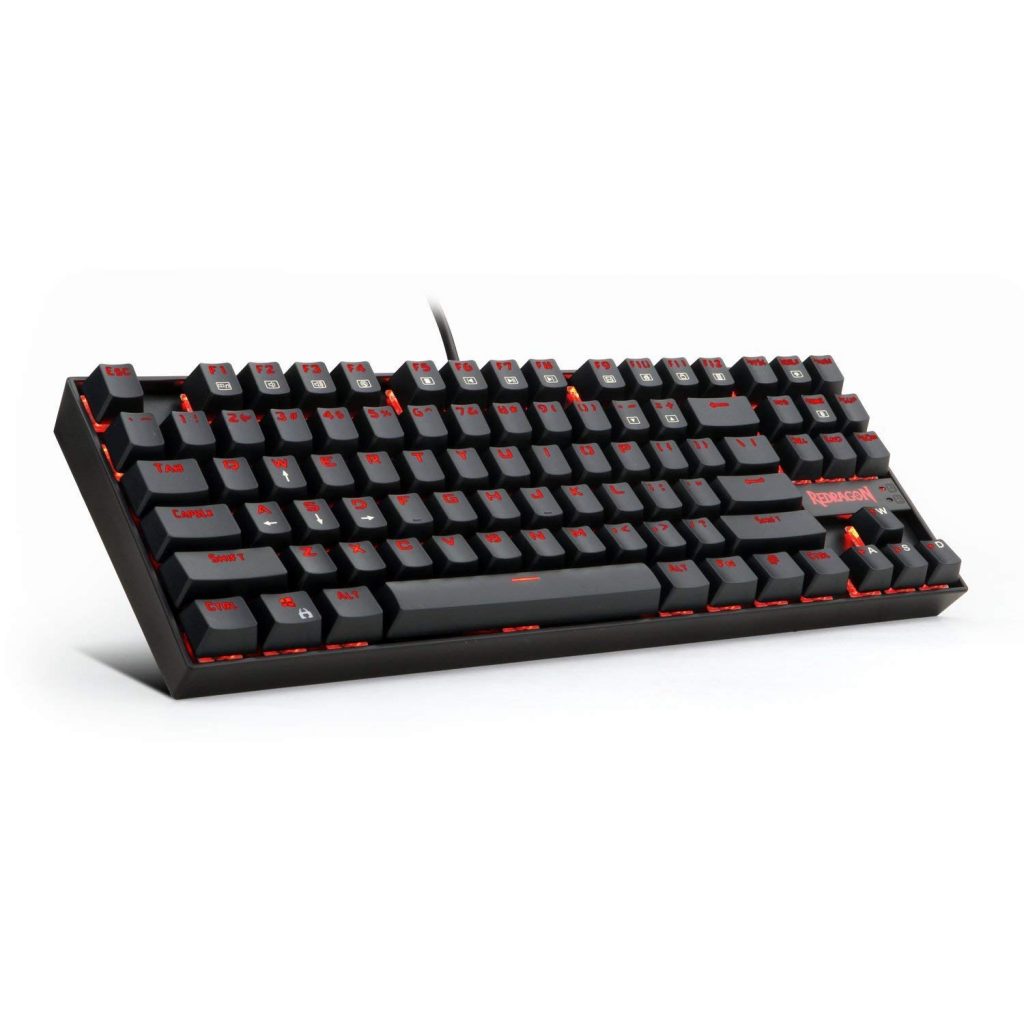 Overview
This heavy duty gaming keyboard really looks the part. Redragon have a reputation for stylish, efficient gaming peripheries and this keyboard adds to their arsenal. With 12 multimedia keys, and customizable responsive switches, this is a very tactile keyboard. A choice of colors and lighting options give this keyboard a nice touch.
What We Like
This is a neatly designed keyboard, and despite having 87 keys, it's remarkably space saving. Offering a customizable, fluid gaming experience, the keys are springy and so responsive. Non slip, and spill resistant, Redragon have brought all their expertise together in this keyboard, and we have to say – we love the red LED backlighting.
What Needs Improving
The only thing that would make this better are slightly larger keys, but really, that's it.
The Final Verdict
This is an amazing keyboard - it does everything you need for an awesome gameplay experience.
4 used from $26.73
Free shipping
as of November 27, 2023 6:14 pm
---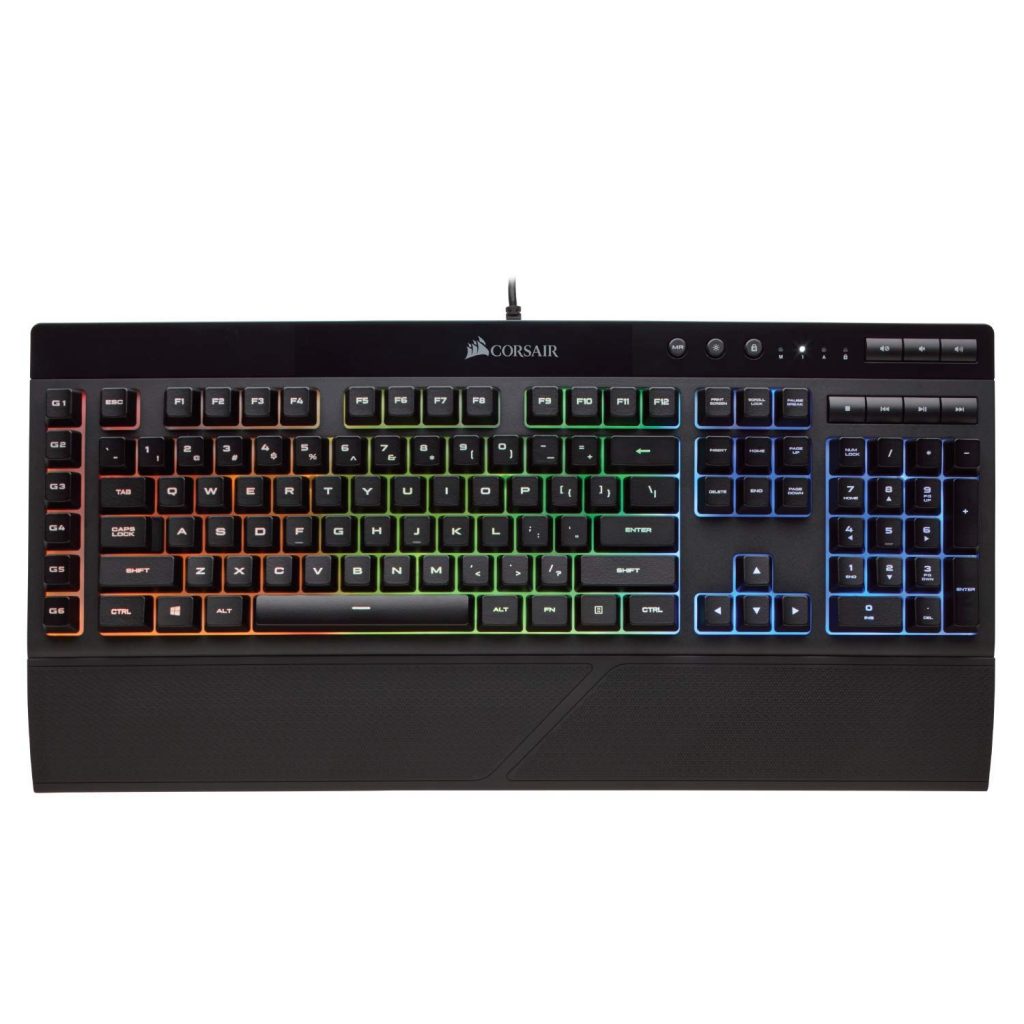 Overview
This full size keyboard is jam packed with useful features and great ideas. Customizable LED lighting, 6 programmable macro keys, multimedia keys and an ergonomic wrist support allow complete control, even in the height of battle.
What We Like
In order to eliminate the problem of missing simultaneous key presses, Corsair have spent time and effort developing their anti-ghosting technology. This should be part of every gaming/non gaming keyboard. The LED lights are truly something to behold – we were fully expecting planes to start landing, and even after a marathon session, our wrists felt as fresh as if the previous 27 hours had never happened!
What Needs Improving
The layout took a little while to get used to, for example the 'shift' characters are below the 'non shift', and the semi-colon is above the colon character. But it just kept us on our toes.
The Final Verdict
If you're looking for a budget gaming keyboard that does it all and has some very nice features, the Corsair is well worth serious consideration.
---
Overview
Fosman have designed a compact gaming keyboard that has functionality in the real world, too. A full qwerty keypad, touchpad, and backlit with LEDs, it's lightweight and easily portable. Being wireless gives it an instant edge over the non wireless keyboards, and its solidly serious approach to life is refreshing in a world of 'toy' gaming keyboards.
What We Like
The slanted keys are a great feature – slanting left for the left hand, and vice versa, and despite its diminutive size, the keys are a decent size. As a result, you can send emails and texts just as easily as leap from tall buildings, firing as you descend. Connectivity is solid, with a good, long battery life. All in all, this is a great piece of kit.
What Needs Improving
There is a slight ridge running around the keyboard which can get a little uncomfortable after a few hours. But the plus points more than compensate.
The Final Verdict
Fosman's addition to the gaming market is impressively versatile. Compact and wireless, this is a serious device for serious gamers!
---
Also trending: