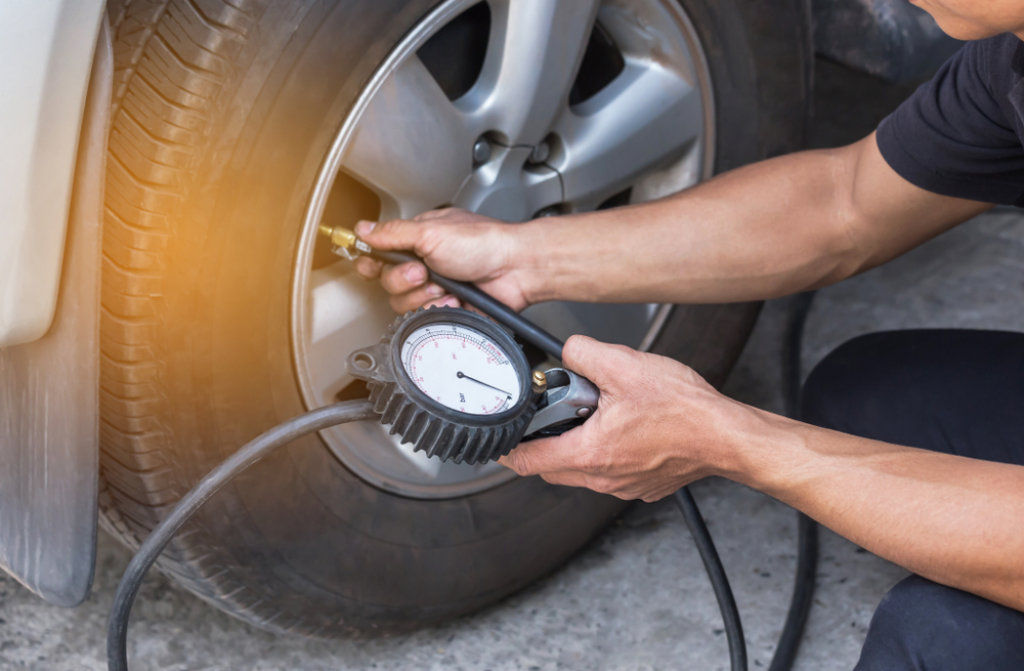 Does A Flat Tire Fill You With Dread?
One of the most important factors with auto performance is the role of tires. We cannot emphasize enough how essential they are when it comes to road safety. Every driver knows that in order for their car to handle well, the tires have to be in good condition.
The internal pressure always needs to be at optimal level, and the easiest way to achieve that is with a tire inflator. But with so many to choose from what points do you need to consider when buying one?
Portability and Storage – It should be easily stored in your car so that it's there when you need it.
Reach – All your tyres need to be easily reachable for any inflator cable.
Automation – Do you want it to be pre-set, or input the PSI settings manually? Once the pressure has been reached, do you need it to switch off automatically?
Inflation Speed – This could be important depending on your circumstances.
Adapter Size – Will it fit your tires?
Other Features – Some inflators include flashlights or warning lights which will make things easier at night and can alert other drivers.
So, now we know what to look for, let's get on the road to test drive the best selling tire inflators.
Plugging straight into the cigarette lighter, this heavy duty inflator includes additional adapters, and can inflate anything that needs it – tires (obviously), bicycle tires, inflatable toys, and so on. With an clearly read LED display, flashlight and auto switch off, this portable inflator is available in a range of bright colors.
What We Like
EPAuto have designed a great looking, very sturdy inflator. The cables are a great length and can easily reach all around a large SUV. Programme in your desired PSI and away it goes, switching off when it's done. It doesn't overheat, has a built in flashlight, and it isn't too loud. It's test performance was exemplary, and it tackled every tire on our cars with ease.
What Needs Improving
It isn't the fastest inflator, but for us, the speed is perfectly okay.
The Final Verdict
For a budget friendly inflator, this is a great buy. Super efficient, multi talented and perfect to throw in the trunk for emergencies.
CONVENIENCE: Plug directly into Cigarette Lighter Socket of your Vehicle. 12VDC, 10 to 15 amps, 120 to 180W. Equipped with 12V-DC Cigarette Lighter Socket Plug", NOT 110V AC plug.
MULTIPLE USES: Inflate tires on cars, bikes, sedan and midsize SUV. (Engine size under 3.5 liter) Universal valve connector for schrader valve is ready to use. Additional adapters include needles value (for basketball, balls), short cone/long cone adapters (for inflatable kayak, swimming pool accessories, etc)
6 used from $30.69

Free shipping
Last update was on: May 25, 2019 12:45 am
in stock
---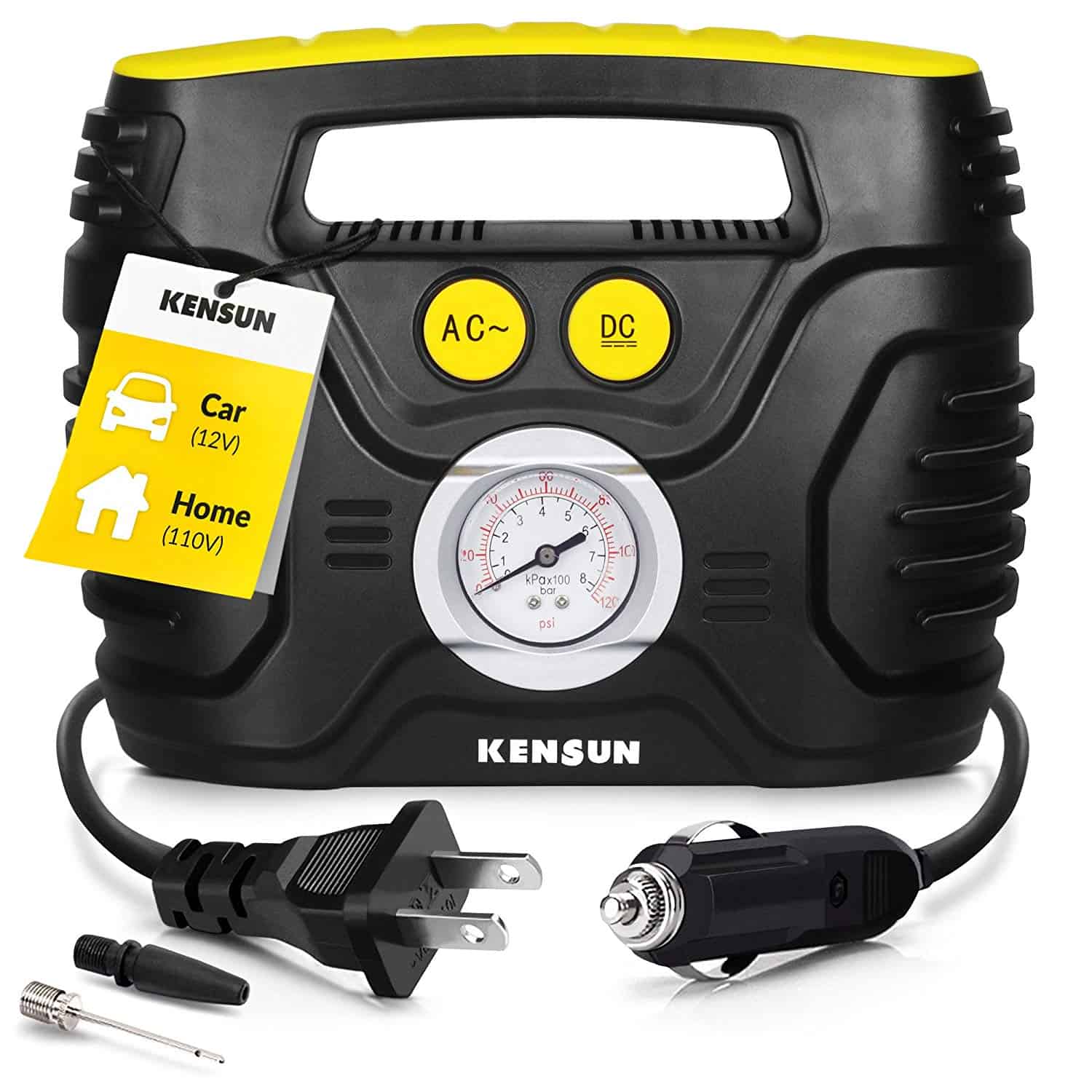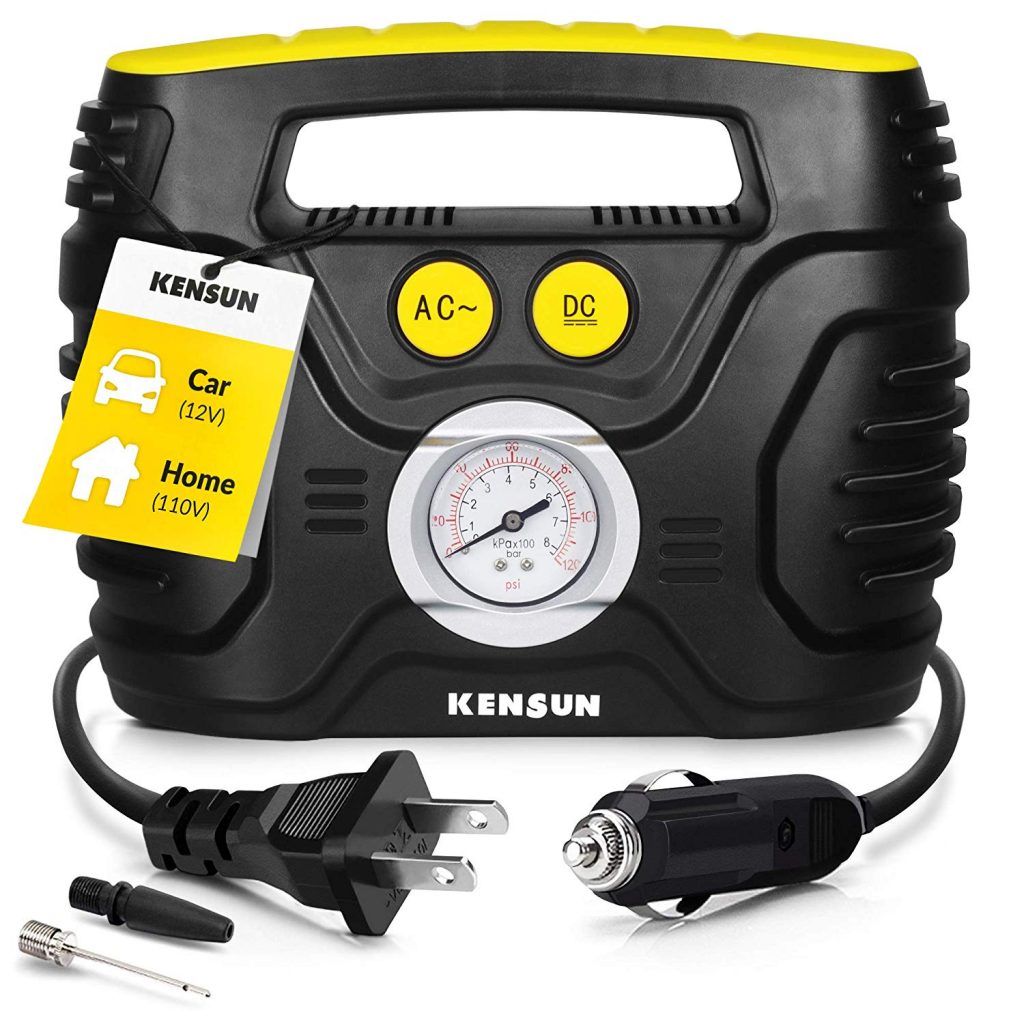 Overview
Kensun, with their usual flair for innovation, have given this sturdy, compact inflator the unique ability to switch effortlessly between the car cigarette lighter and wall outlet, making it useful anywhere. The classic style large print pressure gauge is easy to read and decipher, and it comes with several adapters.
What We Like
This looks and feels like a quality product with its hardcore black and yellow styling, and durable handle for portability. The included case keeps it dust and dirt free whilst packed away in your car's trunk. The two heavy duty motors inflate tires quickly and efficiently, and with the extra nozzles, it can be used on multiple items. We really like this tire inflator – it's honest, does its job very well, and can survive being kicked around.
What Needs Improving
The addition of a flashlight would improve this inflator.
The Final Verdict
If you're looking for a decently priced, heavy duty tire inflator, this is a great choice due to its efficiency, mobility and versatility.
Fast inflation: Dual solid metal motors provide superb power, which will make your tire inflation super-fast and easy.
AC/DC for car and home: Kensun's unique AC/DC switching with 12V car cigarette light plug as well as 110V wall plug for home outlet makes this inflator more useful since you can use it anywhere.
1 used from $55.12

Free shipping
Last update was on: May 25, 2019 12:45 am
out of stock
---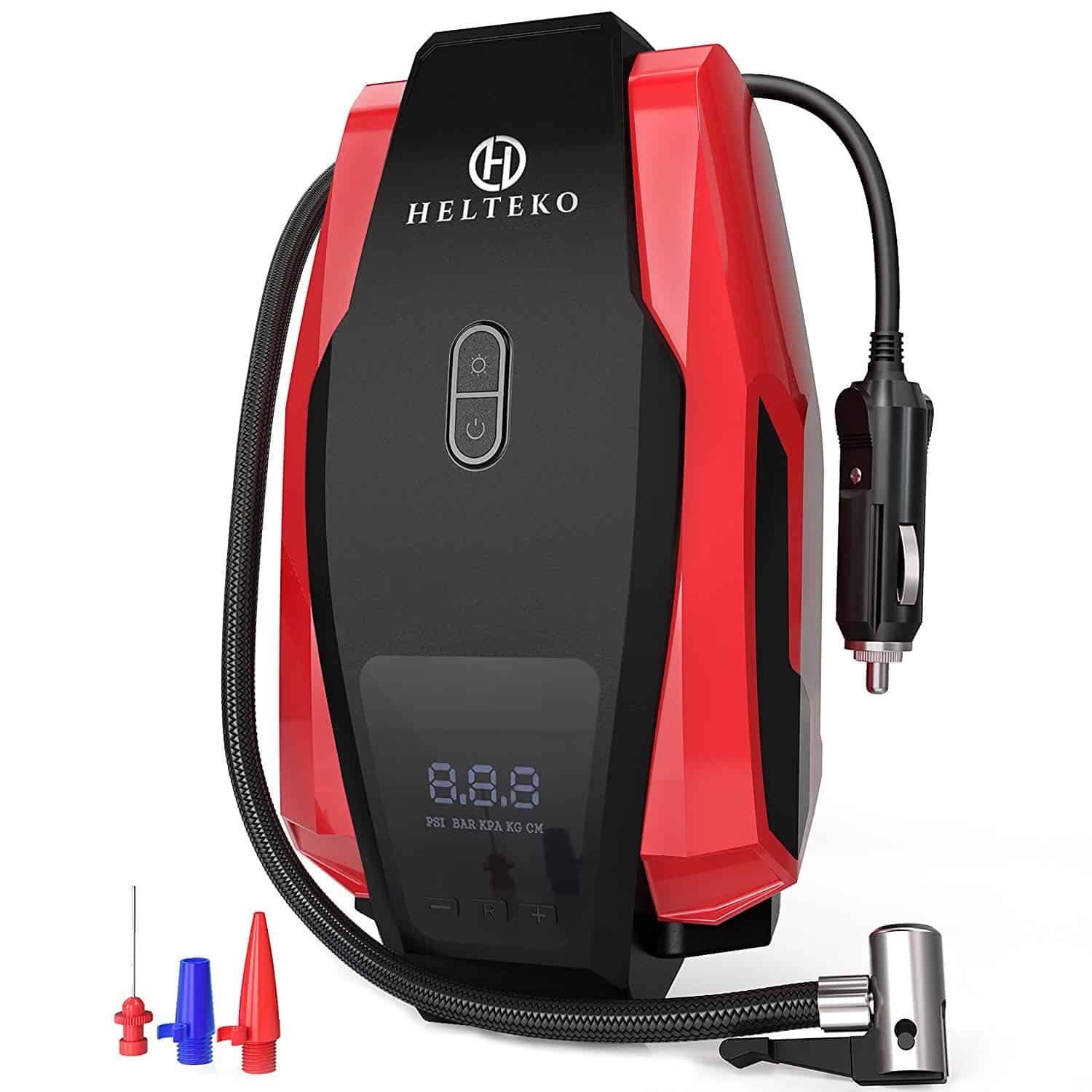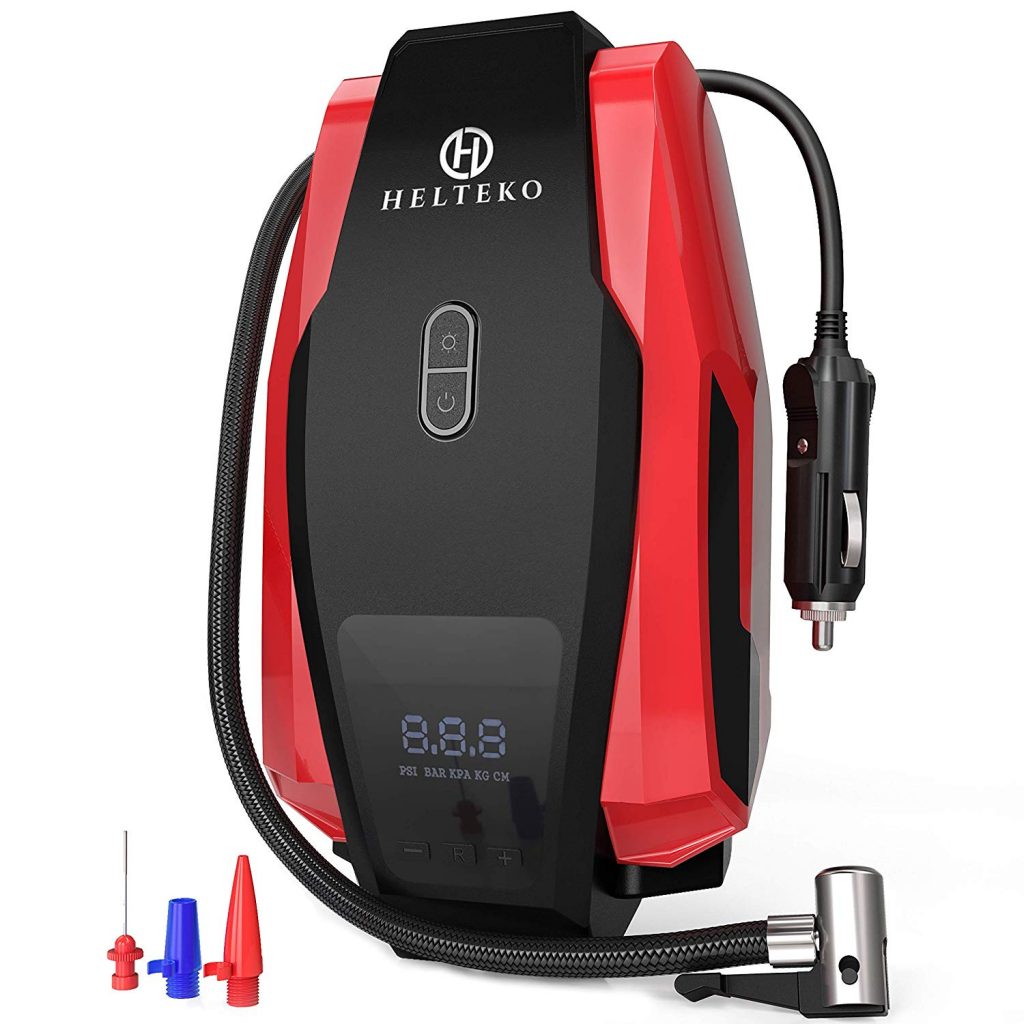 Overview
This inflator from Helteko is reassuringly tough and has a large LED display which can be easily read from the other side of your SUV, although thanks to its auto shut off, there's no danger of overinflating. Well designed with extra long cables and emergency warning lights, it can also be used to inflate other items – bicycles, toys, swimming pools, and air mattresses.
What We Like
This has an airflow of 35L/min, allowing super fast inflation. We like the safety conscious addition of emergency lights, and with the large LED display, you're all set for driving anywhere at anytime. The extra nozzles and long cables means you can inflate just about anything, while its lightweight and compact size allow it to fit neatly in your car. It performed well in our tests.
What Needs Improving
Whilst emergency lights have been provided, a flashlight would be great, too!
The Final Verdict
Flat tires need never be a problem again with this great inflator. Fast, easily adaptable, and ready to be used anywhere, this is easy to recommend.
🔵 HIGH-QUALITY MATERIALS - We use durable ABS plastic and stainless steel in portable air compressor pump. This allow you to use the digital tire inflator for a long time
🔵 AUTO SHUT OFF - Simple and useful technology in the car air pump. When the inflator tire reaches the desired pressure, the car air compressor will automatically turn off
4 used from $32.52

Free shipping
Last update was on: May 24, 2019 10:45 pm
in stock
---
See what else is popular today: