Experience the full audio soundscape
Wanting the full-bodied, all-around immersive cinematic experience, you've invested in the best system you can – home theater, soundbars, subwoofers, and enough pixels to sink a ship. Your viewing adventure draws you in, spins you around and throws you out again in a crumpled heap on the floor – drained of emotion and mentally exhausted. Now, that's what makes a good movie.
Unfortunately, it drags everyone else along for the ride too. Your partner relaxing after a long hard day, your beloved offspring needing sleep before their exam, the dog, after busy daydreaming of cats, and your neighbors – all, unwittingly, pulled into your movie, without even the benefit of popcorn.
It works the other way round, too, maybe you could scream if forced to sit through the pinkishly perfect Peppa Pig the Movie for the twentieth time, so what can you do?
Noise-canceling headphones, that's what!
These are a brilliant idea for any situation that requires a level of considerate silence, ensuring that you can experience full immersion, whilst those around you can do whatever they wish.
Available in passive or active, these can make movie enjoyment so much easier.
Passive headphones have been around for years, and work by merely blocking out any external noise with a lot of padding. They do nothing to counteract the noise, and because of the bulky padding needed to shut out any distractions, have some serious limitations.
Active noise-canceling headphones will obviously block out a level of noise purely because they cover your ears, but they also actively 'remove' lower frequency noises.
By creating their own soundwaves that are inverted to the surrounding ambient sounds by 180°, the two cancel each other out, so effectively you can only hear the sounds that you want to, such as movies, music and so on because the headphones don't play on their particular frequencies.
Originally invented for long haul airline pilots, many people use them to quieten a noisy world, and using just the silence function, they can provide space to think without being blasted constantly by decibels. While the busy world rushes on, you can have a moment of calm – just bliss.
However, moving away from the peace and into the world of home theaters, noise-canceling headphones are particularly useful.
We've tried out the best selling set to see how it copes.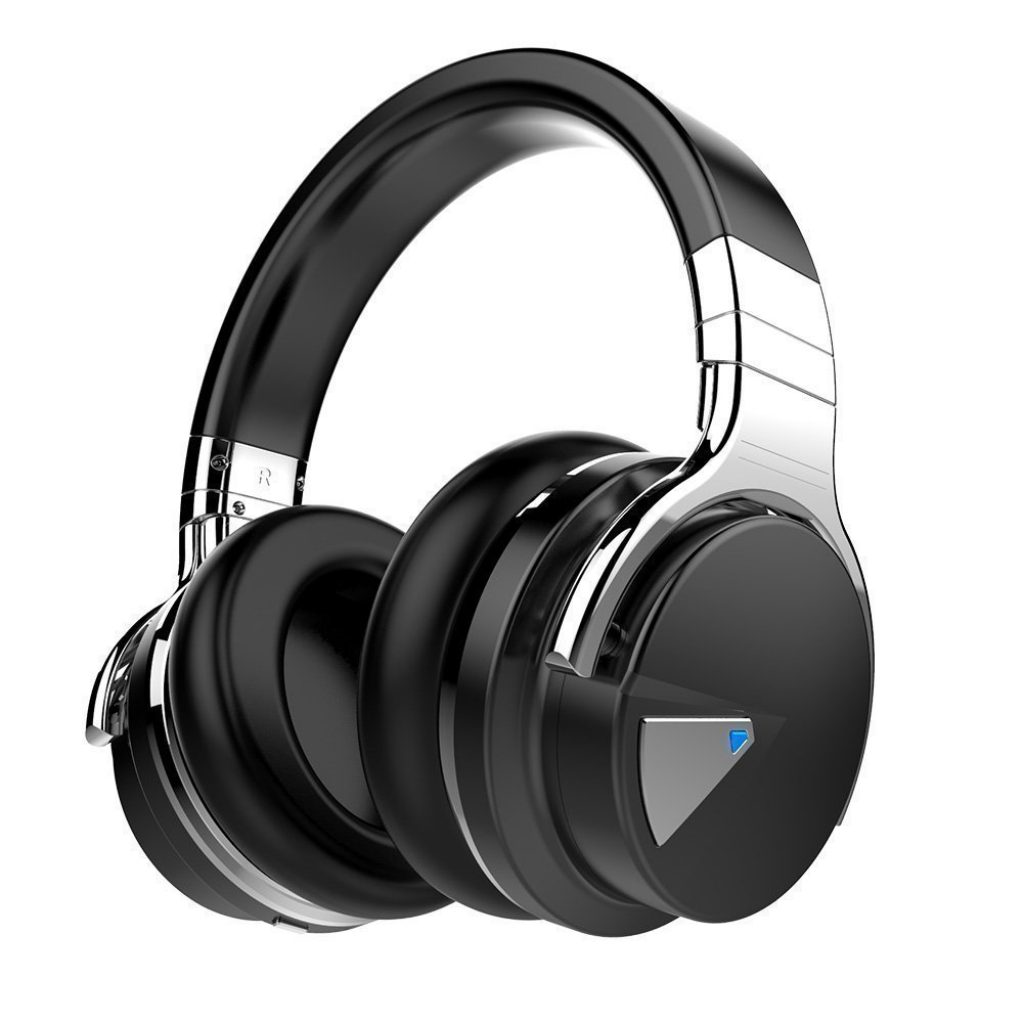 Overview
Available in a range of jewel-like colors, this set of headphones is super stylish and slick. Being Bluetooth enabled, there are no annoying cables, and with cool blue neon lights, brushed chrome and a matte black body this really is a good looking piece of kit. The high-quality built-in microphone, hands-free calls, and voice activation mean that this is head and shoulders above its rivals so far.
What We Like
The packaging states that the battery provides 30 hours, but we found that stretched to almost 40 in some static situations; however, due to their cooling air flow system and superior comfort, we had to remind ourselves that we still had these 'phones on.
The sound quality was clear and smooth, offering a full aural range with no deviation from the intended audioscape. The bass was rich and vibrant, whilst the top notes, pure and crystal clear. Every word, too, could be heard exactly as it was designed to be. The leather carrying case was a nice touch!
What Needs Improving
Connectivity took a while to set up, and on arrival, the battery required a full charge. Both simple to fix!
The Final Verdict
If you want to enjoy your home theater experience any time of day or night, these headphones are for you. Stylish and comfortable, with awesome audios, and all at a budget-friendly price. What's not to love!
3 new from $59.99
3 used from $45.08
Free shipping
as of November 27, 2023 10:26 pm