Circular saws work by using an abrasive disc or toothed blade in order to cut materials by using a rotary motion. It's a tool that is used for cutting plastic, wood, masonry, or metal.
Circular saws come in two different variants: mounted or handheld. On the list below, we've reviewed the three best circular saws that are both affordable and flawless in performance. If you are a DIY enthusiast for jobs around the house, make sure to check out our top 3 pressure washer reviews!
Find out what the three best circular saws on the market are!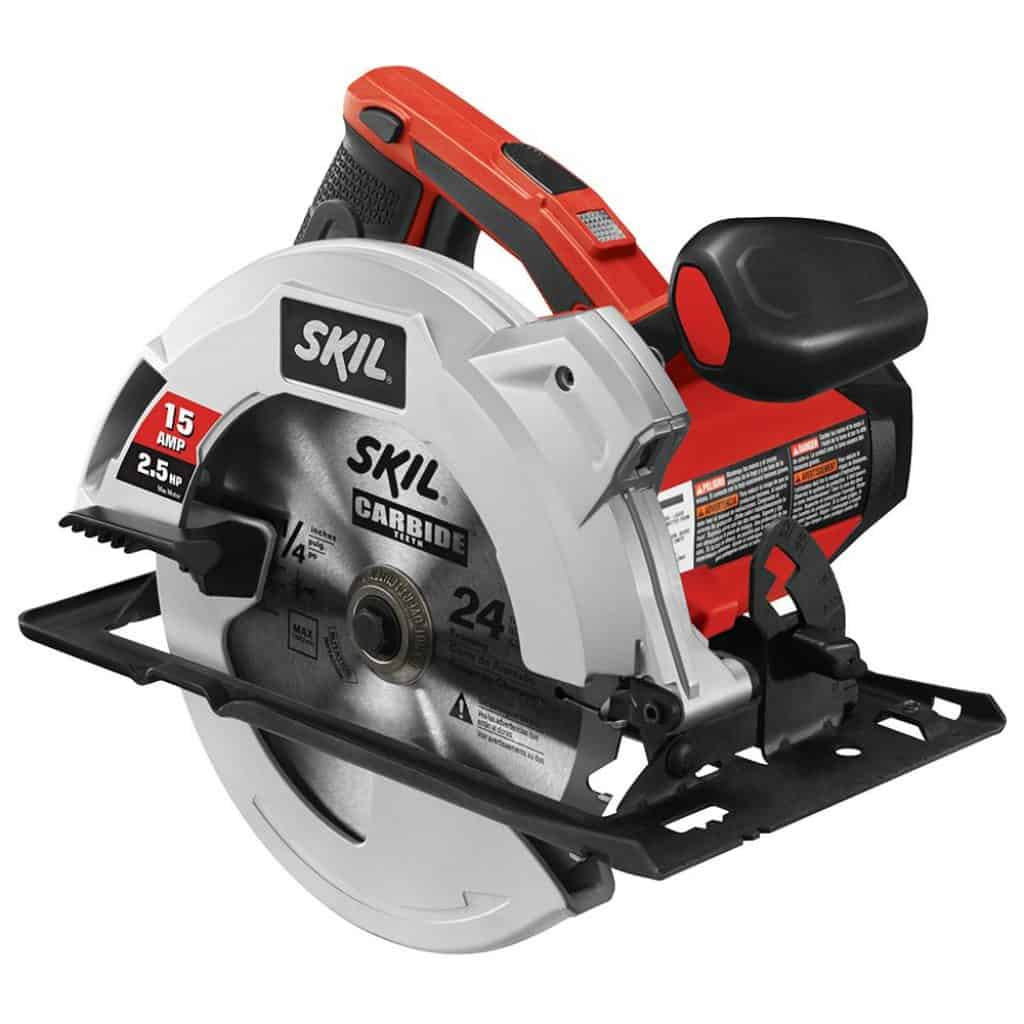 Overview 
With a powerful 14-amp motor it can deliver up to 5,300 rotations per minute that will give you faster cut and greater speed. It also comes with a 7-1/4 inch blade is that is carbon-tipped. It has a bevel capacity of 51 degrees that allows you to make a wide variety of cuts. The size of the arbor is 5/8 inches, and the length of the cord is 6 feet. It's great to know that it also weighs only 6.95 lbs.
What we like 
The installed dust blower keeps the line-of-cut clean at all times so that you will have excellent visibility at all times. The single-beam laser will guide you through cutting with better accuracy. This circular saw is made for those users that are quite experienced. It provides more power than the average saw, and it has an upgraded motor, compared to its predecessor.
What needs improving 
Some users have complained that the only missing thing was a book with instructions. However, that may be a result of it being a professional tool and therefore target at actual professionals who are already familiar with how circular saws work. Aside from the lack of an instructions book, the saw worked to perfection, and everyone who uses it is guaranteed to be more than pleased with it.
The Final Verdict
Overall it's a great circular saw that is affordable and does the job perfectly. The dust blower helps you keep track of the cutting area while also the single-beam laser makes everything easier by guiding you where to cut. With a powerful motor, the SKIL 5280-01 is potent enough to get the job done. If you're looking for a cheap alternative, this is the right circular saw for you.
11 new from $49.00
9 used from $38.71
Free shipping
as of November 27, 2023 4:13 am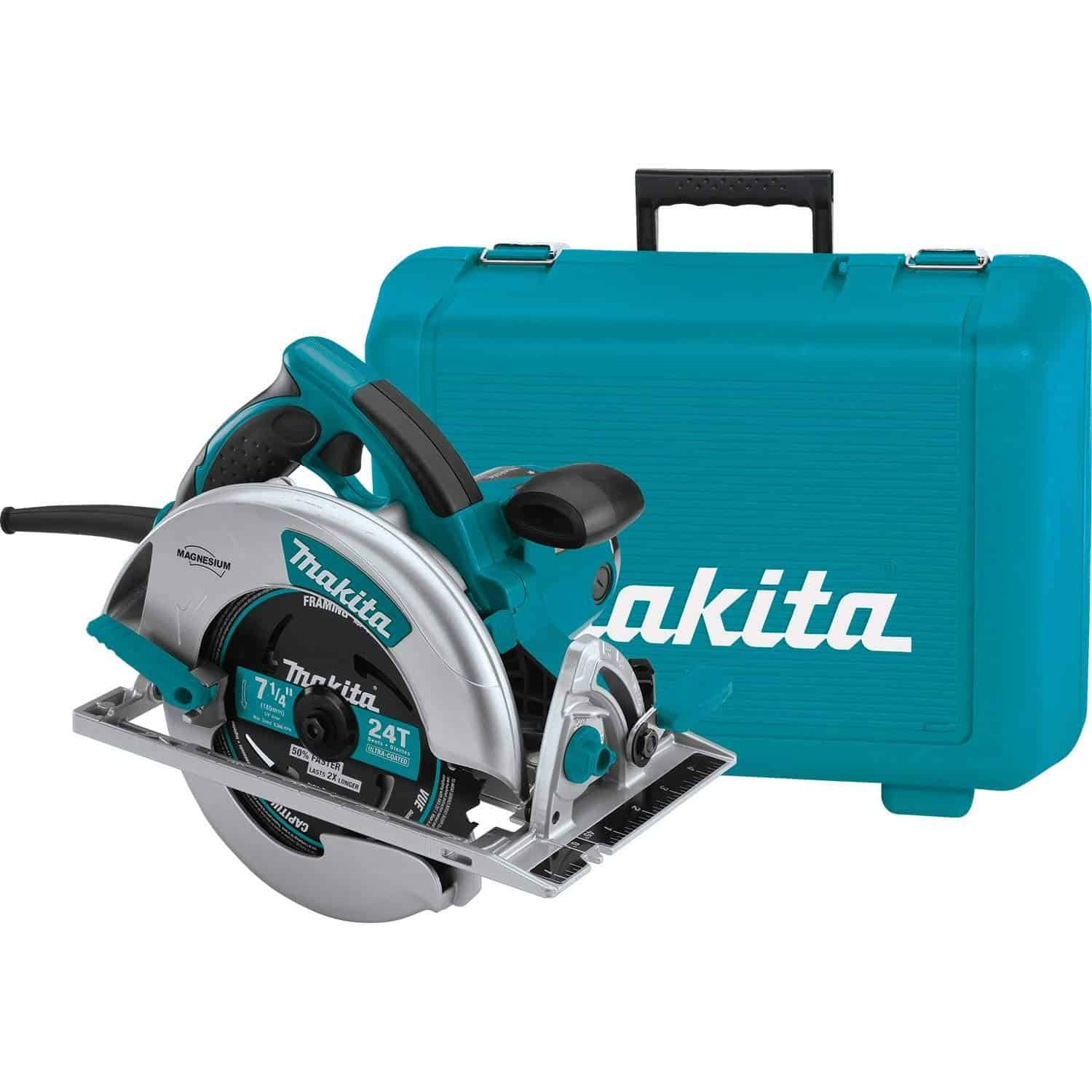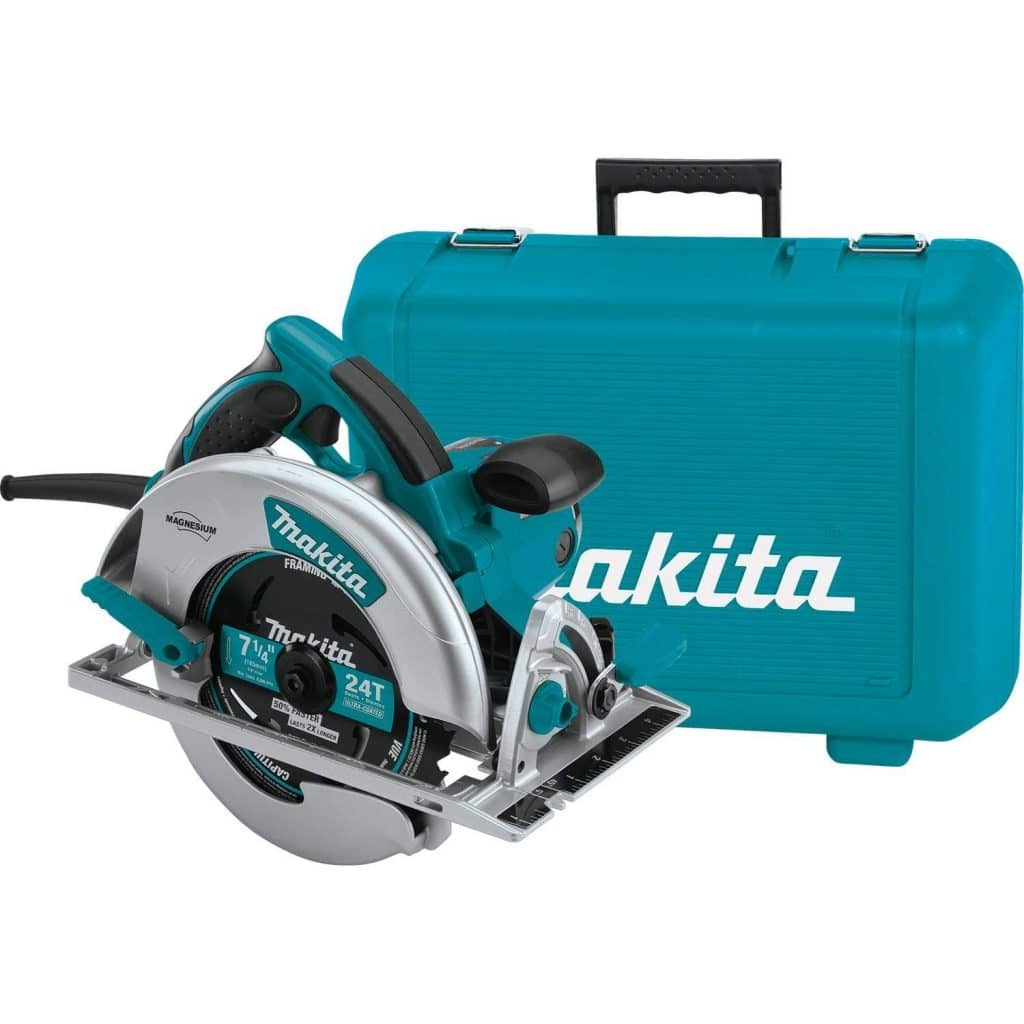 Overview
The saw is pretty lightweight (10.6 lbs.) since its components are made of magnesium. It has a pretty strong motor (15.0 AMP) that delivers a staggering 5,800 rotations per minute with astonishing accuracy. In order to make sure that you know where you're cutting, the built-in L.E.D. lights illuminate the path. It has a cutting capacity of 2-1/2″ at 90°, and the bevel's capacity is 0°-56° that have positive stops at 22.5 degrees and 45 degrees.
What we like
The magnesium components give it a very lightweight of only 10.6 pounds, thus allowing you to operate without any trouble. It's engineered to be used for framing walls, roofs, and floors with ease. The ergonomics, balance, and cutting are all very impressive for everyone that uses the Makita 5007MG. We were also pleased with the design details, such as creating a wider space between the housing and the blade in order to give a clearer view of the measurement scale and the blade.
What needs improving 
Everyone will surely be pleased with the overall performance of the product. However, it might be a bit of an issue that the blade guard does not retract the way it should when you're cutting at angles with the blades. That issue can be easily solved if you withdraw the blade before you make the cut.
The Final Verdict
A lightweight saw with great performance, is great for experienced users as well as newbies. It's quite potent, and it delivers 5,300 rotations per minute, which gives you durability and speed. Its dimensions are 20.9 x 17.9 x 13.9 inches. The higher price tag can be explained by the fact that it's very robust, and it will last for a very long period.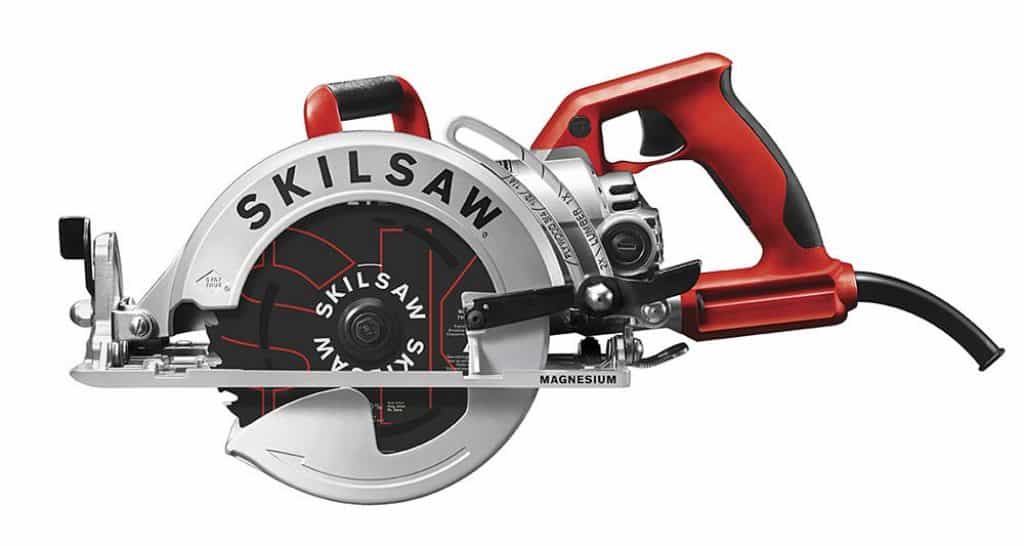 Overview
Designed to be lightweight to reduce user fatigue, it weighs only 11.6 pounds. This is an all-magnesium saw that includes the SKILSAW worm drive gearing for torque and power when it goes through difficult cuts. It has a dual-field motor that stays cool even after being used for an extended time. It has a 7-1/4 saw with a 2-3/8 inch max cutting capacity at 90 degrees, while the bevel capacity is 53 degrees. It's great for decking, siding, framing, and ceilings.
What we like
The dual-field motor is one of the best you can find out there, and it is mighty (15 amp) that is specifically designed to keep the motor cool while you're using it. The magnesium construction makes it super easy and less tiring to use it. It's very maneuverable and highly durable, with some users claiming that despite testing it in various ways it still works as if it was day one.
What needs improving
According to some buyers, this saw is a little bit noisy. However, we had our experts test it and compare it to other saws, and the results were that it made almost the same amount of noise. The majority of users didn't even mention the noise and were more than pleased with what it had to offer.
The Final Verdict
This circular saw costs more than the others on the list and for a good reason. It's highly durable and sturdy while at the same time, it's very accurate. The dual-field motor keeps it cool at all times, even after using it for more extended periods. We recommend this saw for all those that are interested in buying high-end, long-lasting saws.