We Test the Best-Selling Pressure Washers
A pressure washer is a useful addition to any household. They have a multitude of uses in all seasons and can be bought for different purposes. You can get a small one that doesn't take too much space and has a relatively short hose which makes it portable, or a big one that provides ample space for cleaning products.
In order to run the pressure washer, you'll definitely require a connector, and a hose pipe. Detergent is useful, too, depending on what you plan to pressure wash. However, you'll probably want some accessories to increase its cleaning capabilities. Brushes, scrapers and angled or extension wands will allow jobs to be completed faster and with less hassle. There are also many specialized chemical cleaners designed for pressure washers, but, as always, take note of any precautions listed.
Knowing what you need a pressure washer for is going to prevent a lot of problems and frustrating errands. Pressure is measured in bars, and typical pressure washers will range from 100 up to 180 bar. Here's a rough guide to give you an idea of which pressure bar is necessary for certain tasks:
Light Use – 100 bar
Garden furniture/tools
Motorbikes/bicycles
Rubbish bins
Medium Use – 110 to 130 bar
Car/boat/lawnmower cleaning
Fencing/guttering
Swimming pools/ hot tubs
Heavy Use – 130 bar +
Brickwork/patios/decking
Concrete driveways
With certain tasks, such as car cleaning, stick to the lower end of the bar range in order to prevent damage to your paintwork; however, for patios, or driveways the higher the better. So, it's a case of finding a balance. You should note that the heavy-duty models tend to be noisier, and there's a possibility that they might damage some surfaces if you've never used one before.
Another big consideration is gas or electric. The more heavy-duty washers tend to be gas-powered, but the lighter, electric models are cheaper, easier to handle, quieter, and in many cases, less risky. But, cleaning will take longer.
Finally, for practical purposes, weight and wheels should also be considered. Some machines can be heavy and if, for example, you have a lot of steps in your garden, you might want to steer clear of something that's too troublesome to lug around or go for one that has a long hose attachment. If you plan to clean your car, or use the washer around your garden, a long hose is a great idea anyway. In case you also want to mow your lawn with the best lawn mower, or clean the snow in your garden using one of the top 5 snow blowers, make sure to check out our reviews!
If you're looking for the perfect pressure washer, check out our top picks of the year: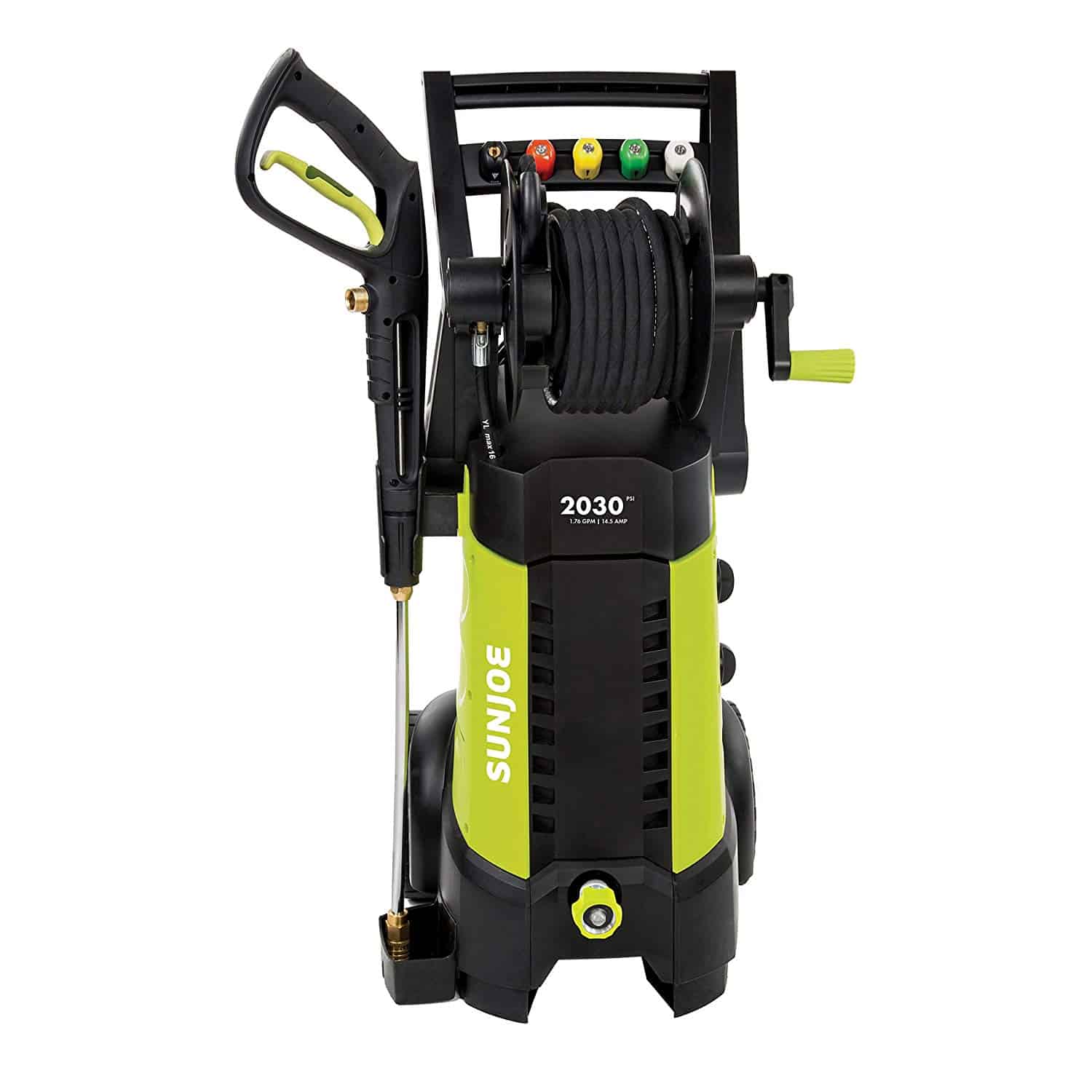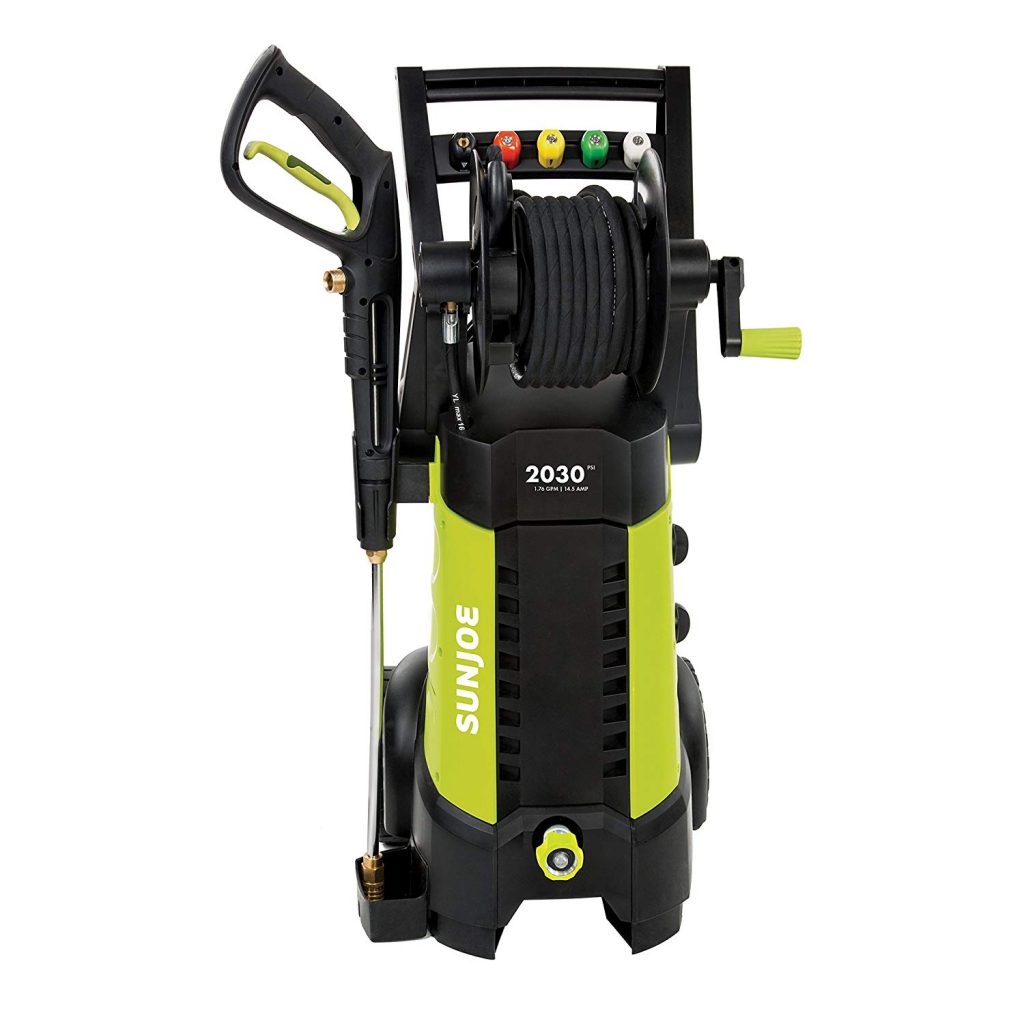 Overview
Sun Joe is a well-known brand in the pressure washer world, developing electric pressure washers for residential use, and this model is one of their flagship designs.
It's lightweight, has a small, neat footprint, and is collapsible for easy storage. The color is great, and despite the super price band, it seems sturdy and well made.
Very quick to set up, we were ready to pressure wash within minutes.
What We Like
There are plenty of useful attachments that come with the SPX 3001; five different nozzle tips are provided starting from 0-degree pencil point water flow to 40-degree wide span. The soap applicator nozzle gave our car a finish worthy of a showroom.
We found that the hose was a great length for most tasks, and large, heavy duty wheels made for easy maneuverability.
The TSS is an awesome feature that allows the motor to stop automatically when you are not using the device. This makes the lifespan of the motor and pump longer and saves energy. So, you can relax and use the washer without thinking much about the motor's durability.
What Needs Improving
If you're lacking in stature, you may find the carrying handle a little short.
The Final Verdict
For the money, the Sun Joe SPX3001 Electric Pressure Washer is a great addition to your cleaning arsenal, with plenty of attachments. Providing a decent amount of pressure, coupled with easy maneuvering, and storage, you can't go wrong with this. We're happy to recommend this washer.
1 used from $109.31
Free shipping
as of November 27, 2023 5:10 pm
---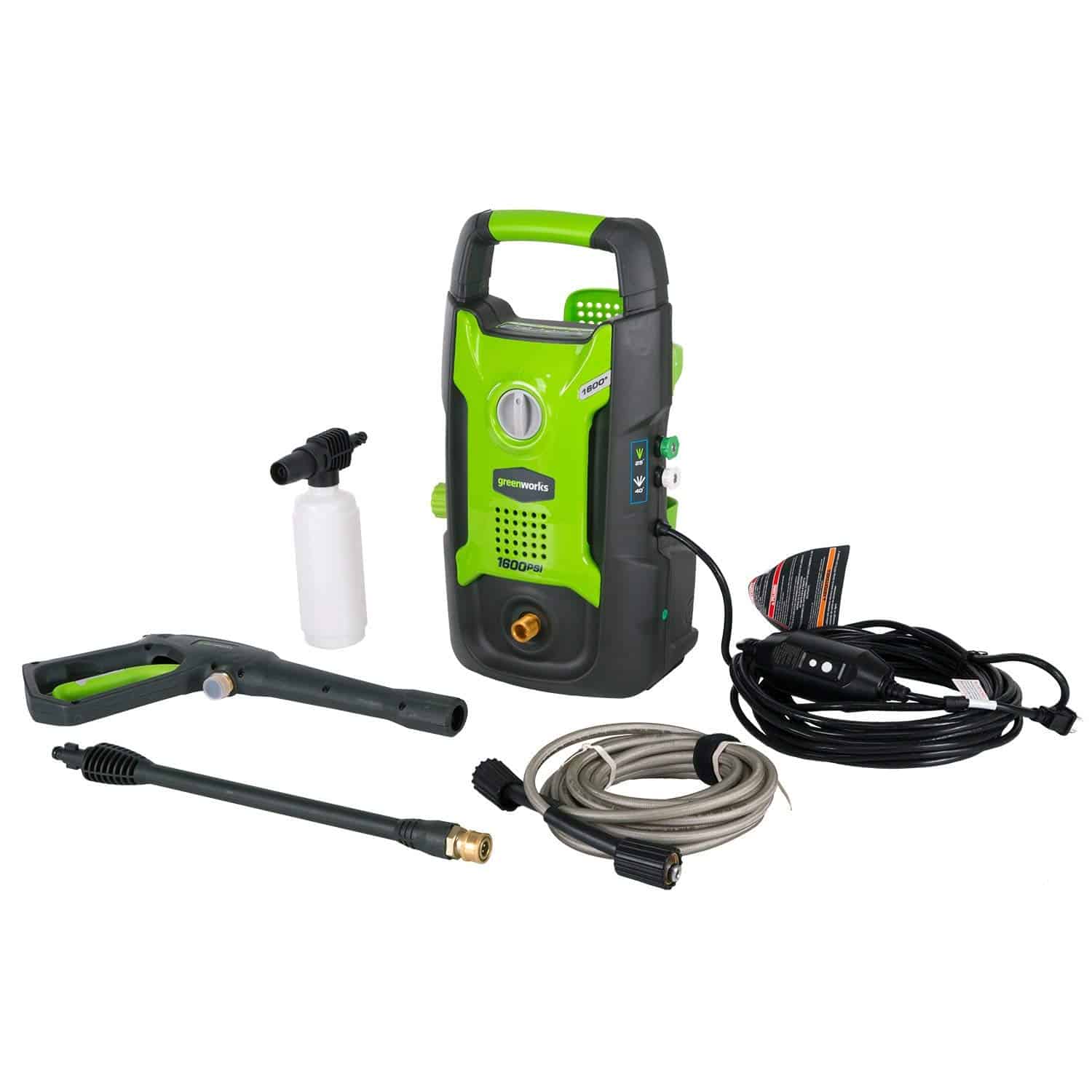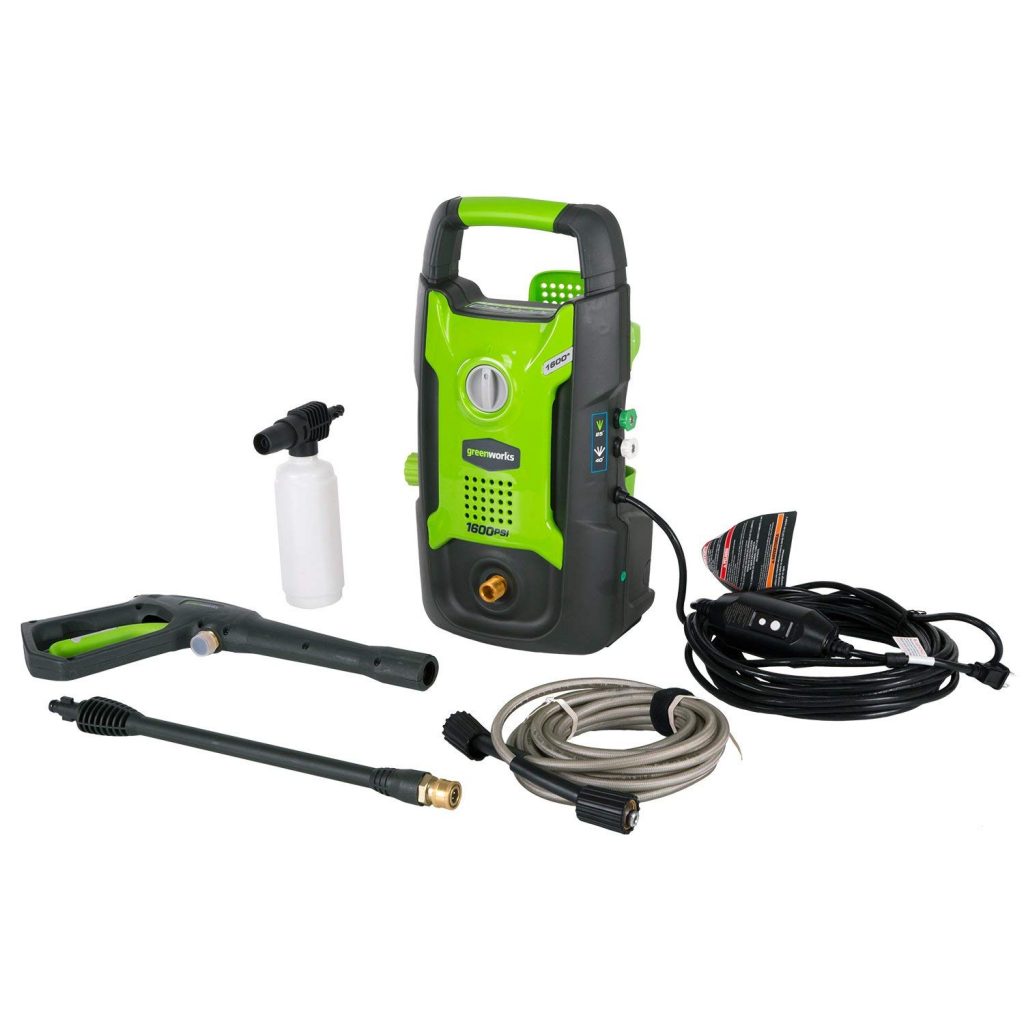 Overview
The out-of-the-box weight for this Greenworks washer is surprisingly light, but it's a very sturdy, heavy duty piece of kit, and doesn't tip over easily.
Even though this is high quality & well-built, it's super easy to assemble. All we had to do was attach the handle using the included bolts and Allen wrench, and fit the hose, leaving plenty of time for coffee.
What We Like
There are a couple of really great things about this pressure washer.
The turbo really is turbo, and packs a real punch, easily blasting even the most stubborn grime away. Also, it's designed so you can store your hose, spray wand and nozzles all neat and tidy on the frame. This is a really handy idea.
Finally, we were really pleased with the amount of extra tools that came with this washer – well done, Greenworks!
What Needs Improving
There is a very slight drip from the nozzle when washing which can run down your arm. But we can live with that.
The Final Verdict
The Greenworks is built to pressure wash forever and a day, making those normally time consuming, troublesome chores super easy and quick. It's reliable, user friendly and great value for your dollar.
$

99.99
check latest price
7 new from $92.00
7 used from $72.49
Free shipping
as of November 27, 2023 5:10 pm
---
Overview
This mean, green pressure washing machine is incredibly sturdy, yet light enough to be easily portable. Coming with plenty of extra attachments, and nozzles, the instructions are simple to follow with clear diagrams and down-to-earth language.
What We Like
Without gas, oil or toxic carbon emissions, we love how eco friendly this pressure washer is. Great for any heavy duty task, it tackled our slimy decking with ease, and with the longer attachment, we were able to effectively clean the roof, and underneath the chassis, of our SUV. It's well balanced and remains upright easily, even when being tugged around, yet is light enough to hang on the wall for tidier storage.
What Needs Improving
The nozzle can be a little stiff to rotate to other settings, but this isn't a deal breaker as far as we're concerned.
The Final Verdict
This is a great addition to any outdoor equipment. It refreshes and cleans driveways, decking, vehicles and walls with no fuss or bother. Highly recommended.
---
You may also like…