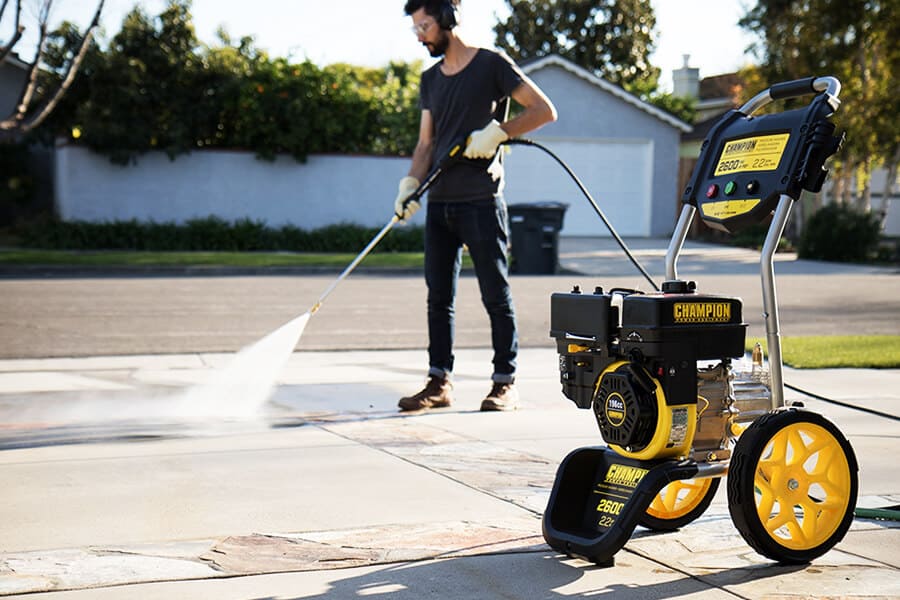 These Reviews Were Last Updated
We Test the Best-Selling Pressure Washers
A pressure washer is a useful addition to any household. They have a multitude of uses in all seasons and come in many shapes and sizes. From tiny units with a short hose that you have to carry around, to large trolley-style machines with on-board storage for an array of cleaning accessories.
As a minimum, you're going to need detergent, a tap connector to the hose, and a hose pipe in order to successfully run a pressure washer. However, you'll probably want some accessories to increase its cleaning capabilities. Brushes, scrapers and angled or extension wands will allow jobs to be completed faster and with less hassle. There are also many specialized chemical cleaners designed for pressure washers, but, as always, take note of any precautions listed.
Knowing what you need a pressure washer for is going to prevent a lot of problems and frustrating errands. Pressure is measured in bars, and typical pressure washers will range from 100 up to 180 bar. Here's a rough guide to give you an idea of which pressure bar is necessary for certain tasks:
Light Use – 100 bar
Garden furniture/tools
Motorbikes/bicycles
Rubbish bins
Medium Use – 110 to 130 bar
Car/boat/lawnmower cleaning
Fencing/guttering
Swimming pools/ hot tubs
Heavy Use – 130 bar +
Brickwork/patios/decking
Concrete driveways
With certain tasks, such as car cleaning, stick to the lower end of the bar range in order to prevent damage to your paintwork; however, for patios, or driveways the higher the better. So, it's a case of finding a balance. You should note that the heavy-duty models tend to be noisier, and there's a possibility that they might damage some surfaces if you've never used one before.
Another big consideration is gas or electric. The more heavy duty washers tend to be gas powered, but the lighter, electric models are cheaper, easier to handle, quieter, and in many cases, less risky. But, cleaning will take longer.
Finally, for practical purposes, weight and wheels should also be considered. Some machines can be heavy and if, for example, you have a lot of steps in your garden, you might want to steer clear of something that's too troublesome to lug around or go for one with a longer hose. A longer hose could also be useful for larger gardens or when cleaning a car.
If you're looking for the perfect pressure washer, check out our top picks of February, 2019:
Overview
Sun Joe is a well-known brand in the pressure washer world, developing electric pressure washers for residential use, and this model is one of their flagship designs.
It's lightweight, has a small, neat footprint, and is collapsible for easy storage. The color is great, and despite the super price band, it seems sturdy and well made.
Very quick to set up, we were ready to pressure wash within minutes.
What We Like
There are plenty of useful attachments that come with the SPX 3001; five different nozzle tips are provided starting from 0-degree pencil point water flow to 40-degree wide span. The soap applicator nozzle gave our car a finish worthy of a showroom.
We found that the hose was a great length for most tasks, and large, heavy duty wheels made for easy maneuverability.
The TSS is an awesome feature that allows the motor to stop automatically when you are not using the device. This makes the lifespan of the motor and pump longer and saves energy. So, you can relax and use the washer without thinking much about the motor's durability.
What Needs Improving
If you're lacking in stature, you may find the carrying handle a little short.
The Final Verdict
For the money, the Sun Joe SPX3001 Electric Pressure Washer is a great addition to your cleaning arsenal, with plenty of attachments. Providing a decent amount of pressure, coupled with easy maneuvering, and storage, you can't go too far wrong with this. We're happy to recommend this washer.
5 Quick-Connect spray tips (0º, 15º, 25º, 40º and soap) tackle light, medium and heavy duty cleaning tasks
Powerful 14.5-amp/1800-Watt motor generates up to 2030 PSI/1.76 GPM for maximum cleaning power
16 used from $111.06

Free shipping
Last update was on: December 7, 2018 9:31 am
---
Overview
The out-of-the-box weight for the gas powered Ex Cell pressure washer is getting on for 100lbs, weightier than an electric model; however, the large pneumatic wheels make it easy to roll, and it packs a big punch that's perfect for heavy duty cleaning.
Even though this is high quality & well-built, it's super easy to assemble. All we had to do was attach the sturdy cage frame using the included bolts and Allen wrench, and fit the hose, leaving plenty of time for coffee.
What We Like
There are a couple of really great things about this pressure washer. Firstly, the heavy duty roll cage frame is genius; that it never rust is a bonus. This non-corroding theme extends to the brass head & ceramic plungers, too.
We really appreciated that the handle on the cage frame is collapsible, which made storage, or loading into a vehicle, super easy. Also, it's designed so you can store your hose, spray wand and nozzles all neat and tidy on the frame. This is a really handy idea.
Finally, we love the high-quality Excell axial pump on this unit – it's a power beast that's built to last.
What Needs Improving
The 100 lb carry weight might be a problem for those with limited upper body strength, but this hasn't presented an issue for us.
The Final Verdict
The Excell is built to pressure wash forever and a day, making those normally time consuming, troublesome chores super easy and quick. It's reliable, user friendly and great value for your dollar.
179cc Excell OHV gas engine (50 state)
Ergonomic rust resistant wand assembly with quick connect nozzle tip with 5 quick connect nozzle tips with color coding are easy to identify and change for multiple cleaning applications
1 used from $231.91

Last update was on: January 24, 2019 12:09 pm
out of stock
---
Overview
The Flagup 3000 is a compact, lightweight electric pressure washer. It's neat, well made and is perfectly designed for even the tougher cleaning tasks. The wheels are heavy duty, and as a result, it's easily maneuverable, and can tackle most terrains.
With plenty of attachments, it's simple to assemble and very user friendly. So far, so good!
What We Like
With a whole 20ft of hose to play with, nothing is out of reach – take that, blocked guttering!
The 1800-Watt motor generates up to 3000PSI cleaning power, which allowed us to tackle all the heavy-duty jobs that we'd been putting off. The driveway and our embarrassingly green and slimy decking came good with very little effort on our part.
The TSS feature allows the pump to shut off the moment the trigger is unengaged, which is a great feature for saving energy and for the safety conscious amongst us.
What Needs Improving
We have been hard pushed to find fault with the Flagup 3000, although we did have it tip over. However, this happened only once during testing, and with a bit of care, is easily avoided.
The Final Verdict
The Flagup is the ideal solution for cleaning duties, powerful enough to clean the filthiest decking, walls or driveways, but also great for leaving vehicles spotless, and super shiny.
✓High Pressure Washer: Compact, upright design with axle mounted wheels allows easy roll-away mobility. Pistol style grip with trigger spray wand dispenses for efficient pressure washing; we offer 2-year Warranty
Last update was on: December 14, 2018 4:57 am
---
You may also like…