Lawn Mowers – We Check Out The Best Sellers
Personal preference and budget play a pivotal role for many people when it comes to mowing their lawn. Some view it as a therapeutic workout and don't mind pushing a mower around while others consider it a chore to be finished as quickly as possible.
But the other factor is concerned with the type of lawn you possess: How large, how flat, and are there any obstacles, such as trees, to maneuver around?
With 4 – 5 million powered walk mowers sold every year, these are by far the most popular, and for an average size lawn, the most efficient. With care and regular maintenance, these machines can last for many years, so it makes sense to do your research before splashing out.
Since you're likely to be a DIY garden-work enthusiast, we recommend that you take a look at our top 5 snow blowers for those winter days, as well as the top 3 pressure washers to clean even the most stubborn of stains!
Lawnmowers come in five main types:
Push Mowers:
These are pushed along by the operator, and as long as it's pushed, the blades turn.
Self-Propelled Mowers:

These mowers actually push themselves to reduce fatigue. You simply walk behind the mower to control its path. They work by squeezing a bar, or bail, that causes the cutting blades to spin.
Gas Mowers:

These mowers can provide a lot of power, and most have a tank that will last for all but the largest yards. A pull start is the most common starting method, but some have a push button. These mowers require a little more maintenance than the other types, but it looked after well, will keep going for years.
Electric Mowers:

These offer an unlimited run time, but you are limited by the power cord, and mowing around trees and other obstacles can be challenging. Cordless models are available, but they need charging, and often lack the same power as corded.
Riding, or Tractor, Mowers:

These are designed large gardens of 1 acre or more, and we'll look at them at a later date.
This is our shortlist of the Top 5 Best Selling Lawn Mowers this year:
Overview
This powerful looking mower arrived extremely well packed and on time. Available in a variety of colors, and with heavy duty tyres, this appears able to handle anything. The instructions come complete with easy to decipher diagrams, and everything necessary was included.
What We Like
This electric mower started easily, first time, and is really light and maneuverable around our trees and garden swings. The long cord is easy to keep out of harm's way, and there is an extension available if necessary. There is a 3-position height adjustment, safety switch and a hard top grass catcher for extra security and convenience.
It happily cut through our longer, wet grass, weeds, and edged our flower beds nicely. With an easy to empty grass catcher, it was no effort to mow the yard.
What Needs Improving
The height adjustment was a little fiddly to set, but once we got used to it, it was simple to get the right height position for our grass.
The Final Verdict
This is a super mower, perfect for the small to medium sized yard, at a great price. And you get a 2-year warranty.
1 used from $154.60
Free shipping
as of November 28, 2023 12:37 am
---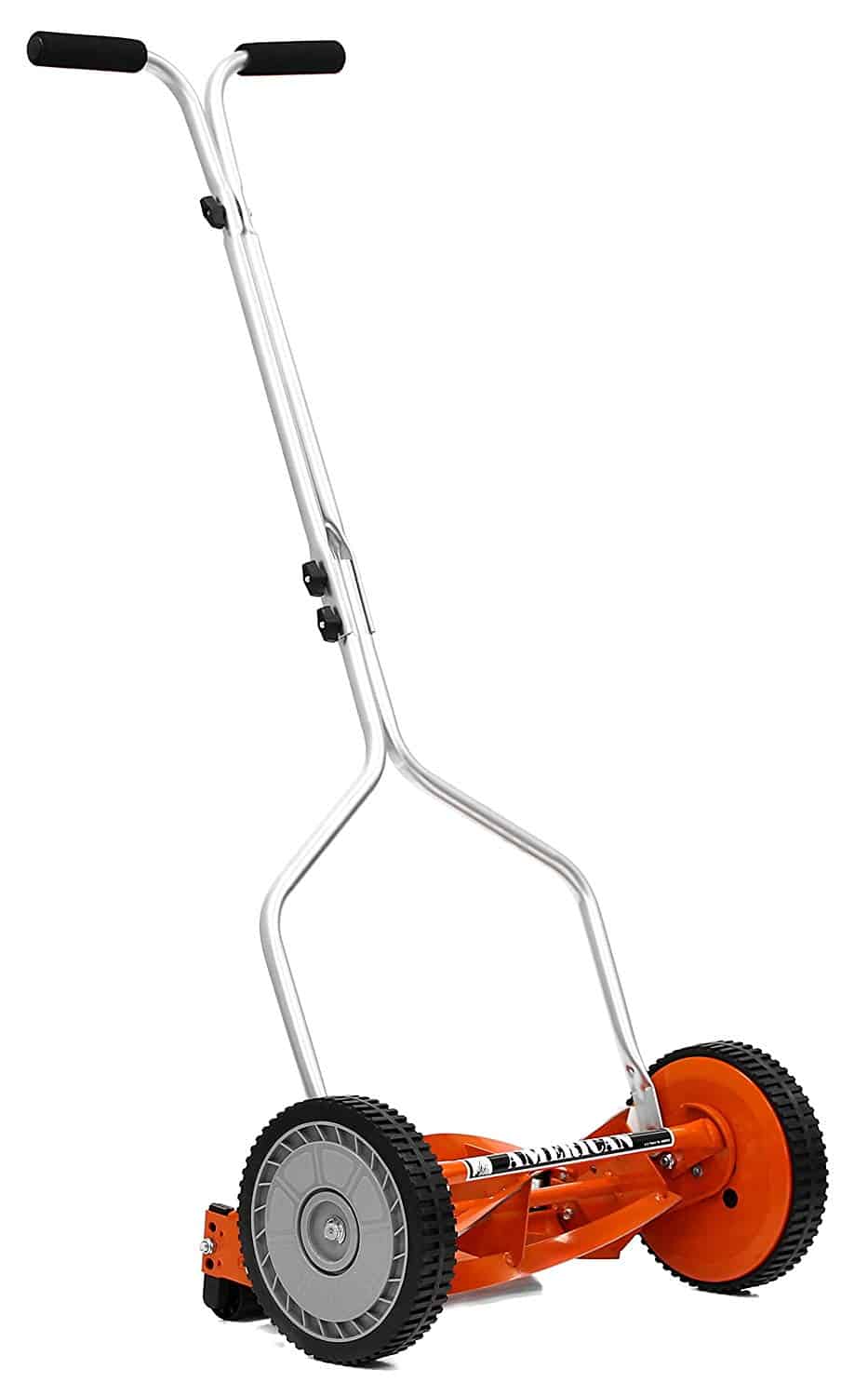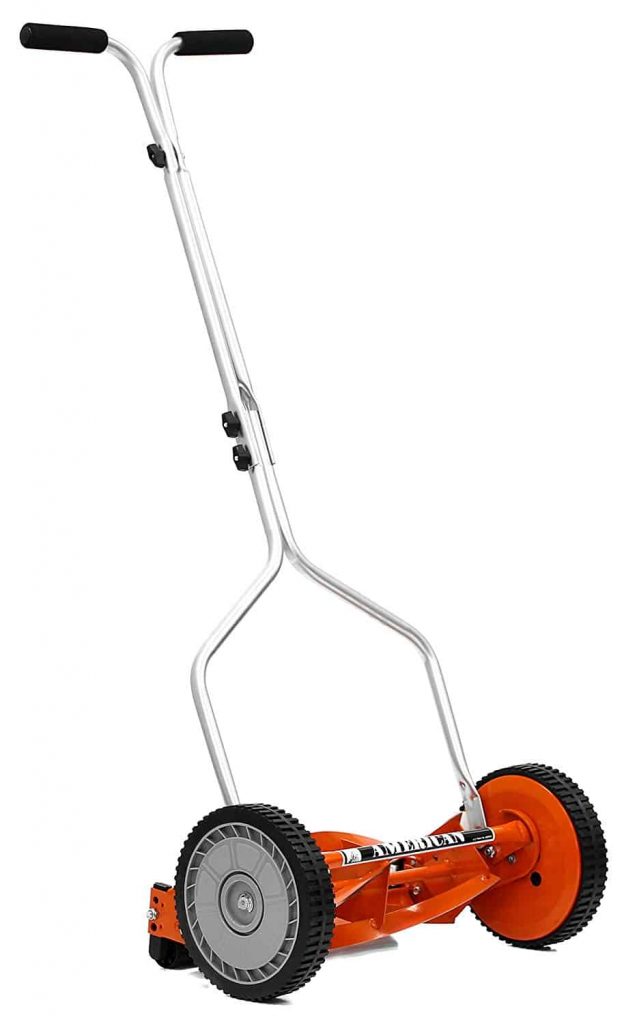 Overview
This is a neat little mower, arriving ahead of schedule and so simple to put together, with everything necessary conveniently bagged. Within minutes, following the clear and concise instructions, we were up and ready to mow.
What We Like
This unbelievably lightweight deluxe push mower is so simple to use, very quiet, and refreshingly uncomplicated. You push, the blades turn and it cuts the grass – nothing to break, or get wrong. We love it.
The features of this lawnmower work very well. It comes with a rear glass deflection and 4 blade reel. It's made out of hard-wearing tempered alloy steel, is fitted with strong wheels for any terrain and is height adjustable. All of this was achieved without making the machine too heavy, which we appreciated.
Moreover, this is an eco-friendly design. Now we really like it.
What Needs Improving
We'll be honest. If your lawn is very over grown than this machine won't be able to cut it quite as efficiently as a gas mower. But for city lawns and weekly maintenance, it can't be beat.
The Final Verdict
A very cost effective way of keeping your yard tidy, and yourself healthy – it's a great full body workout. Why pay for the gym when you can mow the yard and keep fit! We found little to fault with this superstar law mower.
5 new from $87.48
9 used from $74.59
Free shipping
as of November 27, 2023 10:26 pm
---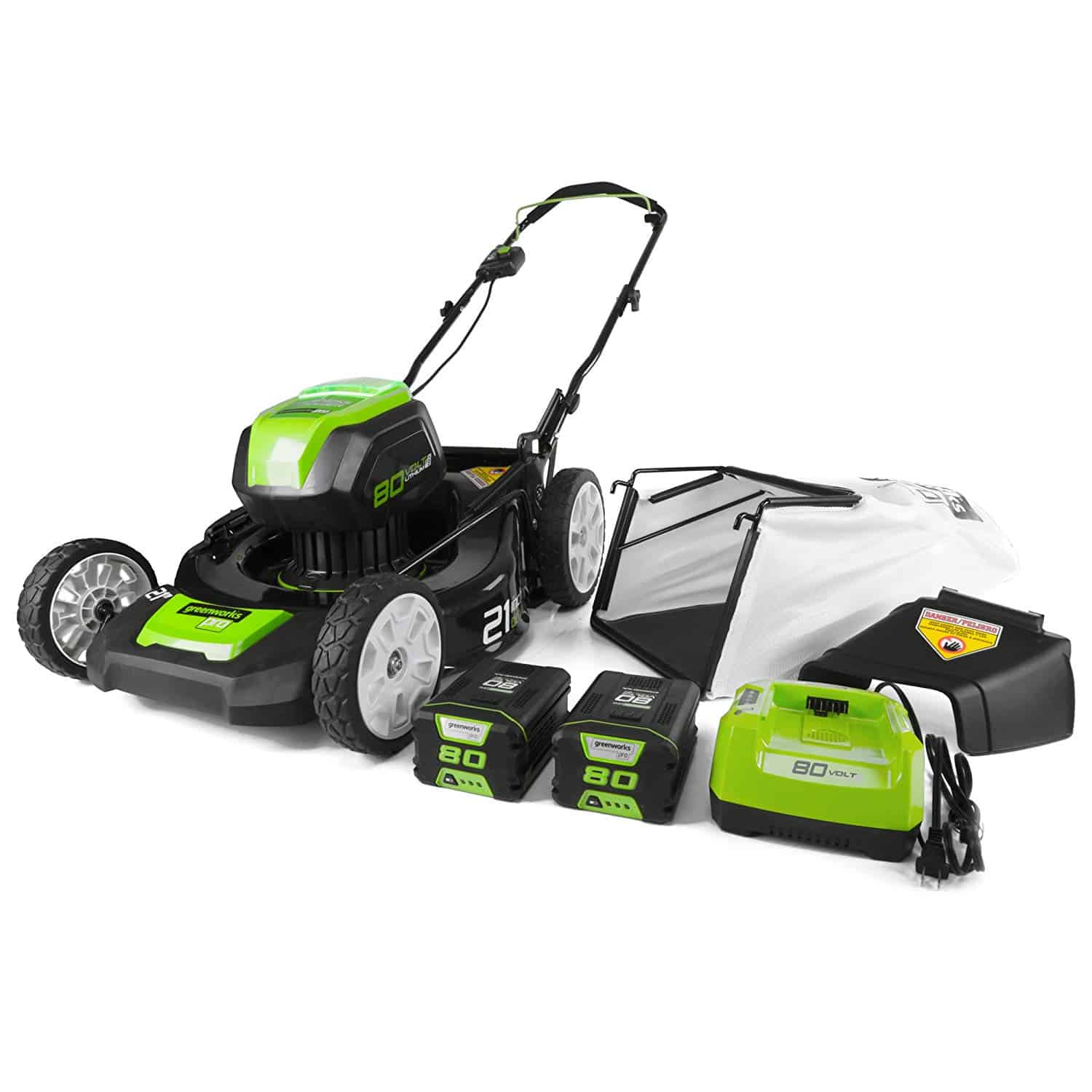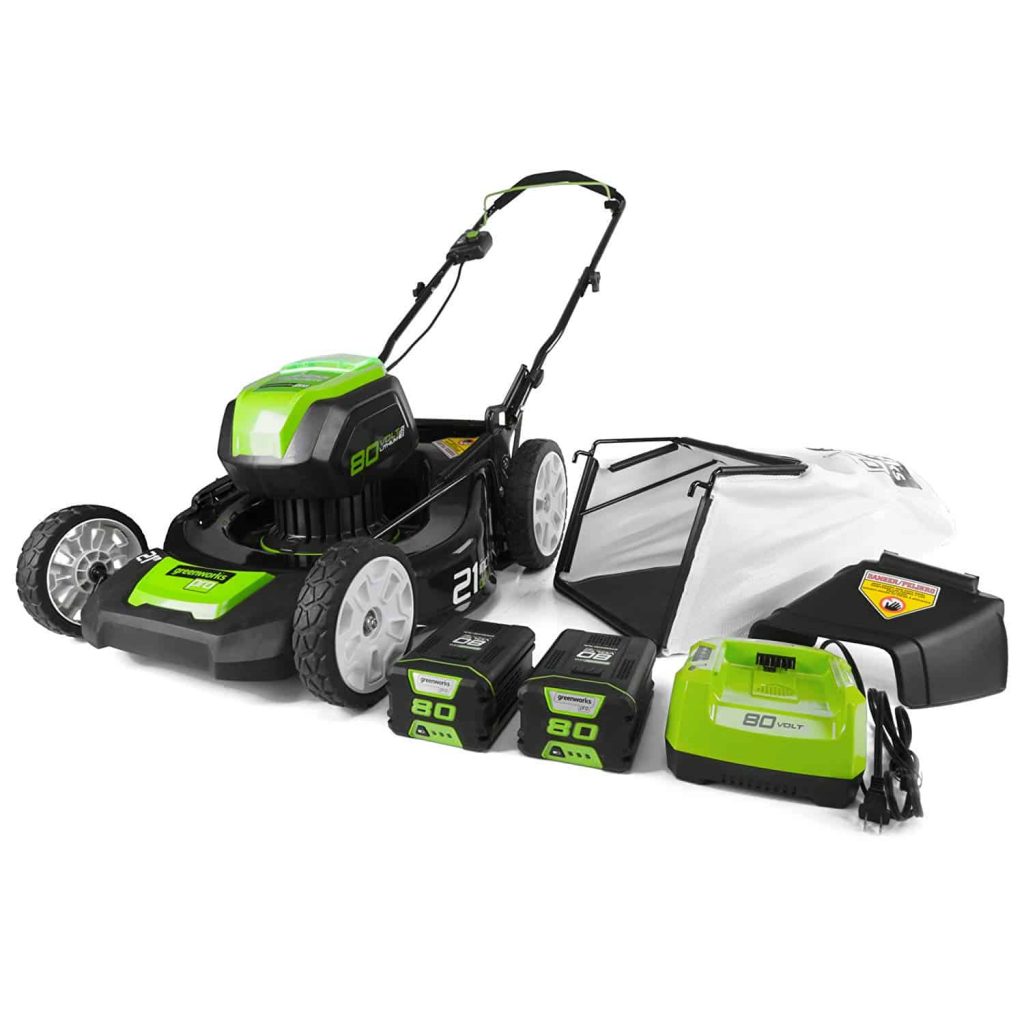 Overview
Greenworks have included two – yes you read that correctly, two batteries with this little beauty! A very impressive start.
Our initial thoughts were how light, but sturdy, this mower felt, when we unpacked it. It's well made and has been thoughtfully designed with a variety of options, such as being able to empty the grass bag in the way that suits you.
What We Like
The speed and ease that this went together, coupled with the tough construction generally, is really good. It started first time and despite being cordless, is very powerful. It goes for around 45 minutes on a single charge, which is pretty good. We could feel it raring to get cutting, which it did exceptionally well. Getting around the yard obstacles was a breeze and it trims nice and close to the base of trees etc.
What Needs Improving
We had no problems with this lawn mower. We've used it from season to season, and tt was a winner for us!
The Final Verdict
An outstanding lawn mower, easy to mow, easy to empty and runs well, at a great price!
7 used from $326.33
Free shipping
as of November 27, 2023 5:10 pm
---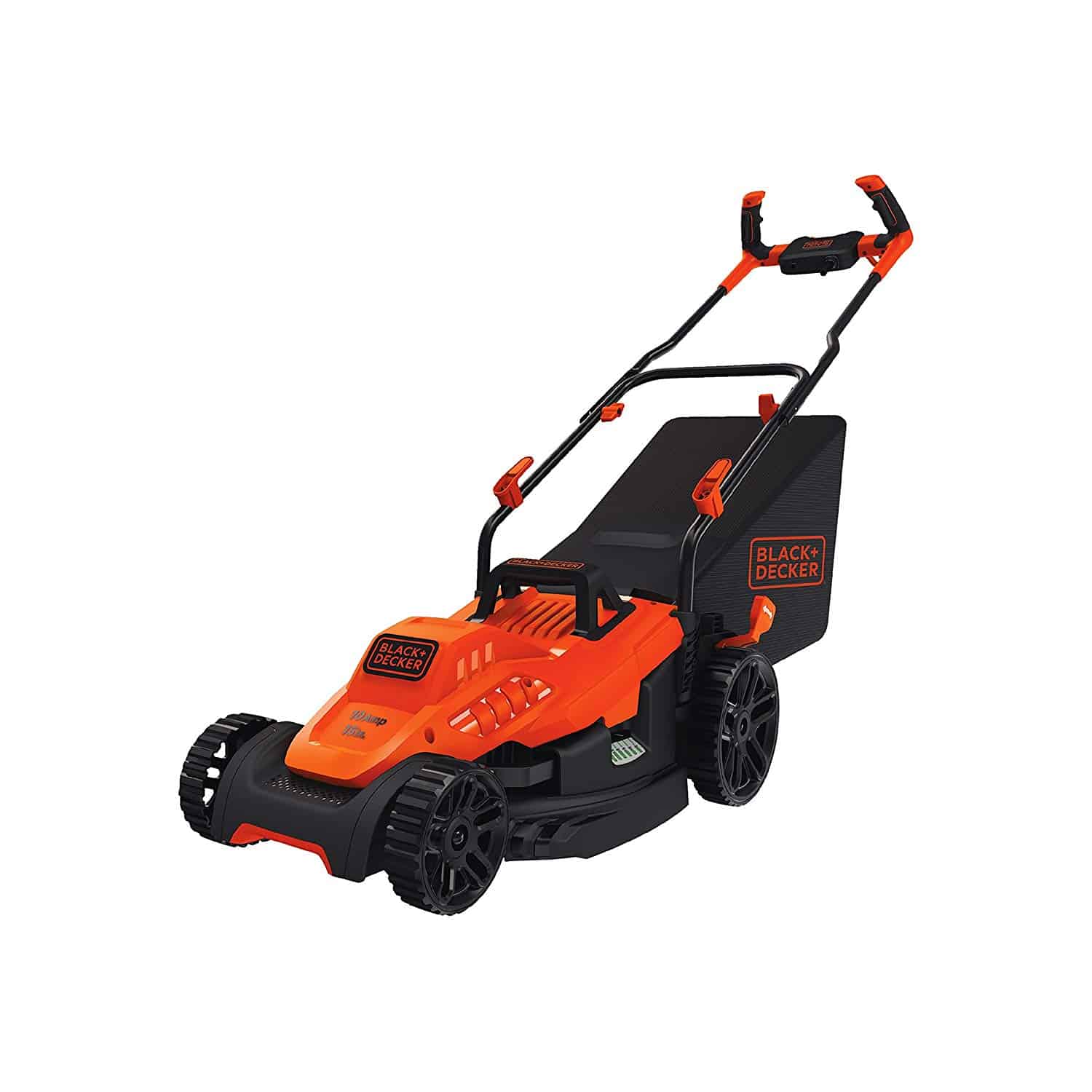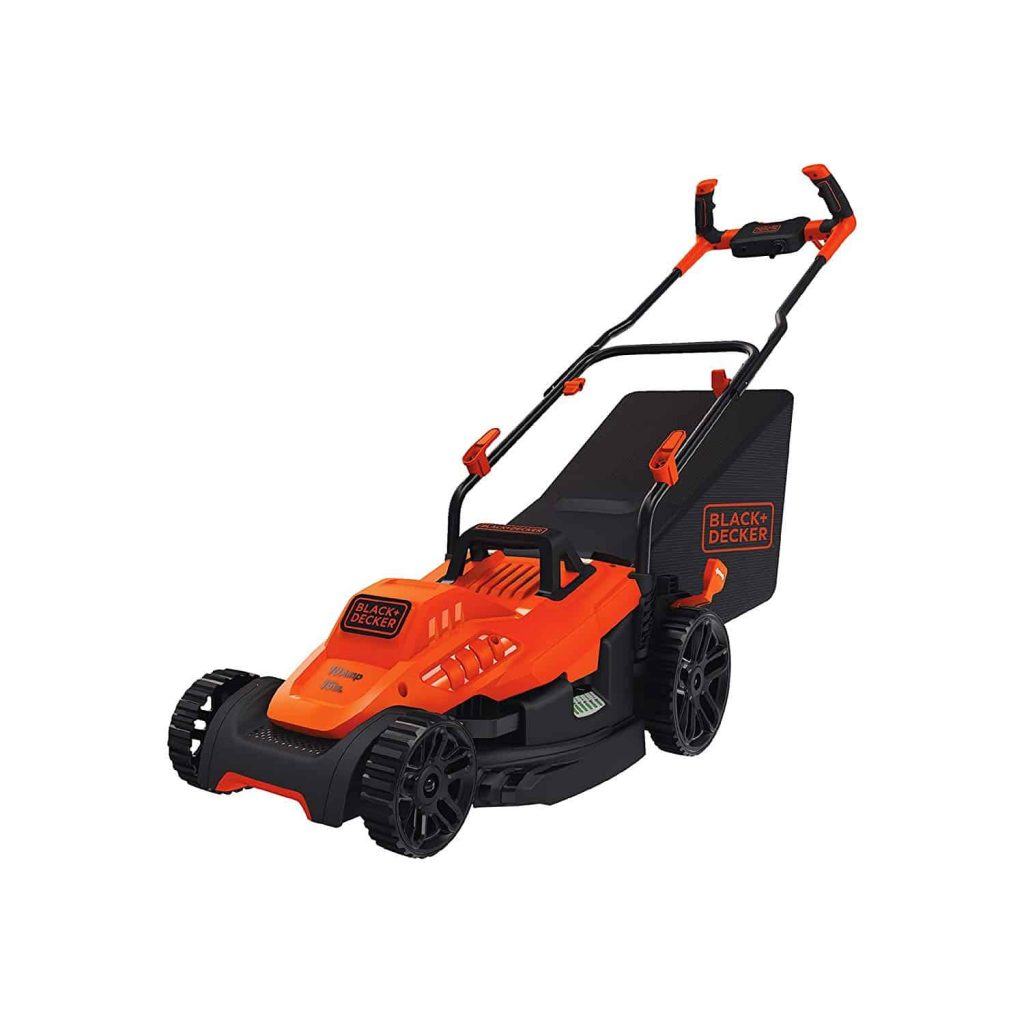 Overview
Arriving ahead of time, this Black and Decker electric mower was so simple to pop the handle on following the concise instruction booklet. It's light and unawkward to carry but is as tough as it looks.
What We Like
The ergonomic handle is comfortable to hold, even going over rough terrain, due to its unique ergonomic design. Edging was a doddle, and it even coped well when we accidently drove over the yard paving – it just kept going, quietly and efficiently. Before storing, cleaning the blades and body was so quick and easy, too.
What Needs Improving
It would be great to have a speed adjustment option, but it's certainly not a deal breaker.
The Final Verdict
This Black and Decker lives up to the brand's reputation for creating well made, solid, reliable equipment. We're happy to recommend this lawn mower.
3 new from $152.47
3 used from $106.59
Free shipping
as of November 27, 2023 2:10 am
---
Overview
Arriving on schedule, and really well packaged, this mower looks able to cope with any lawn type. The large wheels are very heavy duty, but seems to be easily maneuverable, and the handle folds down for no hassle storing or transporting.
What We Like
This is so easy to use, started first time and just mowed – lawn, weeds, it took them all. The trimmer head is perfectly angled, meaning that you strim and you cut with no extra effort involved. This mower feels very sturdy thanks to its ergonomic design, and we can even use it over rougher terrain.
What Needs Improving
The only thing we felt could be worked on was a slightly longer handle for taller operators. It's not a problem, but it might make a larger yard a bit more comfortable to mow.
The Final Verdict
A well performing, tough, hard wearing mower. Perfect for anyone regardless of whether they live in the cities or out in the country.
---
If you loved our lawn mower review, check out: