You know what it's like – you're busy preparing a meal for your family and suddenly you think to yourself 'I just bet someone's invented a thing that can chop this easier, make this task simpler, or leave less mess to clean up'. And you'd be right!
New, innovative gadgets are hitting the market every single day, designed to make a specific chore less of a hassle. Once, all of our kitchen items were just an idea – someone thought they could boil water faster than on a hot plate, and the kettle was born, or thought of a quicker way to scramble eggs, hello balloon whisk, and prior to the potato masher, how did we cope? See, everything started with an idea.
Well, here's three more ideas that transform annoying chores into something far more time and energy efficient.
---
Overview
Made from hard-wearing silicone, this ultra-useful, heavy-duty strainer clips onto any size pan, even if it has a lip, making pasta, or vegetable draining simple. Completely BPA free, it's dishwasher safe and FDA approved.
What We Like
Until we found this handy gizmo, draining pasta was always a balancing act between what remained in the pan, and what fell into the sink with the water. The same with vegetables, and although we have been known to just rinse an escaped potato, or carrot, and serve it up anyway, with this gadget you never need to worry again.
It clips on easily and firmly, so that even larger servings, or heavier vegetables, are safe, allowing you to drain every last drop of water. You can clip the Snap n Strain on prior to cooking, too, so there's no messing around with a hot pan, and being so secure means you can use both hands on the handle, removing the risk of dropping a heavy or awkward pan.
You can even use the Snap n Strain for draining hot oils after cooking burgers, ground beef and so on.
What Needs Improving
We found that the holes were a fraction too big for rice grains, but it's a small price to pay for something so useful.
The Final Verdict
Making draining pasta, noodles and vegetables easy and hassle-free, ensuring nothing is wasted, the Snap n Strain is a must-have in any kitchen.
2 new from $12.99
2 used from $11.43
Free shipping
as of September 29, 2023 9:21 pm
---
Overview
With a usefully large container underneath, this chopper is super durable. It includes two heavy-duty stainless steel chopping blades that offer a choice of chunk size, and a specially designed cleaning brush for those hard-to-reach corners. It's also certified dishwasher safe. With just one easy downward motion, you can not only slice onions, but chip potatoes or chop cheese, fruit, and other veggies, too.
What We Like
This little gadget is awesome. It can chop just about anything and is completely mess-free. Every chunk goes straight into the container, which can be stored in the refrigerator until required. Onion chopping is a breeze, avoiding the annoying tears (and minimizing those even more annoying questions as to why you're crying). We chipped potatoes, apples (baked apple chips are delicious – and healthy!), and made some real gourmet salads and feisty salsa's using this super-efficient chopper.
What Needs Improving
If the feeder is overloaded, the blades can become unclipped, but this is easily avoided by cutting the onion in half prior to chopping it. Simple!
The Final Verdict
LHS have designed a winner here. Super easy to use and hugely efficient - chopping a bag of onions took just a couple of minutes, left no mess, and then straight into the dishwasher. Every kitchen needs one of these, and we're hanging on to ours!
---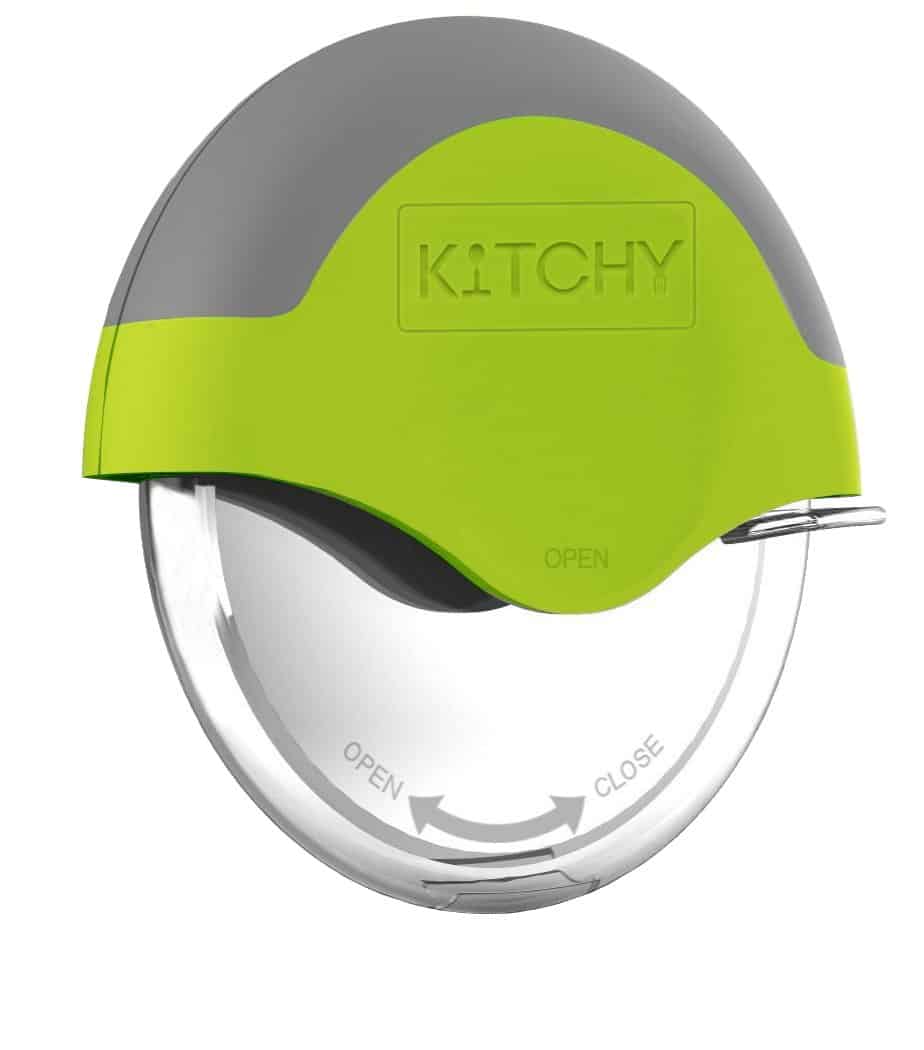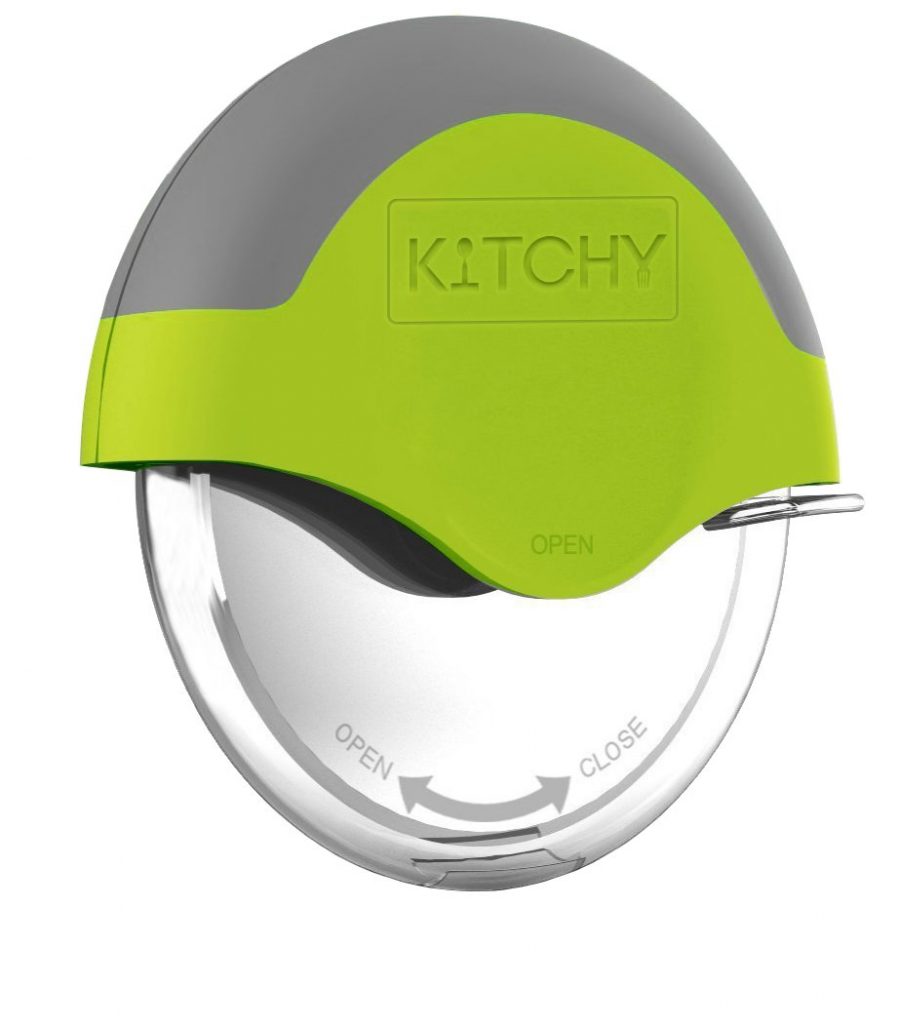 Overview
This is a really cool gadget – an ergonomically designed pizza cutter. With a protective blade guard that closes when not in use, it fits safely into your hand, allowing for efficient, clean-cut pizza slices, and when you're done, it's dishwasher safe. Available in a range of bright, fun colors, it'll never get lost in a drawer, and with its safety-conscious design, perfectly child-friendly.
What We Like
Not that we eat a lot of pizza, honest, but this cool gizmo is super awesome. It's designed with both style and safety uppermost, and provides perfectly cut pizza slices. Comfortable to hold, it's safe even for kids to use, despite its sharpness. What's more, it doesn't drag all your toppings off as you slice, like some other pizza cutters do – that can be so annoying!
What Needs Improving
It is a fraction pricier than the traditional wheel pizza cutter, but we think the extra couple of dollars are well worth it for such a superior product.
The Final Verdict
Style and efficiency come together in this simply awesome kitchen gadget. Pizza slicing has never been so much fun. We love this almost as much as we love pizza!
2 new from $9.99
1 used from $9.49
Free shipping
as of September 29, 2023 11:11 pm