These Reviews Were Last Updated
Every Home Should Have One!
We can live without a stove, but take away our water boilers and we can't carry on – or maybe that's just us. It's not even as though they carry out a range of tasks, they just boil water, turning cold water into hot water. But without that hot water, we couldn't have coffee, tea, soup and so much more – so kettles are important.
However, there are several factors to consider when buying a new kettle.
The initial decision is how long it takes to boil. There is several minutes difference between the fastest boiler and the slowest on the market and this can add up to a lot of time and energy spent waiting for that kettle.
The speed of boiling is dependent on the power, with most kettles ranging from 1.7kw to 3kw; the 3kw kettles are classed as 'rapid boil' and will generally boil in under 2.5 minutes. Unfortunately, being rapid boil also means that they tend to be louder.
Kettles hold between 1.5 and 1.7 liters of water and should be able to boil 6-7 cups at a time, but in order to save power, only boil what you need.
Here we've reviewed the best performing kettles of March, 2019:

Overview
This is a stunning kettle – beautiful styling coupled with efficient energy usage. It feels solid and well made, and it arrived nicely packaged, on time.
What We Like
We love that this kettle, even when full, is comfortable to hold, with the handle slightly grippy to help. It has never dripped once, and the lights situated in the base are an ingenious way to give it that extra special something.
Another bonus is that being glass, the water isn't tainted by the taste of plastic and retains its clean and fresh flavor.
What Need Improving
On unpacking, there was a strong plasticy smell, but after rinsing and boiling, it disappeared.

9.8Expert Score
The Final Verdict
This is a lovely product, and it would look amazing in any kitchen. A kettle is an essential item, so why not make it special by choosing this one!
The Purest Taste: Made with the finest quality borosilicate glass which resists scratching and scuffing, no plastics touch the boiling water inside including the lid, unlike other kettles use plastic for the inner lid(the filter is made of stainless steel and 100% BPA-free plastic)
6 used from $30.77
Free shipping
Last update was on: March 21, 2019 8:45 am
in stock
---
Overview
Secura have made a very sleek kettle with this double walled model. It has straight, sophisticated lines, and a nice comfortable, solid feeling handle.
What We Like
This is a great size for a kettle, perfect if you have friends round or like us, drink lots of coffee. But despite the size, it's very comfortable to lift, hold and pour. The lid opens wide enough for easy cleaning too.
The Secura kettle is made of durable stainless steel and comes with a 2 year warranty.
What Needs Improving
Our only issue that could be improved is that when it's boiled, and the cut off kicks in, there isn't a beep that can be heard from another room to alert you to this. But that's us being picky!
9.5Expert Score
The Final Verdict
This Secure kettle is unashamedly good – it boils in double quick time, can fill plenty of cups and is ergonomically designed to lift and pour perfectly.
This Electric Kettle comes with 100% Stainless Steel Interior. Stainless Steel pot, Stainless Steel Lid, Stainless Steel Spout, Stainless Steel Rim. NO plastic in contact with hot water. Safe Healthy Drinking Water
5 used from $16.42
Free shipping
Last update was on: March 21, 2019 11:45 am
in stock
---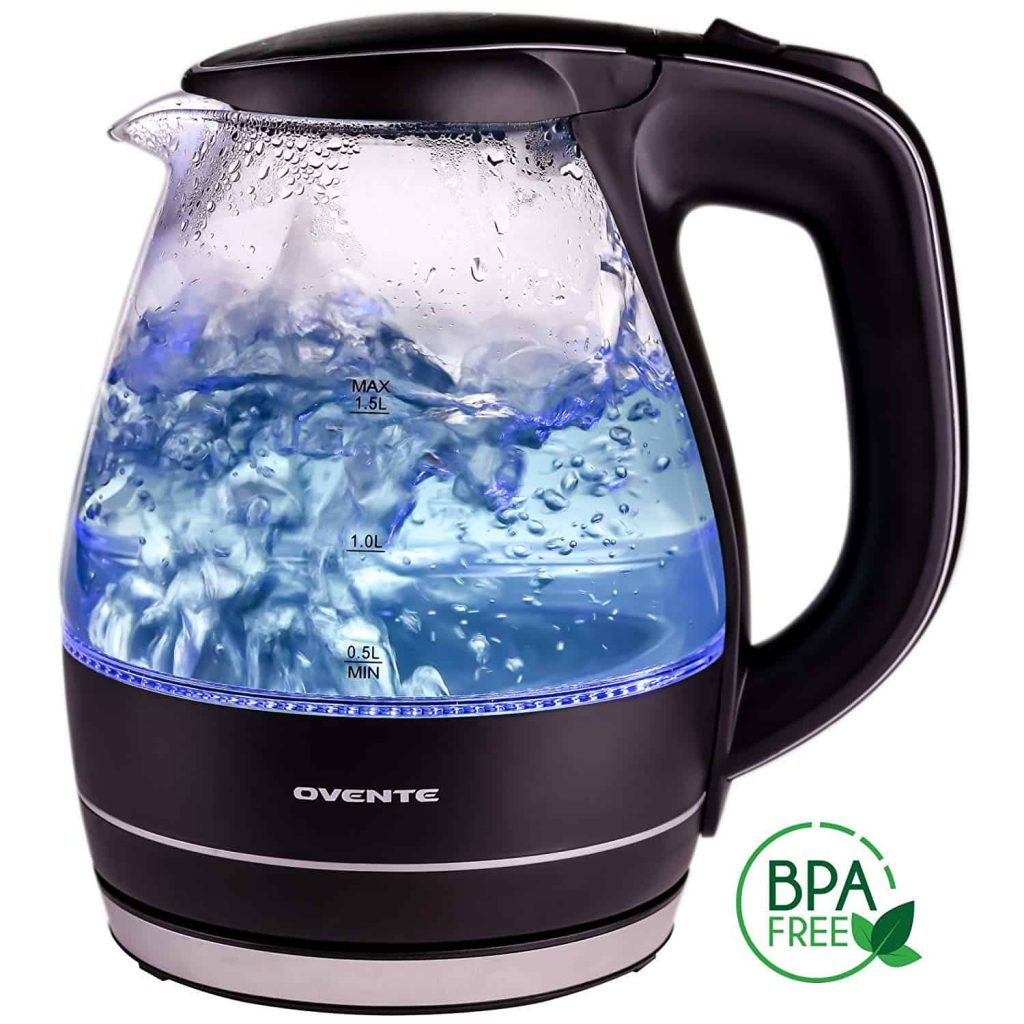 Overview
This kettle feels very well constructed, is nicely designed, and looks great on a kitchen countertop. It arrived promptly and was packaged extremely effectively.
What We Like
Nothing on the outside of this kettle gets hot, which is perfect if you have children around. It boils quickly, pours like a dream and is available in a color to suit every kitchen. It's also easy to see the measures on the side to indicate how many cups worth of water is contained within. This kettle is BPA free, which makes it a great non-toxic choice.

What Needs Improving
The excess power cord is stored in the base of the kettle, and fitting it in there is a tight squeeze, so that could have been designed a little better, but it's certainly not a deal breaker.
8.9Expert Score
The Final Verdict
A great kettle at an excellent price, overall a good bargain.
PURE, CLEAN WATER - It was built with a long-lasting and mineral-preventative concealed heating element along with a removable/washable filter to give you the healthiest, most fresh-tasting water without harmful chemicals.
11 used from $20.45
Free shipping
Last update was on: March 20, 2019 12:45 pm
in stock
---
Overview
The metallic red color had us all loving this kettle instantly; however, it is also sturdily made, not too heavy and ergonomically designed with comfort and ease of use in mind.
What We Like
The large rounded handle is perfectly balanced for picking up and carrying, even if you have aching joints, and even if the kettle's full – great design idea.
It boils quickly, switches off and keeps the water hot for when it's required, all at a good price. The mesh filter catches any hard water deposits that build up over time, ensuring they don't end up in your beverage, causing it to be crunchy.
What Needs Improving
This kettle doesn't have a warmer to keep the water hot once boiled; however, it doesn't really need one as the water stays hot for a long time anyway.
9.3Expert Score
The Final Verdict
The color, the style, the functionality and the price – all great. You won't go wrong with this one.
Auto shutoff with boil-dry protection
Cord-Free serving
1.7 Liters / 7.2 Cups
1500 watts - faster than a microwave - safer than a stovetop kettle
Easy-Pour spout for no-mess pouring
5 used from $29.08
Free shipping
Last update was on: March 20, 2019 12:45 pm
in stock
---
Overview
This sleek and sophisticated kettle arrived, well packaged, ahead of schedule.
Aicok have designed it to be sturdy and tough; with a double layered handle that doesn't get hot, and is easy to hold, even when full, they have certainly achieved their goal.
What We Like
The brushed steel finish on this kettle is lovely – so easy to wipe over and keep spotless, it always looks high quality.
This kettle has plenty of features to admire. It uses rapid boil to get your water hot in seconds. It's fitted with a British Strix thermostat to control temperature internally. It's cordless, free of BPA and comes with a 2 year warranty.
The lid opens fully to allow for easy filling and cleaning, and with the clear gauge window, it's simple to see how full it is. You only boil what you require, thus saving energy. Pouring water for your hot drink is always spill free, too.
The low price is an added bonus.
What Needs Improving
When coming to the boil this kettle is a little loud, but for such a bargain, that is a very small complaint.
9.6Expert Score
The Final Verdict
For the price this is an excellent kettle, and with the sleek steel finish, it looks like a high end product. Perfect for a wedding or housewarming gift!
HIGH-QUALITY KETTLE-100% food-grade stainless steel with no teflon or chemical linings to keep your kettle rust-free. Entirely BPA-free materials make sure the taste of boiled water.
MAXIMUM SAFETY-An ergonomic handle made by ABS material which is Heat-Resistant and Anti-Slip, no worries of it slipping out of your hands or getting burned while holding it. Automatic Shut Off when boiling, with STRIX controller ensures longer service life.
Free shipping
Last update was on: March 20, 2019 12:45 pm
in stock
---
If you enjoyed this review, take a look at our other favorites: