The Comfort of Freshly Made Bread Without the Hassle
There is nothing, and we do mean nothing, to rival the smell of freshly made bread. It's almost like it's built in to our psyche that the aroma signifies warmth, comfort and safety – it's like coming home. But actually making bread can be a chore that few of us have the luxury of time and energy to manage; we buy loaves from the supermarket because we need bread, but it's never the same.
A bread maker can, with very little input from you, deliver the gorgeousness of a still warm fresh loaf, and could be considered a kitchen essential. If you have an allergy, you'll know exactly what goes into your daily bread, and can avoid any problem ingredients, and you can experiment with different types of bread. It can also save you money and pay for itself very quickly as each loaf you make is so much cheaper than the supermarket loaf.
How does a bread maker work?
Most machines work in roughly the same way. You simply put the ingredients into the breadmaker, close the lid and switch on. The mixing, proving and baking the bread all take place automatically inside the machine. It can take three to four hours to produce a loaf, but once it's switched on, you can walk away.
Most makers have insulated walls to prevent the it becoming hot on the outside, and all come with a non-stick bread pan. These are usually squarish in shape, so your loaf will to be shorter and wider than a supermarket version. Inside, the kneading paddle mixes the ingredients into a dough, then it's allowed to rest and prove, before baking.
Many machines have different settings allowing you to bake rye, spelt, gluten free and pizza dough. They can calculate the correct temperature and cooking time for you, and you can often select your preferred crust option. There are plenty of other features to consider:
Viewing Window
This allows you to drool in anticipation as you check the progress of your loaf.
Timer
With some makers you can set a predetermined time for them to come on – a couple of hours before you wake for breakfast bread, or before you get in from work if you fancy a quick slice before dashing out again. Most makers have an alert to tell you when the bread is ready.
Rapid/Extended Bake
If you're always short on time, it's worth looking for a rapid-bake setting as this can create a white loaf in less than an hour. However, in our opinion, these loaves are not as good as the ones baked on the standard setting. The extended bake setting allows for a crunchier crust.
Modify Option
If you wish to change the times spent in kneading, rising, or keep warm stages, or the default temperature, this modify option allows you to customize your loaf.
Automatic Dispenser
This is a handy little feature that automatically dispenses ingredients at the correct time during the bread making process – very useful for fruit and nut breads.
Making dough, cakes, pasta or jam
Some makers are multi-talented, and have extra settings for kneading pasta, making rolls, turning fruit into jam, and baking cakes. Just yum!
In case you are all for that delicious, home-made food, but in a healthier way, take a look at our best air fryer reviews, as well as our rice-cooker reviews!
Right, so now we're looking forward to gorging on fresh bread, let's get testing.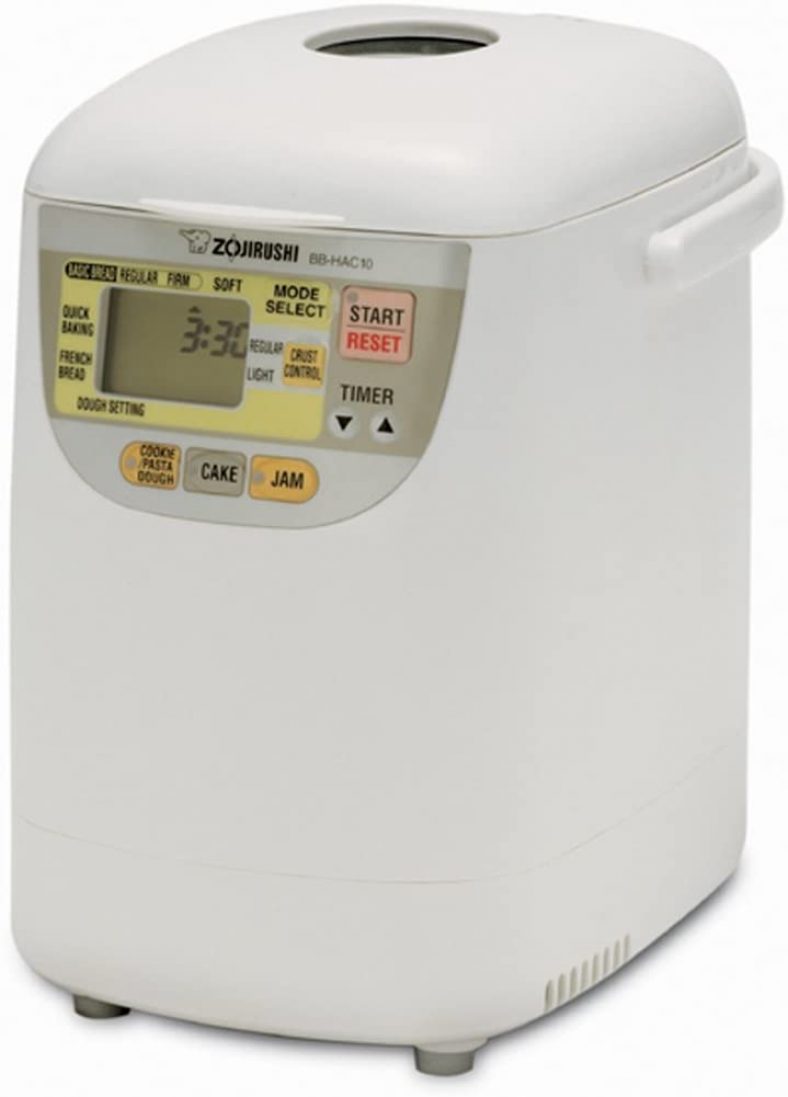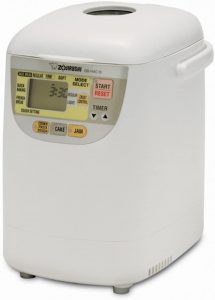 Overview
Smart looking, this bread maker from Zojirushi, has a large frontal LCD display, several different menu settings for different types of breads, cookie doughs, pasta and cakes. The 13 hour timer delay means that you can wake up to freshly baked bread, although there is a cycle that produces bread in as little as an hour. With a viewing window and dishwasher safe parts, this is looking good so far.
What We Like
Matching in with your white goods, this cool exterior bread maker would look great on your countertop, ready to use. Like the others tested, this Zojirushi model can produce jams, cakes and dough for buns or pizza bases, and warm cinnamon raisin bread is just to die for! It can easily cope with a 1lb loaf – just as well, really!
What Needs Improving
Aesthetically, this isn't as pleasing a design as the others tested, however it makes awesome bread and that's what really counts.
The Final Verdict
Easy to use, compact enough to tuck into any kitchen, and makes perfectly textured bread. What's not to like!
7 new from $254.49
4 used from $229.04
Free shipping
as of November 26, 2023 9:17 pm
---
Overview
Space age in style, there's no doubting this beast of a bread maker. With 12 programmes, including gluten-free, it can please all the family, and is surprisingly uncomplicated to use. It has a delay timer, an ergonomically designed viewing window, and a 1 hour automatic Keep Warm feature. The recipe book includes such awesome ideas as chocolate and beer bread!
What We Like
The bread pan is uniquely designed to ensure even cooking and density throughout the loaf, which it appears to manage nicely. We like the Keep Warm feature – a great idea if we're running late, which often seems to happen. The amount of tasks this machine can perform is impressive.
What Needs Improving
Whether it was us, or the machine, the jam setting needed a little longer than given to produce the right consistency of jam.
The Final Verdict
This bread maker would be awesomely useful in any modern home. It's top of our gift list for sheer versatility!
---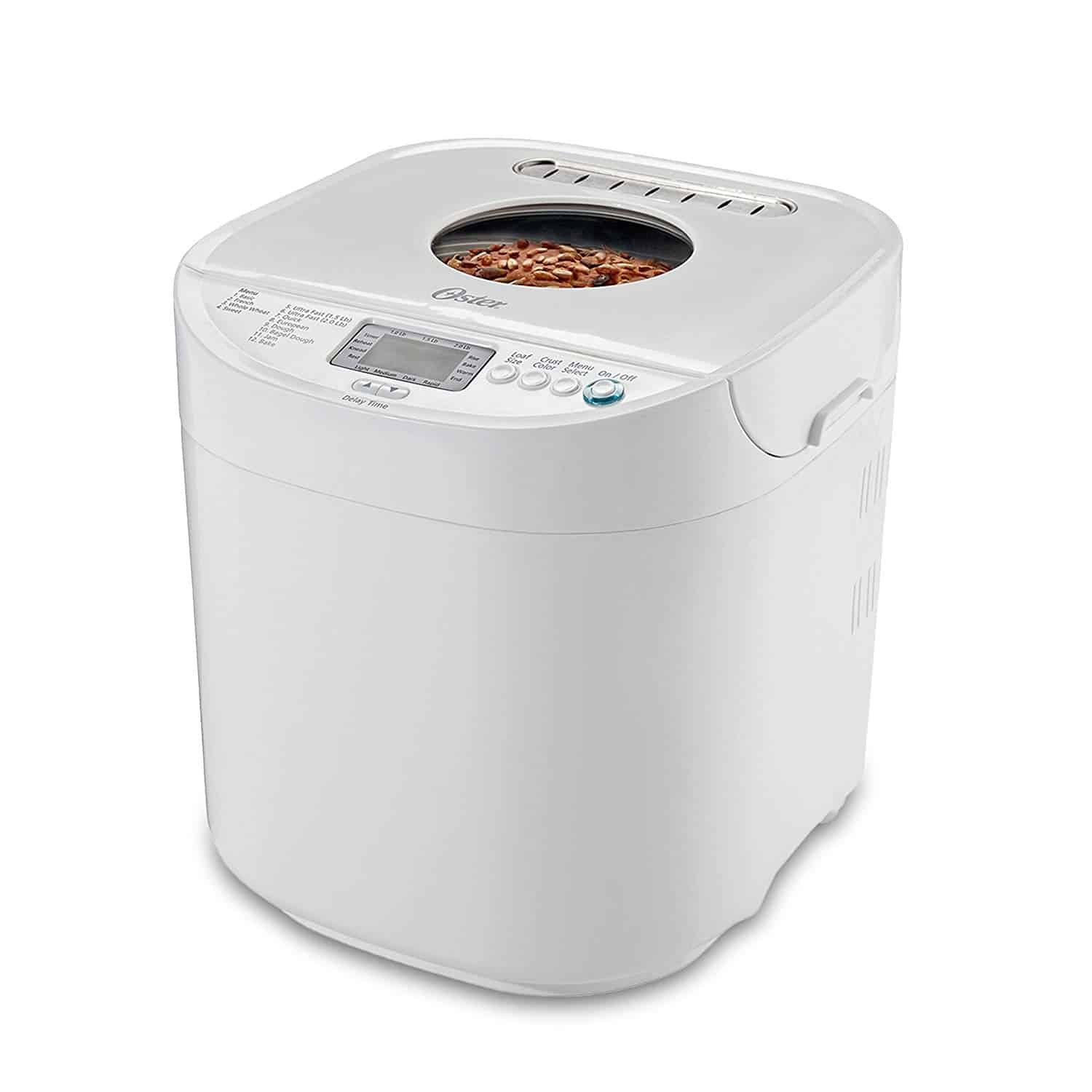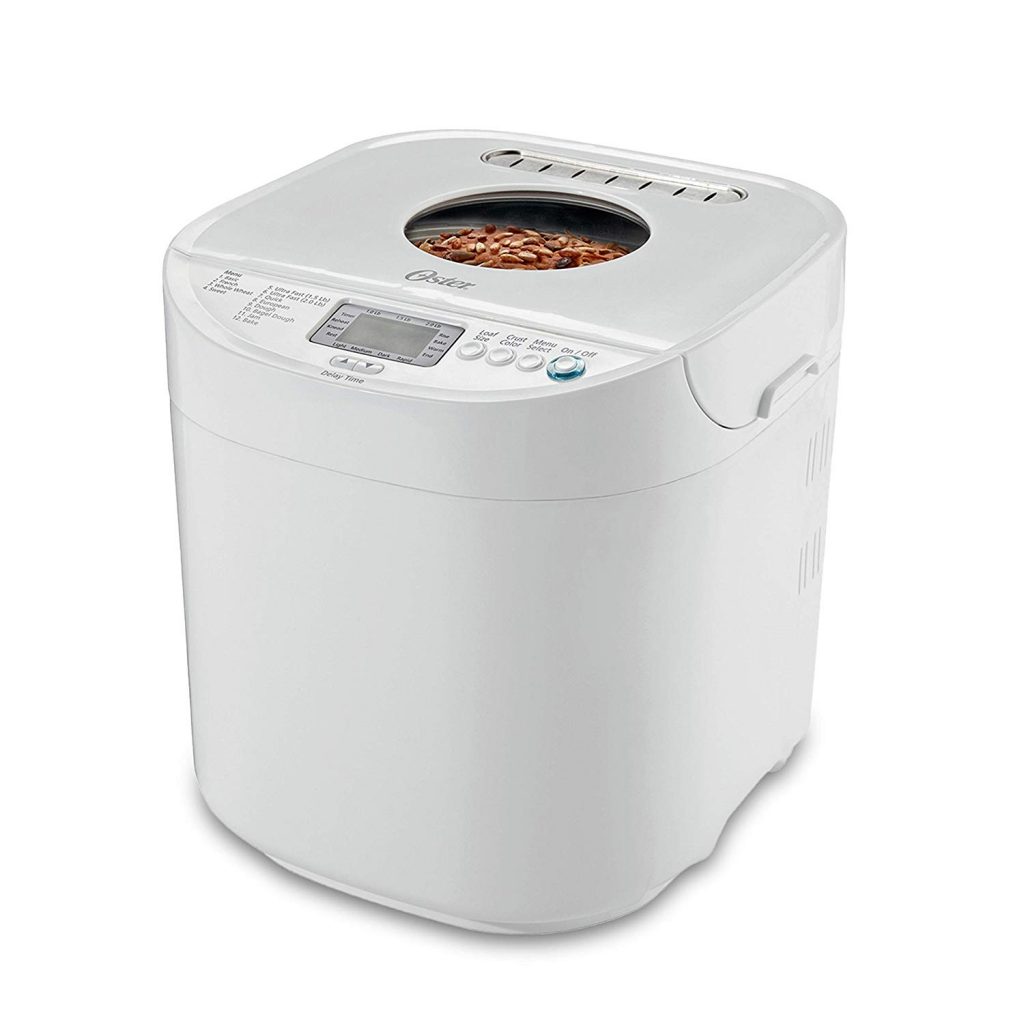 Overview
There's no denying this is quite a large and robust bread maker, so you need to have the surface space to accommodate it. Able to bake a 2lb loaf in an hour with the Express Bake option, it has another 12 programmes to choose from, along with 3 crust options. The LCD interface is user friendly and easy to read, and the accessories include measuring cups and spoons.
What We Like
The bread that this machine makes is light and fluffy with a great density, and although not a fluffy, it's still good on the Express Bake setting. Gluten free bread was baked to perfection as was the rice bread, pizza dough and jam. The Keep Warm feature is a nice touch, and ensured our bread had that just cooked homely warmth, even if we were running late.
What Needs Improving
The shape of the 2lb loaf that this bread maker produces can be quite hard to slice – you need a very sharp bread knife to slice all the way through. But this isn't a deal breaker.
The Final Verdict
For a large family this is the ideal kitchen accessory. Quick, easy to use and produces delicious bread, cakes, jams and more every time!
5 new from $118.99
Free shipping
as of November 27, 2023 8:55 am
---
What else do we recommend?