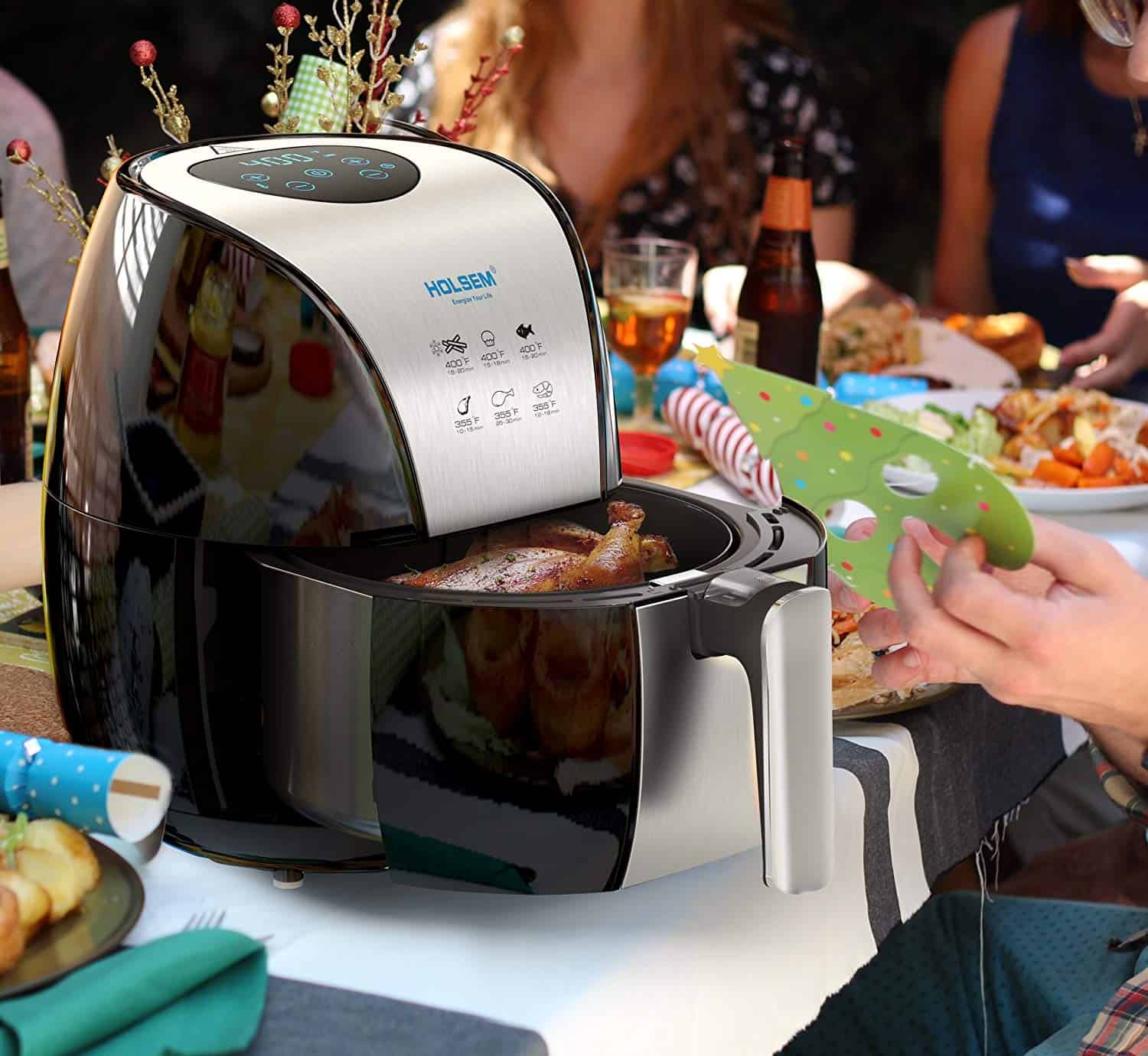 These Reviews Were Last Updated
Finally, healthy fried food that tastes amazing!

For years the only way to get deliciously moreish fries at home was to have a greasy deep fryer lurking in the corner of your kitchen. But no more! Now guilt-free and delicious fried foods can be yours whenever you desire.
What is an air fryer?
Air fryers cook by coating food in a very thin film of oil and circulating hot air. This produces that tasty, crispy layer that's so synonymous of traditionally fried foods, but with an incredible 80% less fat, depending on the fryer. It doesn't have to be fries, either. Air fried chicken, fish, burgers, and even donuts can all be successfully cooked in a fryer, and taste delicious. There are several points to consider when choosing your power air fryers:
Capacity – The average fryer can cope with approximately 2lbs of food in one go; however some models have a larger capacity, suited to a large family.
Controls and Features – Does it have a timer, or temperature control? Can you switch between different cooking modes?
Will it fit in the space available?
It's been a real hardship to review these fryers – how many healthy fries can we eat? Actually, more than we ever thought possible.
Introducing the best Air Fryers on sale in February, 2019:
Overview
We're wowed; there's not much this popular airfryer can't do. It does roasting, frying, re heating, and baking, all viewed through a handy window to wake up the taste buds.
It's sleek, and although it bears more than a slight resemblance to something worn by a Storm Trooper, it is well worth giving this more-than-just-an-air-fryer space in your kitchen.
What We Like

Sometimes when a gadget attempts to multi task, it's merely a jack of all trades; however, the Chefman masters everything thrown at it.
Our roast chicken was moistly delectable, with an evenly browned crispy skin. Everything seemed to have a lot of more flavor than the other fryers (we used the same oil throughout). Even the chocolate cake that we whizzed up out of sheer desperation for a chocolate fix cooked quickly.
What Needs Improving

The Chefman exceeded our expectations. We couldn't fault it.
The Final Verdict
This is an excellent product, with abilities beyond just deep frying. No wonder so many air fryer reviews are crazy about it.
ADJUSTABLE: Temperature range from 175-400 degrees allows you to cook at your desired temperature, achieving a healthy, crispy, fried finish using at least 80% less oil than traditional fryers. The detachable flat basket, cool touch exterior and auto-shutoff ensure added safety and security. Use caution when mixing or removing food as basket may be hot.
1 used from $70.54

Free shipping
Last update was on: October 26, 2018 5:53 am
---
Overview
Unpacking this fryer, we were positively surprised by how much was included. Holsem have thought of everything. There are baskets, an extra grill, tongs, cake moulds, and even replacement little rubber feet so that it never marks your surfaces. The recipe booklet is glossy and full of yummy looking ideas. First appearances count and in this case, they were impressive.
We remained impressed as we put it through its paces. First, the fries – crispy outside, fluffy in, and cooked to perfection using the timer. Next, chicken. The large basket can hold enough for several hungry people, and again, delicious.
We tried several recipes, giving it a full workout, and this fryer performed well every time, and was easy to clean afterwards.
What We Like

That this fryer is sleek and stylish is obvious, but it works well too, with the ability to create a lavish feast for guests, or a quick guilt free supper for one.
The timer is really useful and easy to set. If you want to check how your food is doing, just pull out the basket, there's no need to alter the timer as it automatically adjusts once the basket is slotted back.
What Needs Improving

The instructions could be a little clearer – sometimes we had to guess what to do. Luckily, it's simple to use, so we got along just fine, but maybe, Holsem, they could be a little better.
The Final Verdict
We really like this product, and after trying it out, several friends have now ordered their own. The extras that come with it are well thought out and useful, and we really felt that we were getting a great fryer for a good price.
ETL Listed & 6 in 1 Multiple Functions:Fry, bake, steam, grill, roast and unfreeze - all in one, see detailed description in the cook book.
Rapid Air Circulation Technology: Enjoy full flavor, zero guilt by using less or no oil. Our industry-leading rapid air circulation technology provides a faster and even cooking result all around.
1 used from $116.90

Last update was on: October 8, 2018 9:14 am
---
Overview
This ETL-certified air fryer is a great all-rounder.
It cooks in 360 degrees and the perfect crisp system ensures that everything comes out crispy on the outside and moist on the inside.
What We Like

The majority of functions possessed by this Fryer perform up to expectations. It produced the perfect roast chicken, we have fried eggs, made kebabs, chips and muffins – every single item has come out just as we desired, and in half the time of a conventional oven.
What Needs Improving

The basket is a little smaller than anticipated. It may not be able to cater for a huge family but if that's not a problem, you'll love it.
The Final Verdict
This is a smart air fryer that delivers everything you need it to. A little on the smaller side for families, but all in all, we loved it.
FAT FREE: RadiVection 360° Technology allows you to roast, bake, broil, grill, and of course FRY all of your favorite foods without fat or oil
ALWAYS CRISPY: Perfect Crisp System and removable, nonstick tray make food crispy on the outside and moist and tender on the inside
Last update was on: December 19, 2018 11:46 am
---
Overview
This is one of the cheaper models we tried, but don't let that put you off. It doesn't come with the impressive extras of the Holsem, or the disco lights of the Power Air Fryer, but this is a user friendly, no frills fryer. It does what it says on the box, and it does it well.
What We Like

We like this air fryer – it's honest, very simple to use, and doesn't take up much room (yet still has a decent family-size capacity). It's also quiet to use, and easy to clean. It's the fryer we would happily gift to someone special.
The longer length cable makes for easy positioning, and it never gets even the tiniest bit warm on the outside.
What Needs Improving

Okay, there are a couple of things that could do with re thinking, but for us they aren't deal breakers.
The knobs should ideally be ridged or ribbed, for easy turning and positioning. Also the only power knob is the timer. This means that every time you peek at your food, you have to set it back to zero. While this is unconventional, it hasn't hindered any cooking.
The Final Verdict
As you may have guessed, bar a little room for improvement, we're big fans. It's unobtrusive, makes great food, isn't full of self importance and sticks to its promises.
The Secura 3.2-Liter, 3.4 Qt., Electric Hot Air Fryer uses hot air in combination with high-speed air circulation (rapid hot air) and a top grill to prepare a variety of tasty dishes in a healthy, fast and easy way
1 used from $68.39

Last update was on: December 19, 2018 11:56 am
---
Overview
This happy little fryer is one of Amazon's Best Sellers year after year. We tested the XL model in a shiny, slick black with brushed steel fittings. It's stylishly good looking, and satisfyingly rotund. It comes with a non-stick FDA-certified and PFOA free pan and detachable basket. A lot of thought has gone into this design.
The Power Air Fryer's looks are more than just skin deep though, and its performance is equally admirable. Putting it through its paces, we were impressed with how simple it was to use, and to clean afterwards.
What We Like

This fryer is so simple to use – with 8 x pre-set programs it can fry, bake, grill, or roast. It also does a mean sautéd zucchini, which the majority of fryers miss out on. The instruction manual had plenty of easy to follow diagrams making it practically impossible to go wrong.
You really can plug in and cook with this fryer!
We like the fact that the manufacturers have considered the environmental impact when designing this fryer – the only one we tested that appeared to do so.
What Needs Improving

We would recommend buying the larger capacity from the get go. You'll only end up upgrading when everyone starts dropping round for your delicious fried chicken or doughnuts.
It's not the quietest model tested, but we feel that's a small price to pay for the speed of the Turbo Cyclone, which the manufacturers describe as a whirlwind of superheated air.
The Final Verdict
It's black and shiny, curvy and efficient – what's not to love?
Enjoy your favorite food without the extra calories. This air fryer allows you to fry, bake, grill, and roast with little to no oil. Make crispy fried chicken, steak, French fries, pizza and much more in one countertop appliance
5 used from $67.95

Free shipping
Last update was on: August 23, 2018 7:48 am
---
If you liked this article, then also check out…