Keep Your Food Airtight
A vacuum sealer is one of those kitchen gadgets you don't realize how much you'll use – until you get one. If you're a fan of saving dollars by bulk buying, a vacuum sealer will make your money stretch even further by increasing the shelf life of products. They can be used for all sorts of other jobs, too, for example sealing jars and bottles, corrosion protection, resealing bags and emergency preparedness. Besides, prepping an entire meal, sealing it, freezing it and just throwing it into an electric oven when you're ready to eat is the best way to save both time and money!
How does a vacuum sealer work?
Vacuum sealers suck the air out of plastic bags or containers, sealing them so no air can get back in. Foods that are exposed to air, even in a refrigerator or freezer, rot and decay much faster than the same food sealed in a vacuum bag. The vacuum bag allows the food to retain its goodness for at least five times longer, as bacteria cannot grow in an oxygen-free environment. Check out our best refrigerators of the year to preserve your food for as long as possible!
Incidentally, vacuum sealing important papers or silver jewelry prevents them deteriorating or becoming tarnished, as oxygen is to blame for this. Shipping and storing clothes becomes easier, too, as by removing the air from any packing, they take up far less room.
How Do You Plan to Use Your Vacuum Sealer?
Determine the type of the food to be sealed
Determine the frequency of using the vacuum sealer
Determine your kitchen space to keep the machine
Determine how much you can invest in
Types of Vacuum Sealer
There are two main types of vacuum sealers on the market – external and chamber models.
These are great for food items, and for use around the house. Easy to operate, they can be used with any type of bag, and some external sealers are small enough to be hand held.
These use high powered pumps are more suited to commercial uses, or larger households. More powerful than the external models, they can remove more air from bags, are able to seal liquids easily, and many have adjustable suction levels. The vacuuming and sealing process takes place inside the sealer, unlike the external version.
Which Features are Important?
Some sealing machines don't work efficiently with rolls of bags. They will need separate single bags. Either way, this cost needs to be taken into account.  If you go with the rolls, you may need to cut the bag to the correct size in order to seal and store foods. However, some sealers have integral rollers and cutters that can do the work for you.
Wet Sealing Feature
If you plan to seal stews, smoothies, soups and so on, a wet sealing mode is necessary. This allows liquids to be poured into the bag before vacuuming and sealing. If the sealer you choose has this feature, it will also need a drip guard to avoid any mess.
For items that break easily, such as biscuits or certain vegetables, a pulse mode allows the air to be removed in short bursts. This means that just prior to the food items being crushed, you can stop the process.
Vacuum Seal Jars and Tubs
In order to vacuum seal in other containers, your sealer will need an outboard port and a hose to fit into the container.
Any vacuum sealer you choose should be easy to clean, including the drip guard.
So, now we're ready to start testing the best selling vacuum sealers.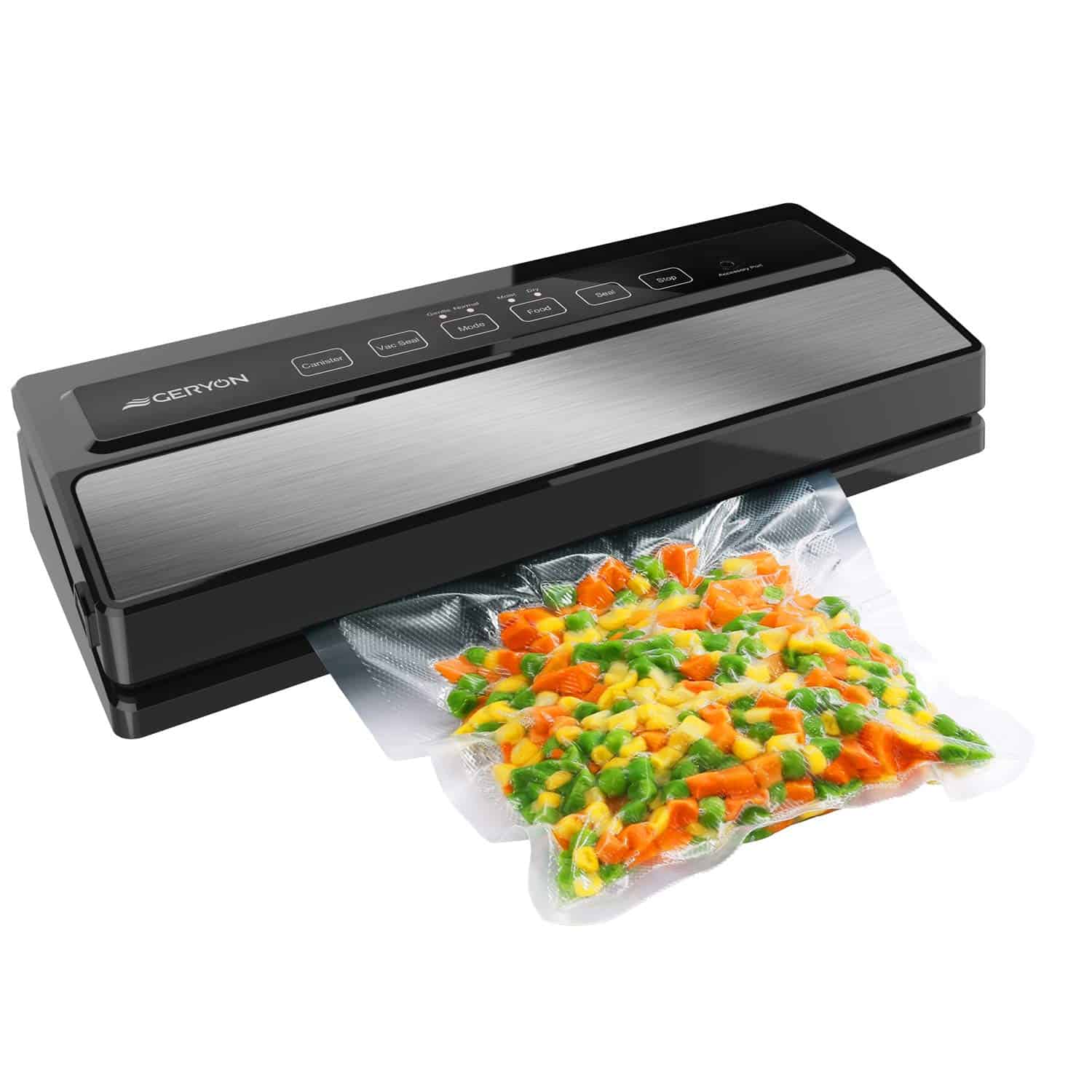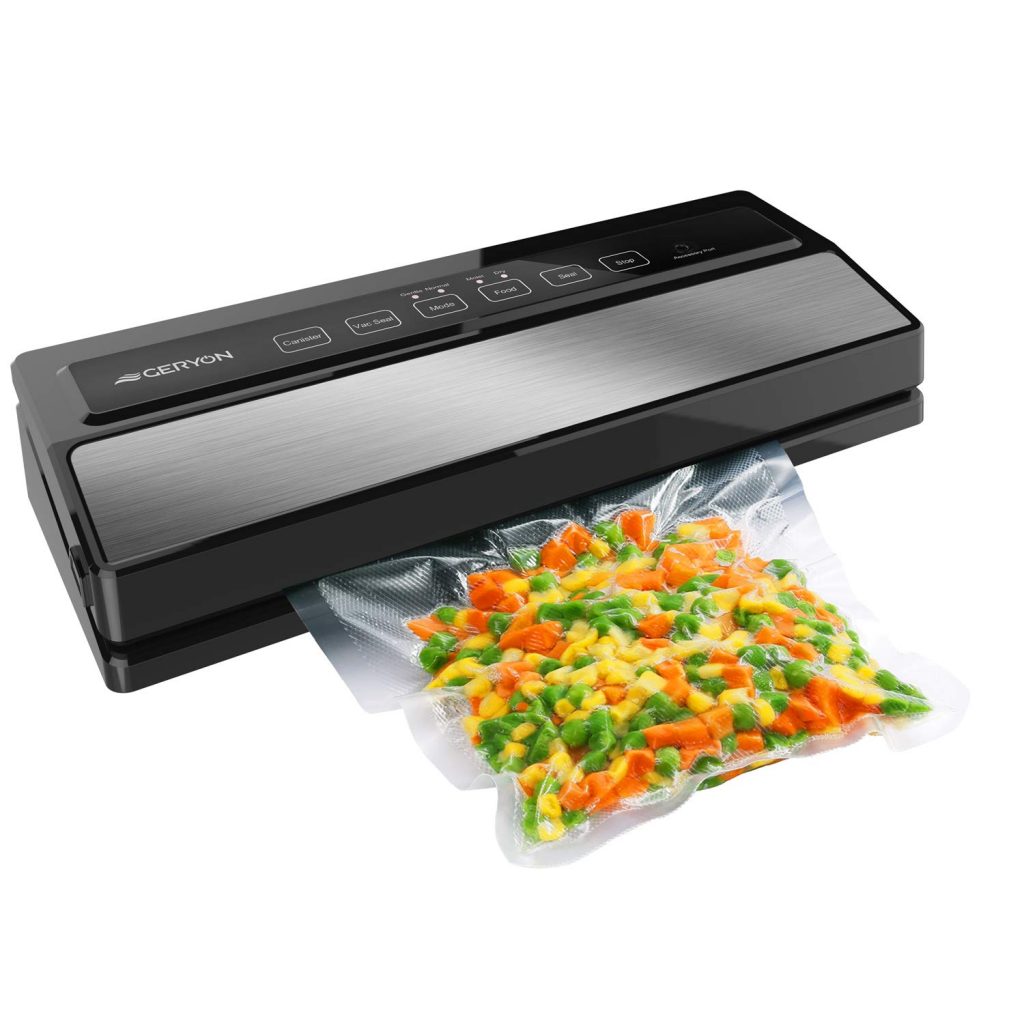 Overview
This starter kit contains everything you need to start sealing your own food, including suction hose, heat seal bags and rolls. Compact and lightweight, it uses 12'' bags and has two sealing modes. Easy to clean, with an LED display and a user friendly interface, this is a nicely designed, well made vacuum sealer.
What We Like
With settings for dry and moist food, this seals perfectly. It's also great for marinades, and fresh fruit and veg. The size of the bags is just right and we found that it was possible to seal quite large portion sizes quickly and with no hassle.
What Needs Improving
Depending on what you are sealing, we found that sometimes you have to hold the bag while it seals. This isn't a deal breaker, however.
The Final Verdict
This Geryon sealer is easy to use, comes with lots of accessories, and seals effectively. Happy to recommend.
2 new from $41.99
4 used from $35.65
Free shipping
as of November 27, 2023 5:10 pm
---
Overview
In brushed stainless steel, this is a smart addition to any modern kitchen. The accessories pack includes bags, sealing strips and two vacuum pipes. Robust, nicely designed and with a clear LED display, it comes with an easy to follow manual. Looking good so far.
What We Like
This model comes with customizable vacuum modes for different types of foods, whether dry or moist, firm or crumbly. The display's progress bar is a great feature, as is the protection against overheating, and integrated bag storage slot. We found it simple to use and even with liquids, it sealed quickly with no leaks.
What Needs Improving
The cable storage slot was a tight fit for the cable, however this is a minor point compared to the efficiency of this machine.
The Final Verdict
If you're looking for a vacuum sealer that can even handle liquids, has a lot of well thought out features, and works superbly, this is it!
2 new from $31.98
Free shipping
as of November 27, 2023 1:11 pm
---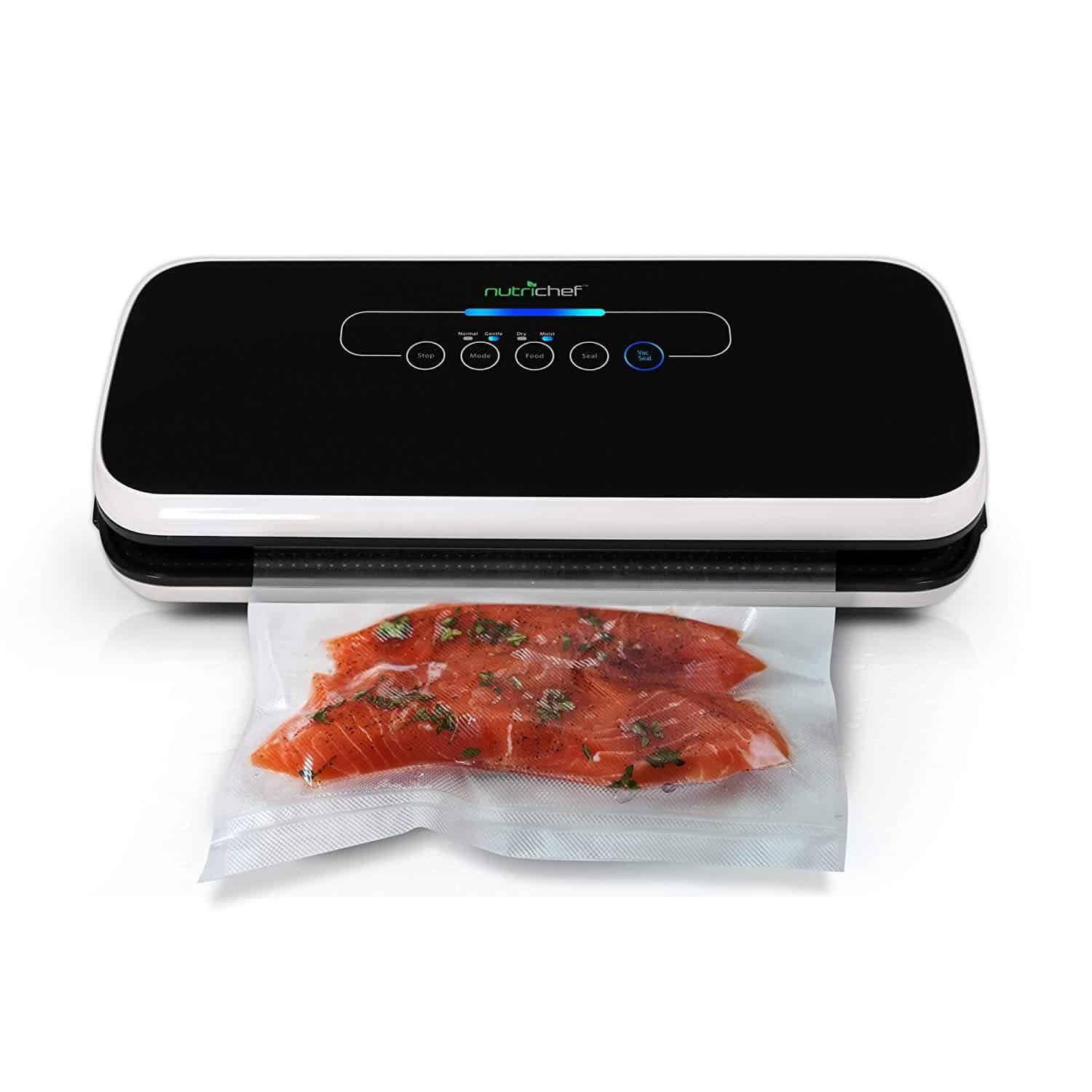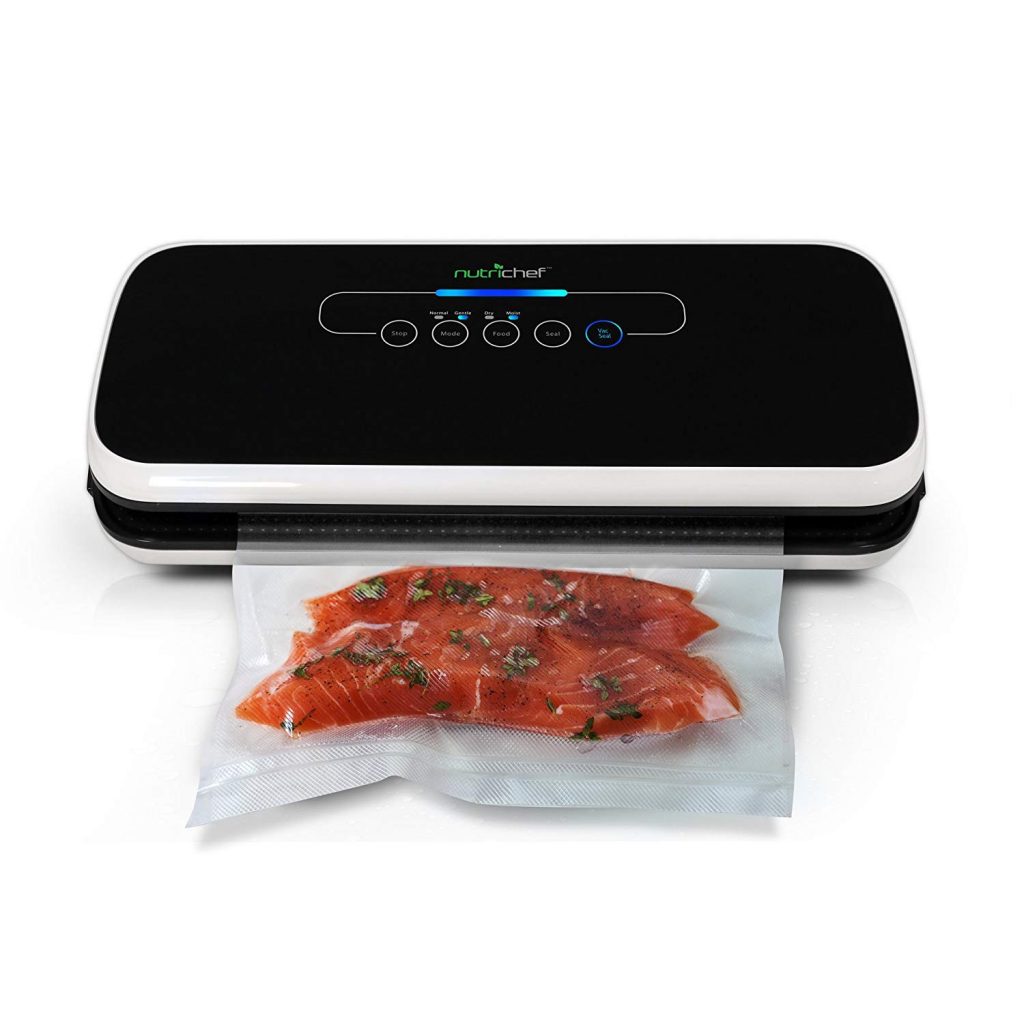 Overview
Nutrichef are well known for producing quality kitchenware, and they've done it again. Available in several finishes, including a sleek brushed steel, this durable vacuum sealer uses high powered suction and two modes depending on the food you need sealed. Fully automatic, with a soft touch LED display, it comes with all the accessories you need to get started, including bags, suction hoses and a wine seal.
What We Like
With stain resistant, easy clean housing, using this vacuum seal is refreshingly hassle free. The user interface is logically self explanatory, it can seal both liquids and solids, and also has the ability to seal without vacuuming first. We found this feature infinitely useful.
What Needs Improving
The user manual isn't very clearly written, however the onscreen instructions talk you through everything.
The Final Verdict
With a multitude of useful applications, this is a great addition to any kitchen, especially if you have a family to cater for.
6 new from $49.99
8 used from $28.91

as of November 27, 2023 7:11 am
---
If you're still not convinced you should get a vacuum sealer as of today, check out these useful tips and facts on why vacuum sealers will be your best investment of the year!
---
Discover other essentials for the home: