We Test the Top Electric Ovens
Call it what you will – oven, range, stove, every kitchen needs something to cook meals on or in. We can't always live on microwave meals and take outs, right? Most people are very serious about their kitchen appliances, like the refrigerator, so we're here to help you pick out the best of the best!
Most electric ranges measure approximately 30'' wide, 26-28'' deep, and 47-48'' high, including the backsplash, and have a 3-4 cu ft oven capacity. However, there is a size to suit every situation, from small spaces to large designer kitchens. Most have four burners on the top, but professional style ones can have 6 or more, possibly with grills, warming drawers and broilers added too.
What next?
The type of appliance, dictated by the space available, is the next thing to consider.
Freestanding Ranges:
Freestanding ranges can be placed anywhere in your kitchen, and with panels on the front and sides, they look good from any angle. The backsplash usually includes the control panel and timer.
Drop-in or Slide-in Ranges:
Similar to freestanding models, but these have a built-in look, and have been dropped, or slid, into the space allocated.
Double Oven Ranges:
These large models have two ovens separate ovens that can be controlled independently, and are great for a larger family, or entertaining.
Wall Oven:
Wall ovens are built into tall units and are generally flush with all surrounding surfaces; however, as there is nowhere to fit the top burner section, this will have to be installed into a countertop. This type of oven is becoming increasingly popular.
No one likes cleaning an oven, and although a self-cleaning model may cost a little more initially, because they tend to have better insulation they will save on running costs over time, and definitely save on effort. Fan assisted ovens use a fan to circulate the heat throughout the oven space, which shortens cooking time.
Many newer models are being designed with microwaves included in the main body, and a few manufacturers are even making 'smart' ovens that can be remotely controlled via your smartphone.
Our choices for the top electric ovens are:
Overview
GE have developed a great looking stainless steel range, and it felt solidly reassuring once unpacked and installed. It's a good size for a family, has plenty of space on the top rings, and is easy to clean.
What We Like
With no hassle at all, we were able to cook meals for all the family. With plenty of interior space, super powerful burners, and easily adjustable, responsive controls, this is a really useful range cooker. We also love the interior – it appeals to our sense of coolness.
What Needs Improving
This model does run a little loud a bit loud, but that's in no way a deal breaker.
The Final Verdict
This smart and professional looking range is a great addition to any kitchen and being freestanding, can slot between your units easily. It can handle large three course meals without any hassle or fussing, and we're happy to recommend it.
---
Overview
This arrived ahead of schedule and, although we installed it ourselves, it was easy to do, only taking a few minutes. Empava have made a lovely, clean lined wall oven, which fits perfectly and is well made. The instructions are very simple to follow.
What We Like
The controls are pretty self-explanatory and simple, including the digital timer that switches on automatically if you are out, or cooks for an allotted time, alerting you when finished.
The impressively large oven space heats up so quickly, with the food coming out evenly cooked.
What Needs Improving
The beep could be a little louder in order that it's heard from another room, but it's really not an issue.
The Final Verdict
This Empava model is great – easy to self-install, and within minutes you could be sitting down to a delicious meal cooked in your new oven. The sleek black looks really smart too.
---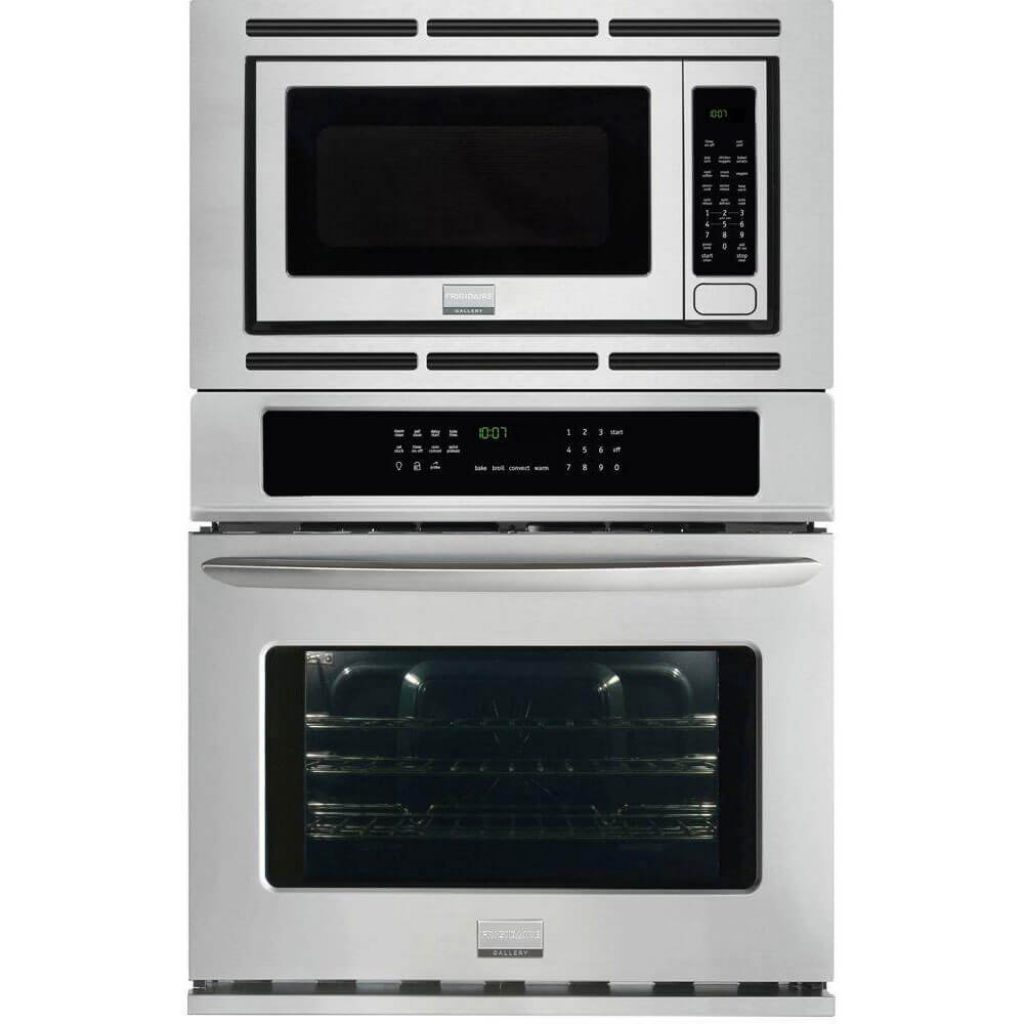 Overview
This arrived ahead of time and took longer to unpack than it did to install. It looks really good, robust and like it can cope with a large lot of cooking. The instructions are clear and simple.
What We Like
Frigidaire have made a wall oven that not only looks really smart but cooks well too. The pre-heating option is a super idea, and the controls are so straightforward, it was easy to find the right function without the instruction manual. The microwave interior is big– much larger than we've ever seen, and it could easily handle a chicken if we wished. This oven comes with a quick pre heat option, it's self cleaning and all the controls are one touch for convenience. The Frigidaire is fully UL certified.
What Needs Improving
The microwave could be quieter, but at least we know when it's on.
The Final Verdict
An excellent wall oven combining the benefits of a microwave with the functionality of a convection oven. A superb addition to any kitchen.
---
Having an electric oven is a great thing, but cleaning it? Not so much. Check out the best tips and tricks on cleaning your electric oven without damaging it!
---
If you enjoyed this review, then check out our other trending articles: