We Take An Honest Look At The Market Leaders
Buying a new refrigerator must rank as one of the most important purchases you can make and they are crucial in a modern household. It used to be so simple to choose from the few models that were available, but now the range is vast, and deciding which one to go for has become much harder.
To narrow down your choice, there are several questions you need to think about, starting with deciding which style would suit your requirements.
Apart from the necessary space to fit your refrigerator between a dishwasher and an oven if it's going in the kitchen or inside a countertop if it's going somewhere else, there are four main options:
Top Freezers:
This is the most common style of refrigerator. With the freezer at the top, the bottom two thirds are given over to fresh food. This design has worked well for years, and whilst some would choose a more modern, high-end style, this is the cheaper option and functions well as a storage space.
Bottom Freezer:
A refrigerator with the freezing department at the bottom allows easier access to fresh foods so you won't have to dig around low down to locate the more readily used ingredients. There are a lot fewer bottom freezer models available, and they tend to be larger than top freezers.
Side by Side Freezers:
As suggested, these are divided with the freezer usually smaller and on the left-hand side, and fresh on the right. Each section has its own door and are ideal for narrower spaces as each door requires less clearance to open.
French Door:
French door models combine a drawer style freezer, with the low clearance of a side by side unit, meaning that you will have a full width double door refrigerator with plenty of internal space. This is a highly popular design, and consequently, there are plenty of models to choose from; however, they can be the more expensive option.
The next consideration is size – how big does your refrigerator need to be? The limiting factor here is space, so before you start shopping, measure the space available. A compact under the counter design is going to be cheaper and cost less to run, but with a family, you will need to budget for a larger model.
A general rule for a refrigerator's internal capacity is 4-6 cubic feet per adult, and a little bit extra.
The last thing to think about are the features that you might find useful.
Sectional climate control is great if you eat a lot of fresh ingredients, such as salad leaves or herbs, while advanced defrosting features are useful if you live off frozen meals. For the wine connoisseur, built in wine racks are an excellent option. Extra storage features are always handy, such as folding shelves for taller items, and ice makers are a welcome addition in warmer weather.
So called 'smart' refrigerators are just making their emergence into the market, having the ability to scan bar codes on products and add them to your online shopping list, among other high tech talents. According to Forbes, this has made smart refrigerators one of the most coveted home appliances.
So let's take a closer look at the best refrigerators of the year: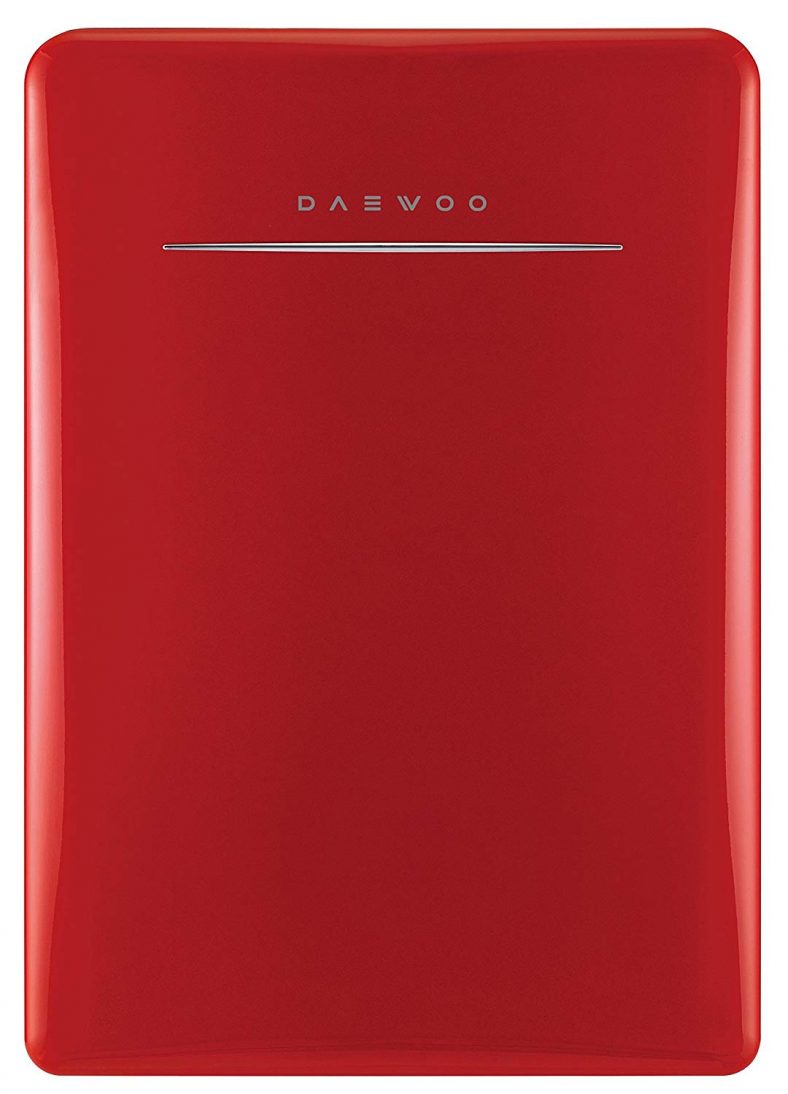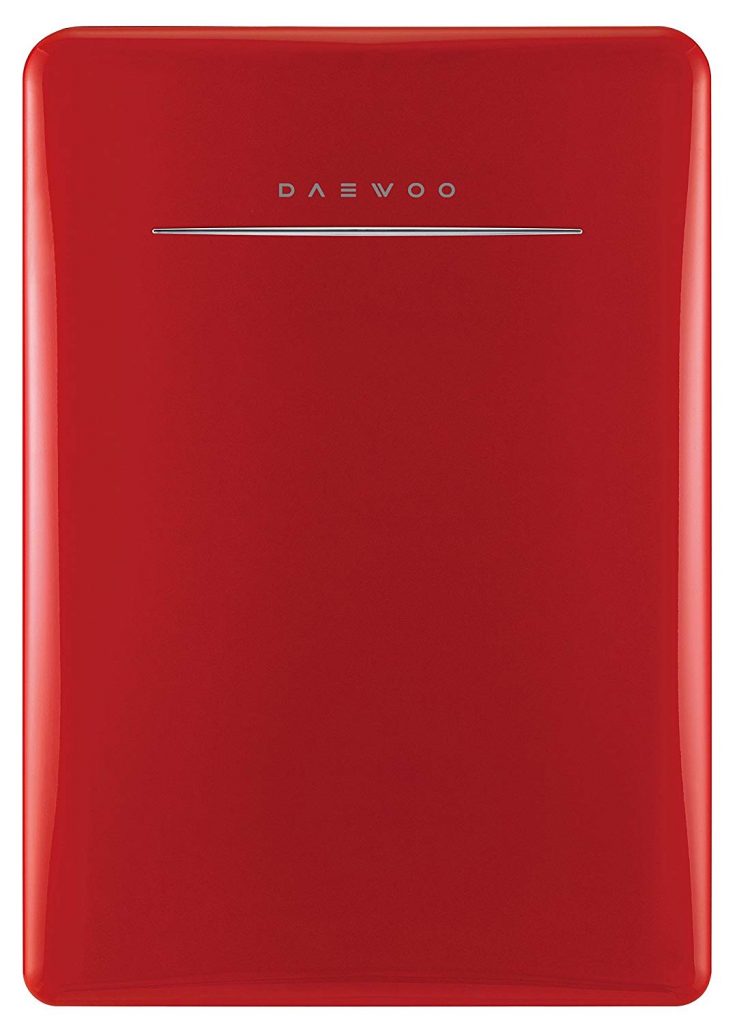 Overview
This beautiful red refrigerator from Daewoo arrived well packaged, and ahead of schedule. It's so lightweight that it was easy to handle into position on our countertop, and being flat backed, fitted nicely against the wall. The cable is long enough to reach, but not too long so that it trails, and looks untidy, and the whole unit is sturdy and is built to last.
What We Like
If refrigerators could be considered cute, this is cute. It's remarkably easy to clean, keeps everything fresh for days. The LED lighting and soft dial make it easy to navigate even in the dark. Storage wise, we kept some TV meals, bottles, fresh fruit and vegetables in it and there was still space left over for special treats.
What Needs Improving
After the door has been opened, it makes a quiet 'ocean waves' noise for a minute or two, which is actually quite peaceful, before going back to being near enough silent.
The Final Verdict
This is the perfect high-end mini refrigerator for an office kitchen, dorm room, or a mobile home, and we love it. It's elegant, sturdy, and comes with a lot of storage and a great freezer. All in all, excellent performance.
---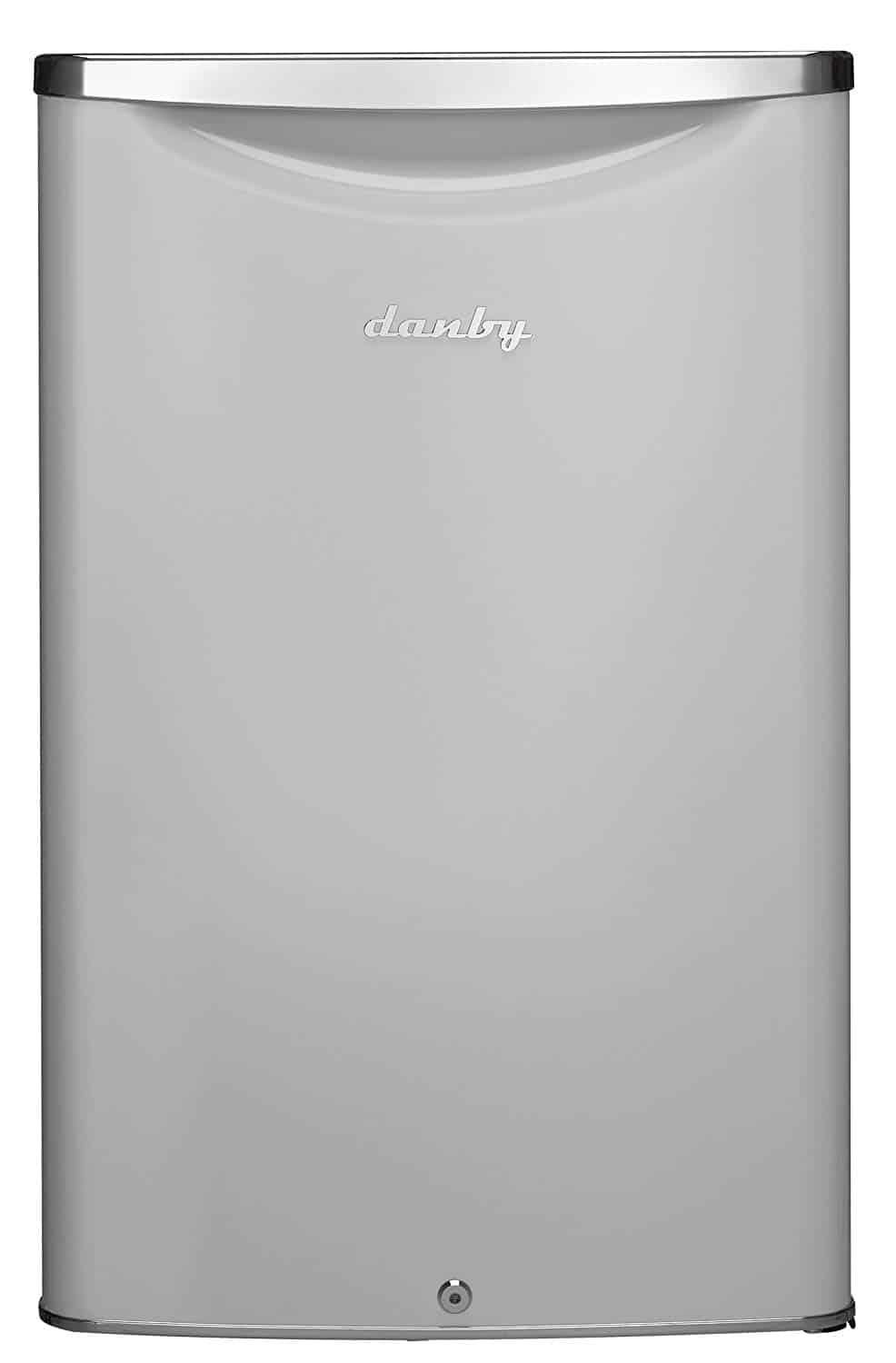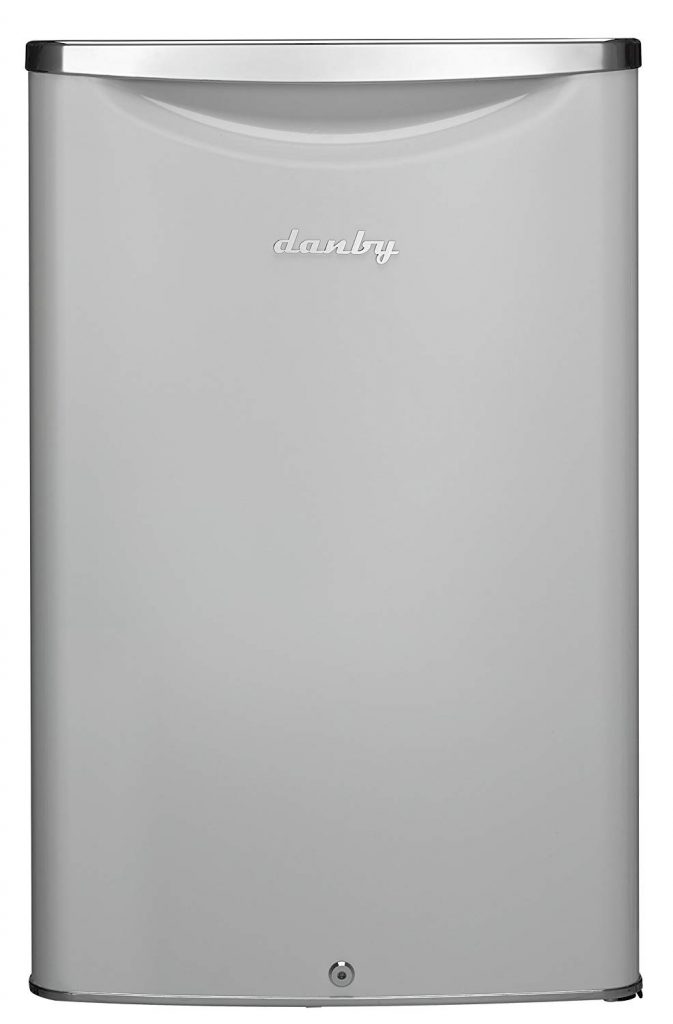 Overview
This is a great looking item with a beautiful pearl metallic white cover (other colors available). Smart and compact, with a sleek modern design, it feels like good quality.
What We Like
The capacity of this Danby refrigerator is impressive for its size – it holds enough food and drink for a few people, keeping everything at the right temperature. It's not expensive to run and Energy Star compliant, fits neatly in any corner, and is very quiet. Other perks include internal LED lighting and scratch proof glass. What's not to like?
What Needs Improving
This refrigerator doesn't come with a freezer department but if you don't need one, it's a good buy.
The Final Verdict
This Danby refrigerator is easy to recommend – it's practical for smaller spaces and great value for money. You won't go wrong.
11 new from $389.38

as of November 27, 2023 6:17 am
---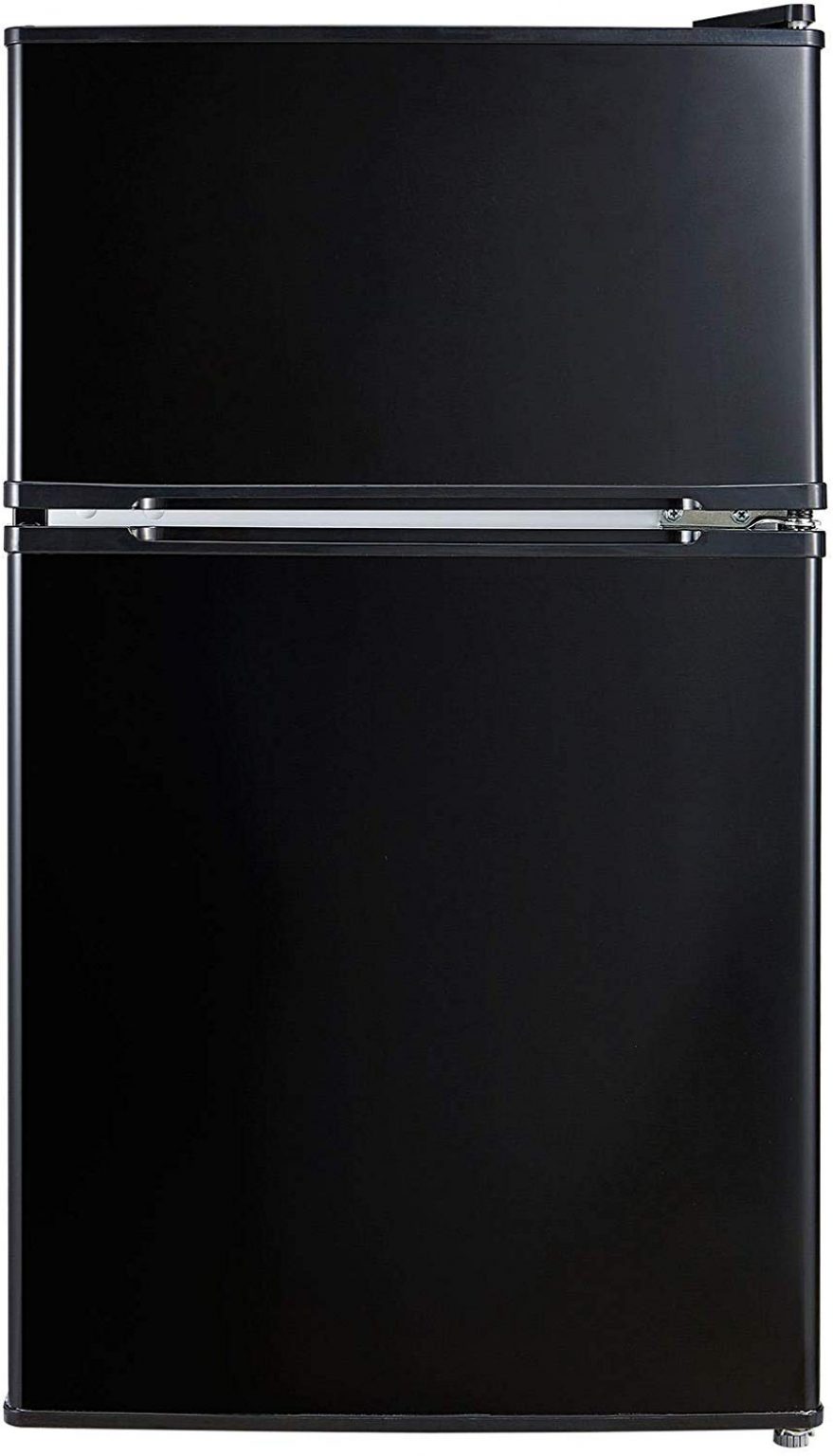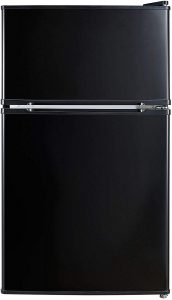 Overview
Midea's addition to the refrigerator market is a sleek, stylish two door model. With a decent capacity, this comes with plenty of storage options, including a vegetable drawer and a top level freezer compartment.
What We Like
We love the easy reversible door fitting option, meaning you can place it against a wall, and still have the door opening the 'right' way for you. The legs are also adjustable – meaning that this refrigerator is easy to transport from one place to another. The defrost system, ease of cleaning and simple to use temperature controls are well considered by Midea. With plenty of shelving on the door for drinks, jars and more, there's enough space for a family's refrigeration requirements.
What Needs Improving
Although not a deal breaker, it would be nice if the freezer compartment were frost-free.
The Final Verdict
If you're looking for an efficient, compact refrigerator, with tons of storage options, that looks great in your kitchen, look no further. The Midea is all this and more!
---
Overview
Are you looking for the ultimate beer cooler or the best mini refrigerator to take with you on a camping trip? Look no further than the Cooluli. This little cooler is the epitomy of convenience.
What We Like
This refrigerator is the perfect size if all you need is to store a few essentials. It's light and portable and does the job of keeping your food and drinks chilled. It comes with all the safety guarantees and would also suit an office or a dorm. We're happy with it.
What Needs Improving
As you might have guessed, this mini refrigerator is best used for cooling a few essential items. If you need something that packs a little more space or power, check out our other top picks on this page.
The Final Verdict
Cheap, cheerful and ultra compact - there's a lot to love about this mini cooler. If you don't need much capacity, this mini fridge will be the perfect addition for offices, student residences and holiday homes.
---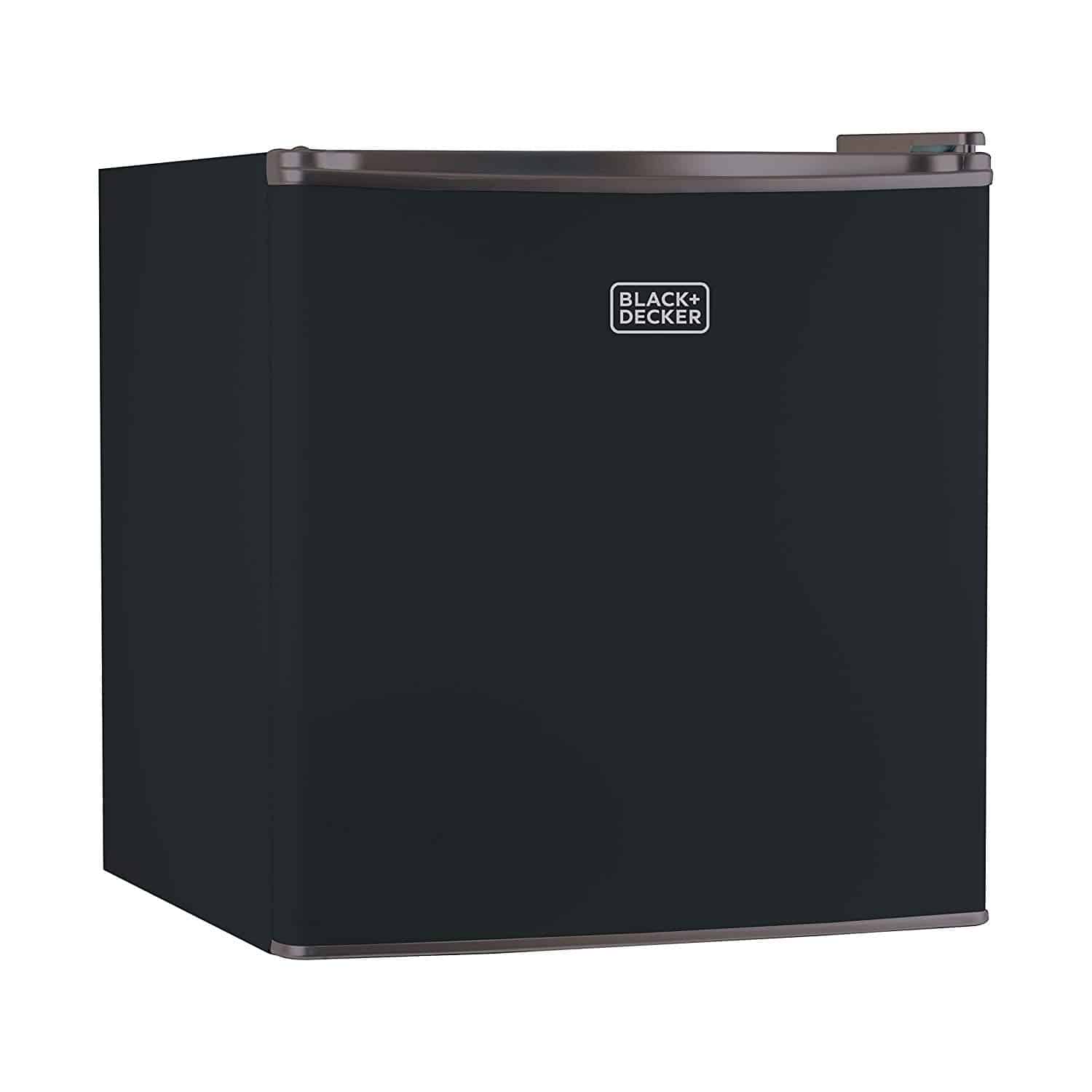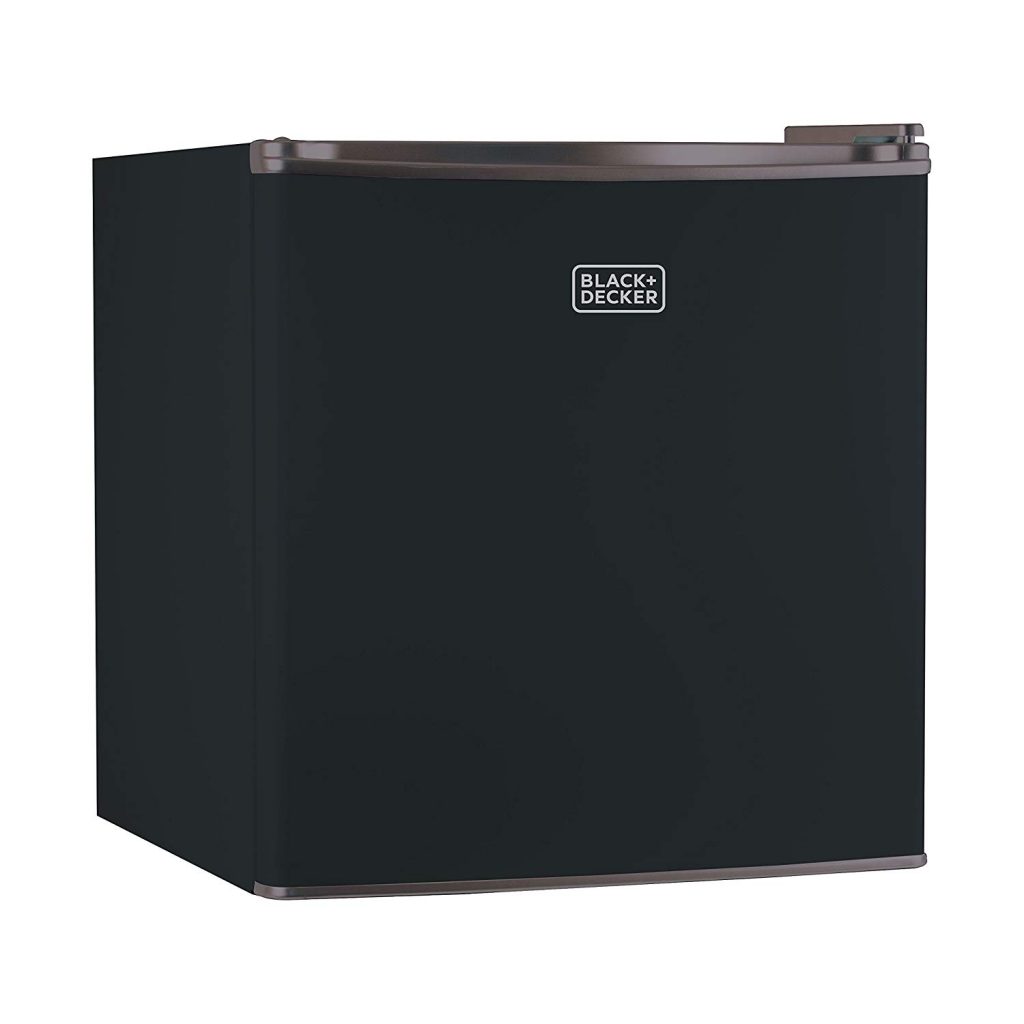 Overview
This compact Black and Decker is sleek and stylish – it would look great in a contemporary or traditional kitchen and would be fabulous in student accommodation. As with the B&D branding, quality is everything, and this mini refrigerator is no different.
What We Like
This refrigerator is all about practicality. It even comes with a door that you can reverse, depending on which way is optimal in your space. One of the best features is that it's almost silent. When you're low on space, you often don't want it to be consumed with noise, and this makes the B&D the perfect candidate.
What Needs Improving
This refrigerator still packs enough space for your essentials (we even managed to fit in 26 sodas, for what its worth). However it's not very deep, so that's something to bear in mind.
The Final Verdict
When you need a refrigerator that doesn't take up space, isn't noisy and keeps your food fresh at the perfect chill, this will make you very happy. This easy refrigerator comes with free returns on Amazon, but we think it's a keeper.
6 used from $99.01
Free shipping
as of November 27, 2023 8:55 am
---
If you liked our refrigerator reviews, you might enjoy…