Best Selling Dishwashers – We Test Them, So You Don't Have To!
We all know that feeling – after a delectably delicious meal seeing the washing up mount on in the sink.
It's stacked, Pisa-esque and about to topple. Or you stagger in after a long day at the 9 to 5 and there they are, the left over breakfast dishes and dirty mugs, glaring at you before you can even throw off your shoes. Wouldn't it be great to not worry about it anymore, well with a dishwasher you don't have to. It does the work for you!
Buying important appliances like electric ovens or refrigerators can seem daunting. However, we're usually most thankful for our cleaning appliances, including washers and dryers, so we're here to help you pick out the best dishwasher!
Firstly, where's it going to live? Under the counter, on the worktop? Will you want to move it around depending on what's going on?
These machines have their control panel on the inside top of the pull down door. Their uninterrupted appearance lends a sleek look to your kitchen. However, it does mean that when the dishwasher is on, you have to open the door to find out where in the cycle it is. These machines do stop instantly the door catch is released, though, so it is possible to check the cycle without too much bother.
The controls on this type of machine are visible without opening the door, although it can be easy to lean against and switch it on inadvertently.
Capacity is next on the agenda. This is usually maximized by space-saving racks, and cutlery baskets, but do think about the size of your family requirements. A single person can get away with a smaller machine than a family of four, for example. Another point to consider is usage; will you be putting it on once every few days, or are you a twice a day family?
Some machines are ultra quiet, have built in water softeners, or are amazingly energy efficient. Most have a variety of cycles, including programs for heavily soiled, light wash, soaking, and drying. A few top-of-the-range dishwashers can even connect to your WiFi and be controlled remotely.
We put the best selling dishwashers through their paces: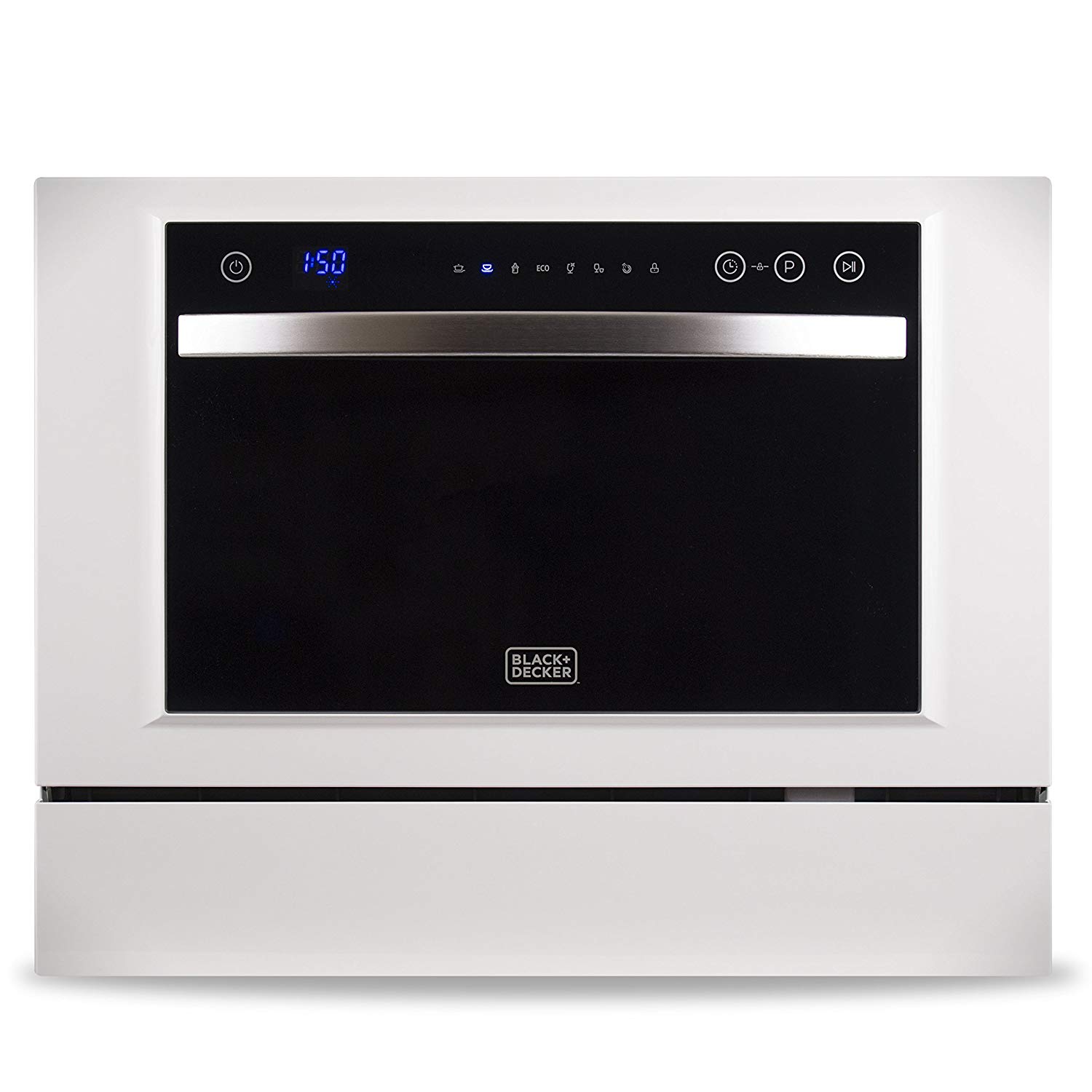 Overview
Wow, this compact little dishwasher is pure genius. With a tidily designed and simple to use display panel on the front, this will fit nicely in a compact, modern kitchen. As a bonus, the instructions are very simple to follow.
What We Like
Installing this dishwasher was stress-free – everything is included, so just clip the pipes together and off you go. According to the manufacturer, this takes up to 6 place settings, but with careful stacking we managed to easily fit that, along with some extra mugs and plates. They all came out spotless and nicely dried. There are 7 x different wash cycles including heavy load, ECO, glass, speed wash, rinse and normal cycle. It's quiet to run, doesn't vibrate its way across the countertop, and is easy on water. This product is energy certified, so it will save on your bills.
What Needs Improving
If you suddenly need to pause or disrupt a cycle, it takes a while to learn how to do this. Once you get it right, this machine will work like a dream.
The Final Verdict
An efficient, compact, and well designed product; our dishes went in dirty, and came out spotless, warm and dry in no time at all. It's ideal for smaller homes where space is imperative or school camps with basic facilities.
2 used from $326.37
Free shipping
as of June 5, 2023 7:33 pm
---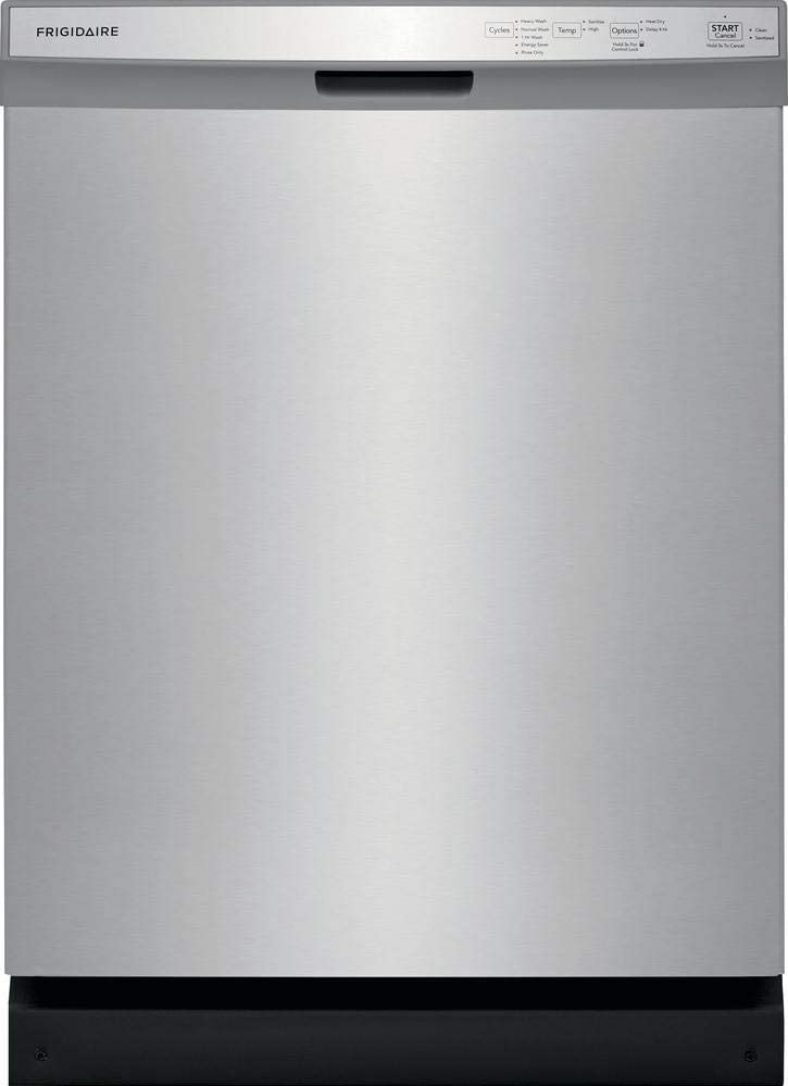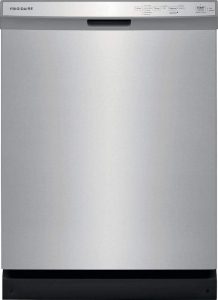 Overview
This dishwasher has great aesthetic appeal – well built, sleek, suave and sophisticated. This is neat enough to fit under the counter, and narrower than most machines of this type.
What We Like
We installed this ourselves; it arrived with everything needed to carry this out, and there were no issues whatsoever. The control panel on the front is simply designed and easy to follow, so choosing the correct cycle was a no brainer. We easily managed to fit a family of four's washing up for a whole day in, with plenty of space left over, and it came out sparkly clean every time. This Frigidaire dishwasher needs less detergent, less water and less power than many other machines, so is economical to run. It's energy star certified and made with high-quality stainless steel.
What Needs Improving
It lacks a drying cycle, which can be a bit of a pain, but we were putting it on overnight, and letting the crockery sit until the morning, so the residue warmth inside dried all but the worst off them.
The Final Verdict
Despite the price of this dishwasher, it's an excellent machine – efficient and hard working. We were very happy with the results.
---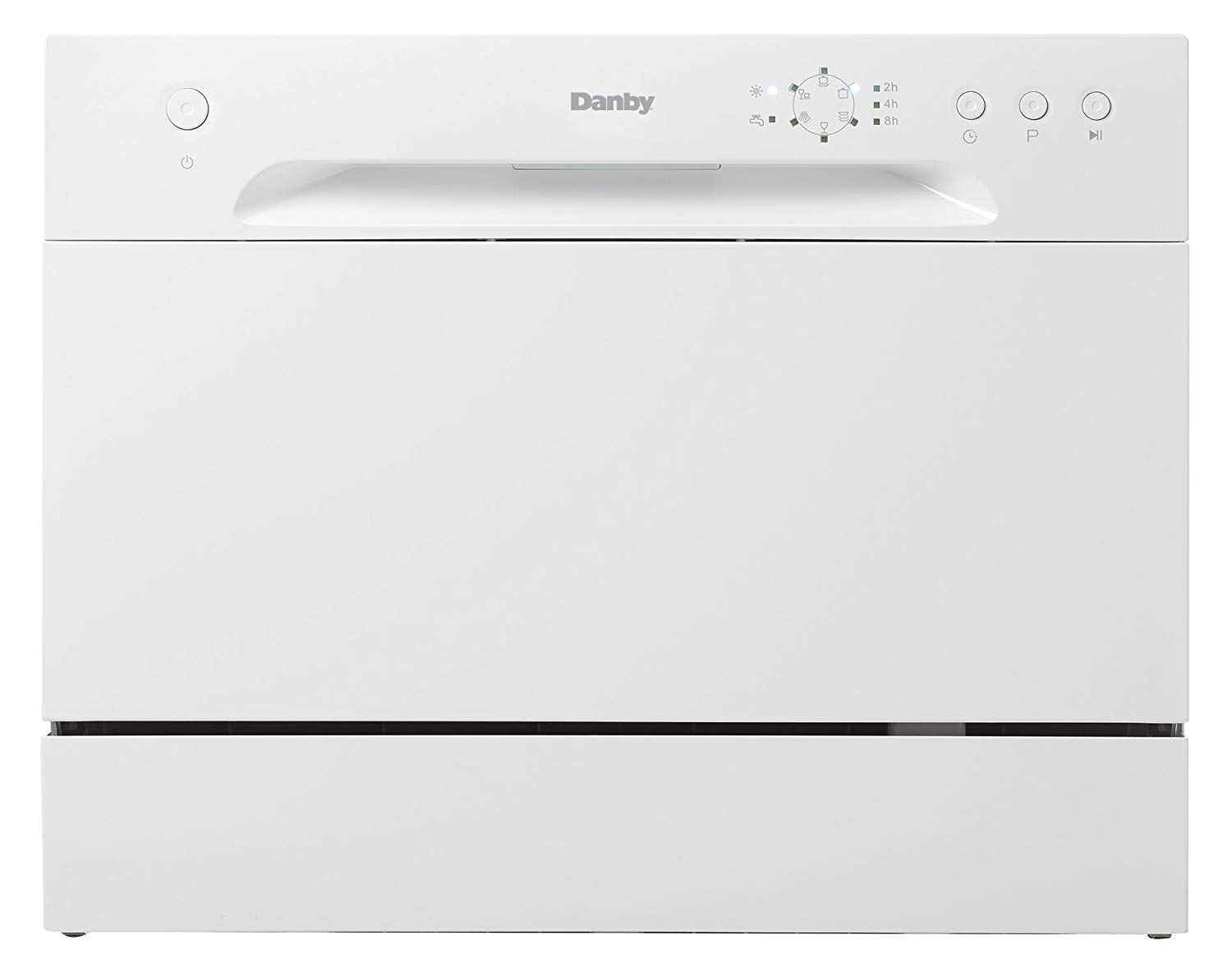 Overview
Danby have designed a functional compact dishwasher that's perfect for a small condo or holiday home. Equipped with user friendly controls, this is one of the easiest machines we tested. The instructions are simple, with clear pictures to help you in the set up.
What We Like
While this is a mini dishwasher, it has enough room for several plats, cups and with a bit of constructive packing, a saucepan or two. It washes really well, leaving everything spotlessly clean, and is so quiet when it's running. It connects directly to the kitchen faucet and drains into the sink, so you won't have to worry about connecting it to the mains. Being portable, it needs to be light enough to move easily.
What Needs Improving
This dishwasher comes with only a couple of wires, but they are rather large and unsightly. With a little creativity, you'll be able to hide them.
The Final Verdict
Danby are onto a winner with this; it does what it's meant to, and while it may take a little longer to do it and be on the smaller side, we like it and would recommend it.
10 new from $383.94
1 used from $379.99

as of June 6, 2023 1:18 am
---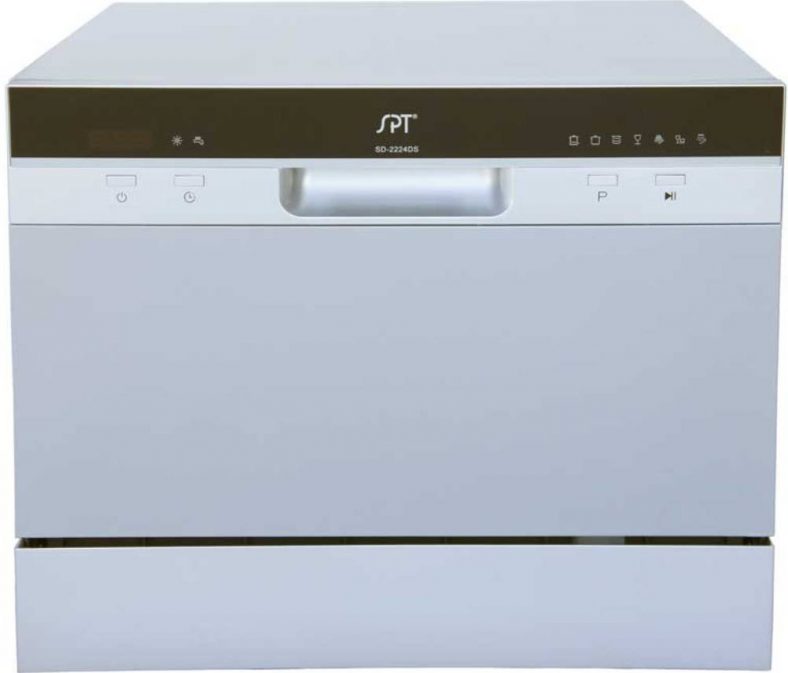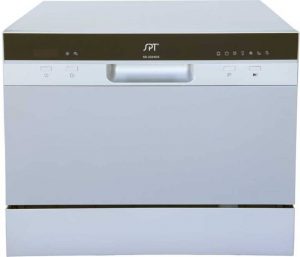 Overview
SPT have produced a neat, affordable, countertop dishwasher. It arrived promptly with clear concise instructions, and all the parts required for the hook up. The controls are well designed, easy to decipher and look durable.
What We Like
The installation was quick and easy, and we just followed the instructions – simple! It sits comfortably on a countertop and fits under the wall hung cupboards nicely. Getting 6 full place settings in was okay, but you wouldn't want to squeeze in any more for fear of not managing a proper wash. As it was, everything kept coming out clean, if a little damp. Even at full throttle, this was a quiet dishwasher, and couldn't be heard in the next room, while the little rubber feet kept it from jumping off the counter. Again there are 7 x wash cycles, including intensive, rapid, normal, economy, glass and soak.
What Needs Improving
SPT have neglected to add a timer to their dishwasher; this would have been really useful, but isn't a deal breaker.
The Final Verdict
This is a good countertop dishwasher; easy to set up, easy to use, cheap to run and cleans well. Not bad at all.
---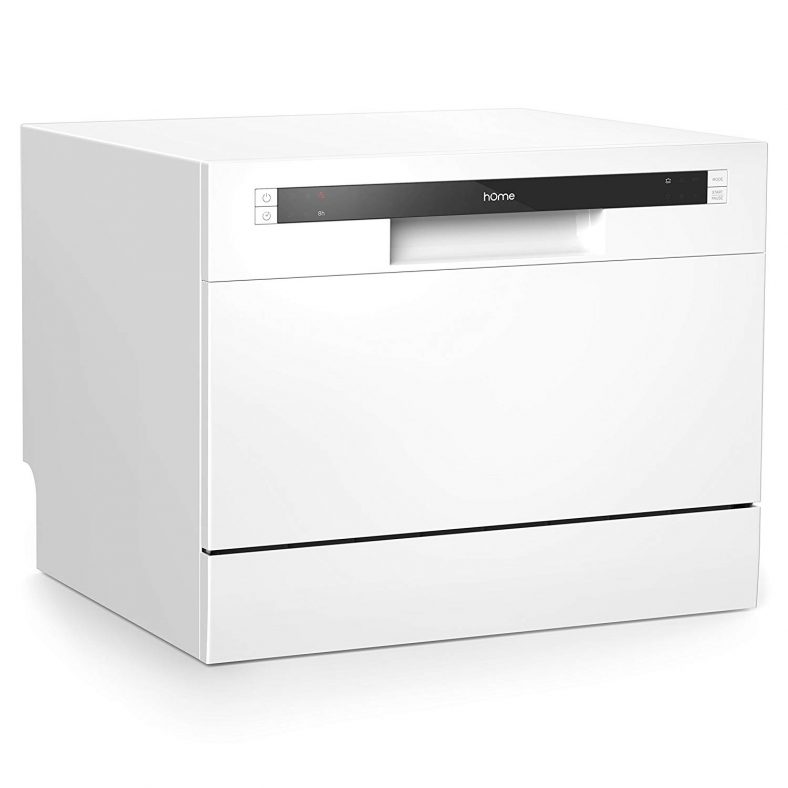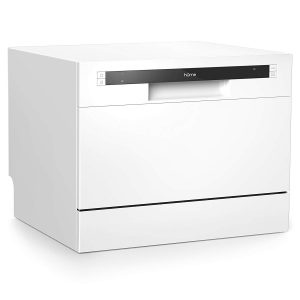 Overview
This chic white compact dishwasher is the perfect size for apartments, offices and small kitchens. It has plenty of wash cycles to choose from to get your dishes spotless. It comes with everything needed to hook up to your faucet, so there's no need for any complicated plumbing, and the instruction manual explains it all very clearly, along with how to use the machine.
What We Like
We installed this extremely easily, with no need to call a plumber – it's that simple! Homelabs have created a near silent machine, so silent in fact that even with our ears pressed against it, we couldn't hear it washing. It doesn't jump around when on either, and just does the job, turning our washing from sticky to spotless thanks to the 6 x wash cycles.
What Needs Improving
Our only note is to use detergent sparingly. This compact machine may leave residue, if it's overloaded.
The Final Verdict
As dishwashers go, this is a great countertop machine, doing exactly what you want with no messing around or getting it wrong. Excellent.
---
Enjoyed this review? Browse our other trending products: