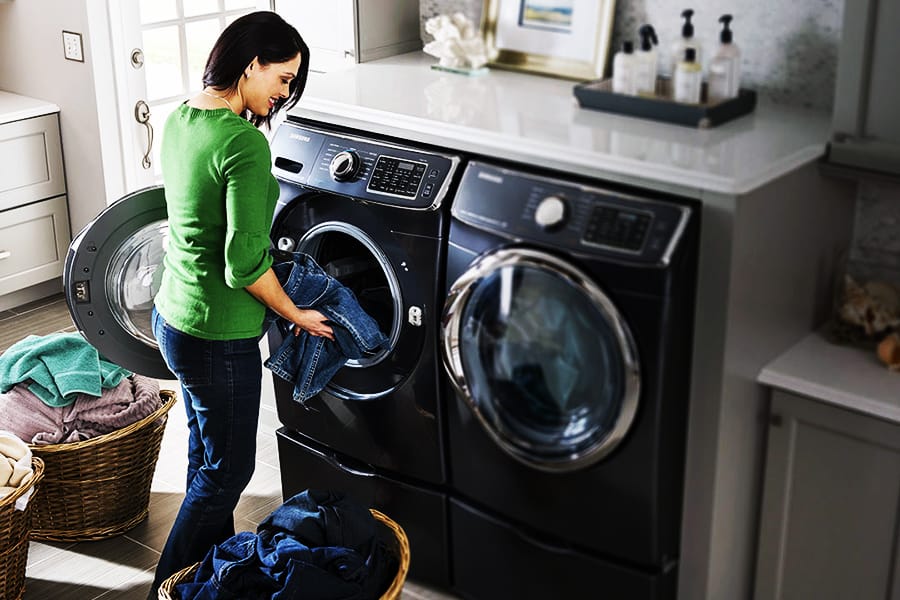 Our last update to this page was
The Best-Selling Washers and Dryers Put Through Their Paces!
People don't dream of buying a washer and a dryer, and yet we all need them. At its worst, laundry can feel like a never ending cycle of wash, dry, fold, put away, and then you're starting all over again. A good washer & dryer can take a bit of the drudgery away.
There's a lot to consider when buying a washer dryer combo, and there's approximately 150 models to choose from. Should you get top load, front load, all-in-one, stacked, under the counter…but we're here to help.
Firstly, where are they going to live? If they need to fit under the counter, then it's pointless getting top loaders, or if a narrow space is all that's available, a stackable washer/dryer might be best. Standard washers are usually 27 or 27.5 inches wide. Their capacities range from 3.1 to 6.2 cubic feet. The majority are between 3.5 and 4.6 cubic feet.
Capacity is important when choosing a dryer as well. As clothes tend to fluff up when drying, they take up more space, and you'll need a dryer with more capacity than the washer.
Beyond the obvious, there are some significant differences between the two styles. These distinctions will help inform your purchase, as every washing machine you'll look at will be either front- or top-load.
Front loaders have front mounted displays, are more efficient, gentle, and have been found to clean better. Top load models have back-mounted displays and generally tend to use more water during cleaning cycles than their front load counterparts. However, they do cost less to buy initially.
Higher-end models tend to feature digital displays and a load of settings for you to select from – cooler cycles for delicates, hotter for bed linen and so on. Models at the highest end of the scale can even connect to your WiFi, thus enabling remote access.
Many manufacturers have made models that specialize in using less water, or electricity; these tend to be cheaper to run, although the cycles can take longer to complete, but pricier to purchase.
So, without further ado, let's get started.
This is our honest review of the best cheap washer dryer sets of November, 2018:

Overview
America's favorite washer doesn't disappoint. It appears to be very sturdy, well made with excellent, hard wearing controls. The drum is huge with plenty of room for the largest load of comforters, and it doesn't wobble or move around when washing them.
The instructions are clear and concise, with labelled diagrams and easy to follow tables.
What We Like
This washer is an amazing deal. The price includes free delivery and free installation, so you can rest easy.
The delivery, fitting and plumbing all went without a hitch, and they even took away the old model – completely hassle free, and very impressive.
This Kenmore can easily fit a whole family's weekly wash several times over. The choice of cycles is great (14 x in total), and you can customize the amount of water, soil level, and number of spins you require; the washer is ultra quiet too.
Our washing came out so clean and almost dry (although we did put it on the maximum spin cycle), and even a grass stained pair of old jeans looked fresh and unmarked.
This is an excellent, good value washer.
What Needs Improving
This top load washer performed exactly as expected, and we had no complaints.
The Final Verdict
We loved this machine, its faultless performance, and affordability. We won't hesitate to recommend it.
Item includes room of choice delivery, unboxing, item hook-up (including required parts) and free optional haul-away at checkout
Accela Wash activates a fast and powerful wash motion sequence to get clothes clean in about 29 minutes. 14 cycles and 14 wash options let you customize the settings for each load.
Free shipping
Last update was in: November 4, 2018 5:47 am
---
Overview
This all in one washer/dryer is big on the inside with a huge 4.3 cu.ft capacity, but neat and compact on the outside, perfect for even the smallest utility room or kitchen.
Its space age good looks are matched by a whole deck of lights, digital numbers and buttons; these would be daunting if it weren't for a fantastically clear instruction booklet that clarifies what does what, and how long it takes.
What We Like
What really excited us, rightly or wrongly, was the lighting for the drum – ingenious. There is nowhere to hide for that last remaining sock now.
The range of cycles is superb. Included are: TurboWash, TrueBalance Anti-Vibration System, NeveRust and the Allergiene Cycle.
Because this does it all – from dirty clothes to dried and ready to wear in one move, the time saved is great, and if you're organized, you can put them in at night and have them ready to put on for work the next morning with no effort on your part.
We also love that there's no lint emptying required with this machine.
And before you say, 'But the noise will keep us awake at night', no, it won't as LG's machine is super quiet; even on the fastest spin, we can't hear it in the next room.
What Needs Improving
It did take a couple of goes to work out how to use the advanced technology without consulting the instructions every time, but once we learned which cycles we liked, it was all systems go.
The Final Verdict
Not only is this an impressive looking machine, it also works really well. All of our clothes come out spotlessly clean, and ready to put on, every time. Electricity wise, it seems to be very cost effective, too.
Washer Dryer Combo - All-in-One
Last update was in: September 4, 2018 2:37 pm
---
Overview
This is another success story from America's trusted brand Kenmore – a huge capacity dryer, that will fit neatly in a small space.
The free delivery was excellent, and they contacted us with when exactly it would arrive, and it did. Fitting took minutes and they took our old machine away with no hassle.
This machine looks straightforward to use, but the instructions are clear and easy to follow anyway, and the drop down door is a great idea. It allows for easy access and a surface to put your clothes on when filling or emptying the dryer, meaning that your clean clothes don't fall on the floor. Good one, Kenmore!
What We Like
The moisture control function is brilliant thanks to the Smart Dry Plus technology; the dryer senses when the items have no moisture left and switches off – our clothes came out warm and dry every time.
This dryer includes Free Delivery, Free Installation and Optional Haul-Away of your old dryer.
If, like us, you forget, or aren't around, to take your clothes out when the cycle is finished, the Wrinkle Guard option gives them a quick spin for up to 150 minutes after the drying cycle has stopped.
What Needs Improving
This is the loudest machine we tested, but it's still not too bad, and you can easily carry on a normal conversation over it.
The Final Verdict
A great, simple to use front loading dryer. The price is reasonable, the delivery and installation excellent, and it does what it says it does, without complaint.
Item includes room of choice delivery, unboxing, item hook-up and free optional haul-away at checkout
This Kenmore dryer's 7.0 cu. ft. capacity can take on almost any sized load.Depth with Door Open : 43 inches
Free shipping
Last update was in: September 4, 2018 2:38 pm
---
Overview
This Speed Queen top loading washer means business – it's solid, clean lined and large. The instructions are minimal, but to be honest, that doesn't matter as it's so simple to use.
It is a little on the pricey side, but having Free Delivery is a definite bonus!
What We Like
This no-fuss machine has no high tech gadgets or complex locking mechanisms to go wrong, has an agitator to clean efficiently and uses hot water from the tap. Consequently, the cycles are quick and energy efficient.
It seems to require less water than other washers, and the clothes still come out clean and fresh smelling.
What Needs Improving
The only issues we have found is that on the cycle for delicates, there is often some water left in the bottom of the drum. But with a little planning, it's no issue.
The Final Verdict
Speed Queen have made a fantastic, no nonsense washer, and with the free delivery, the price isn't so bad.
Type: top load
Agitator: yes
Stainless Steel drum: yes
Last update was in: September 4, 2018 2:39 pm
---
Overview
This is a really compact and light weight dryer, perfect for apartments, and smaller rooms. It even has a wall mounting kit if you prefer. The door is large for rapid filling and emptying, and it's very simple to use.
The instructions are not that clear, but it's easy to figure out how the Panda works.
What We Like
We love the change of spin direction whilst its drying clothes, meaning that there are far fewer creases and in most cases, no need to iron – perfect! The Panda isn't heavy on electricity either, so whilst it hasn't a huge capacity, you can afford to run it more frequently.
What Needs Improving
Being so low, it would be more comfortable if it could be placed on a table, so hanging it on the wall makes perfect sense, if you can do that.
The Final Verdict
This is a neat little dryer, perfect if you are short of space. It works well within its size restrictions, meaning that sometimes a larger load needs to be split, or it takes slightly longer to dry than a larger model. But being cheap to run compensates for this issue.
Capacity 8.8lbs, /2.65cu.ft. 120V outlet, plug anywhere you like
44lbs to carry around. Perfect for small living spaces such as apartments, dorm, or condos. It is also lightweight enough, can take it with you in an RV or camping trip
Free shipping
Last update was in: September 4, 2018 2:40 pm
---
Loved these products? Check out more of our favorites: