Anyone for Coffee? French Presses are the best way to have barista style coffee at home
Coffee, as far as we're concerned, makes the world go round. If someone nearby isn't brewing up a good cup of java, then something is seriously wrong. Known for its super smooth brew, and full-bodied flavor, a French press provides a simple way of creating the perfect coffee. So, how can you get the very best out of your press?
A French press is an immersion brewing technique; that is, you put the grounds in the jug and add water from your best kettle then let it sit. After a few minutes, using a plunger, you push the ground coffee to the base of the jug and hold it there.
There are three main components of a French press – the carafe, plunger and lid.
The carafe holds the coffee, having a spout to pour out once it's brewed. They are made of various materials.
• Glass carafes look stylish, but can break easily
• Plastic is stronger, but scratches easily, and can affect the taste of the coffee
• Stainless steel doesn't break and keeps the coffee hot for longer. But being opaque, it's impossible to see the color of the brewed coffee
• Some carafes are insulated to keep in the heat
The plunger contains the filter – this is what plunges down on the coffee grounds and separates them from the hot water, and as a result is a crucial component in the French press.
It's important to think about the best material for your filter's composition. If the filter has plastic or rubber around the edge, this may well break down with usage, allowing the grounds to get through and end up in your cup. In contrast, metal won't degrade and will be effective forever.
French presses are an important tool to have in your kitchen, and investing in a good one could end up serving all of your family members for years to come. Some of the other extremely useful must-have tools and kitchen gadgets include soda makers, juicers, and vacuum sealers. All of these would come in handy to have for your family and would end up being very economical as you'd save money on juices, soda, food, and many other things.
French presses come in a variety of sizes, so if you want your coffee to be at its freshest, and therefore best, it's a good idea to have several sizes in the cupboard. They can range from a single cup size right up to 48oz, perfect for a social occasion.
Here we reveal our shortlist for the best French Presses of 2023: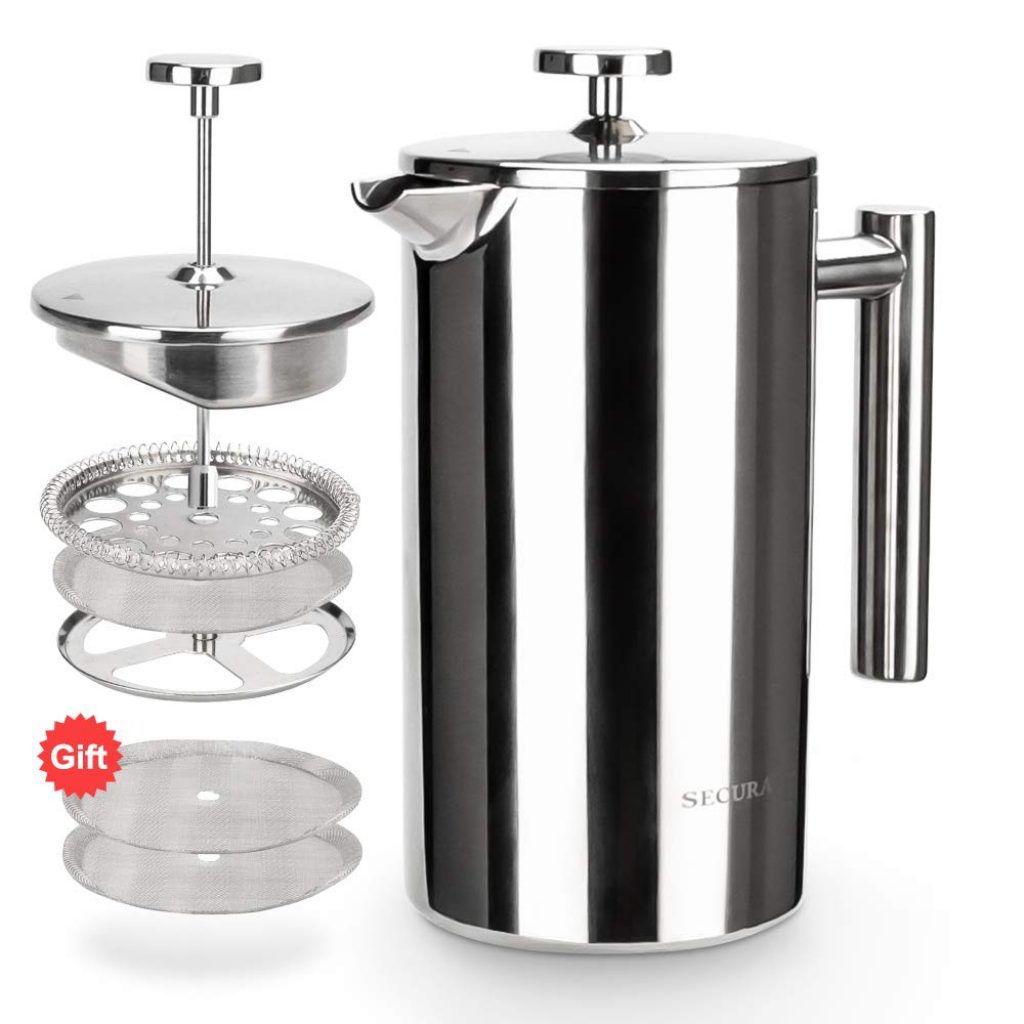 Overview
This stylishly sleek French press would suit any kitchen, looking stylish on your countertop. Every part of this product is stainless steel, even the collar around the plunger.
What We Like
We had the perfect brew from this, and it retained its heat for nearly three hours thanks to the insulated carafe. The 3-ply filter meant nothing contaminated our coffee – it was smooth and completely clear. This French Press is made from the highest quality stainless steel and there is a cool touch handle to avoid you burning yourself. It's also dishwasher safe for easy cleaning. It's great that extra filters are included.
What Needs Improving
Make sure you thoroughly wash this press before its first use as we found the screw threads had been greased.
The Final Verdict
A professional, durable press, with ultra-fine filters, that made a perfect coffee. Definitely comes highly recommended.
3 new from $26.96
1 used from $24.15
Free shipping
as of November 27, 2023 10:26 pm
---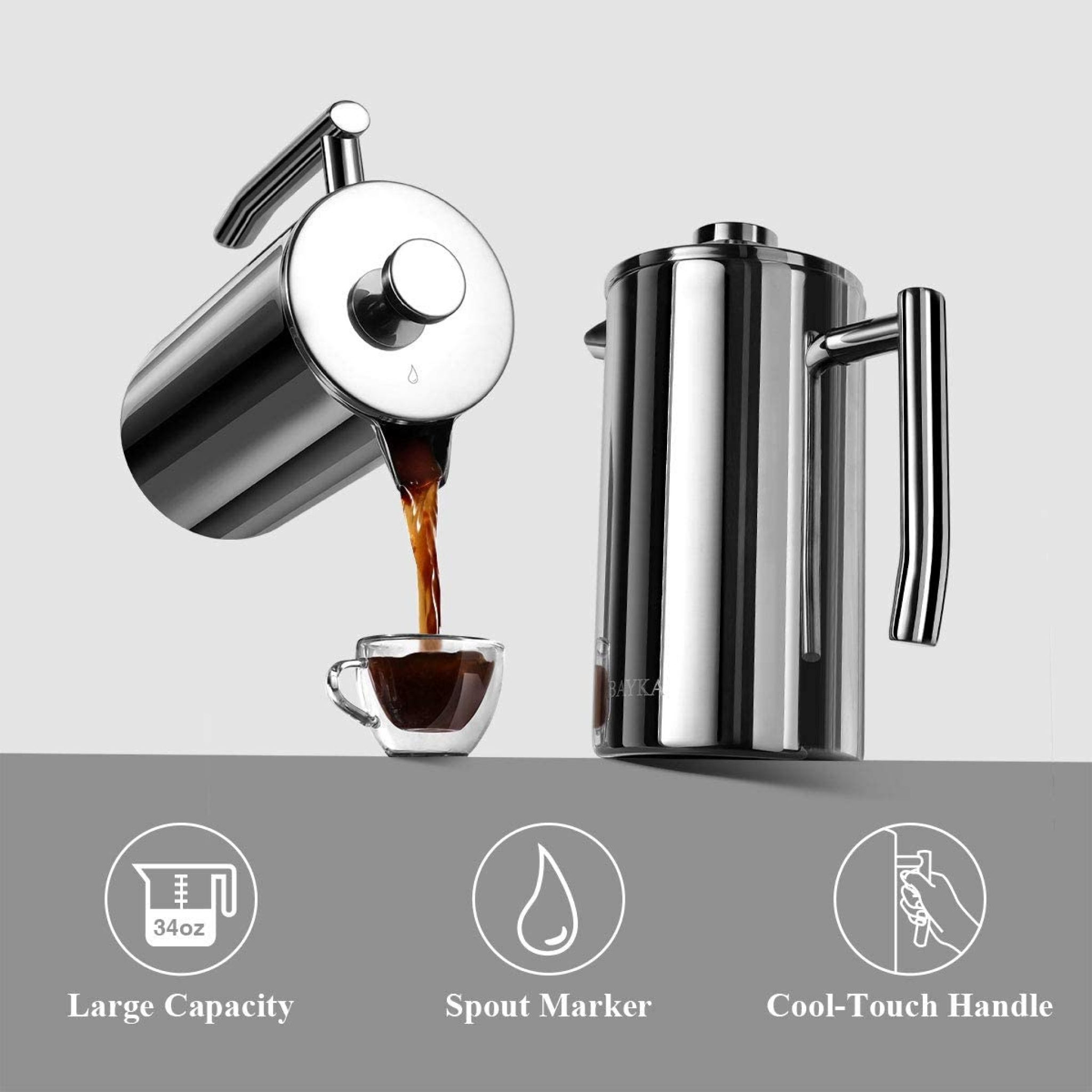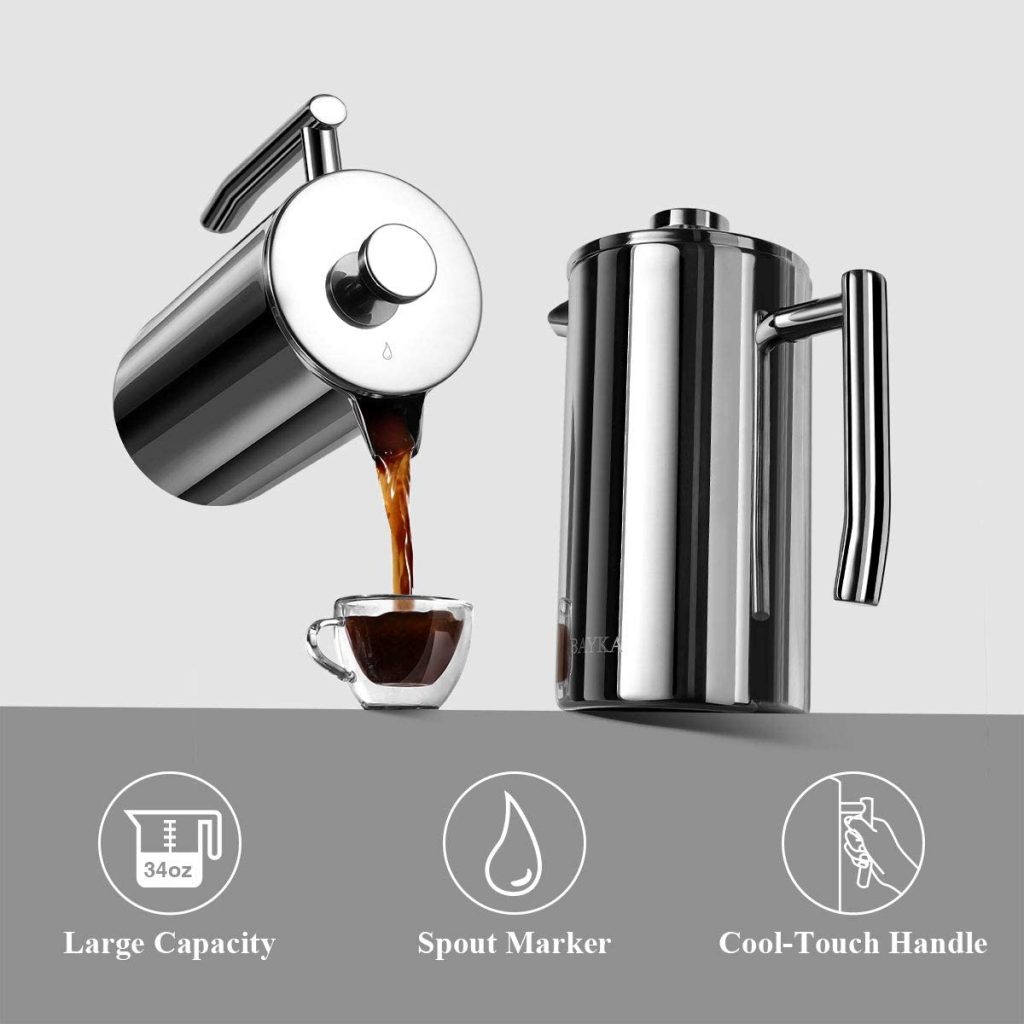 Overview
This French press in trendy stainless steel and glass is stylishly minimal. The carafe fits snugly inside the stainless steel sleeve, and the three layer filter is impressive.
What We Like
We all love the look of the slightly art deco-esque design – it is very stylish and will definitely fit in nicely with your kitchen elements. Every part fits together so well, and with well-made high-quality filters, there is no doubting the smoothness of the ensuing coffee. In terms of features, this fantastic French Press is BPA free (non toxic!), comes with the 2 x layer filtration system for even tastier coffee and is made from highest-grade stainless steel. It's dishwasher safe, too.
What Needs Improving
With a handle that's ergonomically designed, it does take a little getting used to – but that's just a great excuse to drink more coffee!
The Final Verdict
A unique and interesting design, brews clear and clean tasting coffee. It makes a great gift for a coffee lover.
---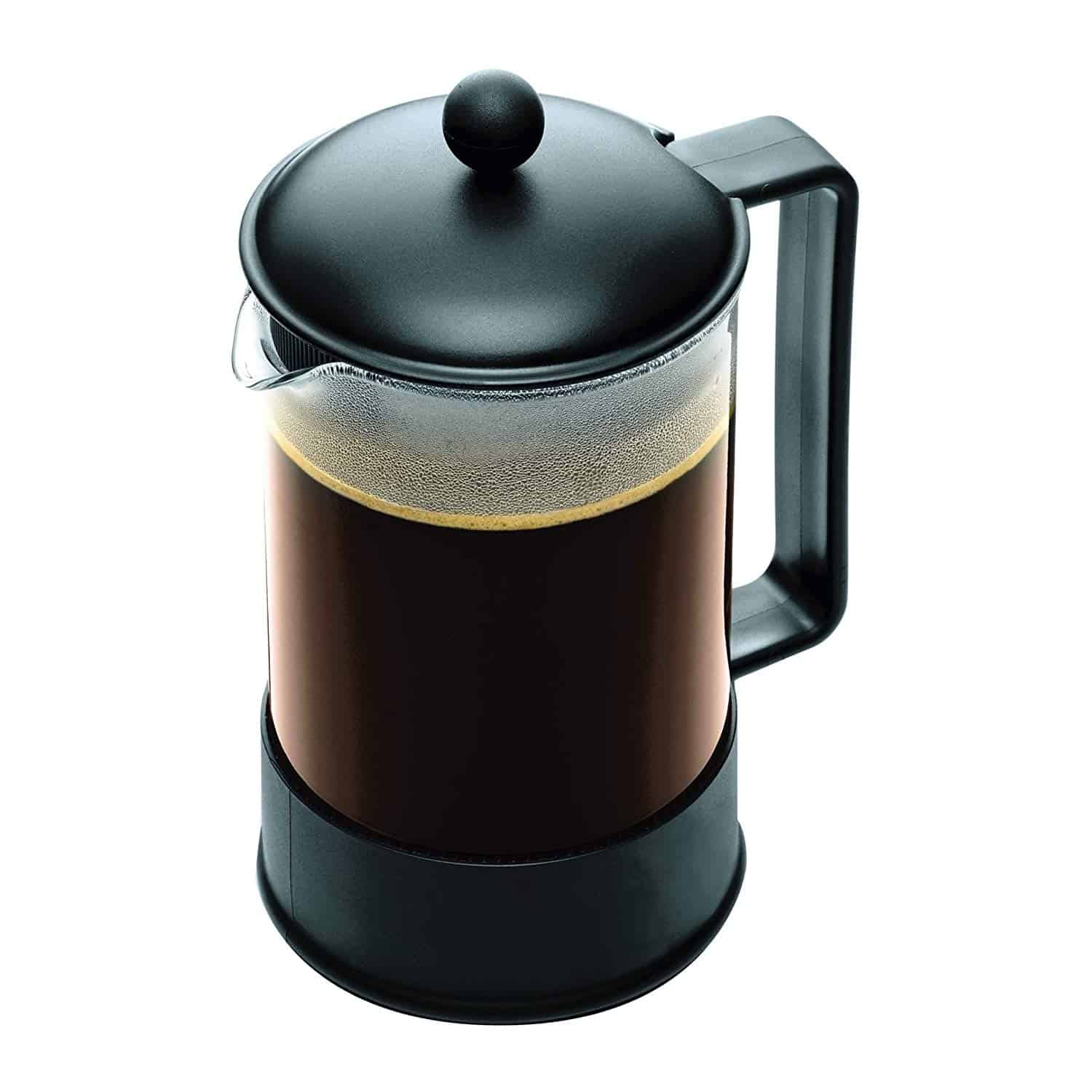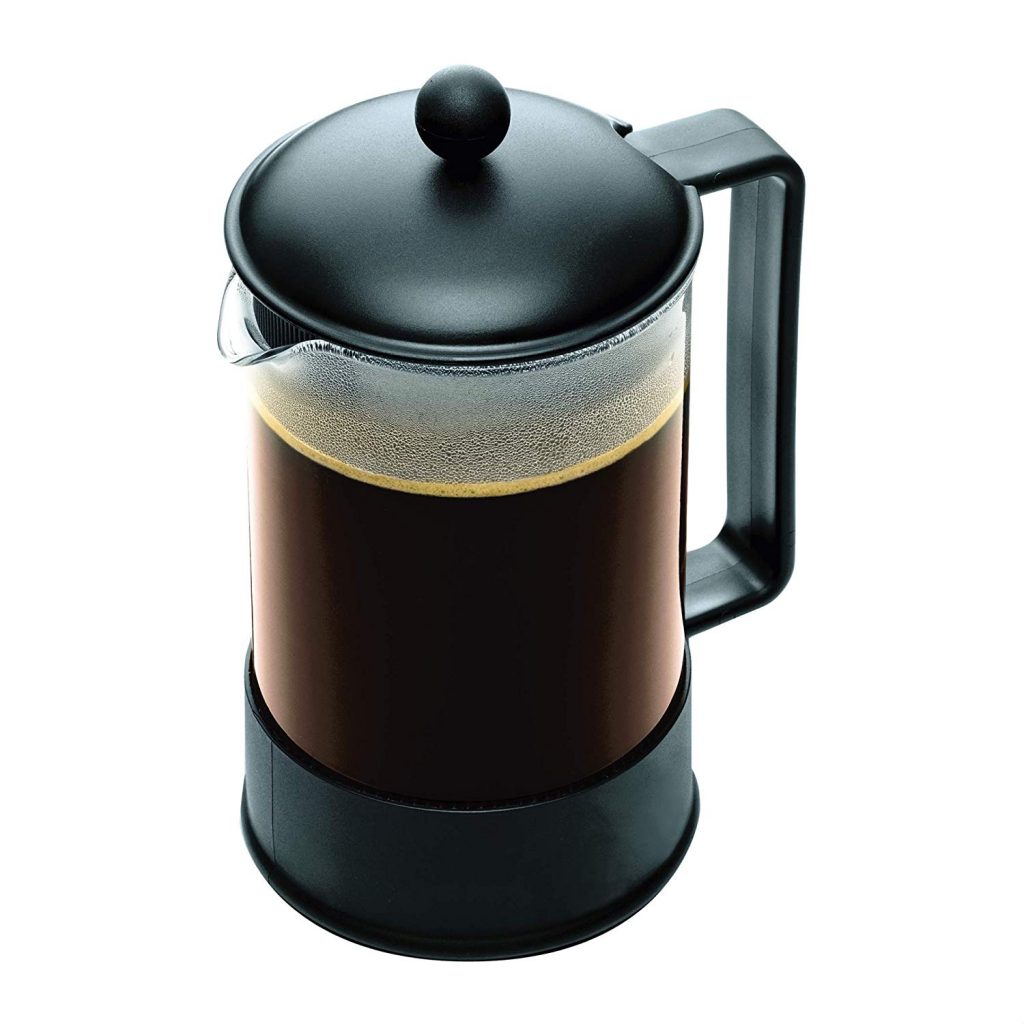 Overview
Most of us have owned similar Bodum presses before, and like those, this is plain, simple and well made.
What We Like
This press proves that you don't need either chic or expensive to make a decent cup of Joe. This is reliable, functional, and works well. The simple design just needs coffee and water to look perfect. This French Press is also BPA free, and the glass carafe is made from borosilicate glass, which is highly durable. It's dishwasher safe for convenience and pours well.
What Needs Improving
The capacity is 3 large cups of coffee, which is perfect for a small household or for work. But if you're living in a busy house, you may need 2 x of them!
The Final Verdict
Bodum have kept to a design that works and works well. The coffee tastes great, it's simple to use, and the price is good enough to have one at home and at work.
4 used from $25.28
Free shipping
as of November 27, 2023 12:23 am
---
Overview
This is a great looking press; it feels so solid and slightly heavier than the others we tried. It comes in several colors, including orange and purple, and different sizes too. The coffee canister is a nice touch.
What We Like
The vacuum layer that is a feature of this product kept our coffee steaming hot for nearly three hours, and with the innovative double filtration system, there wasn't a single ground in our cup. It brews a great coffee and pours like a dream.
What Needs Improving
It's in the upper price bracket for French presses, but if you want something trendy that works brilliantly – it's well worth the extra.
The Final Verdict
This upholds Coffee Gator's reputation for knowing how to make great coffee, they have made an awesome press which is well worth the money.
2 new from $32.00
Free shipping
as of November 27, 2023 10:26 pm
---
Overview
This is an incredibly stylish coffee maker, with a good, solid base – no chance of it being knocked over. It feels very solidly made with double walled stainless steel and is a decent size.
What We Like
This press not only looks good but performs well too. With the quality triple layered filter, there's no way any rogue grounds are sneaking through, and our coffee was grit free and delicious. It remained warm for ages, keeping the fresh java taste and aroma. The huge capacity is perfect even for a family. We liked the double stainless steel walls that keep coffee warm for hours, and double encapsulated lid, making this press feel extra hard-wearing.
What Needs Improving
The extra fine filter, if you choose to use it, requires steady pressure to push down, but it does prevent even the finest, most determined grounds getting through.
The Final Verdict
If you love good java, and enjoy the luxury look without the luxury prices, this one could be for you. Happy to recommend.
2 new from $21.89
2 used from $51.15
Free shipping
as of November 27, 2023 1:11 pm
---
---
Loved this review? See our other popular kitchen gadgets: