What's the Fuss About Fizz?
Home soda makers are enjoying a revival from the days of soda siphons; now they are a great way to know exactly what you're consuming, can help cut down on packing waste, and save you money.
So what do you look for in a good soda maker?
The type of carbonation is the most significant factor when deciding which model to buy. Most makers use CO2 canisters to put the fizz into water; this is the same method used by commercial makers. These canisters will need replacing when empty so should be figured in to your running costs. Do shop around though as some stores offer a refilling service which will obviously save a lot of money.
However, you can buy soda makers that use internal motors to handle the carbonation process, eliminating the need for canisters completely.
Generally, the more carbonation in a drink, the stronger it tastes, and with some models you can select the amount of fizz you want according to your individual taste.
Most soda makers advise that you only use water and carbonize before adding in the flavoring of your choice. Using a liquid that the machine isn't designed for can cause some pretty major issues, such as blockages or overheating, leading to invalid warranties. You can, though, buy soda machines specially designed to add fizz to juices or iced drinks. If your household appreciates fresh homemade beverages, then make sure to check out our best juicer reviews and our top 5 French presses!
Introducing the top Soda Makers of the year: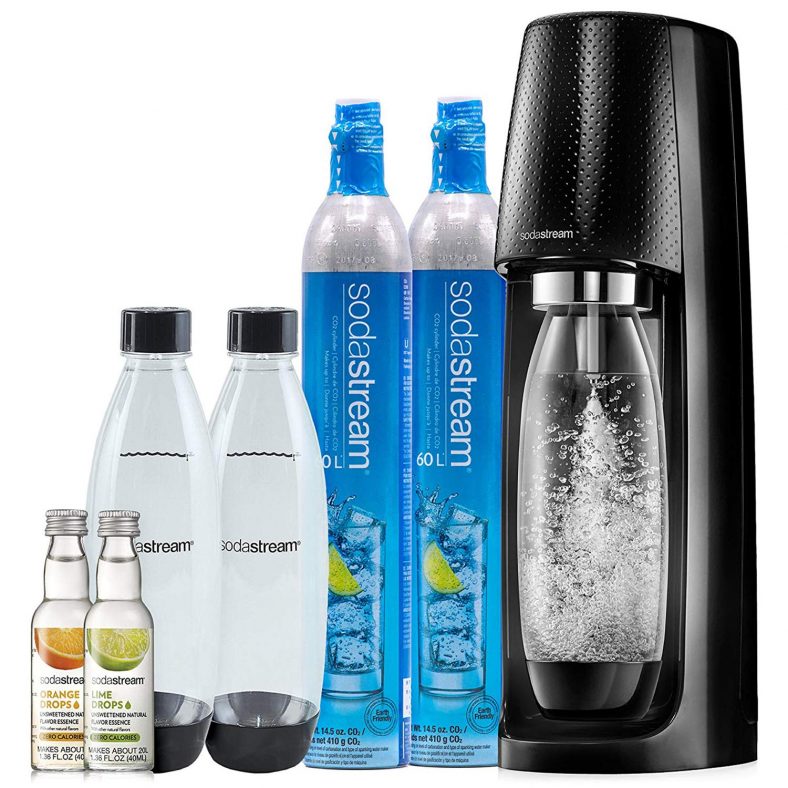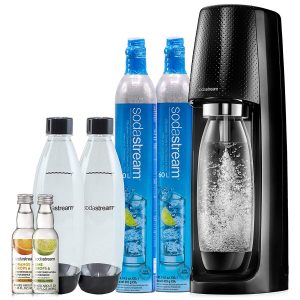 Overview
SodaStream have cornered the home carbonator market and then some, and this machine ably demonstrates why. It's simple to use, sturdy enough to withstand plenty of fizzing, and sleek enough to always look good!
What We Like
We love the ergonomically space age design, which sits neatly and unobtrusively on a countertop, just waiting to fizz our water for us. It couldn't be simpler to use, and carbonates quickly and efficiently. This is a generous pack that includes 3 x C02 cylinders, a  1L carbonating bottle and free lime and orange flavored fruit drops.
What Needs Improving
It's easy to see why SodaStream continues to dominate the market. It's simple to use and lasts well, and if you need any assistance the customer service team proved very helpful.
The Final Verdict
This is a super soda maker from a global brand, and we consider that the price is well worth the quality and efficiency you get in return.
---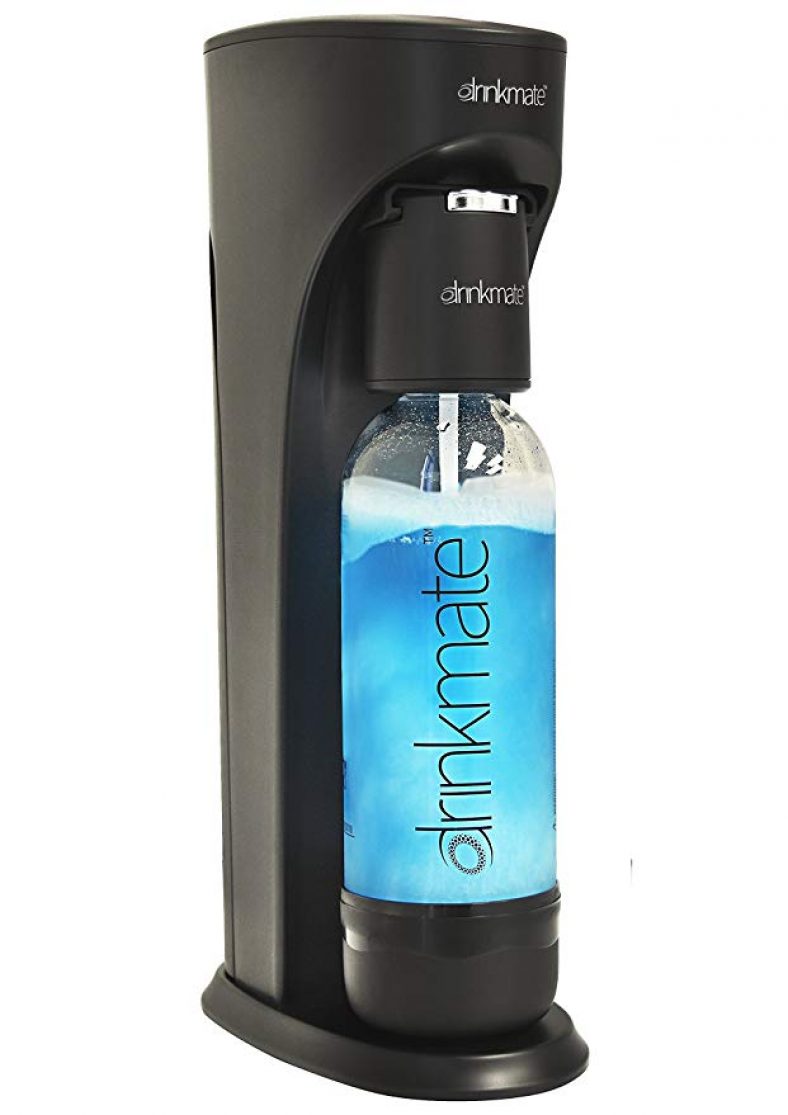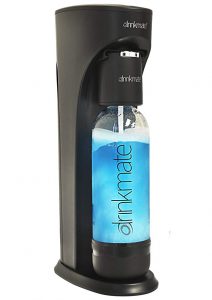 Overview
This looks very high tech, and as we unpacked it, we were impressed by its solid determination.  The instructions are easy to follow, and it's so simple to set up and start making sodas.
What We Like
We absolutely love the fact, that at a better price than Sodastream, this will fizz anything, from fruit cordials to carbonating iced coffee! It doesn't take up a vast amount of counter space, is very simple to use and even plain water tastes good carbonated by this Drinkmate.
What Needs Improving
A couple of times we struggled to remove the liquid container – it just seemed to stick in place. However after prolonged use, this was no longer an issue.
The Final Verdict
A smart versatile soda maker, perfect for livening up fruit juices and more. It was fun to experiment with various flavors to see which tasted better carbonated.
---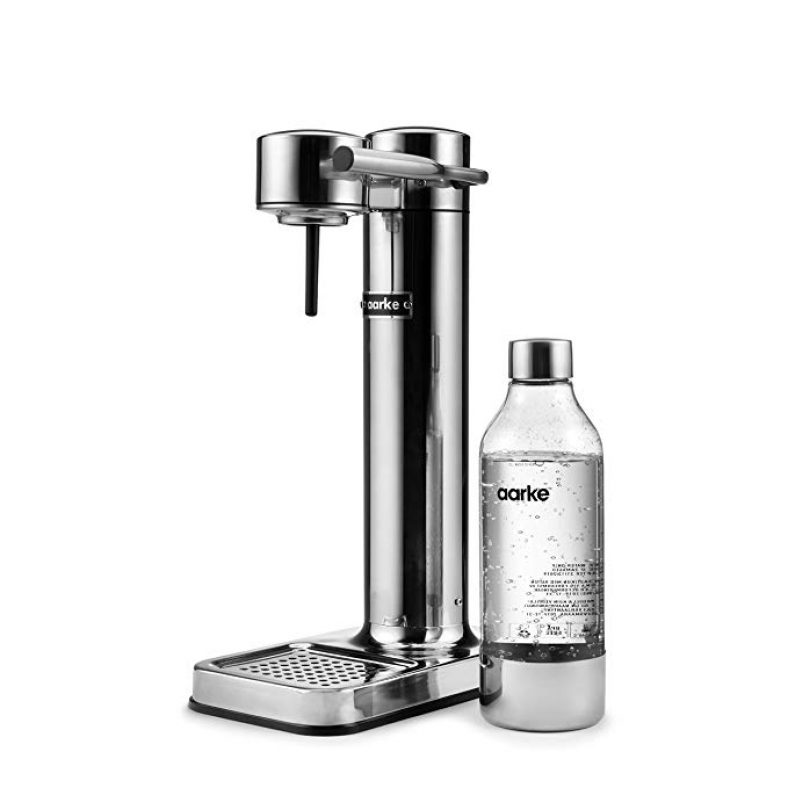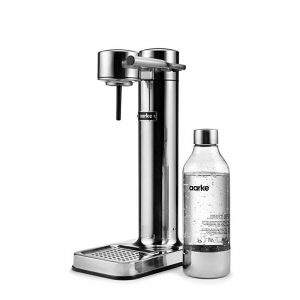 Overview
What can we say? The design of this is stunning. We have no words to adequately describe its sheer power, industrial lines…What's more, it was very carefully packaged, delivered on time, and seems well made and hard wearing.
What We Like
Not only does this soda maker look great and come in a range of stylish colors, but it works well too. The bottle is made of non-toxic material, and the carbonator comes with a 2-year warranty. Simple and quiet to use, it'll come as no surprise to hear that we like this machine rather a lot.
What Needs Improving
Don't forget to buy the cylinder separately! The good news, though, is that you can replace it at most major retailers.
The Final Verdict
High caliber soda maker that will look modern and stylish in any home. Aarke are known for their outstanding kitchen ware all over the world, and they didn't disappoint with their soda maker.
---
If you enjoyed this review, take a look at our other favorites: