TCL TVs Breakdown
As one of the fastest-growing popular brands in America and around the globe – selling more than 28 million TVs last year alone, TCL is well known for producing quality products across the telecommunication field. Proud of the fact that they are one of only three TV manufacturers that are vertically integrated, this means that right from the innovation and design stage to the final product hitting the shelves, TCL makes and compile every single part in house, keeping complete control.
With no second, third or twentieth party involved in the production, unlike most manufacturers, there is far less to go wrong and it enables TCL to keep the prices much lower than you'd expect for such high spec products. For us, as consumers, that's a great reason to consider purchasing into the TCL brand.
Another reason is quality. Due to TCL's vertical integration, you don't have to choose between affordability and performance – you can have both.
With TCL's ongoing commitment to innovation and its heavyweight approach to image processing, their aim is to produce the most dynamic picture on the market – and to be fair, they are getting closer to that goal with every model released, including the 8k, scheduled for later this year.
The partnership with Roku has produced worldwide applause, both from inside the industry and from streaming consumers everywhere, and TCL now has an impressive choice of streaming services, including Hulu, Netflix, and Amazon Prime. Having set its sights on AI, AI-IN is TCL's new baby and linking up with, besides Roku, Android TV, and Amazon Alexa, it looks set to corner that market, too.
Never stopping, TCL are working on OLED panels, featuring emissive quantum dot pixels, vastly sized curved screens and subwoofers constructed from concrete. It looks like the sky's the limit, and we all benefit!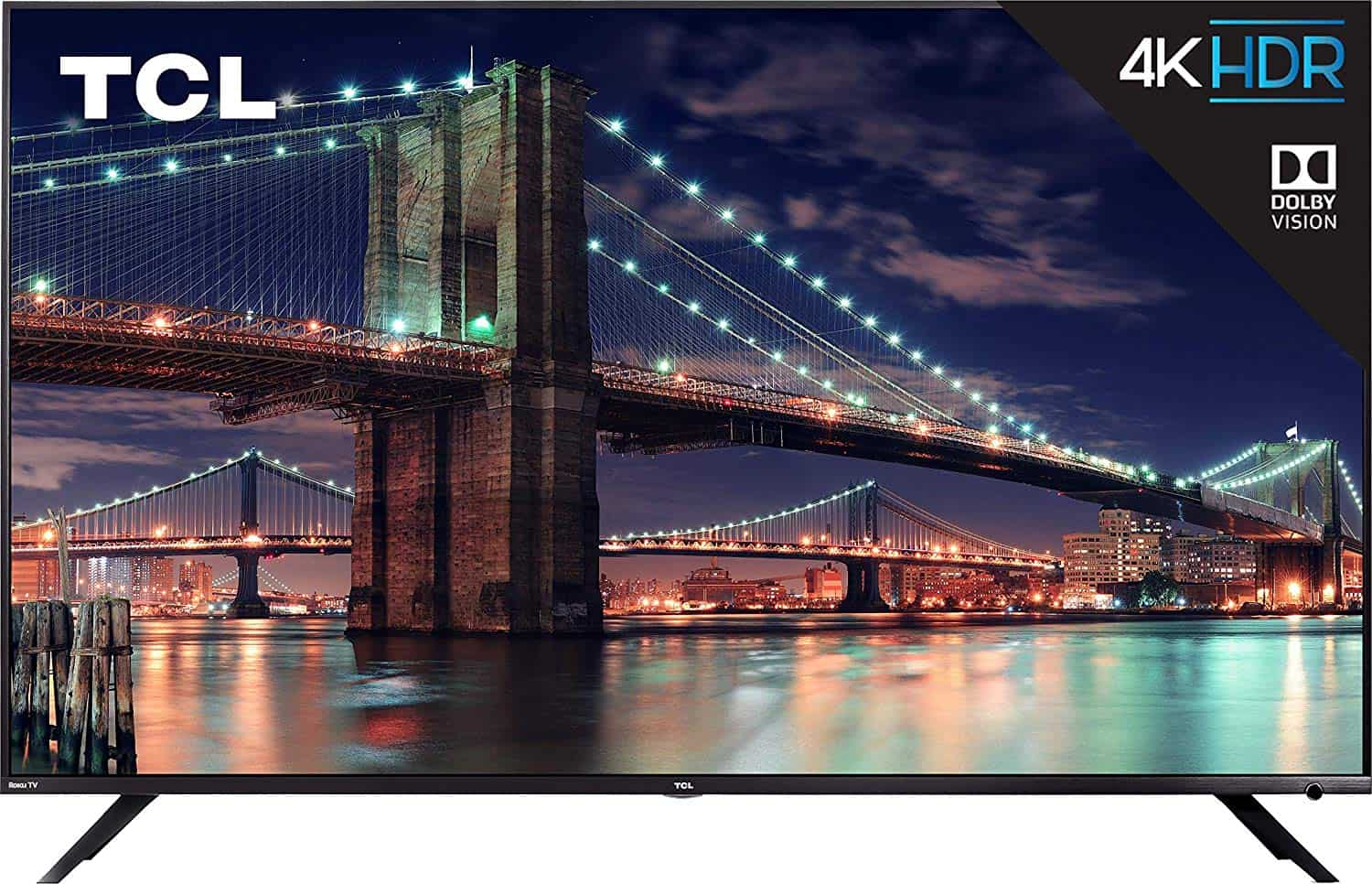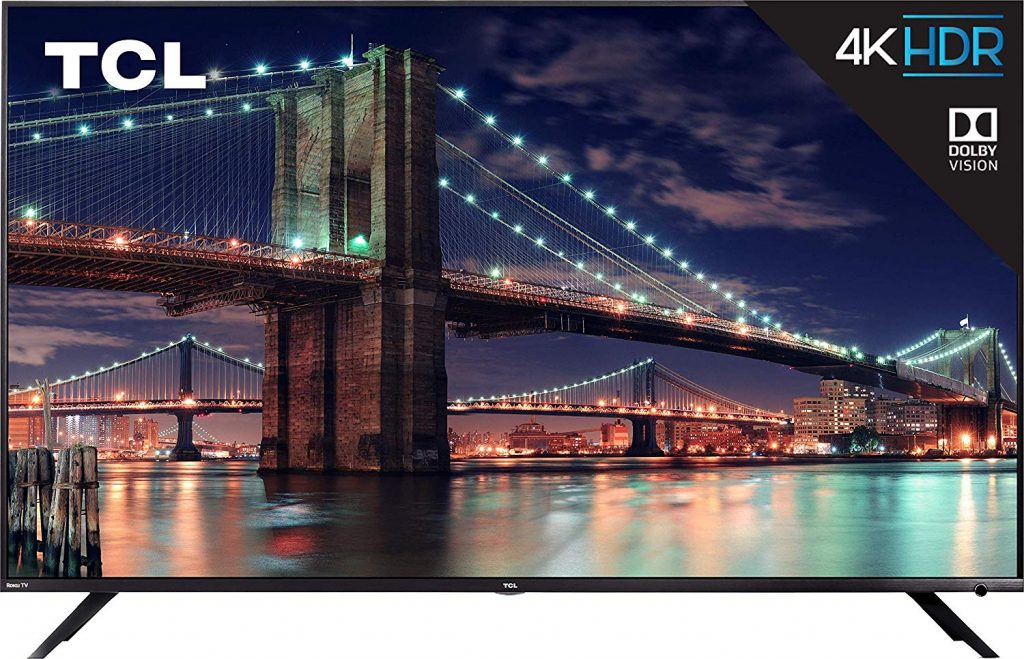 Overview
With an ultra contemporary industrial style, the brushed metal bezels of this 6 Series TV are sleek and robust, and frame a large 65 inch screen. Offering 120 zones via TCL's Contrast Control, a vast range of colors thanks to the iPQ Engine, and Dolby Vision's clarity and brightness, along with multiple ports, and access to streaming channels, this TV can make a real difference to your life.
What We Like
Exploring the adventure playground that is the TCL 4K will elicit constant wide mouthed amazement. Everywhere you look, there's a new feature or a clever trick, starting with the exceptionally simple setup.
The color accuracy is awesome, and running alongside, the 11 point white balance produces a realistic artist's palette of vibrancy. Allowing for a tight backlit display, the Contrast Control Zones and Full Array Local Dimming reduces distracting haloing, producing some of the deepest blacks we've seen replicated on a screen, whilst popping details, thanks to the UHD resolution, makes every scene zing and fizz.
The audio too, is round and full bodied, flowing through the two 8-watt speakers. Clear, well balanced and richly tonal, with an even bass backing the top notes, you can't go too far wrong with a sound performance like the TCL's.
Roku, voice control and a decent remote and there it is – your very own visual adventure, jump on board!
What Needs Improving
We have to be honest and say that, occasionally, at the widest angle viewing, the blacks lost a little depth . It didn't detract from the viewing pleasure, but it is something to be aware of.
The Final Verdict
This TCL shatters our expectations of what we should pay for a quality 4K TV. Ultra impressive visuals and audio, smart features, and more bang for your buck than the market leader, in our opinion, anyway.
---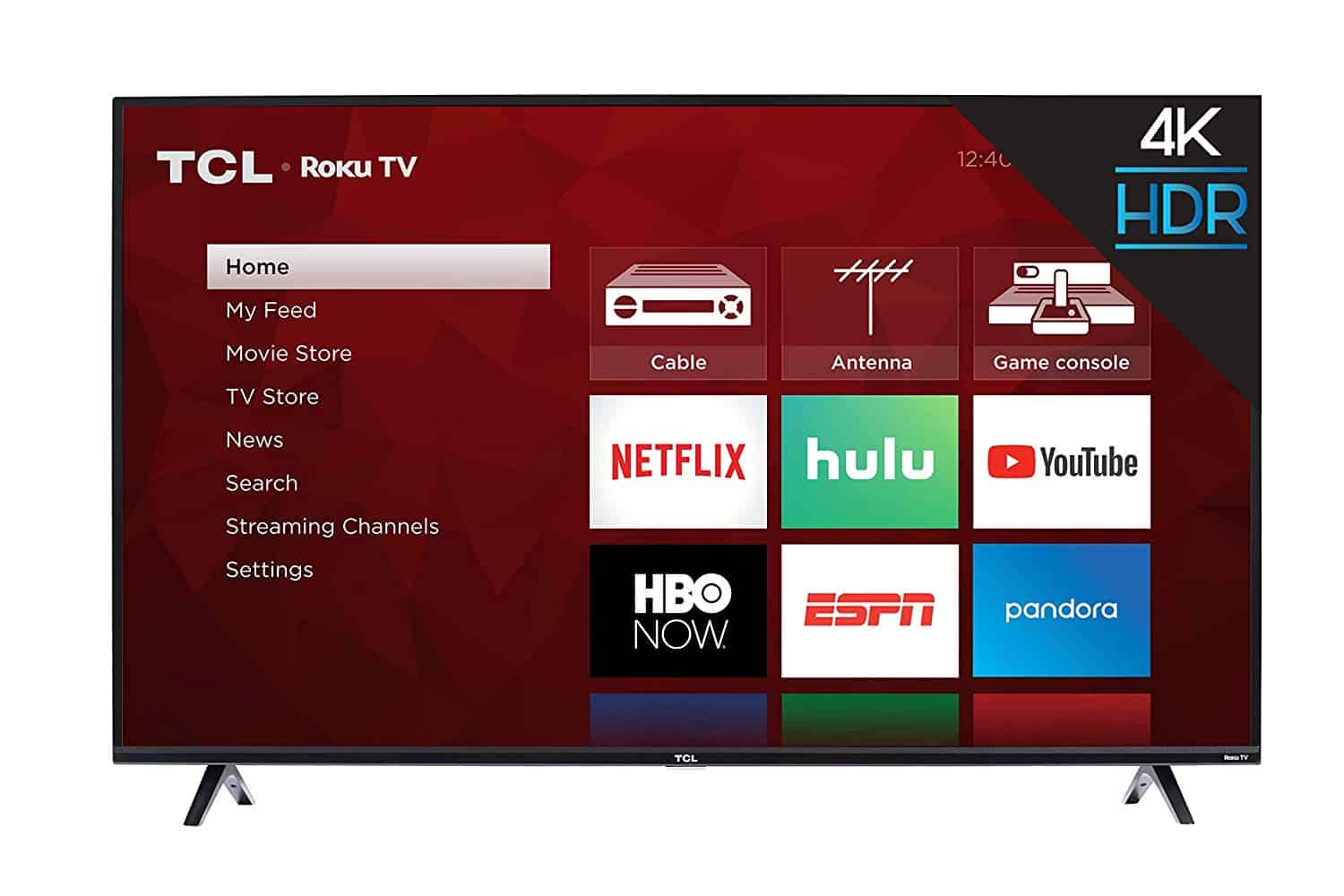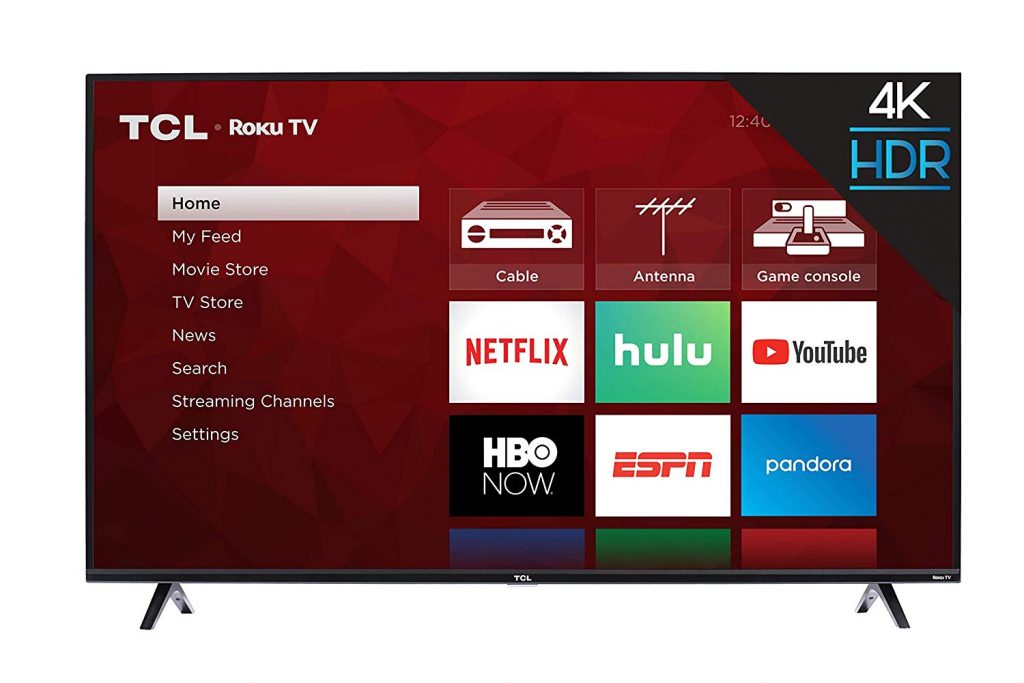 Overview
As part of TCL's 4 Series, it's a slightly chunkier set than the 6 series, but it remains a stylishly sleek, well built model. Equipped with multiple ports, including HDMI, USB, Ethernet and so on, an impressive 120Hz refresh rate, and access to streaming services via Roku means that this competitively priced smart enabled TV is well worth a closer look.
What We Like
TCL have spared no expense with the 4 Series TVs, but true to their word have kept the prices unashamedly low for consumers. With a wide range of useful ports, this set is effectively multi-functional, and can become the home hub of all things smart.
The range of colors, thanks to HDR10 technology, is vast and vibrant, while the blacks, although not as full-bodied as the 6 Series, are deep and lush, and the whites sing out into the room. The input lag is unnoticeable, and even with the busiest graphics, a super speedy refresh rate enables smooth, judder-free scrolling, which leads us neatly onto Roku.
Access to over 500,000 movies and TV episodes, music and more is offered through the interactive, voice-enabled remote, or through a smartphone app – a thoughtful touch. Amazon Prime Video, DirecTV Now, Google Play Movies Hulu, Netflix, PlayStation, and YouTube are all here, and bypassing the subscription, Roku's own channel is waiting.
What Needs Improving
Our only complaint with this 4 Series TV is that the blacks could be a little blacker, but this certainly isn't a game changer, and for the price, no one should have an issue.
The Final Verdict
Offering all the features you'd expect from a high spec 4K, the price belies the quality. If you don't want to spend big on a TV, this is a great option.
15 new from $389.99
1 used from $439.99

as of June 5, 2023 1:23 pm
---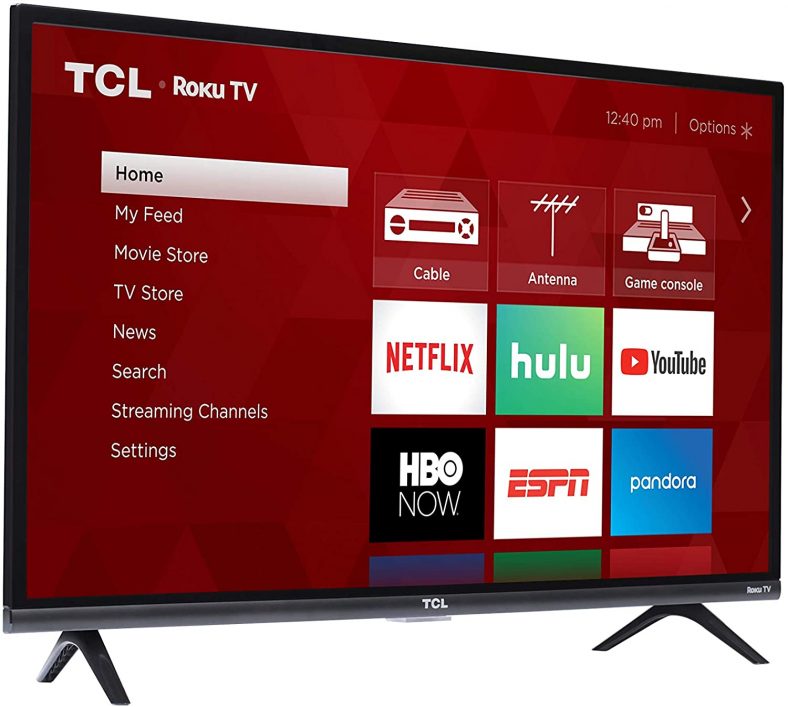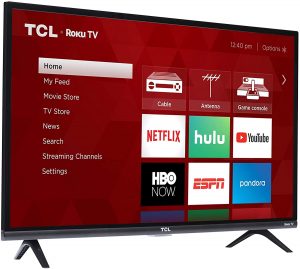 Overview
Without much of a smart platform, this good looking TV would make a great second set for the bedroom, to take on holiday, or for a student. Designed with a glossy black surround, the bezels are slim enough not to break the view, and with easy access HDMI ports, it offers hassle free wall mounting, however the quad pedestal gives a stable and supportive base.
The screen's semi gloss coating minimizes reflections, allowing full enjoyment of the crystal crisp 1080p high def display and encouraging full viewer immersivity.
What We Like
For such a budget friendly price, this TV is remarkably decent. Despite lacking smart features, it is still perfectly capable of playing files from a USB stick and via its three HDMI inputs.
The color range isn't as vast as the 4 and 6 Series TV's, but is still more than acceptable, while the blacks and whites are impressively deep and dazzling, so the imagescape doesn't feel any less as a result of the slightly narrower tonal range.
Without a game mode, the input lag is almost imperceptible and it features a great response time of 5.6 ms.
The audio, as you'd expect for TCL, is crisp, with no tinny properties coming through, although when the volume is maxed, occasionally there's a slight distortion, but considering how max maximum volume is, you won't need to crank it up that far.
What Needs Improving
When viewed from an off side angle, the image quality is mildly affected. However, this isn't a deal breaker when you take into account all the good points.
The Final Verdict
For the budget conscious, this is a great deal, especially if you're looking for a second TV. Great picture quality, decent sound, and features that do exactly what they're meant to. This TCL is easy to recommend.
30 new from $116.40
2 used from $129.99

as of June 6, 2023 1:18 am