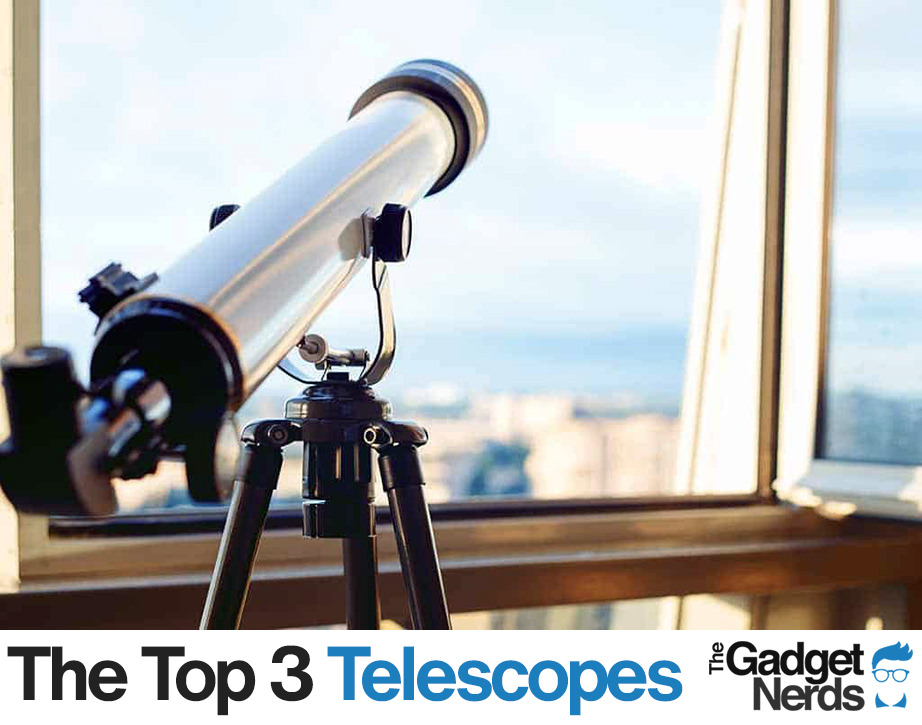 On this list, we will be including the best 3 telescopes that are affordable, and at the same time, they are up to the task. We have tested and done the research on these telescopes and have been impressed with the quality, while not having to spend terrible amounts of money. If, apart from stargazing, you're into watching solar eclipses, make sure you get your hands on one of these best solar eclipse shades!
Without further ado, below you will find telescopes that casual stargazers and scientists will appreciate.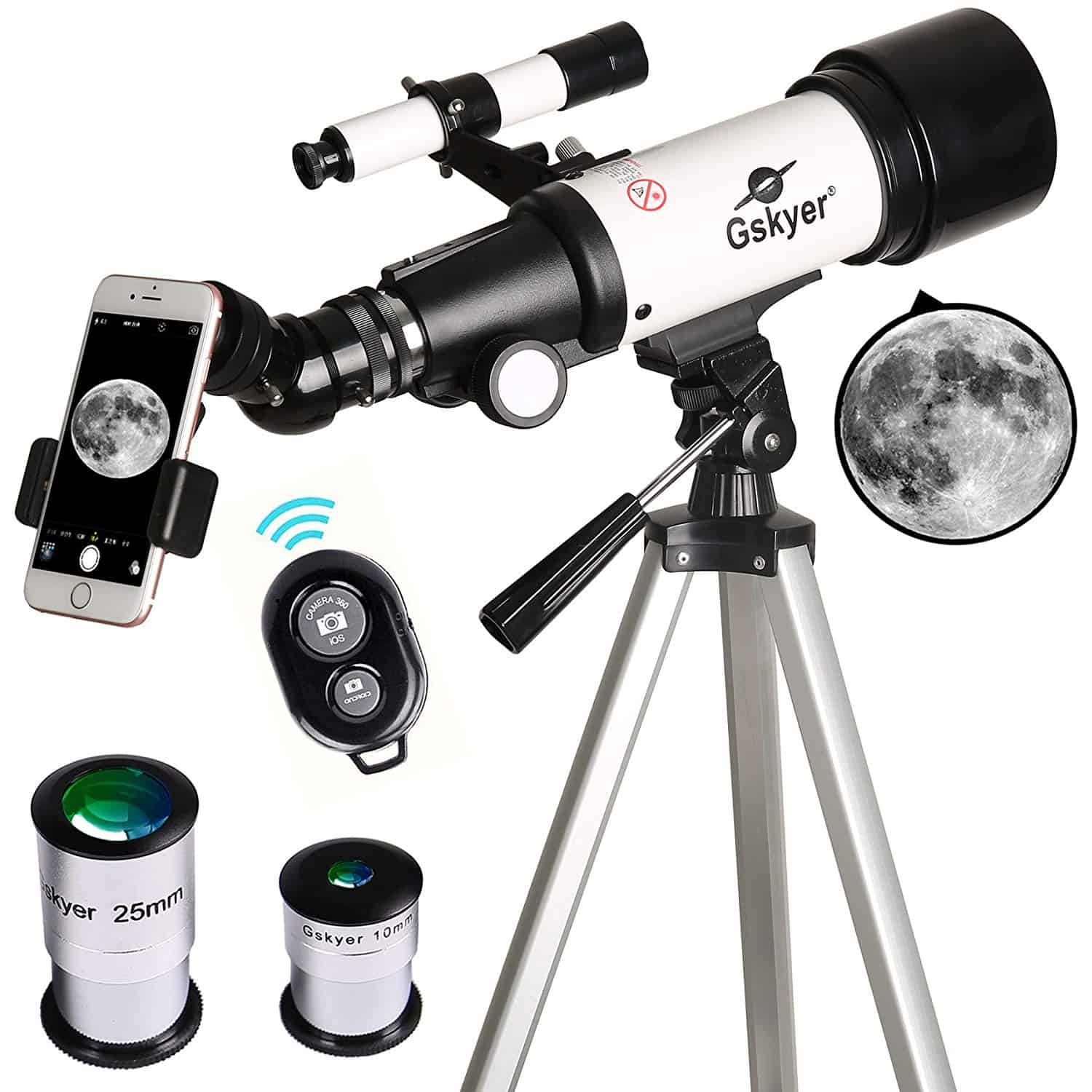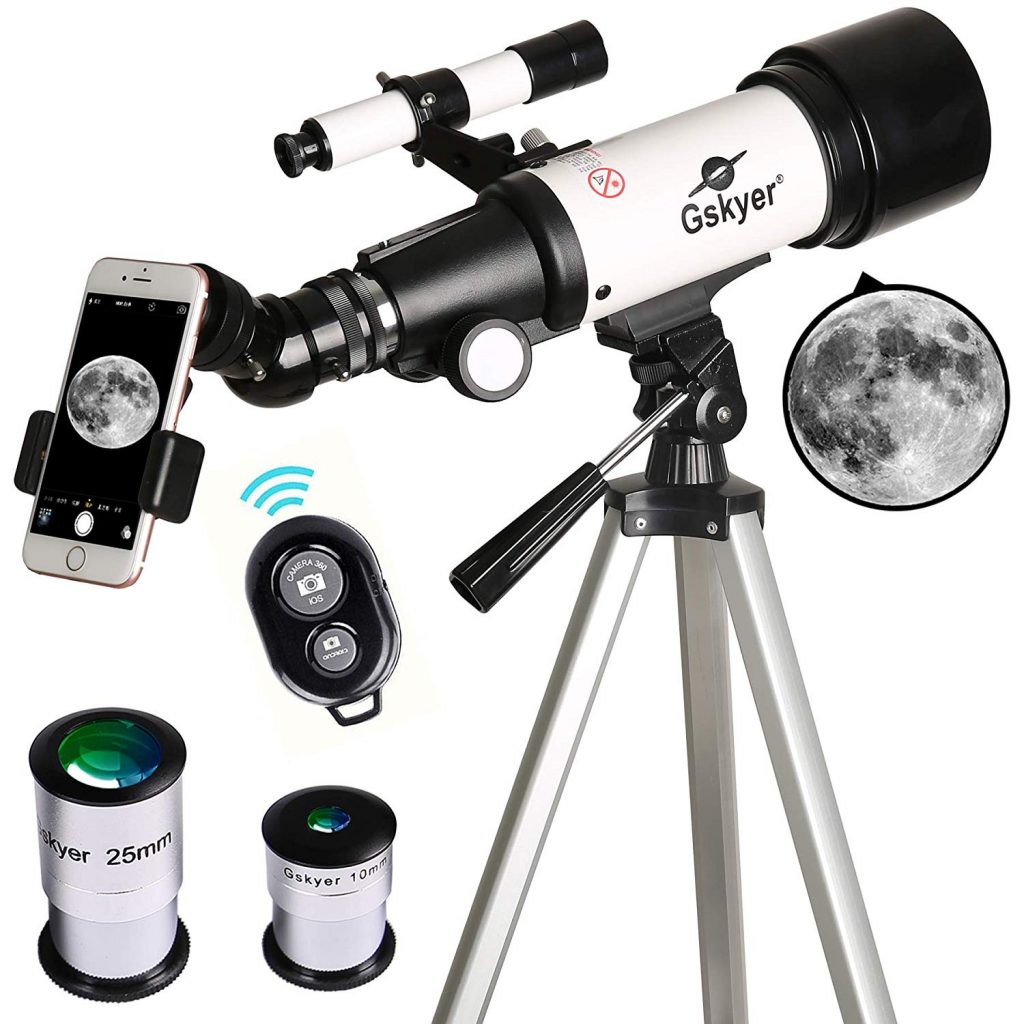 Overview
The quality of Gskyer Refractor Telescope optics is off the charts, with the focal length being 400mm (f/5.7) and the aperture of 70 mm. At the same time, the optics glass lens is fully coated with high transmission coatings which protect your eyes and also create stunning images. It is perfect for observing the stars and the moon. The telescope has two eyepieces that are replaceable together with a 3x Barrow lens. The eyepiece number one is 25mm (16X), the eyepiece number two is 10mm (40x), while the 3x Barrow lens has the ability to treble the magnifying power of each of the eyepieces. The adjustable tripod allows you to change many viewing positions as you like, and it also comes with a carry bag, that can fit both the telescope and the tripod easily, allowing you to take and use this telescope anywhere with no hassle.
What we like
The clarity of the picture is terrific, giving you the chance to have a maximum magnification of x120. The wireless remote tech offers you the opportunity to take images hands-free, as long as you have a Bluetooth smartphone. It is also very easy to set up, meaning that you don't need to have any prior knowledge about telescopes to set up this one. The step-by-step instructions that have pictures will help you assemble this telescope in a very short period.
What needs improving
The instruction manual, despite coming with images and pictures, can at times be confusing for people that have never held a telescope before. However, that is only a minor nuisance, and with a bit of research, you can find everything that you need to know about this excellent telescope.
The Final Verdict
If you're looking for a telescope that doesn't cost a fortune but also performs flawlessly, this should be your choice. For the price that it has, it performs quite well. The body, tripod, and the accessories aren't heavy, and you can easily carry them. The maximum magnification that is x120 allows you to see the moon, many planets, and some stars with excellent visibility. It can also be used in nature for bird watching.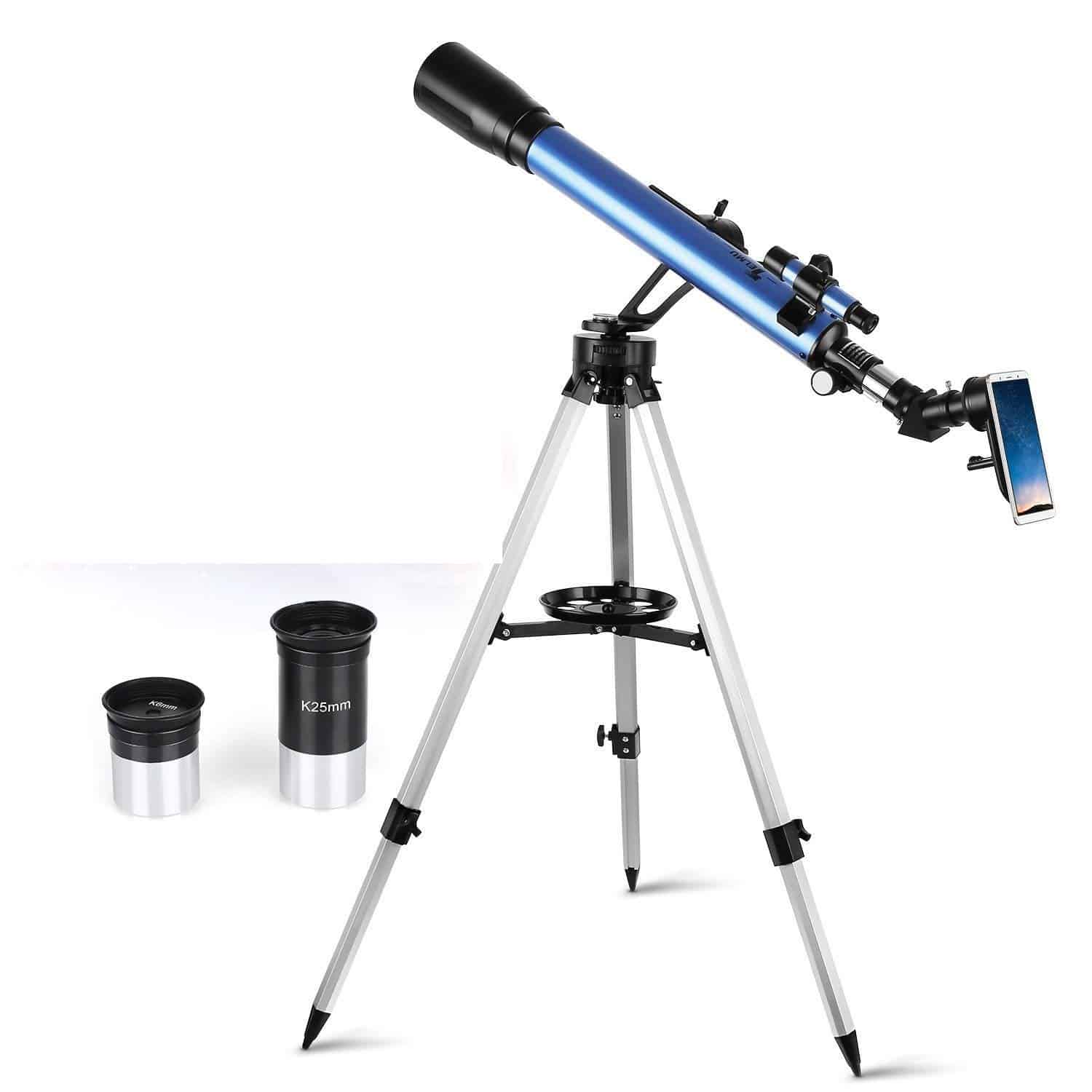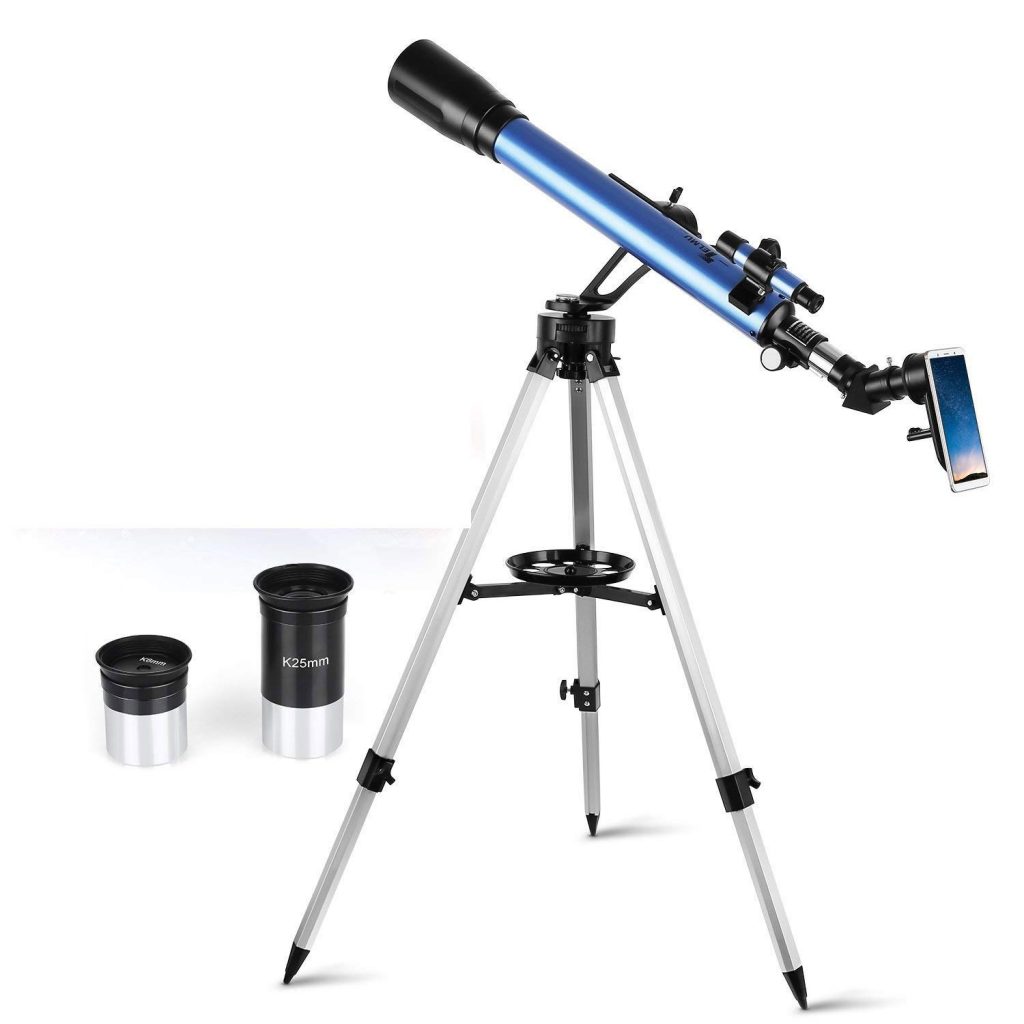 Overview
The ToyerBee Telescope has 60mm Aperture & 700mm Focal Length and comes with replaceable eyepieces. With the help of the Barrow lens, the magnification of the eyepieces doubles. You can get a magnification can range from 35x to 350x. Whether it is for watching the moon or the planets in our solar system, this is a great telescope for everyone interested in stargazing. To help you locate the object faster, it has a focal length of 700mm as well as a finder scope. The tripod is very stable and can be used almost everywhere. With this telescope, you will find the planets that you're targeting very quickly.
What we like
K6mm(67X), K25mm(16X) magnification eyepieces bring clearer images and more lights, allowing even the beginners to see stunningly clear images. The bigger the aperture is, the bigger the field of vision becomes, and as a result of that, we get great images. Assembling this telescope is quite easy since it has both paper and video guidelines, helping you through every step. It's that easy that even your children can install it without your help.
What needs improving
This telescope is a bit small, specifically 16.6 * 25.6 * 79.6cm, which may be a perceived problem as some people may feel it is flimsy. However, we were quite satisfied with it, because it was lightweight and easily transportable.
The Final Verdict
For a small amount of money, this is the perfect starting telescope for stargazing beginners. For all the aficionados that want to see the red planet from up close, you will not find a better telescope for this price. Assembling and dismounting it is quite effortless so it's excellent for children and adults as well.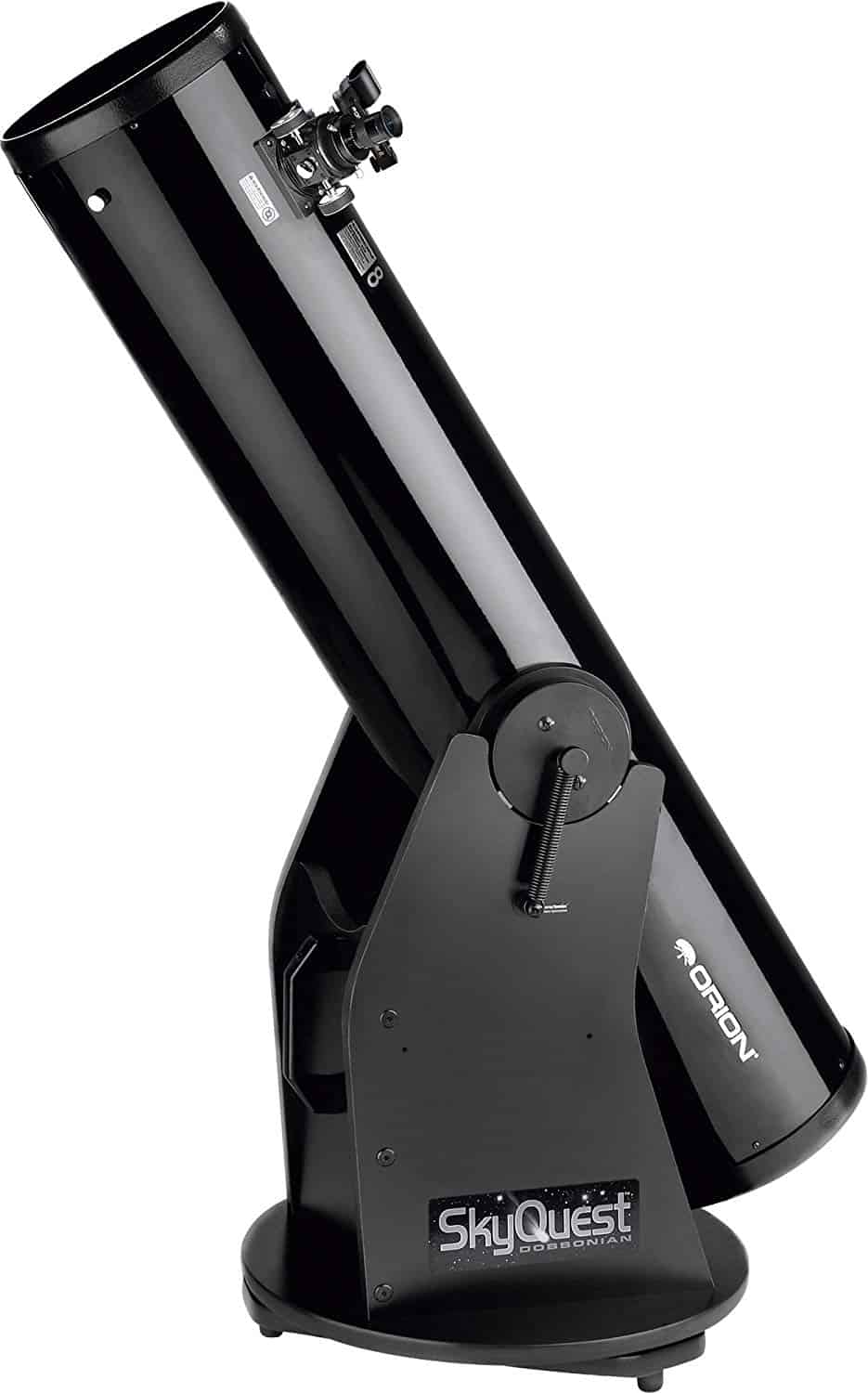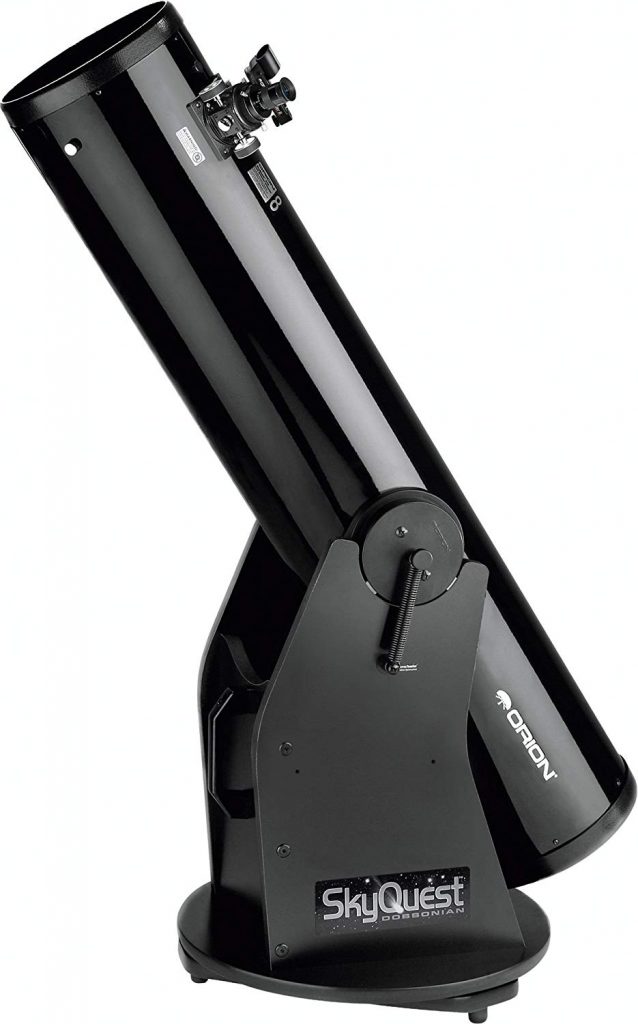 Overview
This bad boy is truly a work of art. The reflector optics which are 8" in diameter allow you to view the planets and the moon in a very detailed way. Unlike the other two telescopes on this list, you can also see some nebulas, star clusters, and galaxies. This Dobsonian telescope is great for the entire family, and it is so durable, that it can last you a lifetime.
What we like
This telescope is famous because it features a great combination of stability, mechanical simplicity, and precision optics. The XT8's aperture, which is 8 inches, can gather enough light so that you can see celestial objects like galaxies and nebulas that are quite far away. With the quality of the images that it provides, it only weighs 29.3 pounds, meaning that it's not very heavy.
What needs improving
The only thing that could be added to this telescope is a handle so that you can move it easier around. However, it still isn't hard to move it around, and this issue doesn't affect the experience that this telescope provides you. Once you start using it, you will get used to the feeling of not having a handle.
The Final Verdict
This is the most expensive telescope on the list and for a good reason. It has a price tag of approximately $400,00 because of the quality of the images that it offers. It's an understatement that it is better than the two previous once, and if you're thinking of investing some money to enjoy the sky during the night, this is the right piece of equipment for you.
---
If you're a true space aficionado, head on over to NASA and check out what the Hubble space telescope has found these days!