Discover The Best Solar Eclipse Glasses For Sky Watchers
A solar eclipse is one of the universe's magical events and one that many of us only see once in a lifetime. So it's understandable that we down everything to watch, and maybe even try to capture it on our phones. However, often unknown to many, a solar eclipse can cause serious damage to the eye's retina when viewed without specialized solar eclipse glasses. Designed to protect your vision, it's imperative that they're worn throughout the whole period of the eclipse. If, apart from viewing solar eclipses, you're also a fan of stargazing, make sure to also check out our top 3 best telescope reviews!
With the last couple of Solar Eclipses occurring in mid-2019 around the Pacific Ocean and certain locations in South America, and one visible somewhere in the world with regular occurrence, the following top 3 solar eclipse glasses are bound to make your viewing experience awesome and, more importantly, safe.
There is an easy way, however, that you can make safe glasses to watch an eclipse by using an empty cereal carton. If you have young kids, this is a great idea to work on together.
Overview
Step into safety and style with the Solar Eclipse Glasses by Thousand Oaks Optical. This set features 25 pairs, ensuring your entire family or group is catered to. Each lens is a testament to safety, holding CE and ISO certification. To maintain a high quality standard, every pair undergoes stringent testing for optimal functionality and safety. Plus, the durable construction promises resistance to wear and tear, keeping the glasses looking new for years. With a simple black and red design, these glasses pair safety with minimalistic style, a combo hard to beat.
What We Like
These eclipse glasses have definitely won us over. At a glance, their affordable price belies the incredible safety features on offer. Excellent value for money! From customer reviews, it's clear that these glasses were built to last. Owners who've had them for over three years vouch for their longevity. An added bonus? The safety instructions on the back are a nifty, thoughtful touch.
What Needs Improving
While the lenses and frame hold up well, there is one minor caveat: they may feel snug across the bridge of the nose for some. However, this should hardly be a deterrent. Its overall value is too good to pass up.
The Final Verdict
All things considered, the Solar Eclipse Glasses emerge as a high-quality product, balancing safety, durability, and price. They're a shining example of great value for money. They're not just glasses, they're an investment.
---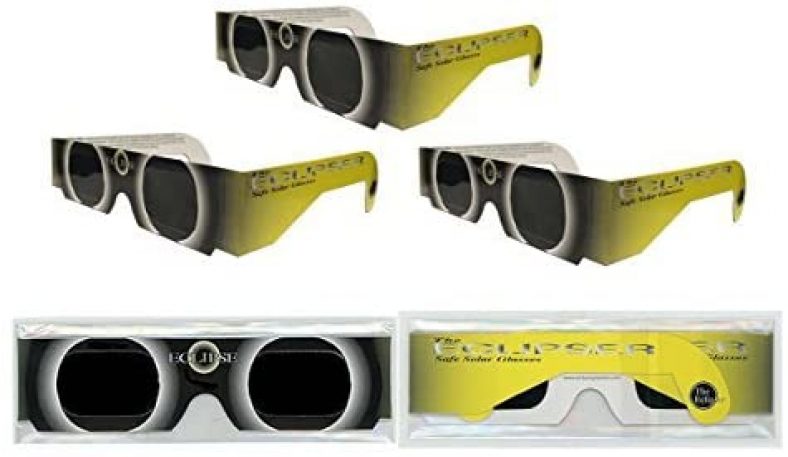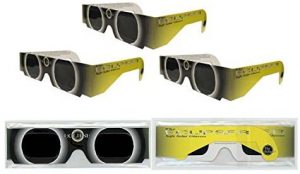 Overview
For those lucky to witness the upcoming solar eclipse in South America, July 2023, this multipack of glasses is your passport to a breathtaking cosmic event. Boasting superior lens quality, these glasses protect your eyes from harmful ultraviolet and infrared light. What's more, they create a crisp, vivid image of our very own celestial body, the sun, appearing in a brilliant hue of orange.
What We Like
These glasses hit a homerun in terms of their sturdiness. Their strong frames come with an adjustable feature: a fold in the earpieces for optimal comfort and fit. But wait, there's more! These eclipse viewers are ISO certified and CE approved, underlining their safety credentials. We could call them the Fort Knox of eclipse glasses
What Needs Improving
Even the best have their Achilles' heel, and in this case, it's the nose fit. While it's comfortable, it may leave a faint red mark. But fear not, the trace disappears faster than you can say 'Solar Eclipse'!
The Final Verdict
In conclusion, these eclipse glasses are the perfect accessory for your solar spectacle. They combine safety, comfort, and a vivid viewing experience, all while being gentle on your pocket. We give them our seal of approval with a high score of
" score="9.5″ ]
8 new from $7.94
Free shipping
as of September 30, 2023 8:33 pm
---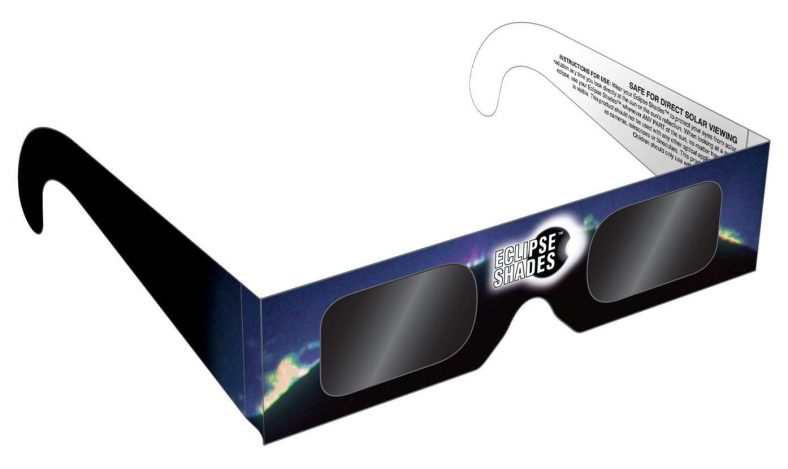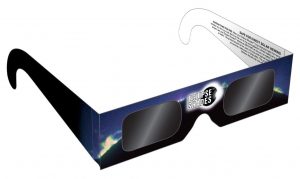 Overview
Capping off our list are the Safe Solar Eclipse Shades from Rainbow Symphony. These cost-effective glasses are the vanguard of solar viewing, offering an optimal shield against the sun's intensity during various solar eclipses. Constructed from a high-quality polymer fabric, these lenses are resilient to scratches and hold the required industry certifications, deeming them safe for any solar activity viewing. Available in a pack of five and two engaging colors, they make solar viewing a communal event.
What We Like
We're seriously impressed with these glasses. Their lightweight construction enhances comfort, making your eclipse-watching experience a breeze. Clear, safe, and fun – they provide an exciting orange-tinted view of the sun, perfect for kids and adults alike. Plus, they're the only ones on our list that offer color options – a cool blue-to-black fade or a fiery red-to-black gradient. Who said safety couldn't be stylish?
What Needs Improving
Our one gripe? The safety instructions could stand to be printed a tad larger. But don't let that detract from their value – we promise it's not a spectacle.
The Final Verdict
TOverall, the Safe Solar Eclipse Shades bring together safety, comfort, and style in a budget-friendly package. Whether you're a seasoned stargazer or a newbie, these glasses ensure your solar viewing is top-notch. We award them a high score of
" score="9.3″ ]
---
Discover our other hand-picked reviews: