Discover The Best Solar Eclipse Glasses For Sky Watchers
A solar eclipse is one of the universe's magical events and one that many of us only see once in a lifetime. So it's understandable that we down everything to watch, and maybe even try to capture it on our phones. However, often unknown to many, a solar eclipse can cause serious damage to the eye's retina when viewed without specialized solar eclipse glasses. Designed to protect your vision, it's imperative that they're worn throughout the whole period of the eclipse. If, apart from viewing solar eclipses, you're also a fan of stargazing, make sure to also check out our top 3 best telescope reviews!
With the last couple of Solar Eclipses occurring in mid-2019 around the Pacific Ocean and certain locations in South America, and one visible somewhere in the world with regular occurrence, the following top 3 solar eclipse glasses are bound to make your viewing experience awesome and, more importantly, safe.
There is an easy way, however, that you can make safe glasses to watch an eclipse by using an empty cereal carton. If you have young kids, this is a great idea to work on together.
Overview
These super cool and stylish, safety-conscious pairs of glasses have been manufactured by Thousand Oaks Optical. As they arrive in 25 pairs per set, be assured that if you have a big family, no one is left out. The lenses have CE and ISO certification and to confirm that every set possesses the highest possible benchmarks of production, they are subjected to rigorous checks to ensure full functionality and safety when in use.
In addition, its durable construction offers resistance to scrapes and grazes for a brand new look in years to come. It also offers a minimalistic design of just two colors (black and red). Clearly, these glasses will enhance your experience.
What We Like
We absolutely love these pair of eclipse glasses for several reasons. Firstly, even with the affordable price tag, the manufacturers still offered all the safety conditions of the highest standard. Additionally, it is clear from the reviews that these lenses have been created to stand the test of time as some users have owned them for more than 3 years. Finally, the safety captions on the back were a thoughtful addition.
What Needs Improving
Although the lenses are safe and sturdy, and the frame good, we did find they were a little small across the bridge of the nose. However, this really isn't a deal breaker.
The Final Verdict
Overall, the Solar Eclipse Glasses are a quality product from safety standards to performance. They also offer great value for money and we consider them worth every dime.
---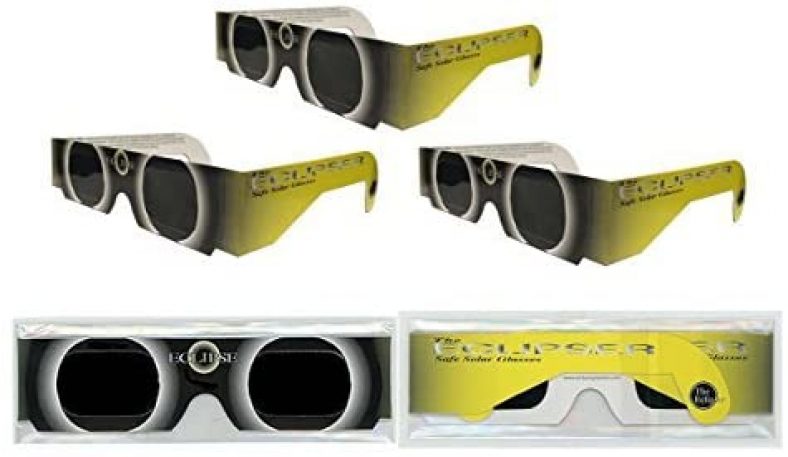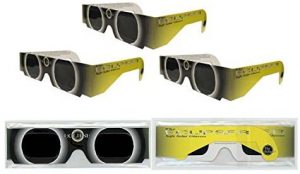 Overview
If you're in parts of South America in early July 2023, then this multipack of glasses is just what you need to enjoy the solar eclipse with all your friends and family. Its lenses offer superior protection from harmful ultraviolet and infrared lights with first-class screens that generate a crisp picture of the sun – which obviously looks orange in color.
What We Like
One thing we appreciate about these glasses is the sturdiness of the frames, which also have a couple of folds that allow the earpieces to bend at different positions for a more comfortable fit. They're ISO certified and CE approved.
What Needs Improving
Our only, very minor complaint is the nose fit – perfectly comfortable, but did leave a small red mark, which, admittedly, faded rapidly.
The Final Verdict
The American Paper Optics glasses give a decent, safety-conscious performance for the price on offer. The colors provided by the lenses gave the visual image a dramatic and exhilarating impact. Worth it for this effect alone!
---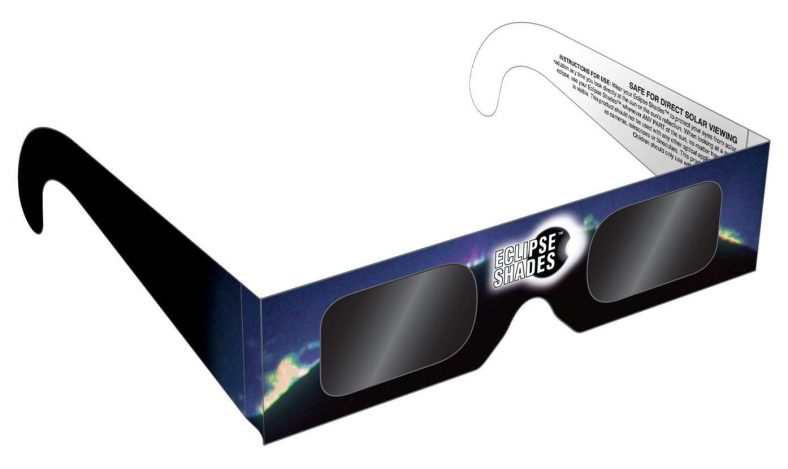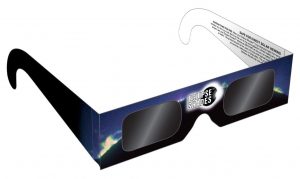 Overview
Last on our list is the Safe Solar Eclipse Shades. These budget-friendly glasses are made by Rainbow Symphony and provide an excellent shield for viewing various solar eclipses. The lenses are not affected by scratches due to the fine polymer fabric they're made out of and come with the necessary certification that makes them a safe product. Approved by the top relevant bodies in the industry, they are fit for use for viewing any solar activity. They come in a pack of five with two available colors.
What We Like
These glasses work great! They are lightweight and make viewing an eclipse comfortable. The sun can be viewed clearly and safely in the orange shade and if you have kids then these glasses are sure to make their experience fun and exciting. This is also the only product on our list that gives you the option of colors to choose from. You can choose blue with a black fade or fiery red with black fade.
What Needs Improving
Maybe it's our eyes, but the safety information could be printed slightly larger.
The Final Verdict
The Safe Solar Eclipse Shades cover all the relevant bases in terms of safety and functionality, but with the scratch-resistant lenses, durable frames and optional colors (wow!), these are definitely on the gift list
---
Discover our other hand-picked reviews: