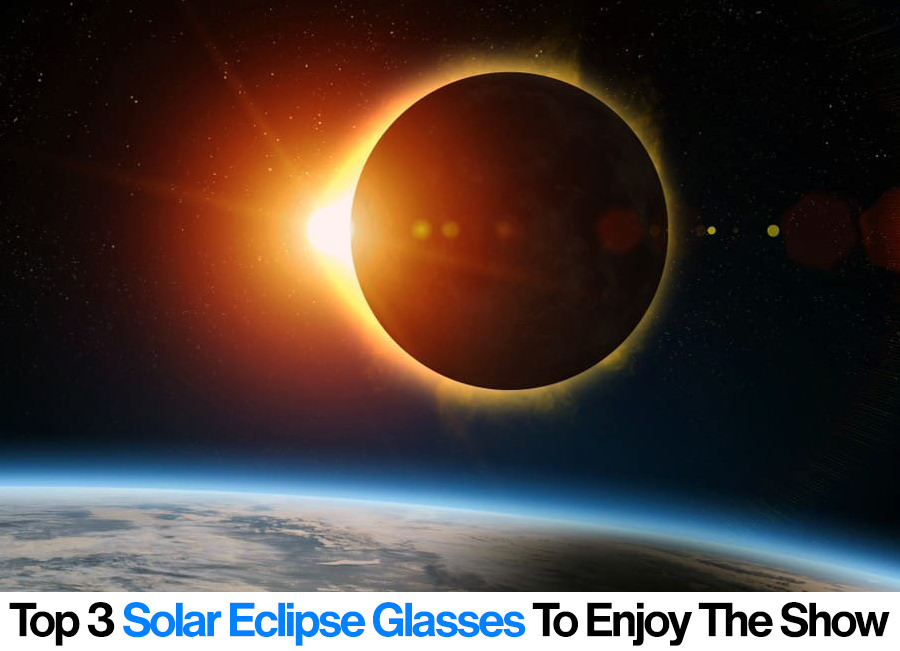 Discover The Best Solar Eclipse Glasses For Sky Watchers
A solar eclipse occurs when the moon is on an axis between the sun and the earth. In this constellation, the moon casts its shadow on the earth, obscuring the sun; this covering can either be full or partial. This special event can occur once in a lifetime and should be an experience shared with friends and family. However, often unknown to many, a solar eclipse can cause serious damage to the cuticles when viewed with the naked eye; hence the need to wear solar eclipse viewing glasses, to make the experience safer. If, apart from viewing solar eclipses, you're also a stargazing kind of person, make sure to also check out our top 3 best telescope reviews!
With a Solar Eclipse slated for mid-2019 somewhere around the Pacific Ocean and certain locations in South America, the following top 3 solar eclipse glasses are bound to make your viewing experience worthwhile and safe.


Overview
In terms of value for your money on eyewear, the Soluna Eclipse Glasses makes for your best choice. These reliable pair of glasses have been manufactured by American Paper Optics, who have also been NASA approved. As they arrive in 10 pairs per set at a decent fee, be assured that if you have a big family, no one is left out. Its lenses have CE and ISO certification and to confirm that every set possesses the highest possible benchmarks of production, they are subjected to rigorous checks to ensure full functionality and safety when in use.
In addition, its durable construction offers resistant to scrapes and grazes for a brand new look in years to come. It also offers a minimalistic design of just two colours (black and white), with a picture of an eclipse on the front and a user's guide behind. Clearly, these glasses have been enhanced for the purpose of your enjoyment.
What We Like
We absolutely love these pair of eclipse glasses for several reasons. Firstly, even with the affordable price tag, the manufacturers still offered all the safety conditions of the highest standard. Additionally, it is clear from the reviews that these lenses have been created to stand the test of time as some users have owned them for more than 3 years. Finally, the safety captions on the back were a thoughtful addition.
What Needs Improving
Although the lenses are quite sturdy, the same can't be said about the frames of the glasses. The frames have been constructed from paperboard, so if not handled with care, they probably won't last long. In addition, there is no variety in the design pattern of the glasses. All ten come in the same monotonous form.
The Final Verdict
Overall, the Soluna Solar Eclipse Glasses are a quality product from safety standards to performance. If you can get past the flimsy handles and don't mind the single pattern, we recommend them. They also offer great value for money and if stored properly after usage, they will be worth every penny.
---


Overview
If you're in parts of South America in early July 2019, then this multipack of glasses is just what you need to enjoy the solar eclipse with all your friends and family. Its lenses offer protection from harmful ultraviolet and infrared lights with first-class screens that generate a crisp picture of the sun – which obviously looks orange in color.
What We Like
One thing we appreciate about these glasses is the sturdiness of the frames, unlike most solar glasses that are made from flimsy paperboard, these ones are made from stockier cardboard which is sturdier and less prone to ripping and tearing. The frames also have a couple of folds that allow the earpieces to bend at different positions for a more comfortable fit that is unique to different face shapes.
What Needs Improving
Based on reviews, a lot of customers that purchased this item complained about the wrinkles to the lenses associated with shipping which may make the glasses unsafe to use. Also, the durability of the lenses needs a little improving.
The Final Verdict
The American Paper Optics glasses give a decent performance for the price on offer. If they arrive at your doorstep in good condition, you have no problem viewing a solar eclipse comfortably.
---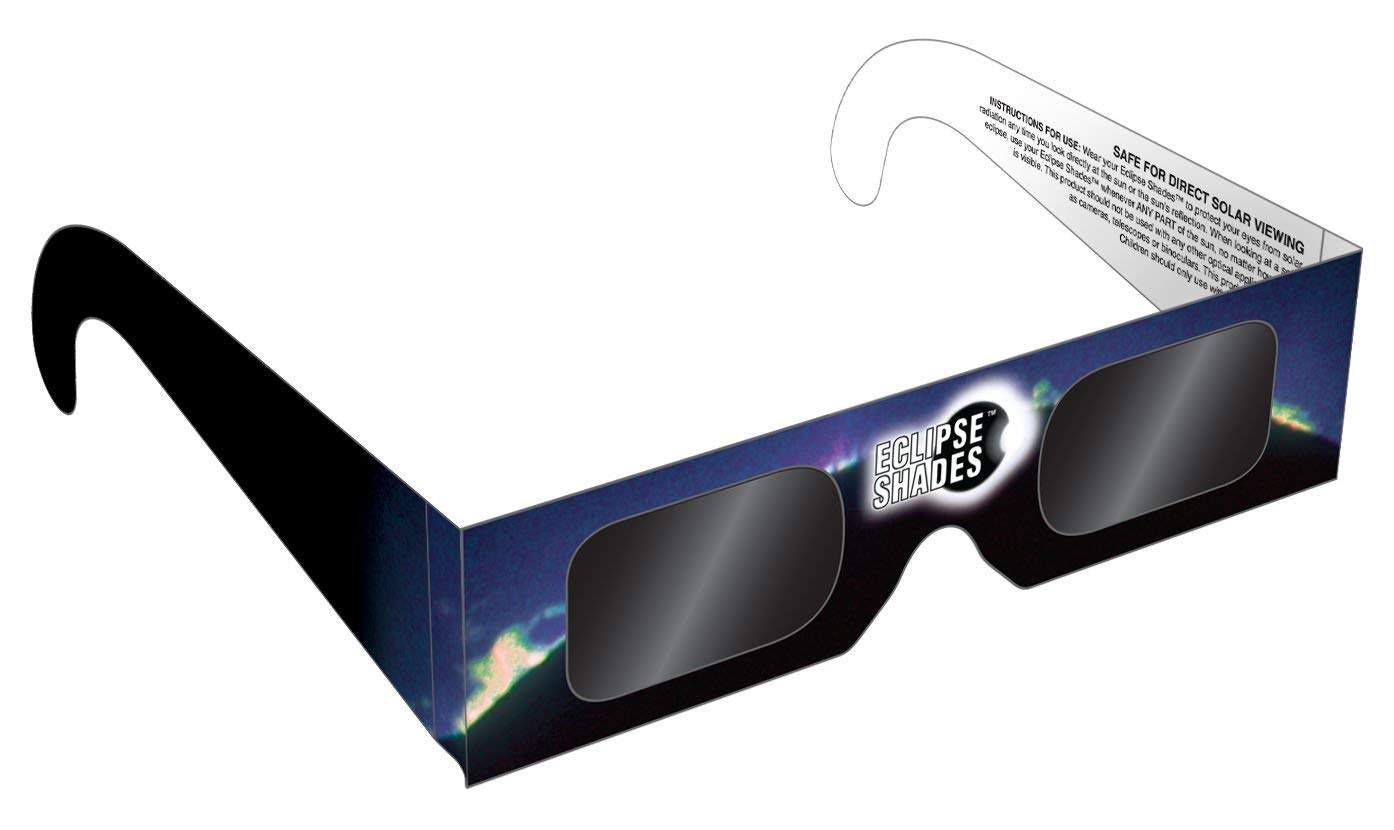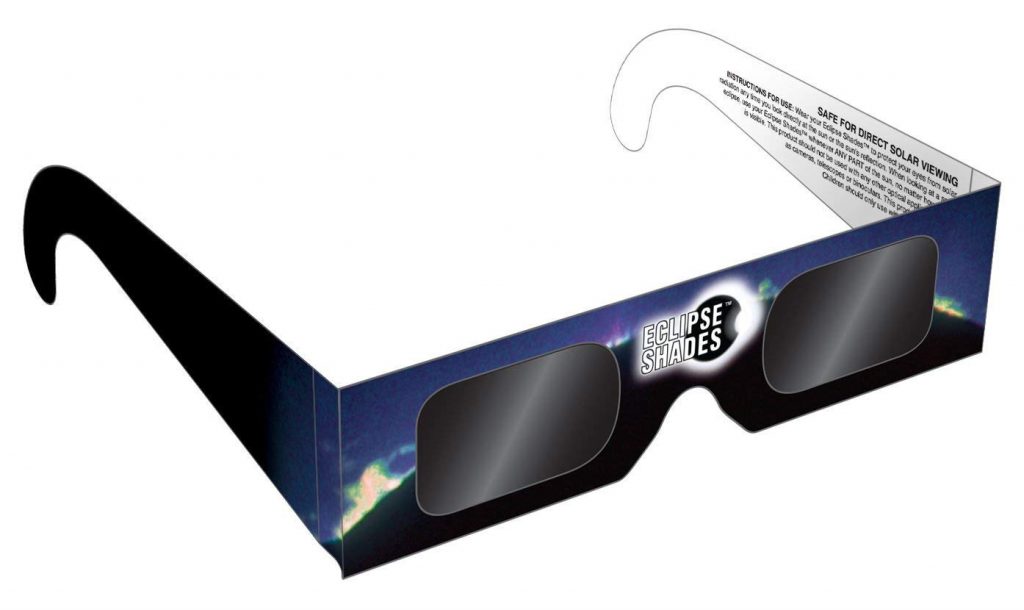 Overview
Last on our list is the Safe Solar Eclipse Shades. These budget-friendly glasses are made by Rainbow Symphony and provide an excellent shield for viewing various solar eclipses. The lenses are not affected by scratches due to the fine polymer fabric they're made out of and come with the necessary certification that makes them a safe product. Approved by the top relevant bodies in the industry, they are fit for use for viewing any solar activity. They come in a pack of five with two available colors.
What We Like
Certainly, these glasses work great! They are lightweight and make viewing an eclipse comfortable. The sun can be viewed clearly and safely in orange shade and if you have kids then these glasses are sure to make their experience fun and exciting. This is also the only product on our list that gives you the option of colors to choose from. You can go with blue with a black fade or fiery red with black fade.
What Needs Improving
Like the first two glasses on our list, the Safe Solar Eclipse Shades can do with some improvements. Users have raised concerns about light seeping through the top edges of the filter. If the plan is to keep light out then this is clearly a hitch. In addition, some users have complained about the illegible safety information on the inside of the glasses being too small to read. For instance, the information states that it's not safe to view the sun for more than 3 minutes. Those with poor eyesight may not notice this at first glance. Larger, more obvious inscriptions would be a welcome idea.
The Final Verdict
The Safe Solar Eclipse Shades cover all the relevant bases in terms of safety and functionality. Its value for your money is guaranteed and is sure to make you a happy customer.
---
Discover our other hand-picked reviews: