Making a Splash with Underwater Cameras (it's a hard life!)
When looking at buying a camera to take amazing underwater shots, there are many to choose from. Initially, though, you need to consider if you want an underwater camera, an underwater casing for your camera (many smartphone manufacturers make cases to fit their newest models too), or a waterproof camera.
Beyond this, there are compact cameras, mirrorless cameras, and the best DSLR cameras, along with a whole heap of lenses, sensors, and more to experiment with and decide.
The big difference between the three types of camera is that DSLR and mirrorless models can use different lenses, whereas the compact has just the one attached and therefore has limited flexibility.
Generally, the points you need to check for in an underwater camera are:
Good quality UW housing available – must allow for full manual control use
Ability to take a variety of lenses eg wet, fish eye, macro & wide angle
Full manual mode available
Low shutter lag
Long battery life
Ability to view histogram
Ability to manually adjust white balance
So, without further ado, let's dive in to the best underwater cameras this year: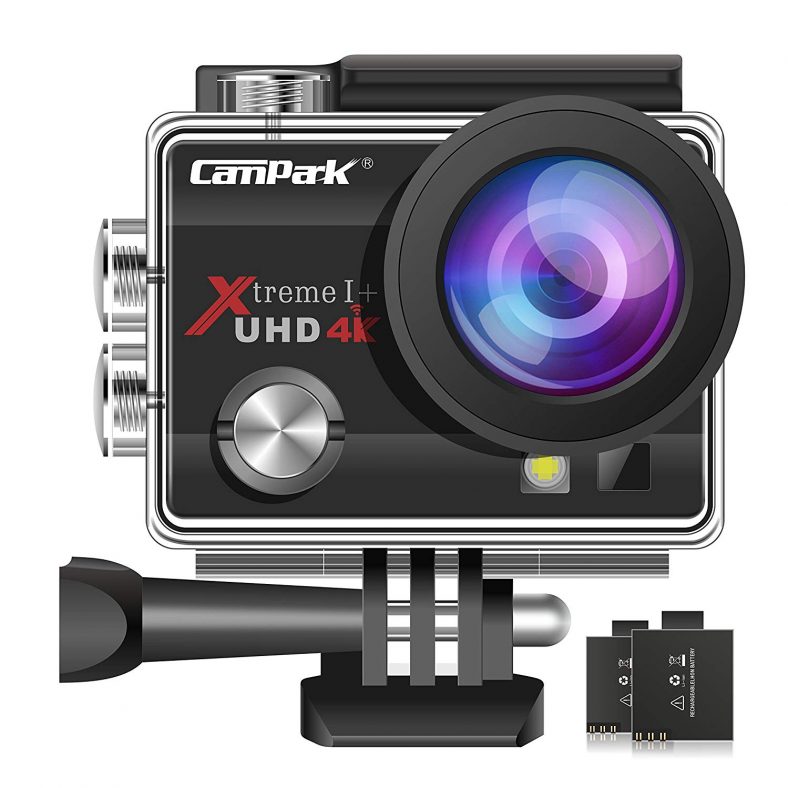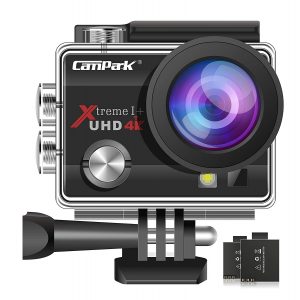 Overview
Campark have thought of everything and included it with this camera, and we were especially pleased to see the waterproof case (some cameras do not come with these included). This has all you could need to start an underwater photography obsession.
What We Like

This is great value for money and really is a brilliant piece of kit!
It is easy to set up with nice, clear instructions, and the resulting photos and video are brilliant! We swam, dived and scuba-ed with it and every time it lived up to our vast expectations. Perfect!
What Needs Improving

The only con we found was that being so small and light, sometimes it was hard to hold steady, but with the camera being so good in every other respect, it's a small thing.
The Final Verdict
Our unanimous verdict is if you want a decent underwater camera, do not hesitate to order this one!
as of June 26, 2022 8:19 pm
Features
Upgrade Series of Campark ACT74: This ACT74-Upgrade action camera records video in 4K/30fps and takes photo at 20MP, capture and share your world in a fantastic resolution.
EIS Anti-shaking Function: Equipped with built-in Electronic Image Stabilization (EIS) , this sports camera delivers stable and clear video even in fast speed movements.
Remote Control and WIFI: This action cam comes with a wireless 2.4G remote, making it easy to start/stop recording while doing sports. The Wifi and APP connection help download and share your videos or photos on social media instantly.
External Microphone: This upgrade helmet camera supports external microphone (included), which can capture sound from all directions, giving you excellent sound experience. (The external mic and waterproof case can't be used together, because the case is totally sealed.)
Waterproof Camera with Accessories Kits: With the improved waterproof case, this underwater camera can dive below 40 meters (131ft). It also comes with 2 batteries, remote control, external microphone and other multifunctional accessories (most are compatible with gopro cameras).
---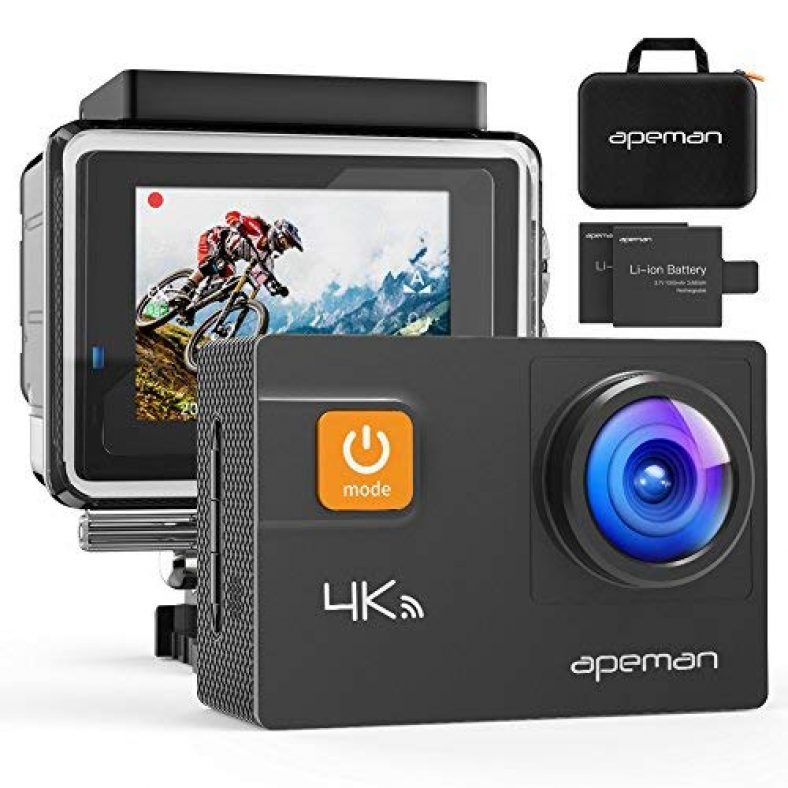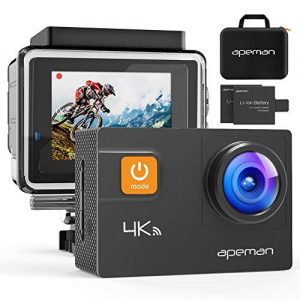 Overview
Bonus to Apeman for including batteries along with the accessories. This arrived promptly and was very well packaged, and once open, felt solid and well made. First impressions look good.
What We Like

Like the Campark, this is another bargain with loads of extras; however, the motion detection setting was a surprise bonus.
The picture and sound quality are excellent, and the 'night scene' option is fun for unusual effects.
What Needs Improving

The main negative with this camera is the battery cover; it's really hard, if not impossible to open with a nail (the human kind), so we ended up using a nail (the metal kind) and then had scratches around the casing. This, though, is certainly not a deal breaker.
The Final Verdict
A really good package for the price – a great camera and lots of bonus goodies; what's not to like!
4 new from $77.99
1 used from $63.11
Free shipping
as of June 27, 2022 1:21 pm
Features
【Ultra HD 4K / 60FPS & 8×Zoom Lens】 APEMAN A87 Action Cam had been updated into 4K/ 60FPS, with this faster frame, offer your motion appear less blurred, while at the same time giving more options for slow motion editing. With 8×Zoom Len, which can freely bring you more closer to capture the item you like, allowing greater creativity.
【Touch Screen and Preset Scenes】 APEMAN A87 action camera integrates two modes: automatic and professional.For example, record in Continuous Loop, Slow Motion, Time Lapse, etc. 6 professional modes to adapt to different environmental conditions. The excellent sensitivity of the 2-inch touch display allows you to scroll much more easily between the various modes and is perfect for quickly shooting, previewing, and playing footage.
【Gyro Stabilization and Distortion Correction】 APEMAN A87 features both electronic stabilization and gyro stabilization which allows for extremely stable shooting. In fact, the two technologies allow to detect and neutralize involuntary movements. In addition, Lens Distortion Correction (LDC) allows you to automatically correct the fisheye effect, keeping your recordings more faithful to reality.
【Integrated Wifi and HDMI Output】 By installing the "Apeman" application on your smartphone or tablet, you can have full control of the camera in real time. The integrated Wifi allows you to easily download and share videos or photos on social media such as Facebook and Instagram. Also available are HDMI, USB and AV video outputs for connection to computers, TVs and projectors.
【40m Waterproof and Accessory Bag】 APEMAN A87 comes with an improved set of accessories and the waterproof case protects the camera, in water, up to 40 meters deep. The remote control makes it more convenient to use during outdoor activities, such as motorcycling. The uniquely designed carrying bag keep all the accessories, like two 1050mAh batteries and bike and helmet mounting kits, lightweight and portable for any outdoor sport.
---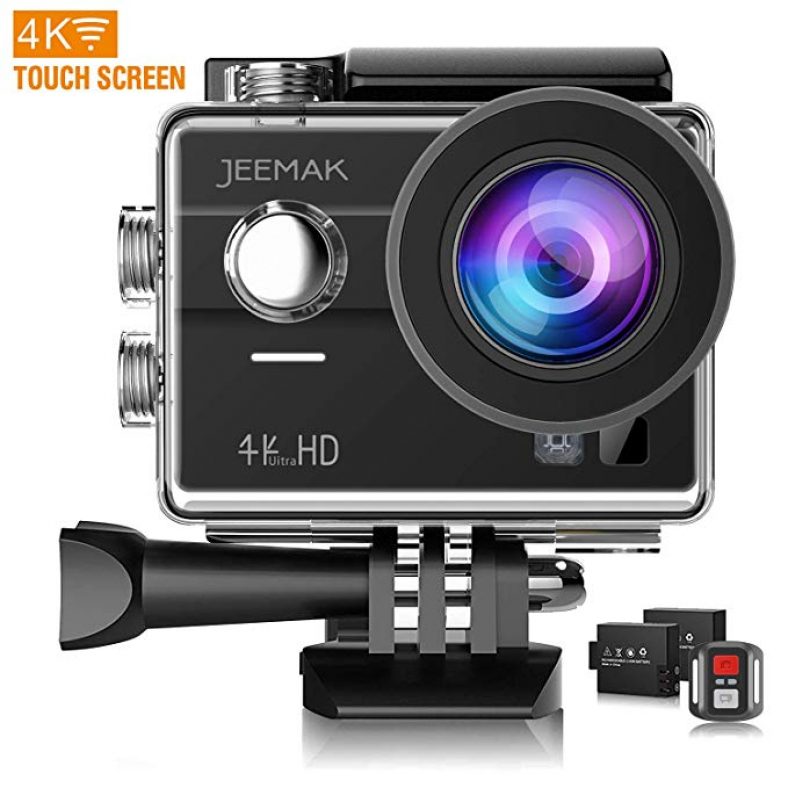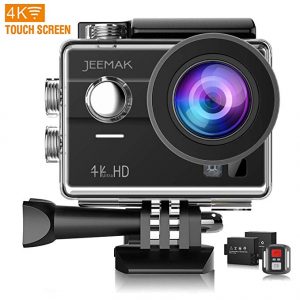 Overview
So far, all these cameras have arrived with a treasure trove of extras – the manufacturers are doing a great job of making us feel like valued clients, and this one is no different.
We weren't sure what to expect with this smart underwater sports action cam by JEEMAK, but ever since unboxing, we've been obsessed with it. This is quite possible the most advanced (and well priced) underwater cam your money can buy.
What We Like
Everything just works. The image stabilization feature operates to precision and compensates for any underwater wobble caused by water flow.
This camera is beautifully easy to use and very lightweight, the image quality with this camera is second to none, the remote works well and the batteries have lasted a long time.
What Needs Improving

The initial instructions were a little complicated at first glance, but that's the only drawback with this incredible piece of photography kit.
The Final Verdict
This is an awe-inspiring waterproof camera. It delivers breathtaking shots from beneath the surface, and we think it'll last us for many years. We've recommended it to all our nearest and dearest.
check latest price
as of June 27, 2022 4:22 am
Features
【4K Ultra HD Video Resolution & Sony sensor】JEEMAK 4K Action Camera Take Videos with 4K/30FPS, 2K/30fps, 1080P/30FPS video and 16MP photo resolution, capture high quality pictures and videos.
【Touchscreen HD LCD Display & 170°Ultra Wide Angel Lens】 Built-in 2.0 inch High Definition LCD touchscreen for easy preview and shooting. Combined with a 170° wide-angle lens bringing you more details.
【Wrist Remote Control & Build in WiFi】Features remote control, easy to control the waterproof camera when hiking,cycling or self recording. allow you preview photo/video in real-time, playback, download and share it to facebook, youtube, instagram through phone App.
【2 Rechargeable Batteries & Mounting Accessories Kit】With 2 rechargeable batteries, double recording time and double fun.Come with tons of accessories for you to attach the camera to helmets, bike, surfboards and other base mount easily.The hard waterproof case waterproof up to 30 meters, ideal for outdoor activities like swimming, water skiing, surfing,diving, etc.
【Reliable After Sale Guarantee】Purchase JEEMAK action camera,we provide professional and reliable after-sale service.No reasons money back within 45 days,12-months warranty and professional after-sale service within 24 hours.
---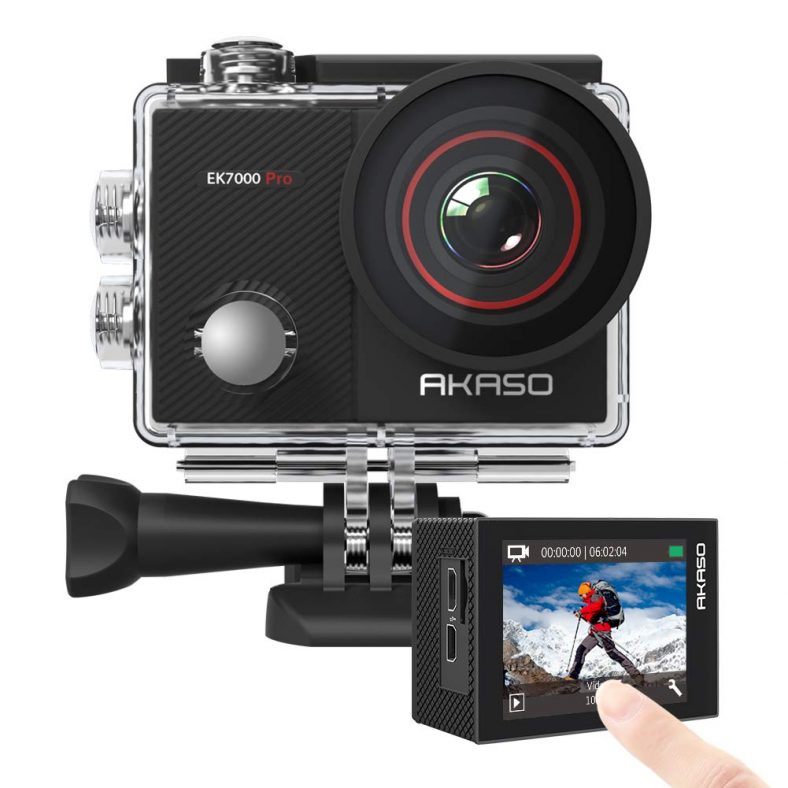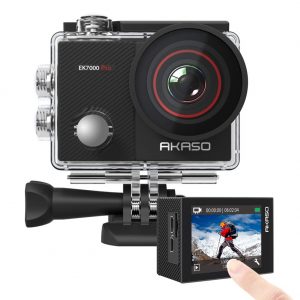 Overview
We're big fans of the sporty and robust look of this camera, and it has some really fancy features, and lots of accessories. If you're looking for an easy to use, feature filled product for your next adventure, it will do the job very well.
What We Like

This is as rugged and solid as it looks – we didn't try reversing over it, but it was almost a requirement for testing out this Akaso camera.
A case is not necessary, as it's waterproof by itself, and it's so easy to use with minimal buttons and controls – so we were filming within minutes.
What Needs Improving

Since it's waterproof, the battery housing is nearly impossible to open. The results of which ably demonstrated how robust this little beast of a camera really is, as it was flung across the rocky shoreline and still came up grinning.
The Final Verdict
A simple, strong, user friendly camera that will get your underwater photography off to a great start.
6 new from $79.99
Free shipping
as of June 27, 2022 7:27 am
Features
UPGRADE SERIES OF AKASO EK7000: AKASO EK7000 Pro action camera delivers 4K/30fps, 1080P/60fps videos and 20MP photos that capture every moment in crisp detail and unparalleled clarity.
INTUITIVE UI DESIGN: Ultra 2 inch IPS touch screen shows everything crystal clearly and brightly, easy to change settings, switch shooting modes, preview and playback footage.
ELECTRONIC IMAGE STABILIZATION: Built-in Electronic Image Stabilization (EIS) delivers steady and smooth videos. AKASO EK7000 Pro sports camera ensures excellent experience in shooting fast-moving objects.
WATERPROOF CAMERA UP TO 131FT: Equipped with the upgraded waterproof case, this underwater camera can deep dive up to 131 feet, ready to capture all details of your adventures. Ideal for water sports such as swimming, surfing, diving, snorkeling, etc.
ADJUSTABLE VIEW ANGLE: You can set the view angle of this action camera depending on your needs between super wide, wide, medium and narrow. It's easier to hit someone with low angle. With high angle you can see more.
---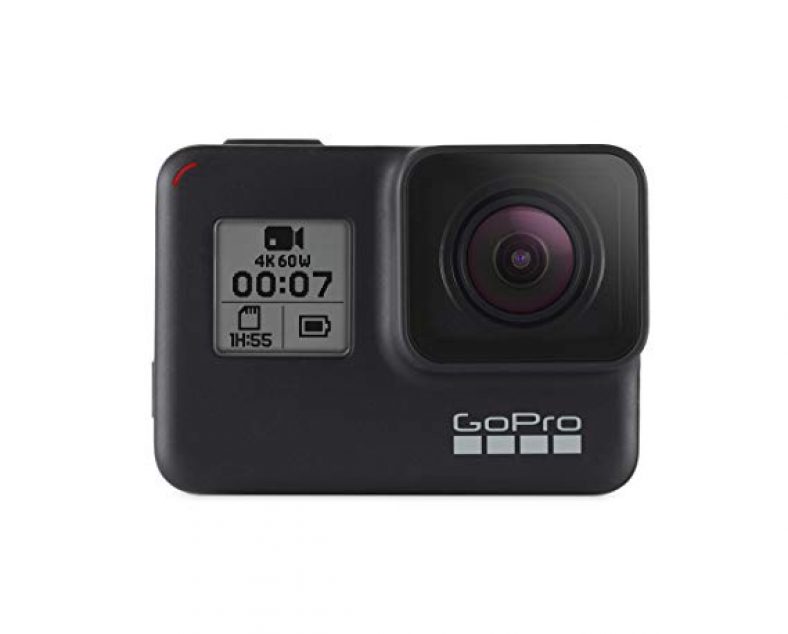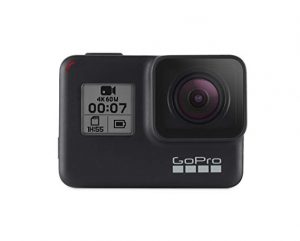 Overview
This is a sleek, sophisticated underwater camera. GoPro have created a tough, reliable, professional looking model, with heaps of features and extra accessories. The instructions are clear to follow, with plenty of images and user-friendly diagrams.
What We Like
The resolution and video stability are very impressive, but to be honest, you'd expect that with reputable company like GoPro, however the live streaming is beyond reproach. We've had some great diving experiences with this, and everything streamed perfectly, with vibrant, crystal clear colors and resolution.The voice control works amazingly well, and the Time Warp video is smooth and non-jerky.
What Needs Improving
The battery life could be longer but can be extended with an external battery pack if you plan to record in 4k for hours, so this isn't a deal breaker for us.
The Final Verdict
If you are looking for a great underwater camera that captures everything smoothly, can video, and live stream, the GoPro is an awesome choice. With effective voice controls, and touch screen capabilities, this model is easy to recommend.
3 new from $417.99
1 used from $378.00

as of June 27, 2022 12:18 am
Features
HyperSmooth: Get gimbal‑like stabilization—without the gimbal. HERO7 Black corrects for camera shake to deliver insanely smooth footage
TimeWarp: Capture super stabilized time lapse videos while you move about a scene. Increase the speed up to 30x to turn longer activities into shareable moments
Live streaming in 720p: Share while you're there. Live stream in 720p on social, get HyperSmooth stabilization as you broadcast via the GoPro app and save footage to your SD card to check out later
Rugged plus Waterproof: Share experiences you can't capture with your phone. HERO7 Black is rugged, waterproof without a housing to 33 feet (10m) and up for any adventure
SuperPhoto: Get brilliant photos automatically. With SuperPhoto, HERO7 Black intelligently applies HDR, local tone mapping or noise reduction to optimize your shots
---
If you liked this post, then also make sure you check out…