The days when scooters were considered a children's toy are long gone – our team is fully onboard with the era of adult scooters. Adult scooters are a fun and unique way for everyday commuting and transportation, as well as a fun leisure/sport activity. It's better than walking and it's great exercise, plus it satiates the inner child for those of us who never quite stopped being playful.
What you need to consider
Getting a scooter as a beginner can seem like a daunting task. To help you choose the right scooter for you, you need to consider several things. The primary focus should be on how practical the scooter is, i.e. how convenient it is to use it for your intended purposes. The second thing you should consider is the kind of performance it offers – depending on what you want to use the scooter for, sometimes it's good for it to glide either faster or slower with each push. Finally, you should look into how comfortable it is to use in terms of pushing effort and vibration from the ground during the ride.
If you're a fan of unconventional sports gear, check out our best electric bikes, as well as our top 5 electric skateboards!
With no further delay, let's look into the top 3 adult scooters for 2023: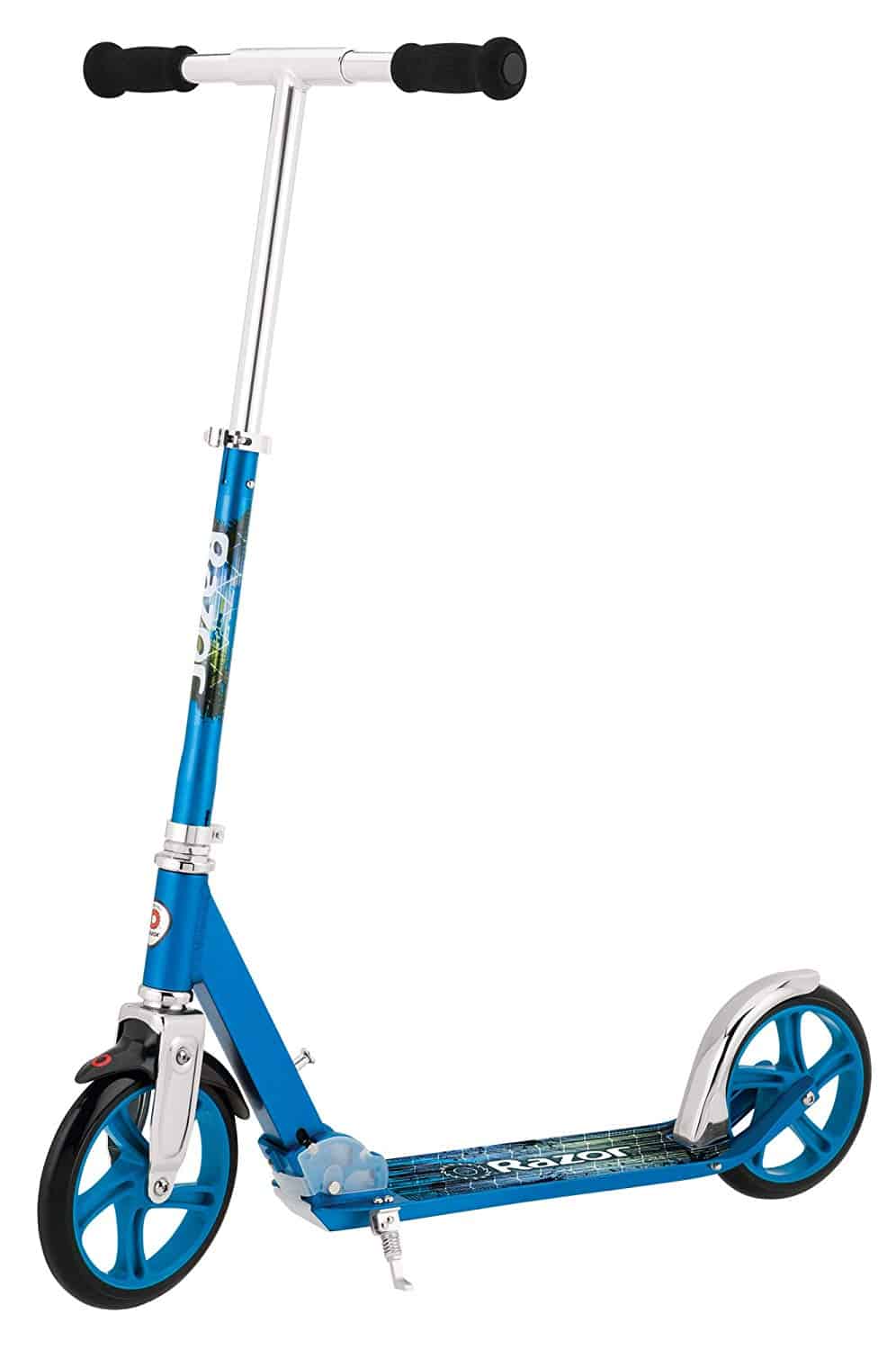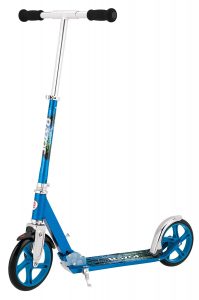 Overview
The Razor A5 Lux is one of the most popular adult scooters out there – and for a good reason. It features large wheels, an aircraft-grade aluminum T-tube and deck, and a simple and convenient folding system. Additionally, it is light and easy to carry which means it is a perfect scooter for your daily commutes. You will not waste any time on assembly because it comes pre-assembled.
What We Like
The large wheels are definitely an advantage for this adult scooter, because they provide both bigger height and greater control, thus allowing for a very comfortable and low vibration riding experience. While not the fastest scooter out there, it is still sufficiently fast and easy to push – you will not be frustrated with small distances traveled with each push with this scooter. It also weighs only 5.5 lbs and comes with a brilliant glitch-free folding patent, making it easy to use for everyday travel.
What Needs Improving
While it is a very sturdy scooter with a high-quality build and material which makes it very durable, we have noticed some rattling in the joint during rides on rougher surfaces. The large urethane wheels are firm and have a good grip on all dry surfaces, but we've noticed slight skidding while braking after heavy rains when surfaces are very wet.
The Final Verdict
If you're looking for a highly comfortable riding experience with decent performance, this scooter is the right match for you. It is sturdy and durable, but lightweight and compact enough for everyday use. Finally, it is the best value for money option, which is exactly why it is so popular.
---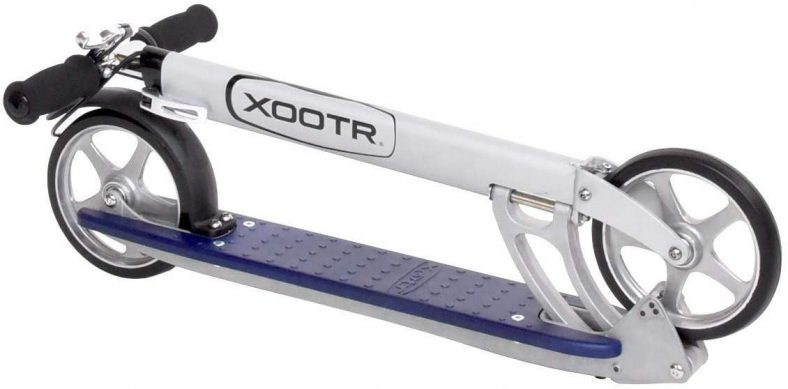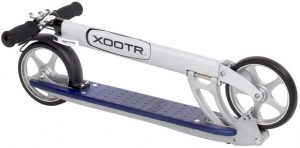 Overview
This scooter has a very stylish design, with large wheels, a sleek and comfortable handle and neck, and a shoulder strap that makes portability upon folding a breeze. It is convenient for both adults and older/taller kids, making it perfect for parents who want to ride around the block with their kids and professionals who need reliable daily transportation.
What We Like
The most prominent feature of this scooter is its unique dual brake system – it comes with both hand and foot brakes, with the hand brakes activating the dual rear break system just as powerfully as the foot brake. The scooter also comes with big wheels combined with a low set deck, which allows for a fast and stable ride. The wheels are big enough for minimum vibration but not too bulky which is good for portability.
What Needs Improving
If you're very tall, the handlebar might be a bit too narrow and short for you, despite the fact it extends fairly high up to 6'7". If you go for one of the lighter color variations of this scooter it may be harder to keep clean on the deck area due to its grippy texture, if this is likely to be an issue for you then the darker colors would be perfect.
The Final Verdict
This is the perfect scooter for parents, older kids and professionals for their everyday commutes. It is built to last, provides a stable and fast ride, as well as an extra sense of safety due to its dual brake system.
2 new from $249.00
Free shipping
as of June 5, 2023 8:23 pm
---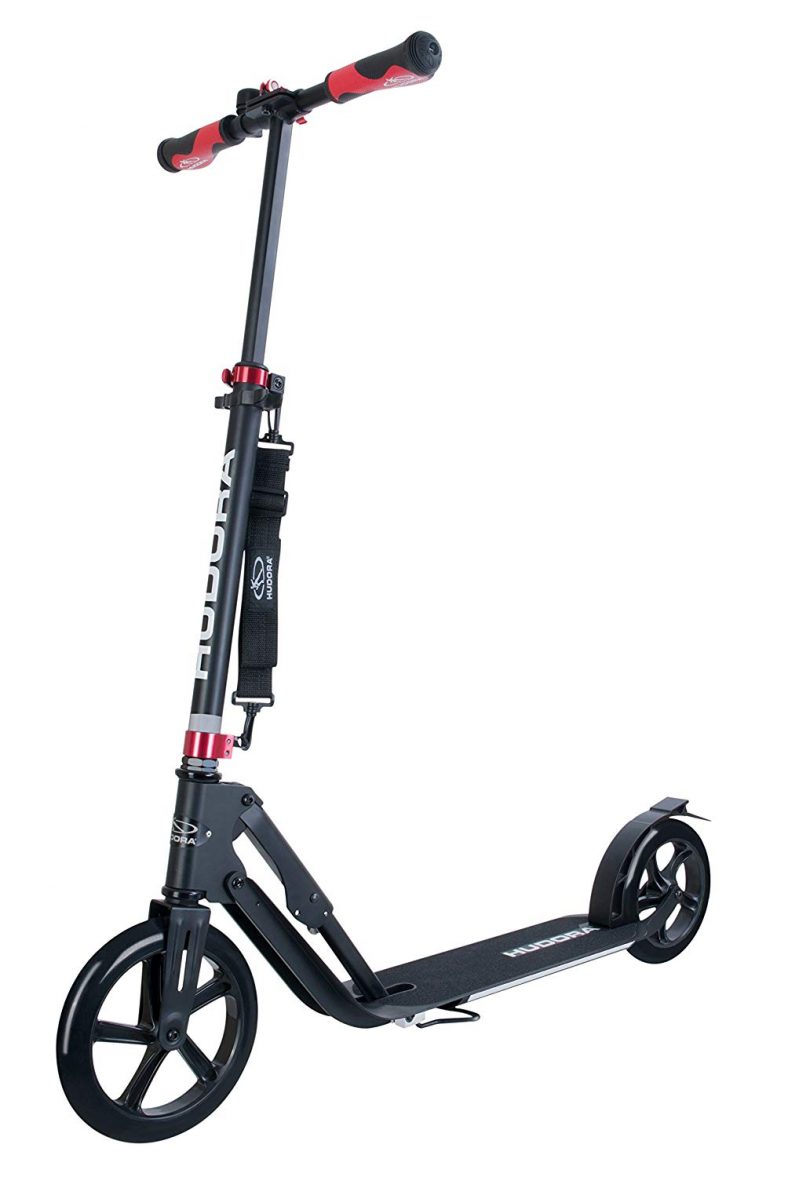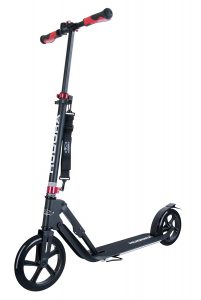 Overview
Black and red color combinations are a stylish evergreen – combined with a beautiful design, this black and red scooter will make you feel like a million bucks. Lightweight and made of high-quality materials, this scooter is stable and sturdy. To make the best of your scooter riding experience, the Hudora company made sure to provide purchasable replacements for every part of the scooter.
What We Like
With a neatly built low deck, this scooter makes users enjoy their experience in an ergonomic upright stance, placing comfort as a top priority. Apart from this, the scooter comes with fairly large wheels which barely make any noise and offer additional comfort, even for longer rides. It glides and performs well on all surfaces, allowing you to get anywhere in time. It also features a kickstand to enable the scooter to stand upright when you're not using it. Additionally, the handle extends quite a bit, so it's suitable for taller adults too.
What Needs Improving
While the scooter is easily portable, some users have had minor difficulties folding it or pulling out the kickstand the first few times. However, the patent does give in after a short time.
The Final Verdict
This is a perfect and luxurious looking scooter that provides both comfort and great performance. Its extendable handle makes it great for all body types, whether short or tall, and is made out of premium materials for a superior experience.