Take Your Skate To The Next Level

Electric remote-controlled skateboards are trending mainstream. Like with electric bikes, electric skateboards have become more complex and sophisticated. Think sleek design, powerful motors and immaculate control. We've got options below that will suit everyone, with features like the sturdiness to ride over boulder-sized rocks and the longevity to travel a few miles into town.
Over the course of the last few months, we road-tested more than 20 x electric longboards (longboard = extra long skateboards) and selected the Top 5 x for the best user experience. Some of the questions you'll find answers to on this page include:
Are the materials solid?
Will the battery last?
Is the performance good?
Is it worth your money?
Read on for the Top 5 Best Electric Skateboards stirring the skate scene this year:

Overview
Looking for the ultimate board for seasoned skaters? This premium board fits the bill.
What We Like
The deck comes with a powerful, but very lightweight poplar core. The material is highly durable, meaning that this deck will absorb even the most intense impact seamlessly.
This electric board has a top speed of 26-mph and 2 hours per charge. This figure will differ slightly depending on the hill gradient and the terrain, as well as the wheels that you use.
Other than that you get multi-speed control and state of the art brakes. Everything works lightning fast and you'll never feel like the board is about to fly out from under your feet.
What Needs Improving
It's not the fastest machine around, but the stability and steadfastness more than make up for it.
The Final Verdict
We love this SKATEBOLT. The design is well-thought-out, easily accelerating and climbing hills. With this board you'll be a pro skater in no time. Worth every cent.
---
Overview
So sleek, so thin – a skating beauty to behold.
The general consensus is that electric boards have a way to go before they look as slick as their non-powered counterparts. This Urbanpro board changes all of that.
What We Like
The graphics on the deck are some of the coolest we've seen. And that's just the start: The luxurious 11-ply maple wood deck itself is beautifully narrow, a testament to the workmanship of the manufacturers. It's definitely not style over substance; this durable board can go over handle pretty much any terrain.
Otherwise, it comes with everything you would expect. An easy wireless remote that will accelerate you to around 20mph with a range of 10 miles and 20% gradient hill climbing power. This board can be operated with one touch, meaning that you don't have to 'control' the controller at all times. Another selling point is that this board is fully adjustable for all riders.
What Needs Improving
Novice riders should take extra caution, this board will accelerate fast and break hard – so it's best suited for relatively experienced riders.
The Final Verdict
All in all, an amazing board - one of the most modern we've had the pleasure of cruising with and one that I'd highly recommend.
4 used from $241.69
Free shipping
as of June 6, 2023 3:24 am
---
Overview
Right off the bat, we love the sleek design of this super electric board from Boosted. The smooth wooden deck has natural suspension that makes for a comfortable ride. The black graphic design looks slick day and night. And its suitable for riders of all levels.
What We Like
This electric skateboard is all about clever design. The Boosted board is light and compact, which makes it ideal for carrying with you on commutes to work or to meet your friends. What we really appreciate is the solid kick-tail, not all modern boards have it anymore, but it makes such a difference to your control. Add the carry handle at the top of the deck, and this electric board is a pleasure to ride.
Now for the real kicker. The Boosted board is powered by reliable Samsung batteries that will take you up to 20mph for a range of 14 miles. On top you get a 3-mode speed control including a hill booster, perfect for all terrains.
The motor and battery are cleverly concealed. Most people looking at this automatic board would never guess it's electric, so you'll look like any other pro skater.
What Needs Improving
One drawback is the battery life. An average range of 7 miles won't last long if you're out for an epic ride. We recommend swapping for the extended life battery right off the bat.
The Final Verdict
We love grabbing a Go Pro and taking this baby for a spin. So far we've racked up well over 200 miles. The board isn't showing any signs of fatigue and looks brand new.
---
Overview
If you're looking for an extra sturdy board to take you around, this new board by SWAGSKATE fits the brief. We love the strong feel of the deck and this board can definitely sustain a few knocks and kicks.
What We Like
If you're looking for a great quality board that you can take out every day, this is the best value you're ever going to get. This board is so easy to control that you can get the hang of it even without an ounce of experience. It has a maximum speed of 18mph and range of 11 miles. That's more than enough for kicking back in the skatepark or cruising around the streets. The dual motors pack enough power for climbing hills with ease.
What Needs Improving
We loved riding this board so much and only wished that the battery lasted longer. A quick call to customer service later we discovered it can be replaced. It's a small complaint and all in all we were impressed.
The Final Verdict
This board is perfect for most riders who want to feel the stability. It looks super stylish and the wide deck makes it comfortable to ride. Its affordability combined with its quality is definitely its strongest point.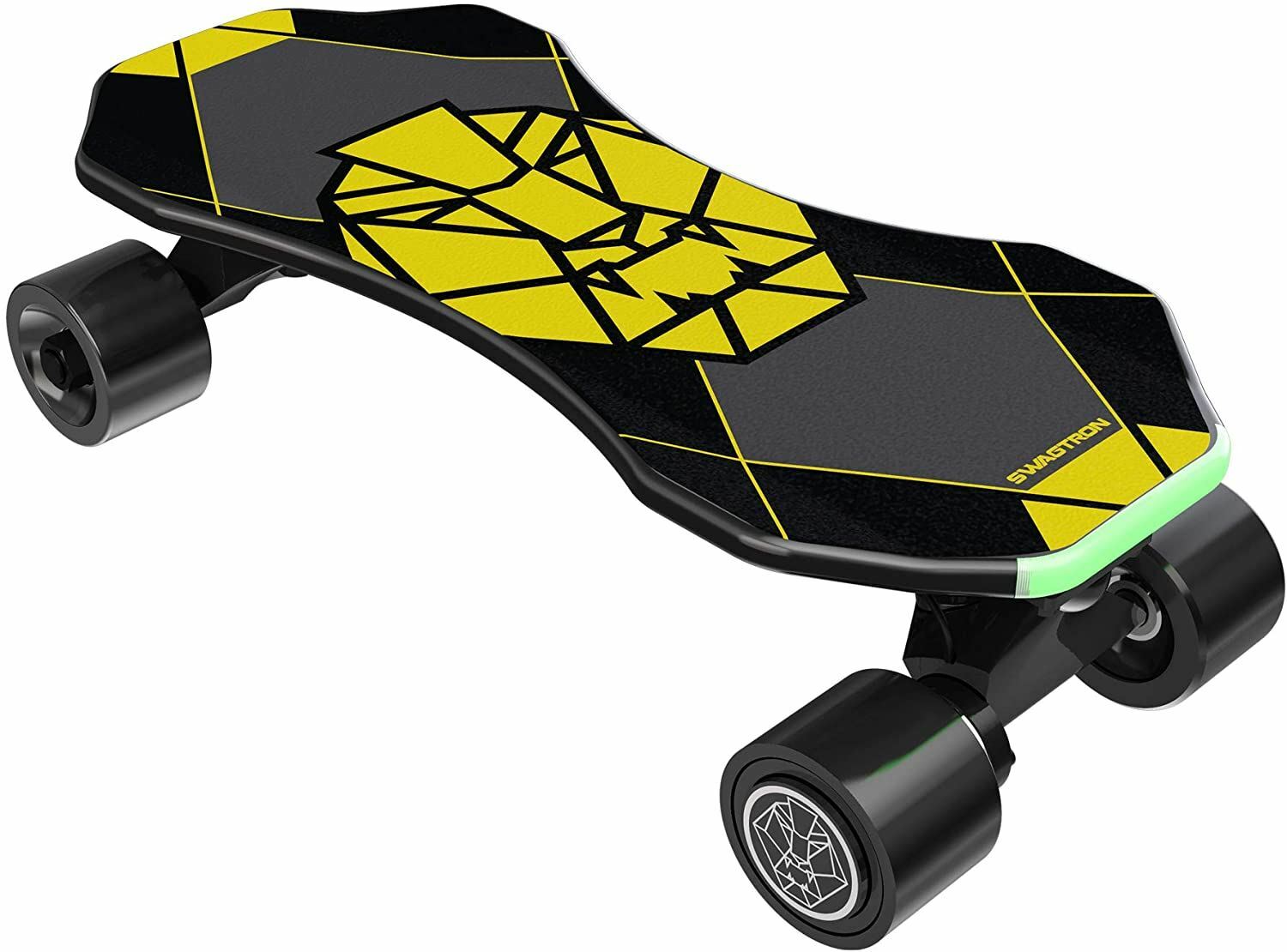 $

359.55
check latest price
as of May 31, 2023 10:19 am
Move more, kick less — kick-to-cruise locks in your current speed up to 9. 1 X Electric Skateboard. Made for epic rides — from its first ride to its 1000Th, the NG-3 will look and perform pristine. 1 X Wrench.
---
Overview
This is techy board is another great choice for new and experienced riders.
The new Aceshin comes with all the features you would want. It has the power and traction to conquer on and off-road tracks. The board is powered by a motor that can take you the distance and at fast speeds. It is perfect for kids and teens and is sturdy enough to take intense use while also being perfectly suitable for beginners.
What We Like
There's a lot to like about this super electric board.  The board is made from high-quality dense wood (northeast maple) and other impact resistant materials. It incorporates state of the art self-balancing technology, keeping you steady even at fast speeds. The max speed is 17.5 miles an hour and you get 3 x riding modes to adjust your ride.
What Needs Improving
This electric board was a little hard to pair with the remote at the beginning, but good news is that it can be paired with any 2.4GHz remote control.
The Final Verdict
Overall this board was by far one of the best boards we tested. Our in-house skaters love the combination of classic skating fair and modern features. We're always finding an excuse to ride it.
---
---
To find out more about how electric skateboards actually work, check out these neat facts!
---
To make even more out of your ride, why not experience it from a bird's eye view using a high tech drone camera! We also recommend: