Ride for Longer, Faster and Further
Once thought of as a gimmick, electric bicycles or "e-bikes" have become a sought after vehicle for hundreds of thousands of cyclists. So how did they become so popular?
Lately, outdoor gear like electric skateboards, adult scooters and hybrid bikes, has become increasingly popular among all social groups. But, in the last decade, electric bikes and electric bike conversion kits have skyrocketed in sales. In fact, it's estimated that they now make up around a third of all bicycles for sale in an average bike shop. Their design has also come a long way. In 2020, these specialized e-bikes look super modern and pack enough power to take you up to 70 miles on a single charge.
So, what do you need to consider when buying an e-bike?
The first point is what style of bike you are looking for. There are plenty to choose from – a classic step-through design, a durable, heavy-duty mountain bike or even a folding electric bike for easy carrying and storage. Then you need to think about what you would like included on your bike. If you go off-road, for example, you'll need the right suspension. And if you like to track your ride, choose a model that offers an LCD screen with real-time stats.
How do Electric Bikes Work?
Crank driven motors:
As the rider pedals, the drive system, through the rotating cranks, builds up torque, allowing the bike to travel along with ease, even up steep inclines.
Hub driven motors:
The hub motor propels the wheel independently from the bike chain so there's power on demand. With two modes of drive – pedal assist, or throttle control, you can switch between them based on the terrain's demands. Whilst the crank drive gives you a more seamless sense of riding, with hub motors you experience a more effortless ride.
Lithium-ion batteries are frequently used for powering e-bikes, and a full charge can be achieved in as little as 2 hours. The ampere rating (AH) or watt hour rating (WH) will determine the length of distance the bike can travel on a single battery charge taking conditions into consideration. But typically a 16AH battery will provide power for 60 – 70 miles.
After months of road testing one high-caliber electric bicycle after another – we're big fans.
So let's take a look at our best electric bikes for February, 2020: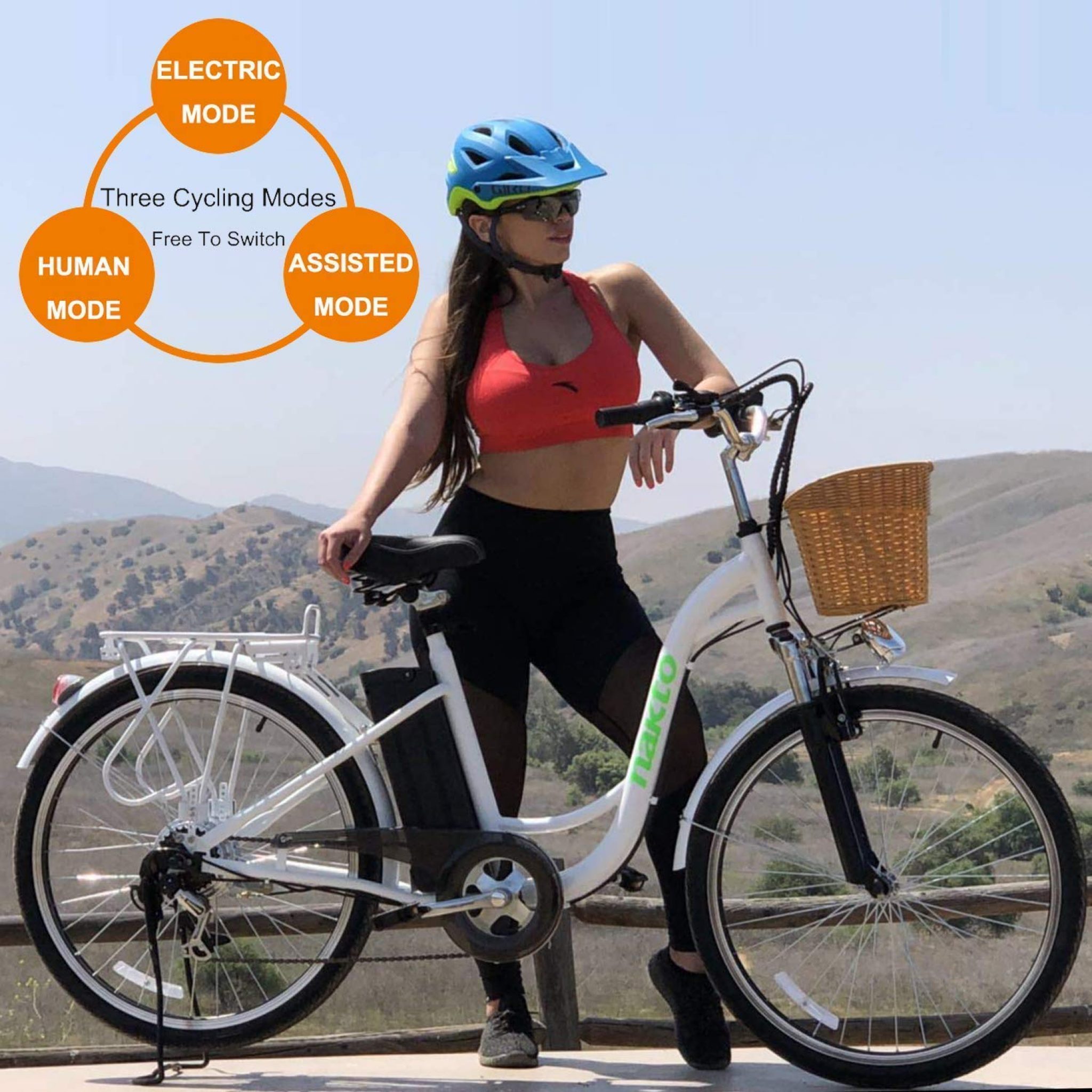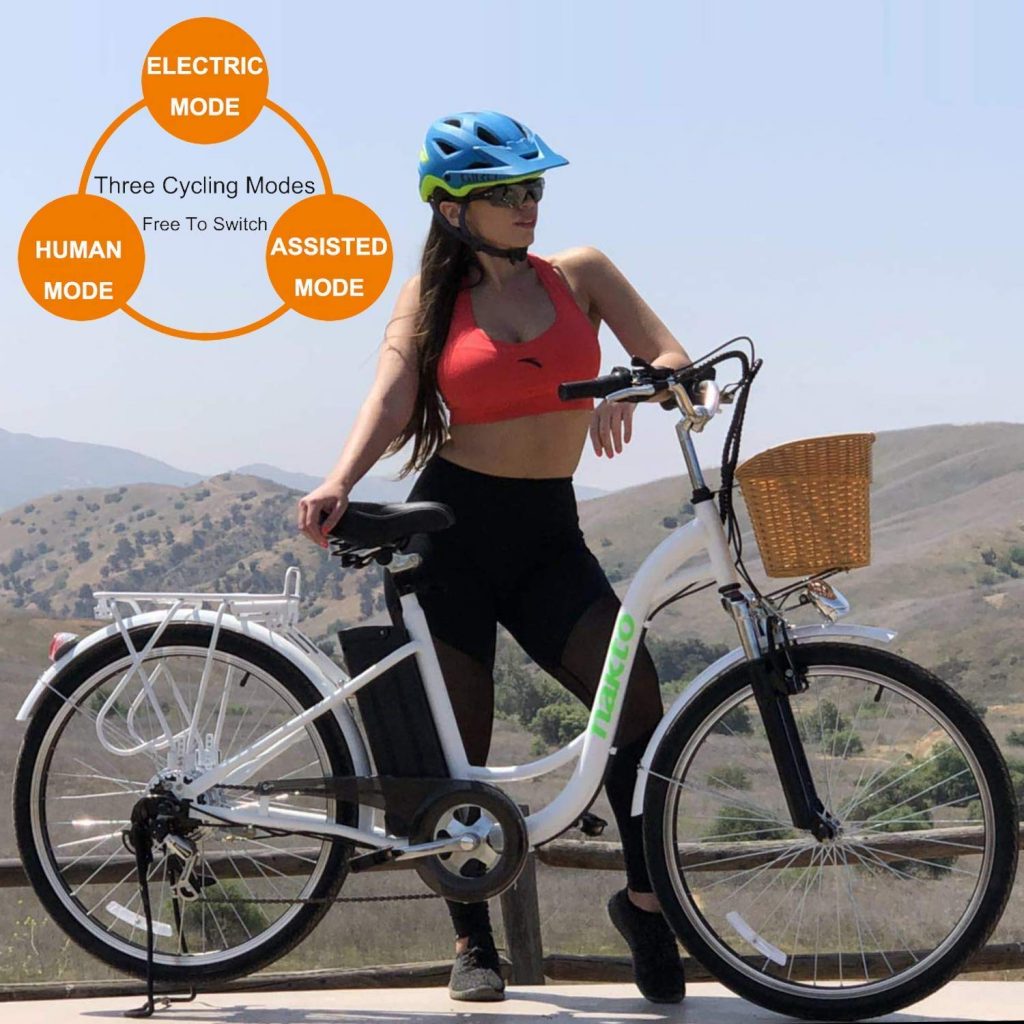 Overview
We've had a ton of fun zooming the city streets on the Nakto. First off, this is a top-of-the-range electric bike. It's built to withstand long and varied city commutes as well as rougher terrain. With cool retro styling, it looks great in any situation.
What We Like
The carbon steel frame not only looks slick but it's incredibly durable, even when the bike is left outside. The Nakto comes fitted with the best mechanics in the business – quality hydraulic brakes and Shimano gears for easy riding. Combined, these give you quick acceleration, accurate steering, and a safe stop.
The actual ride is super comfortable. The saddle is designed to give proper support to almost any body type, allowing you to cruise happily for dozens of miles. You'll definitely feel like you've worked out, minus any of the aches and pains.
What we especially love is how quiet this e-bike is. If you're riding down the street or through the park, the gentle hum of the motor is unnoticeable. This is because it's hidden by the sound of your smooth pedaling. If you're not into flashy gadgets, any ordinary person would assume you're riding a conventional peddle bike. This is a great commuter bike.
What Needs Improving
Something to bear in mind: This unisex bike is for adult riders. If you're considering it for kids, make sure that their legs touch the ground to keep them safe.
The Final Verdict
This is the quintessential electronic bicycle that's worth every cent. Packing sophisticated features into a solid frame, it has the old school feel of riding a high-spec bicycle. This is definitely a great bike to invest in, plus it comes with full warranty!
---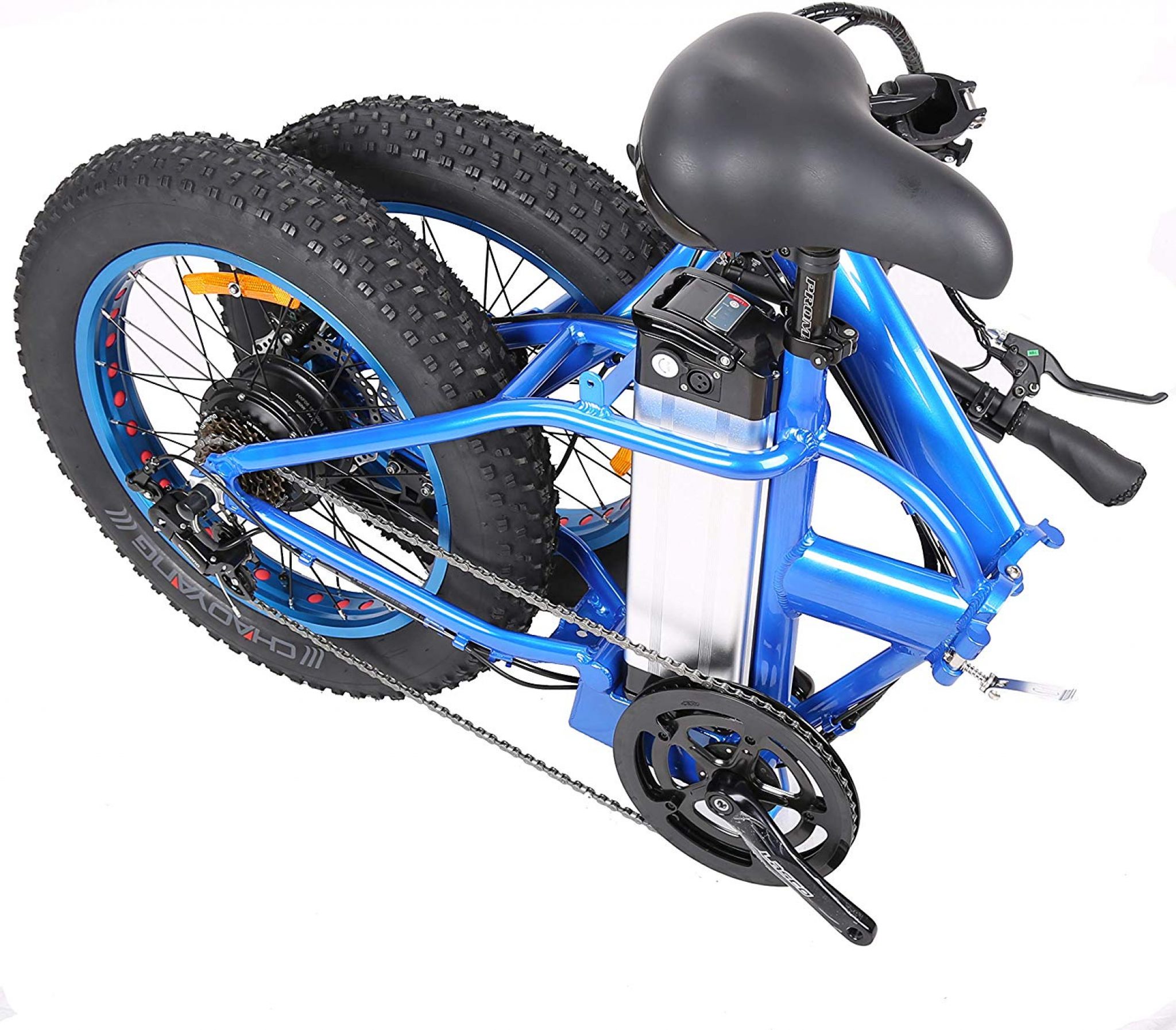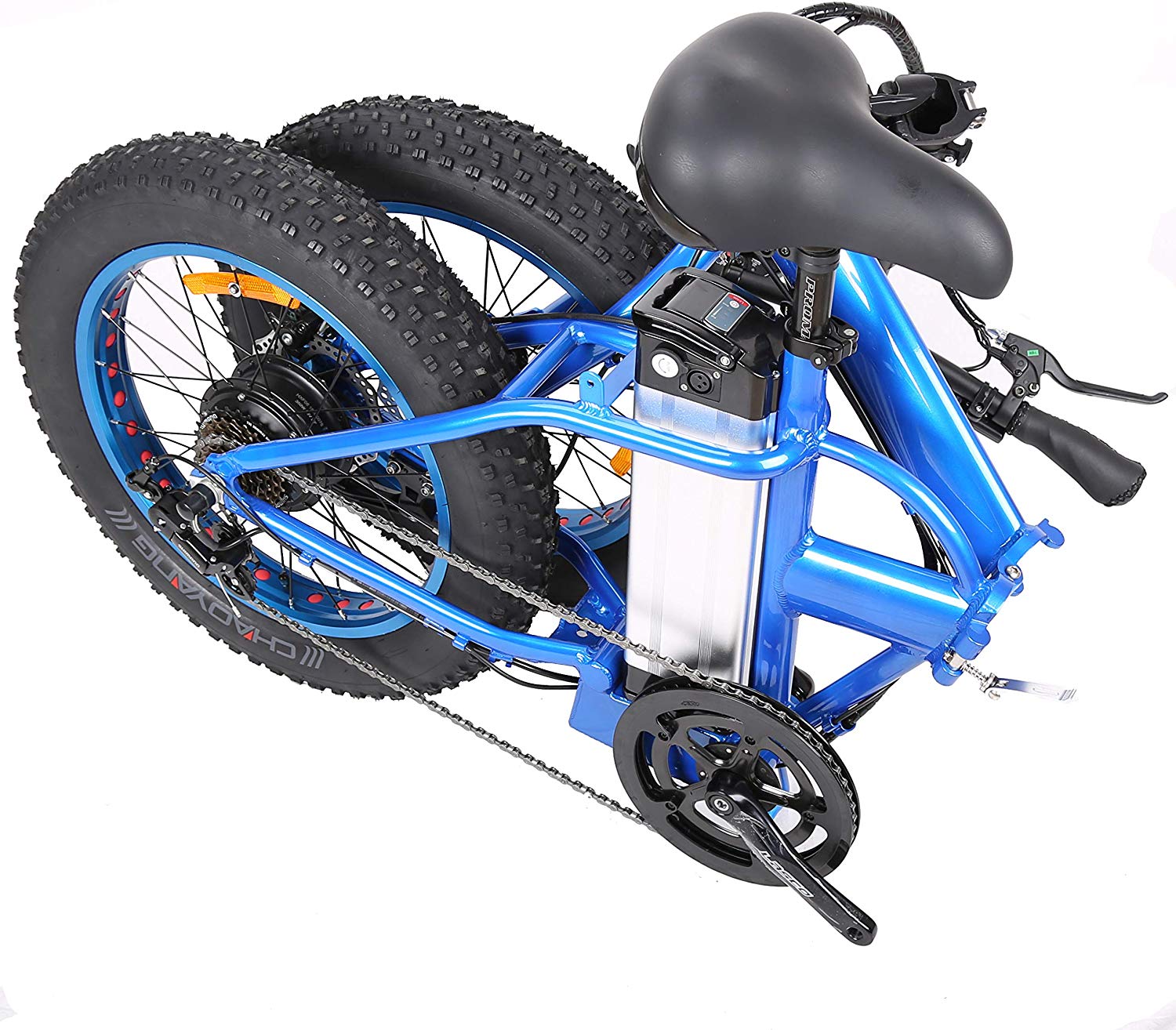 Overview
Looking for the perfect on and off-road electric bike? We've found the one for you. Dexterous and well-built, this Ecotric e-bike has attitude and style and isn't afraid to show them off. The wheels offer a ton of grip that will keep you on course from concrete to gravel.
What We Like
The Ecotric is fitted with wide tires, ideal for transferring from smooth concrete to rocky roads. The frame is aluminum, which makes this electric bike beautifully light and hard-wearing, all at the same time. There is a 1/2 twist throttle and gears that will help you get to a max speed of an impressive 20mph.
We love how smooth the steering and braking is, perfect for busy streets and technical off-road trails. Speaking of off roading – the suspension is great, too!
What Needs Improving
A little assembly is required on arrival, but with the instructions, it's straightforward.
The Final Verdict
This electric bike will thrill adults and big kids alike. It's compact, fast and safe. Perfect for city and country rides.
---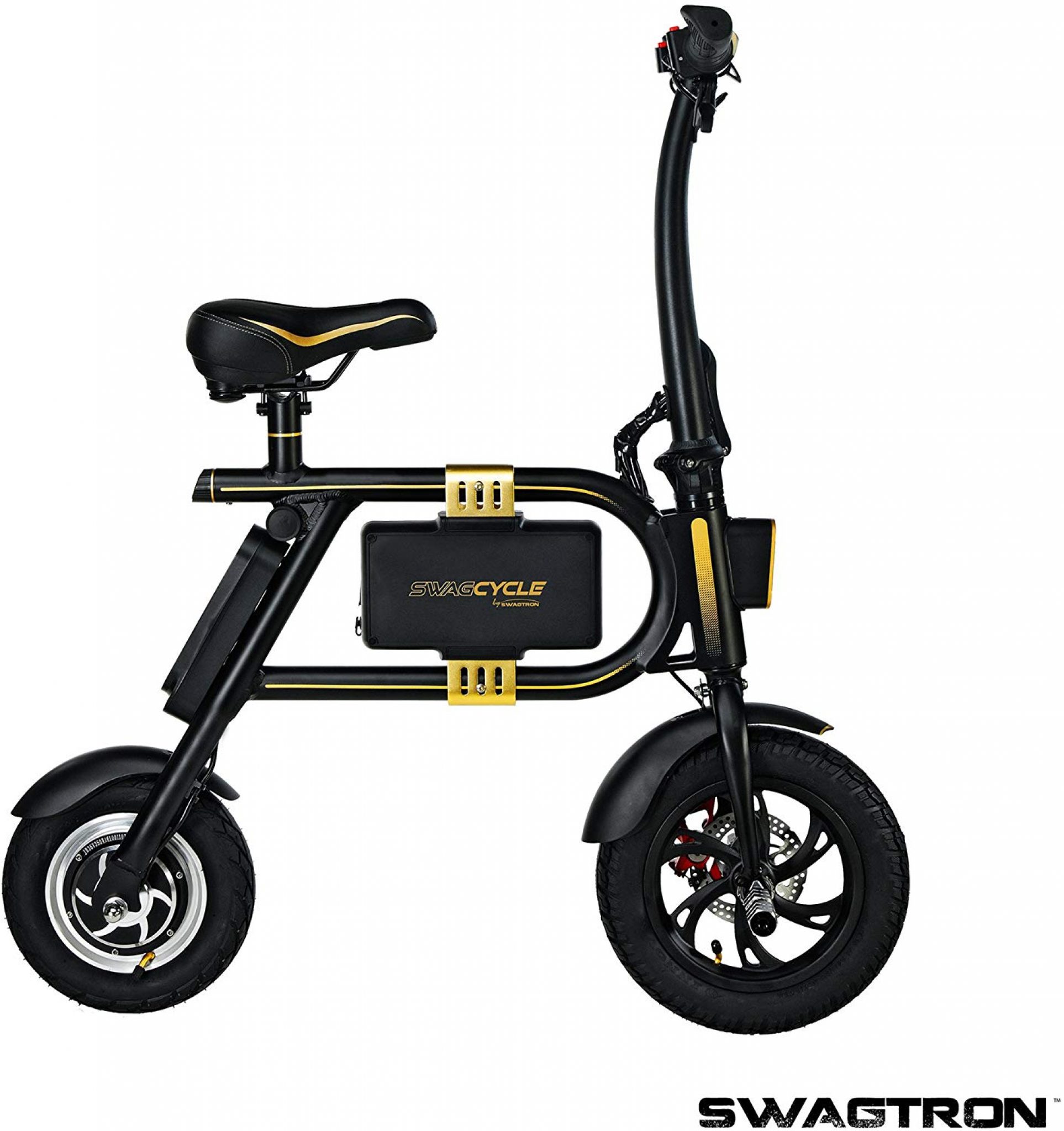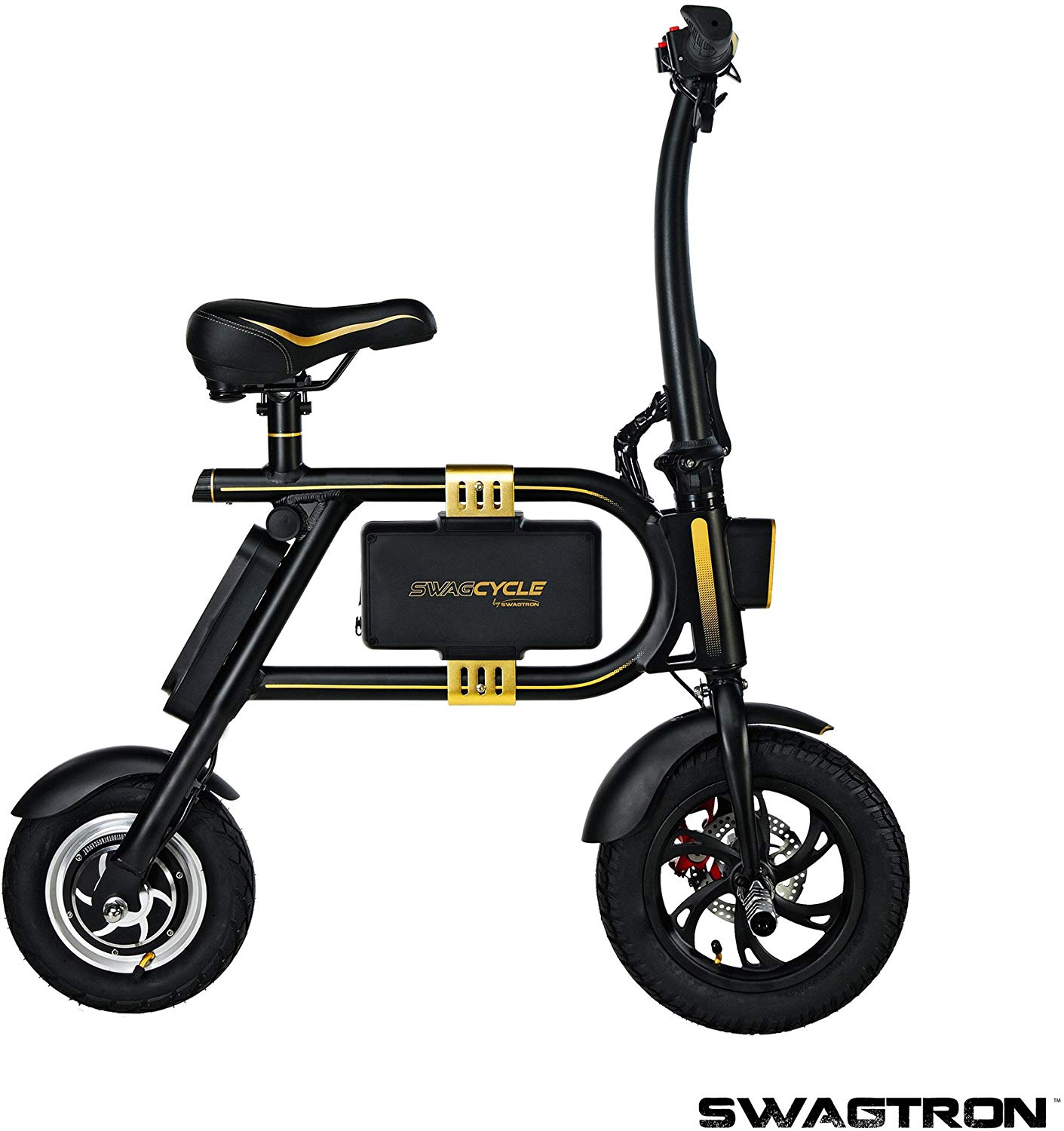 Overview
Get ready to get your swag on with this fun and unique electric bike from Swagtron. This bike is a fusion between a traditional bicycle and a scooter. Designed with comfort, safety and efficiency uppermost, this is guaranteed to get you noticed – for all the right reasons.
What We Like
The body is made from light and durable aluminum. The handlebar comes with simple controls to let you accelerate, brake, monitor battery life and operate headlights. There's even an USB point that will allow you charge your iPhone or Android on the go. With the ability to reach a top speed of 10mph, feel the wind in your hair as you zoom up and down hills effortlessly, and past all that city traffic.
To be honest, this bike is really designed for city commuters or kids riding around the suburbs. The fact that it's folding will let you carry it on the bus, on the train or even on the plane. If you want a bike that looks stunning and offers great value for the price, then this bike is the one for you.
What Needs Improving
The standard wheels aren't geared for rocky trails, however, it's simple to change them for off-roaders, if you wish.
The Final Verdict
This bike has the cool-factor for city dwellers. It's compact, portable and uniquely stylish. Apart from being amazingly easy to carry, it's also the cheapest in the category with a great price to quality ratio.
---

Overview
Ancheer are renowned for producing quality electric bikes, and this offering is no exception. With a classic bike build – no one would even spot that it's electric, it's that subtle. It feels and looks powerful, well built and sporty. With great brakes, decent suspension and very effective lights, we're impressed.
What We Like
The experts at ANCHEER have designed the perfect electric bike that will take you from cityscapes to the countryside. This is made possible by the solid aluminum alloy frame and carbon steel forks. There is plenty of shock absorption, and sizeable wheels if you do veer on to patchy roads.
This Ancheer's 36V, 8AH Ion lithium battery is removable, while the gear system is one of the best in the business. Similarly, the front-rear disc brakes are smoothly effective, bringing you to a safe stop even from speed. Speaking of speed, the maximum is 16mph and the bike will travel anywhere between 17-23 miles on a single charge. It comes equipped with a 250W high speed brushless gear motor, which allows you to travel at speed, with no jarring gear-changes. The battery charges up completely in 4-5 hours, which is the same for virtually all e-bikes.
What Needs Improving
We had to work at assembling this bike as the instructions are not brilliant, but that's certainly not a deal-breaker.
The Final Verdict
This is a great, cheap, starter electric mountain bike that can cope with tough terrain. If you're looking for a comfortable and good-looking e-bike at a great price, you'll love this one.
---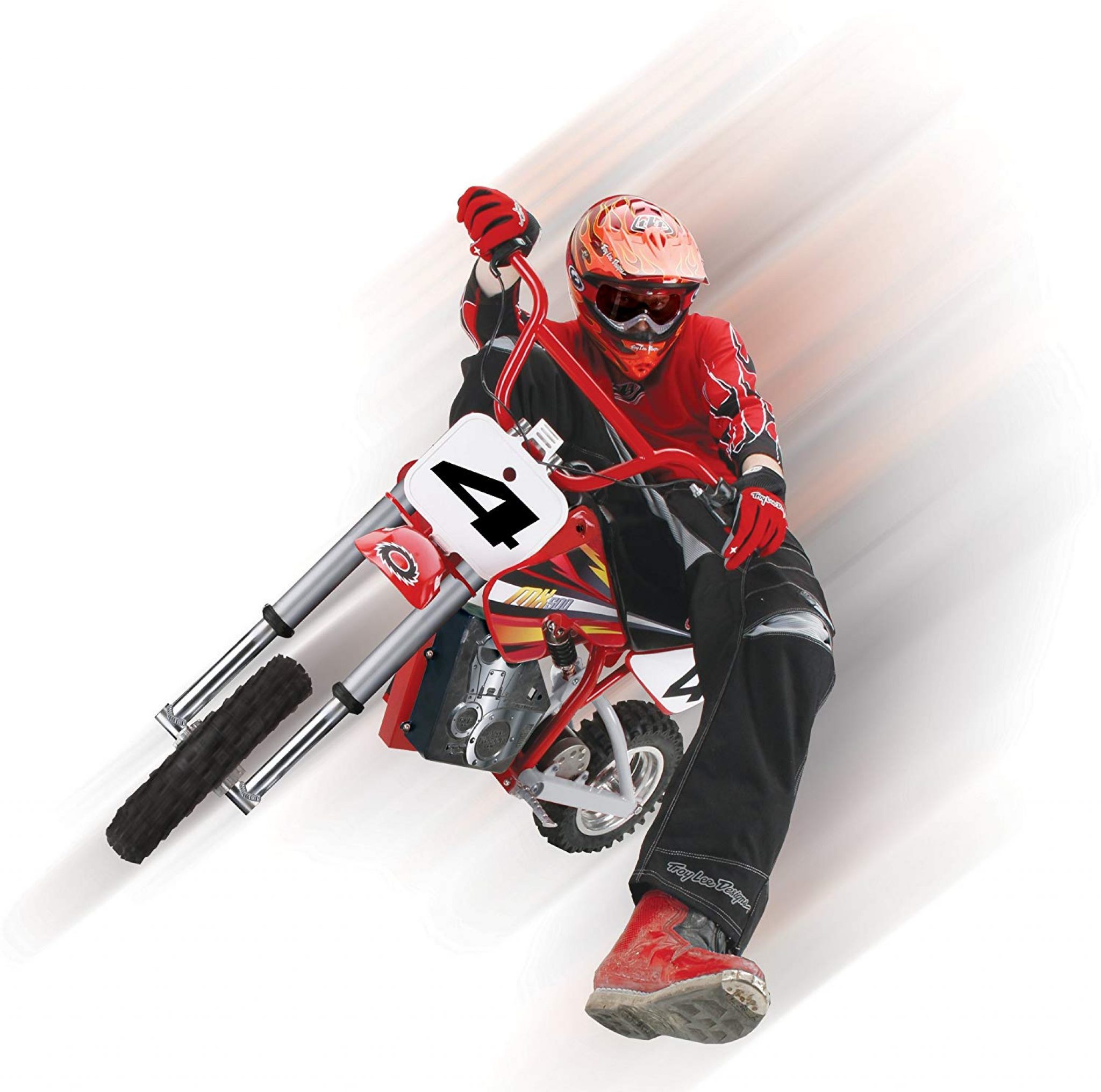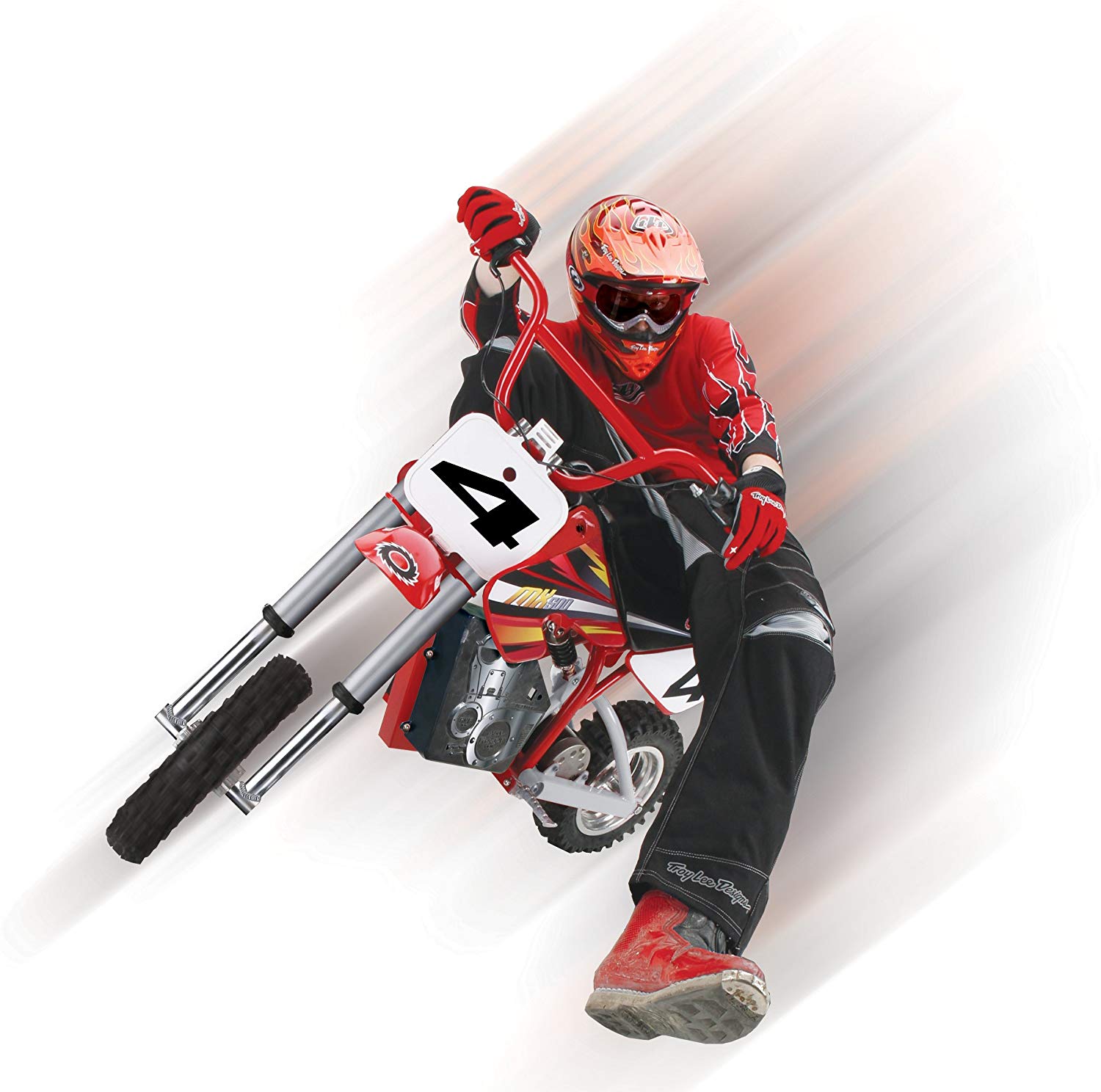 Overview
If you're a big fan of dirt tracks, check this out! Razor have developed an ultra cool electric bike that's a great dupe for motocross bikes and motorcycles. Importantly, the suspension has been well thought out, and is satisfyingly effective. With smooth braking and accurate sturdy steering, this can compete well against other dirt track bikes.
What We Like
Everyone aged 14 and above can use this electric dirt bike. It's designed specifically for rough terrain because it has a double suspension, as well as large, robust tires. This bike can reach a speed of 20 mph and features great breaks as well. The aesthetics are impeccable and the overall look is sure to impress. Don't forget your helmet!
What Needs Improving
The charging time is stated as between 4-6 hours. In reality it took around 5 hours which isn't too much of a bother.
The Final Verdict
A fun, dirt track motocross electric bike that will bring you a sense of freedom. Ideal for older teenagers and adults, the Razor delivers in performance. Cheap bikes for off-road don't get much better than this.
If you're still unsure on what features to look for among these top 5 bikes of the year, take a look at some expert guidelines by REI, a world-renowned brand for outdoor gear.
---
With experts like Digital Trends championing electric bikes, now's the perfect time to jump on the trend. While you're here, check out TGN's other popular reviews this month: