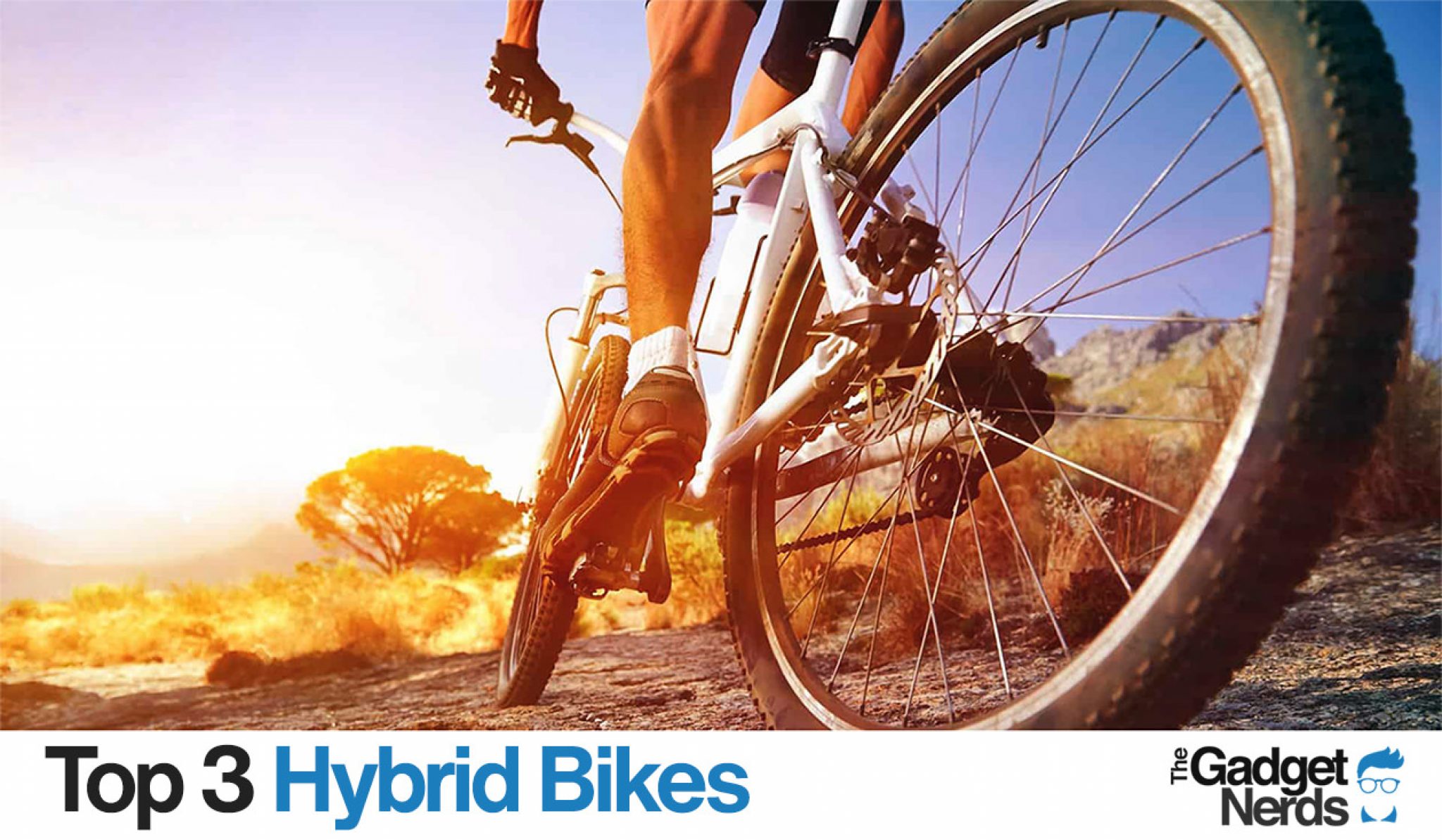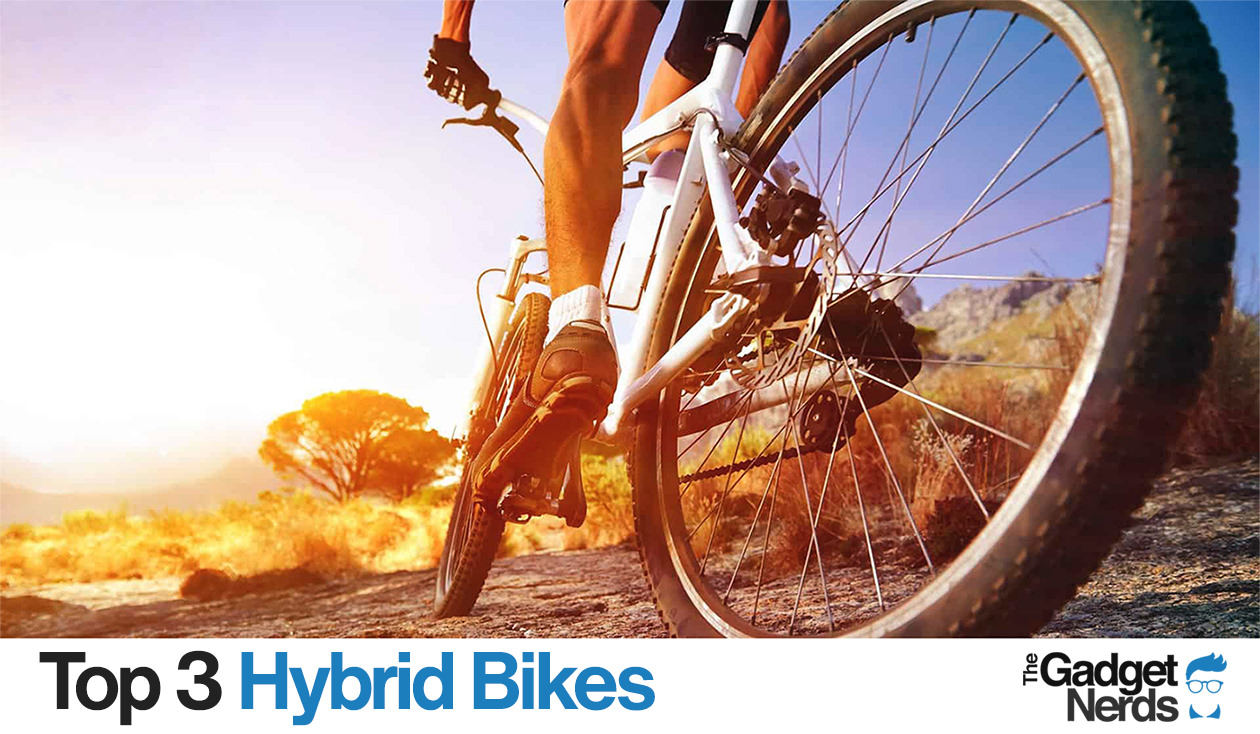 What is a Hybrid Bike?
With the term hybrid bike, we can encapsulate the characteristics of mountain bikes, road bikes, and touring bikes. When you blend all three of these bikes, you get the "hybrid" bike which can tolerate many riding conditions. Due to their comfort and stability, they are quite popular among children, commuters, casual riders, and novice cyclists.
Best Hybrid Bikes
In good hybrid bikes, we can usually find the upright seating posture, and the straight, and flat handlebars of a mountain bike, which provide exceptional comfort for the rider. The thinner wheels, lightweight, and the smooth tires are borrowed from road bikes, that gives you the opportunity to reach greater speed without exerting too much force. Last but not least, they have places to mount bags and racks, like a touring bike.
If you're just crazy about cycling and you take your bike everywhere, take a look into our reviews on electric bikes and electric bike conversion kits as well!
The following top hybrid bikes are our top recommendation as they offer an incredibly smooth and comfortable ride, while at the same time reaching great speeds.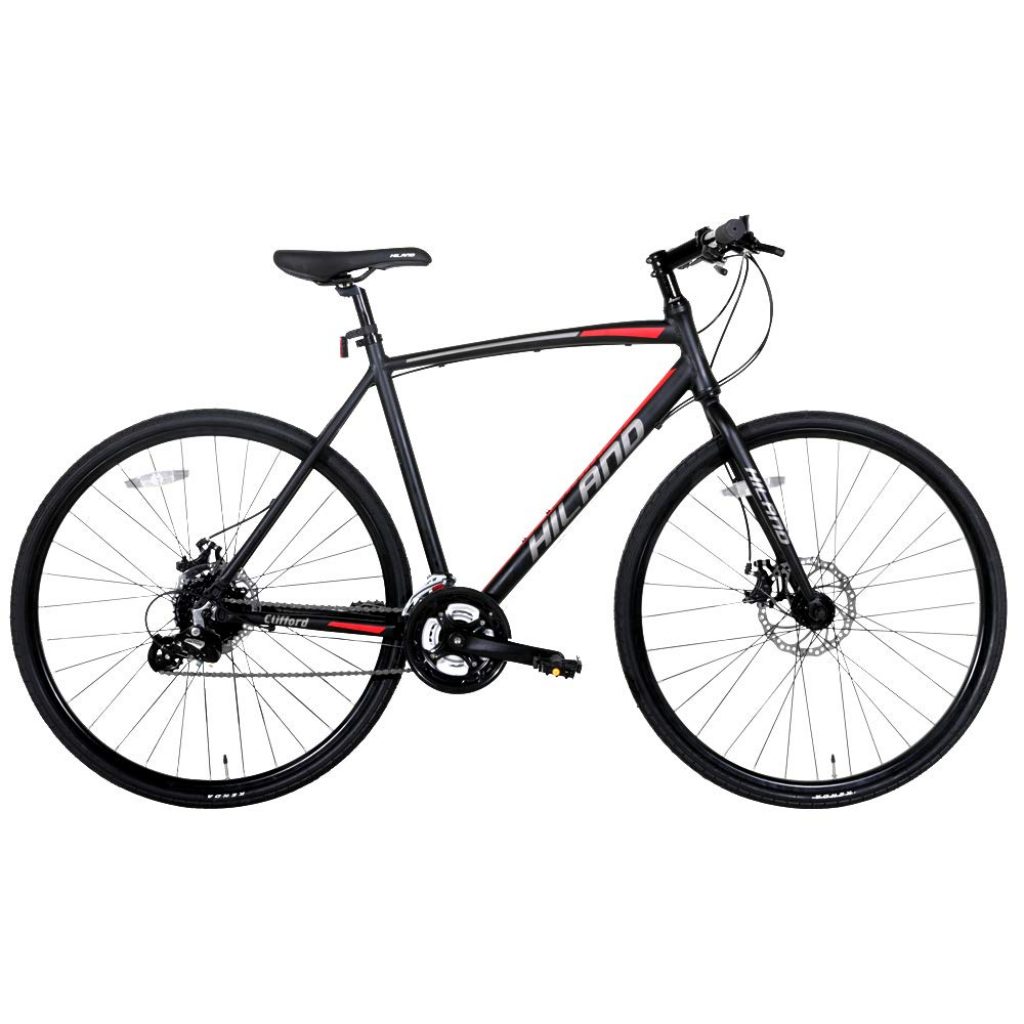 Overview
The Vilano Diverse 3.0 Performance Hybrid has 24 speeds and is the perfect bike for commuters, as well as casual riders. The frame and the fork are made of 6061 Aluminum, while the front and rear derailleur are Shimano Tourney TX. Rims are 700c, while tires are Kenda 700c x 35c. It arrives partially assembled; however, it isn't a big hassle since it takes most people 10-15 minutes to assemble it completely.
What we like
We love the fact that it is quite affordable. Finding a brand new bike with 24 speeds, and this durable isn't easy. Therefore, you will get a bang for your buck with this bike. With the specifications that this bike has, other brands would sell it for much more. Another great thing about this bike is that it only weighs 41 pounds, meaning that it isn't that heavy.
What needs improving
Assembling this bike can be only slightly tricky if you only have to rely on the instructions. People that haven't had any prior experience in doing this may encounter some difficulties, and it may take a little more time for them, but still not more than around 20 minutes. However, nowadays you can find plenty of videos online that will tell you in detail how to assemble it without having to waste much time or effort.
The Final Verdict
The Vilano Diverse 3.0 is one of the best hybrid bikes that you can buy for such a low price. With the specifications and the sturdiness that this bike has, you can expect to find bikes from other manufacturers almost double the prize. It is great for trekking as well as commuting, and at the same time, with the comfort that it provides, it's second to none. If you're looking not to save some cash and get quality at the same time, this should be your top choice.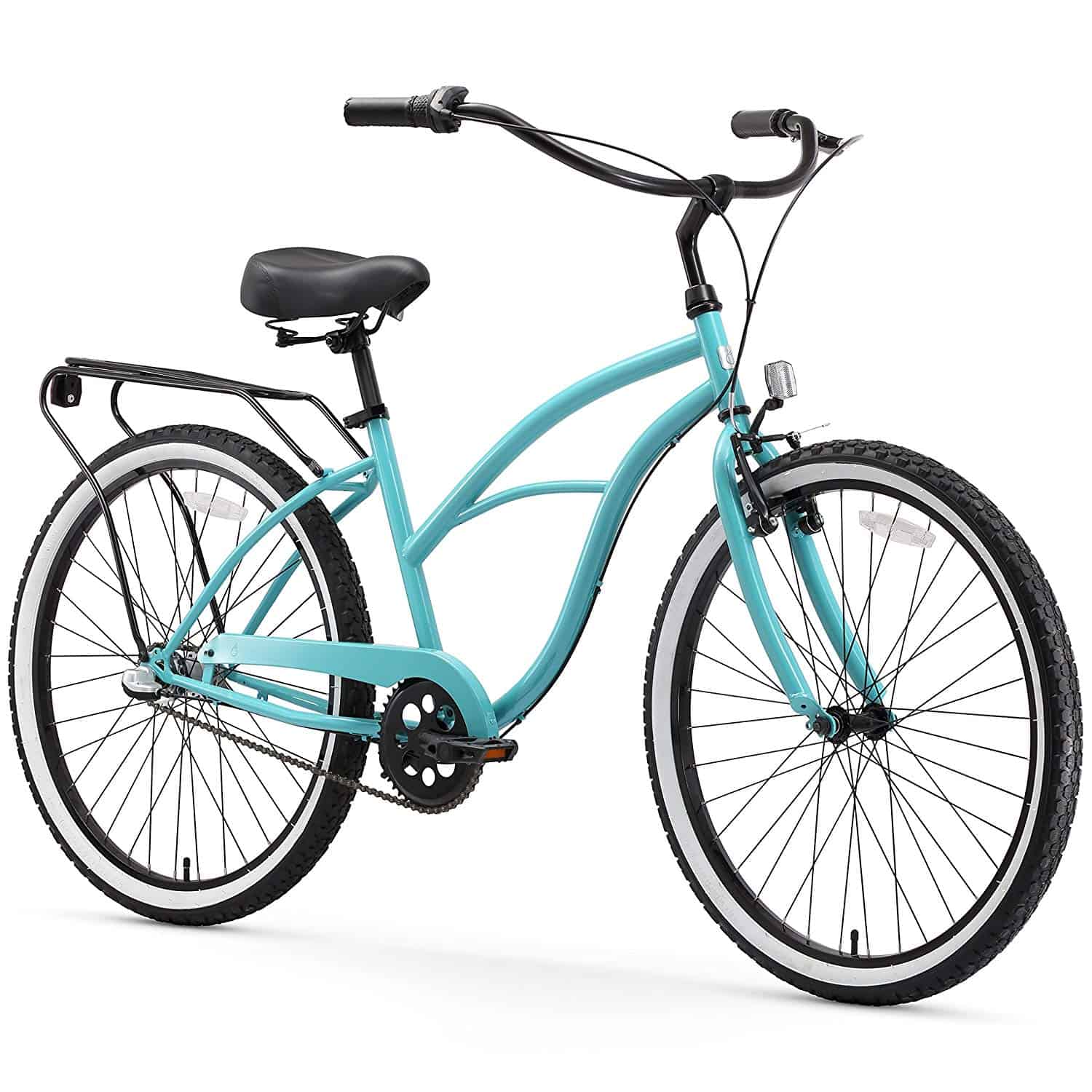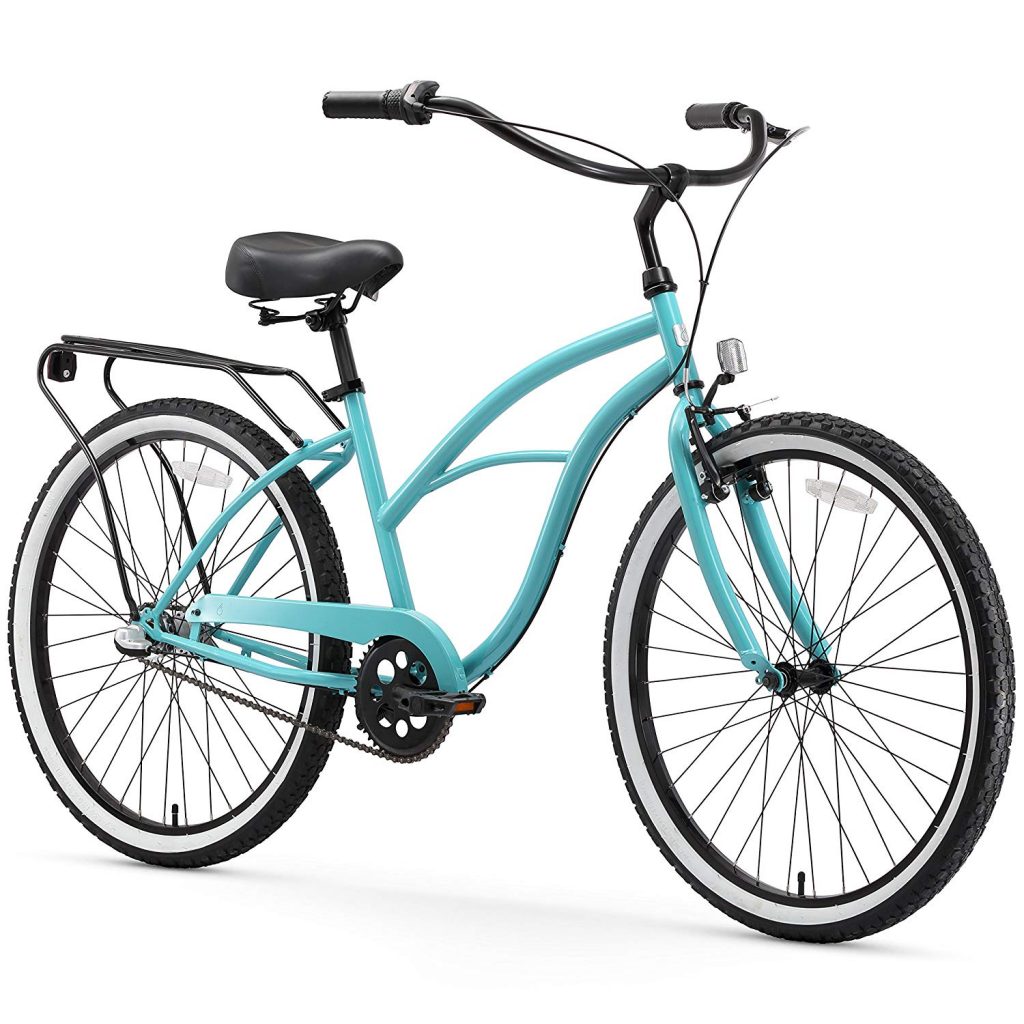 Overview
This lovely-looking ride is a women's hybrid bike. As a women's classic cruiser, it features a 17-inch steel frame that is quite durable, ideal for riding around the town. The upright riding style makes sure that your shoulders and back, stay comfortable. It has a dual spring saddle and a wide cruiser handlebar that has foam grips. The internal hub and the nexus shifter give you the opportunity to handle moderate hills and long distances. The 26-inch and 2.125-inch wide wheels made of aluminum provide a comfortable and cushioned ride.  It also includes the rear rack if you want to add a basket.
What we like
The 3-speed model helps you climb hills with ease and cover more miles at the same time. The cushion of the saddle on this bike is second to none, providing you with great comfort while you ride around town. It can fit riders that are 5'00'' to 6'2'' tall. The "blackout" handlebars don't scratch easily, and in general, you're looking at a very low-maintenance bike. We recommend this bike for commuting since it's easy to ride and the upright riding style is very comfortable.
What needs improving
The problem with assembling is quite common among people who haven't done this before. For some people, it can be a bit difficult to follow the instructions provided in the booklet that comes with the bike. However, if you have someone who's handy in your family, or with the help of YouTube instruction videos, you can solve this problem quickly.
The Final Verdict
This is a very stylish bike that comes at the very affordable price tag. It's worth every dollar. The teal blue makes it look classic, and at the same time, the comfort and the 3-speed system give the feel of riding a very modern bike. The blacked-out components are also added for style. We also can't underestimate the sturdiness of this bike. It has been a bestseller on Amazon, for quite some time, and for a good reason!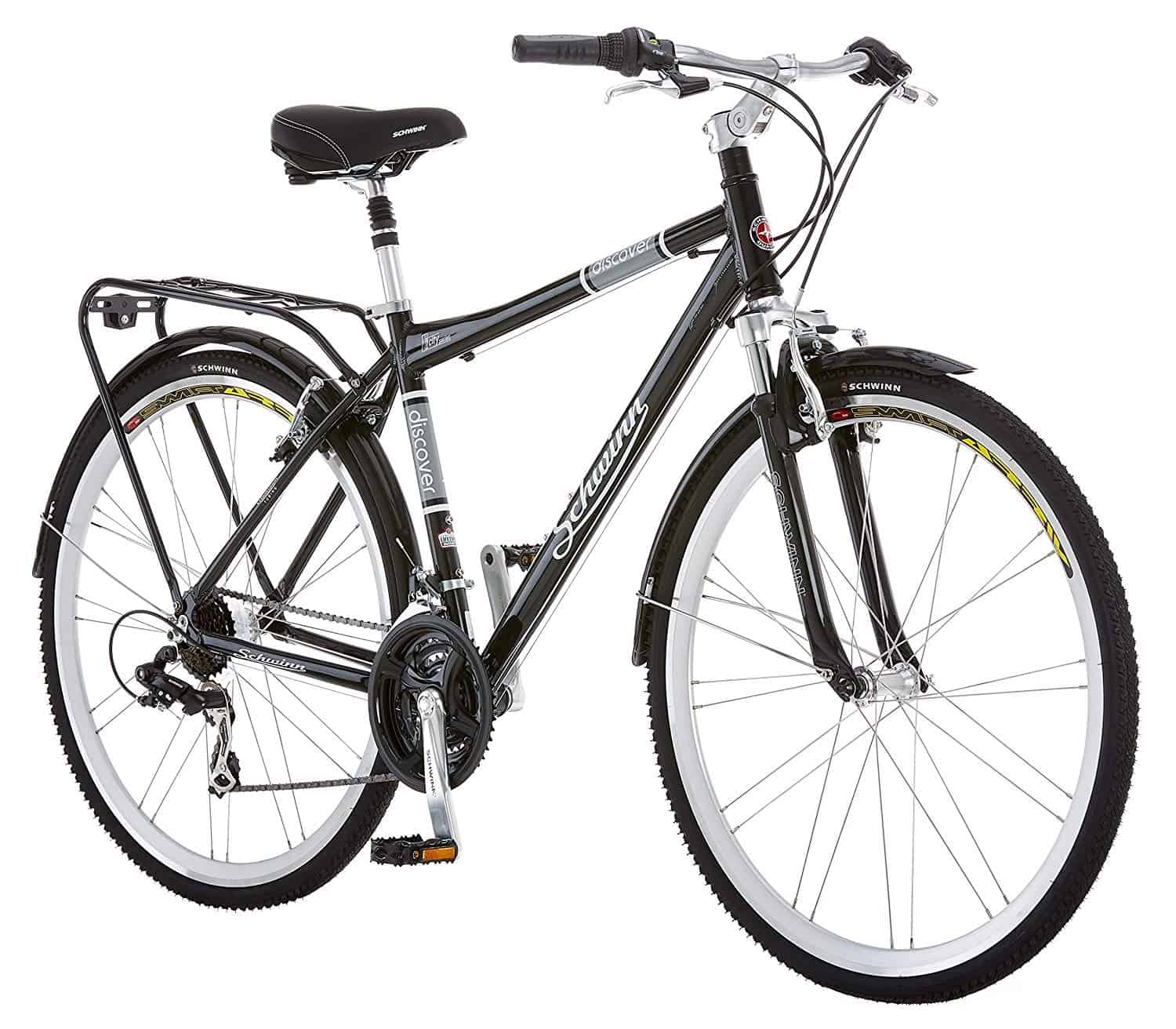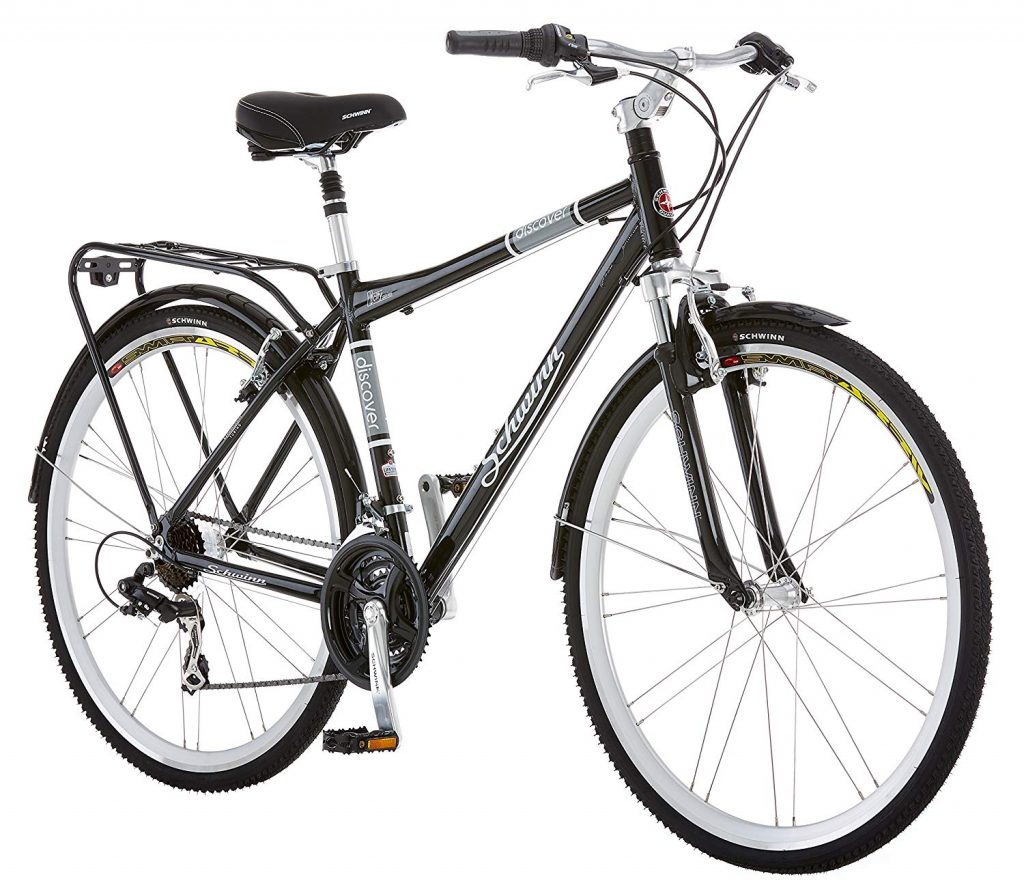 Overview
The Schwinn Discover has that classic look that fits anyone and can be used for rides anywhere. The front suspension fork makes pavement patches easy to conquer and the frame is made for urban riding, while the rear rack gives you the option to add a basket so that you can carry a multitude of things. It has 21 speeds, Shimano twist shifters, as well as a Shimano rear derailleur. The aluminum frame is quite light but highly durable, and the added fenders will keep dirt off your feet.
What we like
Anyone who gets their hands on this bad boy will instantly fall in love with it. The padded seat will keep your body comfortable at all times, and the fact that it doesn't require any upgrades, make it the ultimate hybrid bike. We tried this in different conditions, and we were delighted with the end results. You could notice that it had a little bit of everything – the right amount of comfort provided to ride in urban areas, and the durability required to ride in rough terrains.
What needs improving
In the beginning, when you first start using this bike, the front fork can feel a bit stiff, but with time the mechanism gives in.  It will definitely loosen up the more you ride it and it's nothing a bit of lubricant oil can't fix. 
The Final Verdict
Buying a bike with 21 speeds, a durable frame, a fork that can help you conquer any trail, and a padded seat, for next to nothing in price, is an incredible deal that you'll get. It's sturdy and can withstand almost anything, while also giving you comfort while you ride it. We recommend this bike for everyone that wants a hybrid bike that can do a little bit of everything.