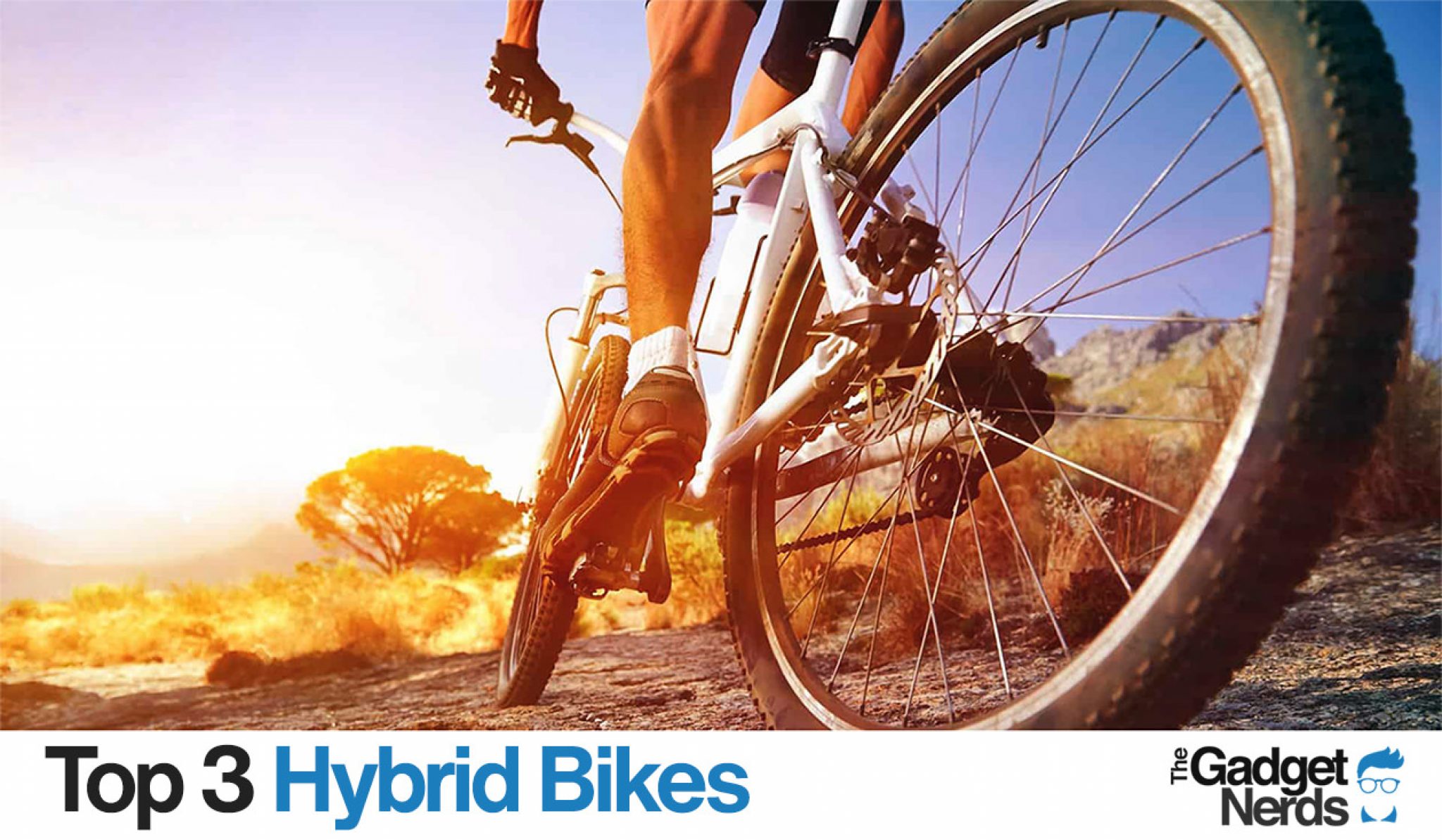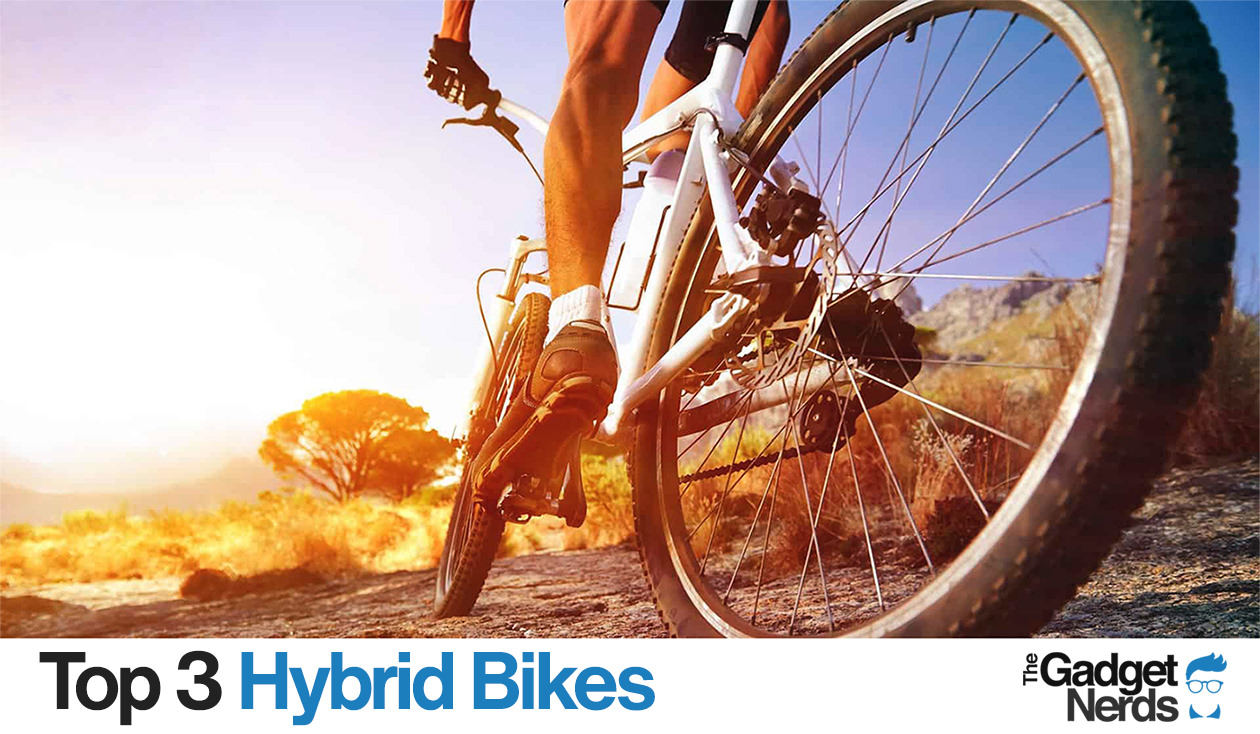 What is a Hybrid Bike?
With the term hybrid bike, we can encapsulate the characteristics of mountain bikes, road bikes, and touring bikes. When you blend all three of these bikes, you get the "hybrid" bike which can tolerate many riding conditions. Due to their comfort and stability, they are quite popular among children, commuters, casual riders, and novice cyclists.
Best Hybrid Bikes
In good hybrid bikes, we can usually find the upright seating posture, and the straight, and flat handlebars of a mountain bike, which provide exceptional comfort for the rider. The thinner wheels, lightweight, and the smooth tires are borrowed from road bikes, that gives you the opportunity to reach greater speed without exerting too much force. Last but not least, they have places to mount bags and racks, like a touring bike.
If you're just crazy about cycling and you take your bike everywhere, take a look into our reviews on electric bikes and electric bike conversion kits as well!
The following top hybrid bikes are our top recommendation as they offer an incredibly smooth and comfortable ride, while at the same time reaching great speeds.
Overview
The Sixthreezero Hybrid has 7 speeds and is the perfect bike for commuters, as well as casual riders. The frame and the fork are made of 6061 Aluminum, while the front and rear derailleur are Shimano 7. Rims are 700c, while tires are Kenda 700c x 35c. It arrives partially assembled; however, it isn't a big hassle since it takes most people 10-15 minutes to assemble it completely.
What we like
We love the fact that it is quite affordable. Finding a brand new bike with 7 speeds, and this durable isn't easy. Therefore, you will get a bang for your buck with this bike. With the specifications that this bike has, other brands would sell it for much more. Another great thing about this bike is that it only weighs 40 pounds, so you'll have no problem lifting it onto bike racks.
What needs improving
If you have no prior experience in bike assembly then it may take you a little longer to put together. However the included instructions are great, and there are loads of videos online to help if you needed them too.
The Final Verdict
This is one of the best hybrid bikes that you can buy and is a great price too. It is great for trekking as well as commuting and is super comfortable too.
---
Overview
This lovely-looking ride features a tough, but lightweight, aluminum alloy butted frame, with 28-inch wheels begging to tackle any terrain, from urban rolling to rougher cross country trails. The low profiling and sleek styling make this a tempting ride.
What we like
The wide 800mm travel fork ensures comfort whatever the terrain, which can be most welcome after several hours in the saddle, even if the rider positioning is as joint and muscle friendly as this one is. Offering ultimate control, the mechanical disc brakes and Shimano shifters, with their 21 gear options, provide a feeling of safe security as you tackle any terrain.
Super maneuverable and sleekly fast, it's ideal for commuters, but has more than enough stability to tackle mountainous trails.
What needs improving
It's a shame the Raleigh didn't include an Allen key, but this doesn't detract in any way from the quality of this hybrid bike.
The Final Verdict
This is an incredibly stylish bike, with a very budget-friendly price. Contemporary styling provides the ultimate in rider comfort alongside rugged trail blazing ability, making this easy to recommend.
---
Overview
Featuring an elastomer soft tail suspension, Schwinn's Smooth Ride Technology gives a rolling, ultra comfortable ride, whatever the terrain, while the 26-inch wheels offer maneuverability enough for the busiest commute. A Shimano 21-speed drivetrain, running alongside the EZ-Fire trigger shifters ensures infinitely precise shifts, allowing for an impressive versatility in range capability, and the lightweight aluminum frame provides an easily mobile robustness.
What we like
The Schwinn Vantage owns its classic styling, and has an innovative approach to getting from A to B. We were surprised what a difference the Smooth Ride Technology makes, and even on the toughest trail, the vibration isolating feature provides comfort throughout, eliminating the painful handlebar jar.
As a flat-bar machine, the rider position is more upright than the pure road bike, allowing a more ergonomically comfortable action, ideal for commuting, but offering more security for off-roading.
We found the gear shifts smooth, yet responsive and powerful, almost pulling us forward into the next phase, with no loss of efficiency that you sometimes find, while the disc brakes provided a reliable sense of security for an easy rolling stop, or a sharper, both-wheels-on-the-ground halt.
What needs improving
Although this hybrid bike arrives almost fully assembled, it did take us a while to figure out the placement of a couple of components – who cares though, with a bike as good as this!
The Final Verdict
If you're after a budget-friendly high quality bike, this Schwinn easily covers everything you'd want from a hybrid machine - superior comfort, the ability to cope with wildly varied trails and sleek, speedy maneuverability for the busiest commute. We really like this beast!