Everyone's Talking About E-Bikes, So What's The Score?
Electric bikes, or e-bikes, can only be described as the best of both worlds. They allow you to enjoy the full experience of a great bike ride while giving you extra power when you need it. No wonder, then, that they've become the vehicle of choice for busy city commuters, outdoor enthusiasts and long distance road cyclists alike.
E-bikes come in many different designs, which means that you can select the one that perfectly aligns with your pedaling needs and wishes. One of the best features of electric bikes is that they are folding. That makes it easy to carry them on long commutes or to pack away in the back of your car or a plane to take away on holidays.
The two basic types of electric bikes are:
The Pedelec – what this system does is supervise the pattern of the rider's pedaling, adding some motor assistance to it.
'Twist-n-go' – You can use a switch to cause the assistance from the motor whenever you need it – uphill if you're tired, or just because it's fun!
Next, let's talk about motors.
The hub assisted motor makes the e-bike run almost silently, however some are less efficient for steep hills than the crank assisted motor. By detecting how hard you're pedaling, it measures out assistance accordingly. They have a reputation for efficiency, even up steep gradients, but are a little louder than the hub motors. Hub assisted motors can also be incorporated on to a traditional bicycle using electric bike conversion kits.
Environmental sustainability is not only about the bike being electric. The fact that the bike was produced in a sustainable way, i.e. the quality of its construction, is also what makes these bikes a big plus. You can anticipate your bike lasting around ten years with regular service. If that's not value for money, what is?
So taking all of this into consideration, TGN's top reviewed electric bike is: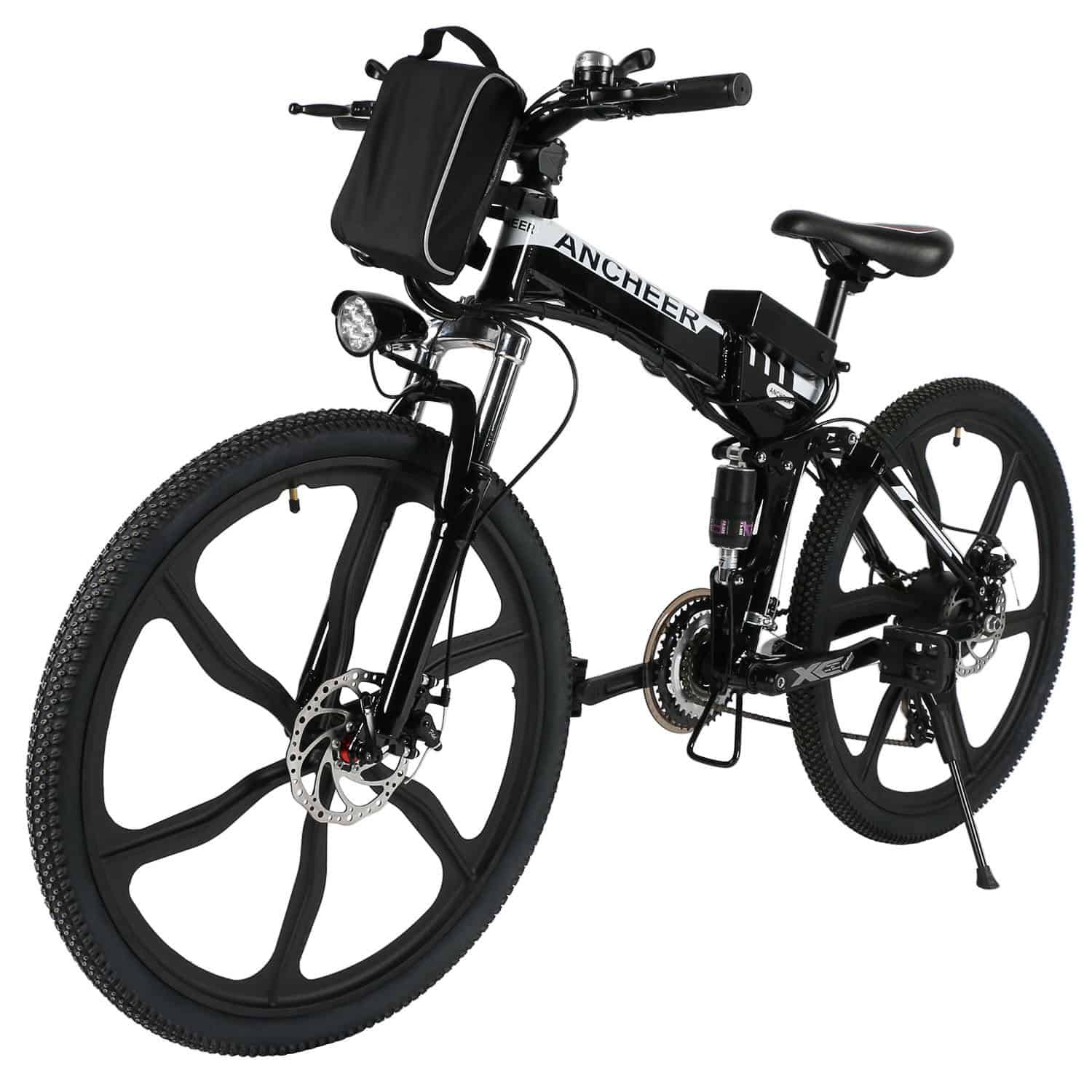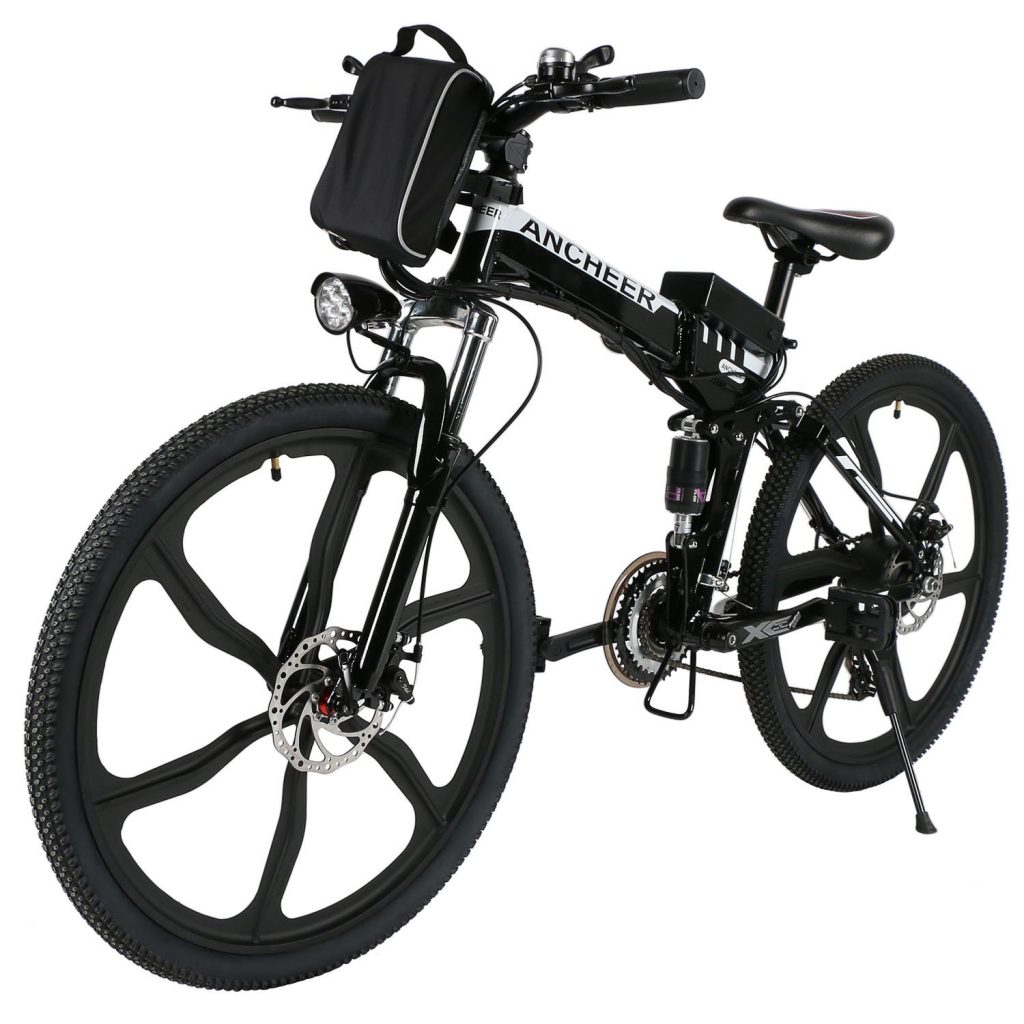 Overview
Designed by Ancheer – the company at the cutting edge of e-bike design and innovation, to be easily folded, makes this is a great bike if you commute to work or college, want to pop it in the trunk of the car, or carry it on the train.
Robust and rugged, this is a seriously good looking bike, but without all the unnecessary whistles and bells. It looks honest, and feels reliable, with a frame of ultra lightweight aluminum, and a top speed of 30 mph, it's great over uneven terrain, city streets and hill climbing. Ancheer provide a one year warranty.
What We Like
With the LED smart meter controls, you can choose between three modes – normal bike, e-bike and assisted bike. You can pick whichever one suits your needs at that moment – add a burst of speed to pull away from traffic lights, or steady up to climb a steep hill with the motor doing the hard work.
The double shock absorption provides a smooth and comfortable ride, no matter what the terrain is, and the Shimano 21 speed shifter allows for perfect control on or off road.
Having both a front and rear disc braking system means that near-instant stopping is not a problem, and there's no chance of harming yourself, others or, most importantly, your bike.
What Needs Improving
It does need a little assembling, however this only took us 20-30 minutes, and if requested, it can be delivered ready assembled.
The Final Verdict
Robust, rugged and stylish, this is an awesome e-bike. Lightweight enough to carry one handed when folded, it's great for commuters, off roader's or those who just enjoy cycling.
---
See our other hand selected recommendations: