Your Favorite Photographs Displayed In The Best Light

Digital picture frames are the future of displaying your most loved photos and artwork in your home. Through a memory card or USB connection, they create instant slide shows showcasing your favorite visuals. Some frames can even add video and audio playback, WiFi or Bluetooth.
Here are a few pointers of what to look for when buying a digital picture frame;
Always choose the best resolution – 640 x 480 pixels or higher
Screen size is usually 7 – 10 inches
Aspect ratio – this describes the proportional relationship between its width and its height. The most common are 4:3, 16:9 or 15:9
After our tests, these are our top choices for digital picture frames:
Overview
With a variety of sizes available, we opted for the 8" widescreen large picture frame. This black picture frame looks smart, well made and comes with batteries – a solid start.
What We Like
The programmable motion sensor is a great idea, and it can be set to switch off after 1 minute up to 1 hour, once the room is vacated. This feature can, of course, be disabled should you choose to do so. The picture quality is great once you've got the contrast, brightness and settings to your liking, while the slideshow scrolls smoothly and at a perfect speed (which is adjustable). We love the sophisticated dark color on the frame – it makes any image "pop".
What Needs Improving
It would be great if the NIX photo frame came with a memory card, but they're easy and cheap enough to order. Other than that, our main complaint is that the photos are not displayed in the order we put them onto the drive; but with a tweak in the settings, this can be easily resolved.
The Final Verdict
This is a smart, sophisticated digital frame, with smooth lines and great display functions. Overall an outstanding product.
---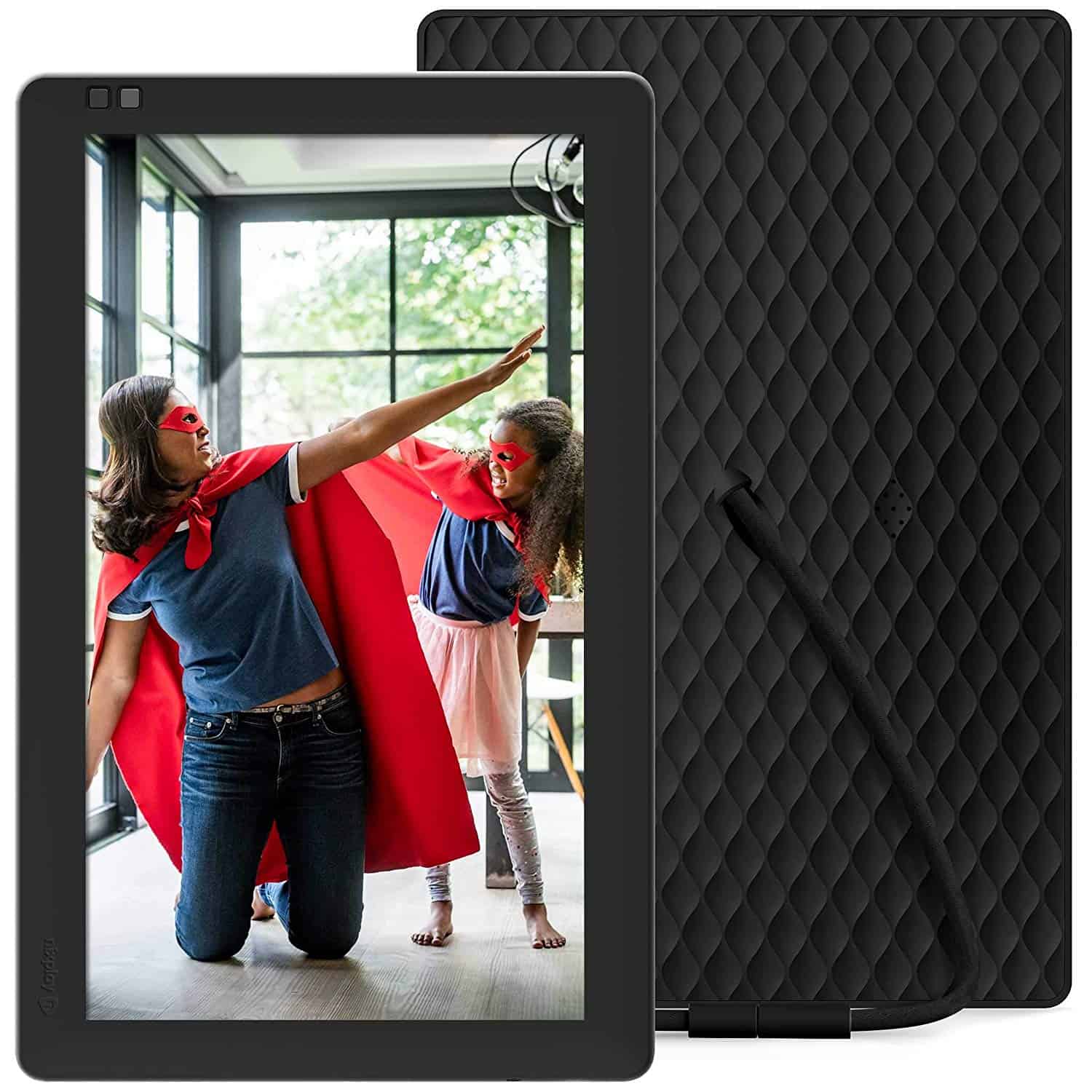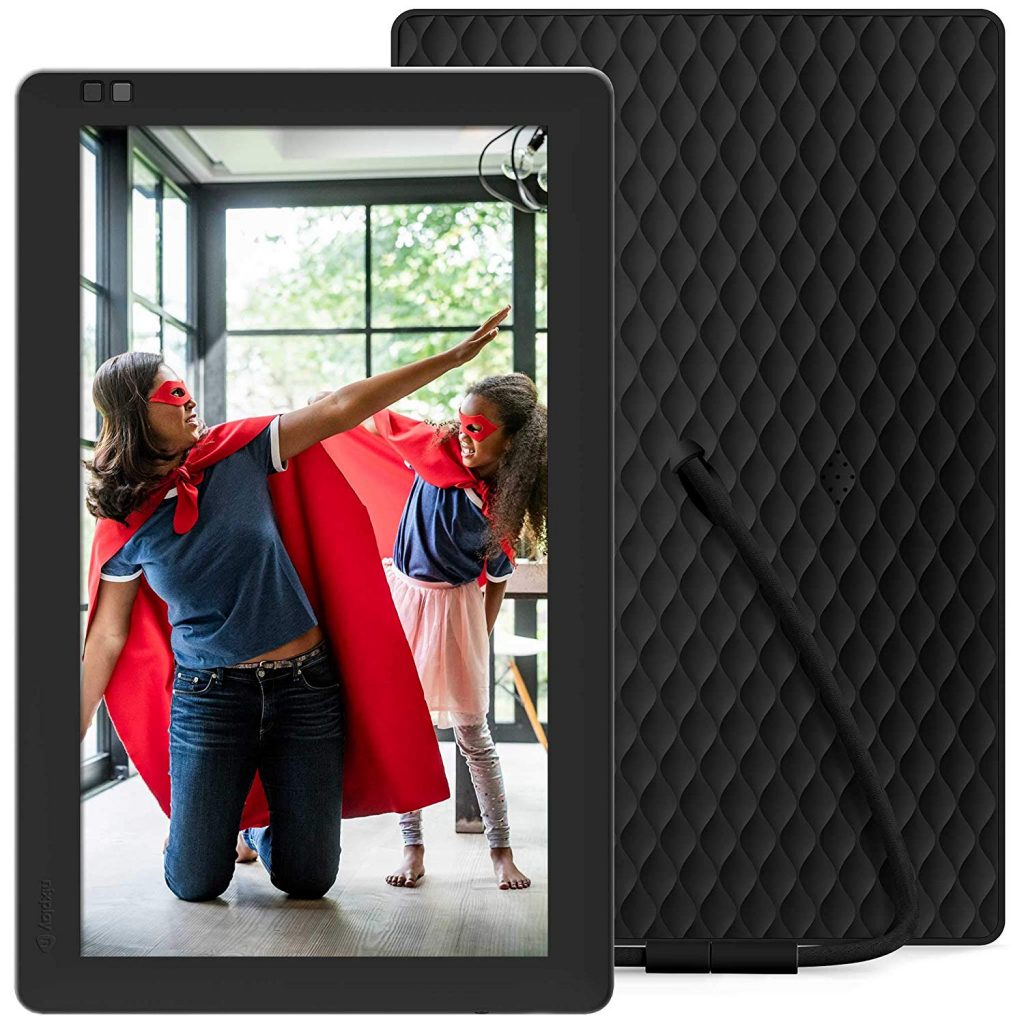 Overview
This modern, digital photo frame is a winner. Fully compatible with Alexa, we rate it's technical abilities and beautiful resolution.
What We Like
All the family will love this interactive digital picture frame. Select which photos to display, and the frame will even sync photos when it senses that you've entered the room. It comes with a simple remote that's easy for anyone to control.
What Needs Improving
We couldn't find anything wrong with this beautiful digital photo frame. It delivers on all its promises.
The Final Verdict
First impressions count and we sure were impressed with this digital picture frame. Make sure that your images are in high resolution to really make the most of it. Perfect for the whole family to enjoy.
---
Overview
This digital picture frame is supremely stylish with a brown frame that makes it fit in any room. The 1280×800 resolution can make up to 40,000 of your photos zing with startling quality.
What We Like
Let's start with image quality. Our pictures are displayed in the highest resolution and most vivid color that we've experienced so far. Truly, this picture frame will celebrate your most loved photographs. Then there's the advanced technology.
This smart digital frame allows you to instantly share photos via WiFi (that's right, no more USB's and memory sticks!). It comes with unlimited storage, so you'll never run out of space. It also offers facial recognition technology – allowing the Dragon Touch to recognize your closest relationships and allows you to share photos between the people you love.
This is a real minimal effort frame that won't ever show photos that are blurry or too dark (unless you tell it to).
What Needs Improving
If you're not tech savvy, the instructions can be a little tricky to follow, but functionality can be worked out without the manual given time.
The Final Verdict
This ultra modern and sleek digital picture frame is an instant hit. It showcases your photographs in the most amazing resolution and comes packed with advanced features. You, your friends and your family will enjoy this one.
5 new from $109.99
4 used from $71.90
Free shipping
as of June 5, 2023 9:20 am
---
Overview
This is a solid looking frame and arrived really nicely packaged, with very clear instructions.
What We Like
The motion sensor is brilliant – very responsive and it didn't get flummoxed by us testing it to the ninth degree. The image resolution, and slideshow are both excellent, and it's easy to use. With auto-rotate, clock and calendar, plus loads of other features, this is a great choice.
What Needs Improving
The frame would be enhanced with the addition of WiFi, however, we don't consider this a problem when compared to the high quality.
The Final Verdict
We like this – it's simple to use, great picture quality and has some really useful features that all work well. Very good price.
---
Overview
The featured frame works very well whilst looking and feeling really nice, appears to be plastic, but we like the fact that it's quite wide and gives off the appearance of a conventional picture frame. The instructions are very straightforward.
What We Like
Nixplay have made a nice picture frame for the price – the image quality is good, video playback works well, and the slideshow scrolls nicely.
What Needs Improving
Okay, here goes – there is no built in memory, battery, no touch screen and no remote control.
The Final Verdict
Another good digital frame. If you want something cheap and cheerful, get this.
9 new from $143.25
3 used from $101.36
Free shipping
as of June 5, 2023 9:20 am
---
FAQ's
1. How can I get a collage picture frame?
Collage picture frames are a great way of celebrating your favorite photos, and you won't even need to choose between them! You can either create your collage prior to displaying it in your frame, or choose a multi-photo digital frame. The choice is yours. You can also look into the basic facts about digital frames to make sure you make the best out of them.
2. What is an electronic photo frame?
An electronic or digital photo frame simply means displaying your photos in a digital format. You can import photos through a Wi-Fi connection, cloud storage or using an SD card.
3. Can you get digital glass picture frames?
At the moment there are hardly any glass picture frames that can display digital photographs. However, there are digital photo frames that can look almost identical to glass! If you do some searching, you will surely find a design you love.
4. Where can I get cheap picture frames?
The best place to buy is Amazon, hands down. You can even buy multiple digital photo frames at low cost. Delivery is fast, returns are easy and you still get the same level of customer care as with buying from a store.
5. How can I get a custom picture frame?
Custom picture frames are easy! All you need to do is buy a digital picture frame in the size you want. You can then personalize it with your own photos. Your picture frame will look unique, like it was made for you.
---
If you enjoyed this review, take a look at our other favorites: