Keep Warm All Year Round with the Best-Selling Electric Fireplaces
Electric fires resemble any traditional fireplace, without the cleaning hassles. All the pros, and non of the cons. That's why electric fireplaces are trendy as ever. No wonder we're obsessed! We can't get enough of the vibe of letting a fireplace surround us, no matter how hot or freezing cold it is outside.
This year the modern fireplace is gaining traction. Now we'll be the first to admit, before trying these out, we were skeptical. Honestly, we didn't want to spend our hard earned cash on a fad (or encourage you to do so).
As it turns out, all our initial apprehensions were misplaced. Electric fireplaces are just as satisfying as traditional fireplaces, if not more. This is especially true of inset electric fires and free standing electric fires. Yes, you'll miss out on being able to poke and prod your fire and the smell of burning firewood… but no more cleaning out junk. No smoke pollution. The pros heavily knock out the cons.
Our best tip: Ensure that you're buying a GREAT product. Why? Well, electric fireplaces that aren't well made will look cheap and fake. Also, you want something that looks aesthetically stunning in your home.
Here, we present the best performing electric fireplaces of the year: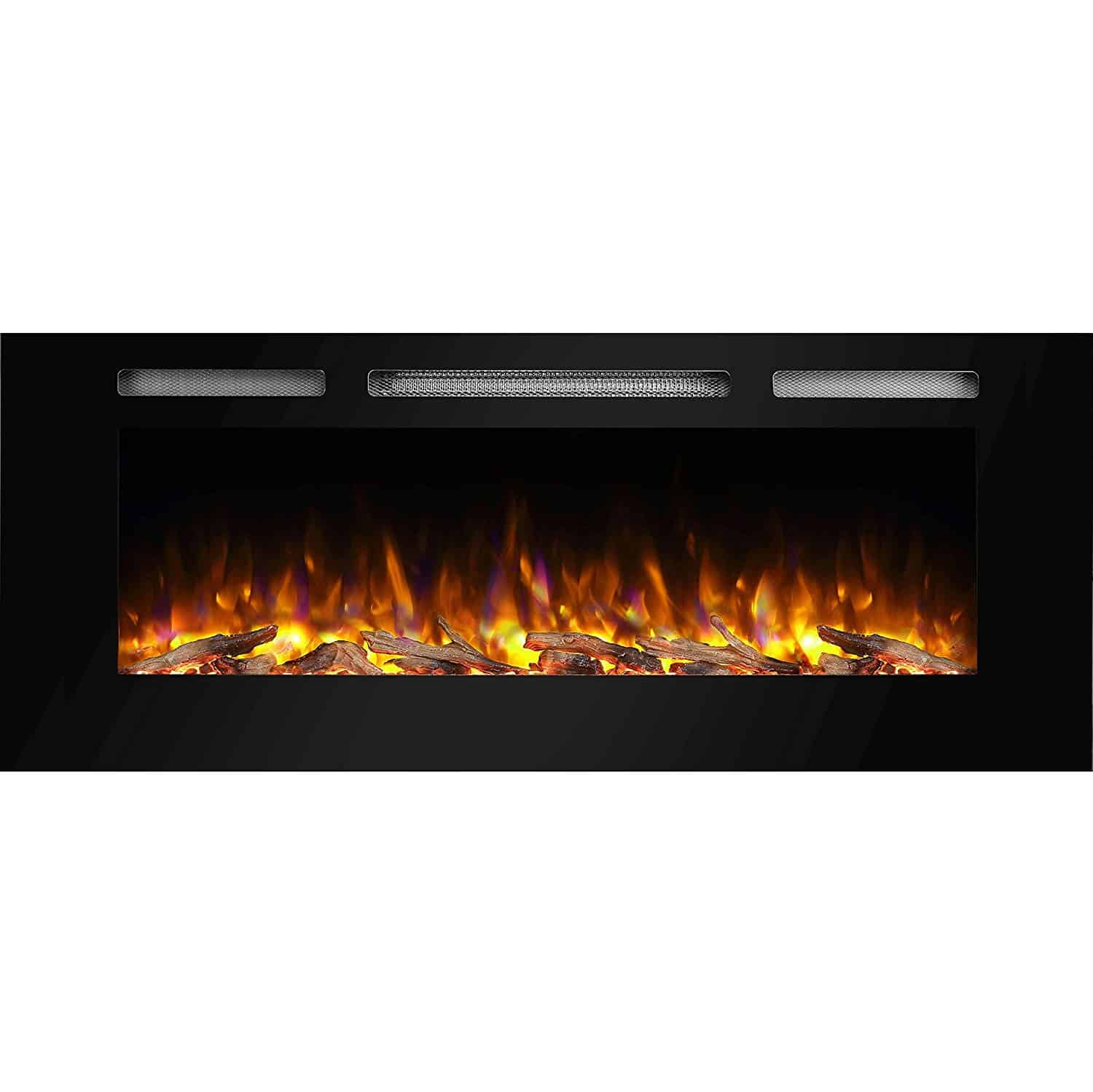 Overview
This wall mounted electric fireplace is a beauty to behold. In terms of dimensions, it fits neatly on a wall around 2 x 6'' wide. It's made of metal and tempered glass that has "high quality" written all over it. That also makes the fireplace look ultra modern and stylish, perfect for a range of décor (as approved by our resident interior designer!).
What We Like
The fireplace features various heating settings simply adjusting with its own remote. First you can choose your ember bed between classic logs and cool crystal stones. Then you're ready to adjust your flame and Puraflame provide you with 4 x options ranging from bright yellow to cool blue. The calm and serene ambience will turn your room into the most romantic space.If you do heat it up, its projected through a front blower and its powerful enough to warm approximately 400 square feet. Room temperature will climb up to 61-82 Fahrenheit, which is optimal. There's also a timer, which will automatically switch your fireplace off in case you forget about it.
What Needs Improving
This isn't really a criticism of the Puraflame as such but we've got to address it. The heating capacity of the electric fireplace is moderate. Electric fireplaces simply are not designed to be the primary source of heating for a big home. However, if you combine it with a basic heating system, it will definitely make your room nice and toasty. The only other thing we should mention is that some assembly will be required. Nothing too taxing, but you'll probably need a muscle-bound strong person to help you lift and fit it to your wall.
The Final Verdict
People all around the world are singing this electric fireplaces' praises. We're joining the choir. If you love the atmospheric experience of a fireplace but without any practical and safety concerns, this product is life-changing. You, your family and your friends will love it for years to come.
---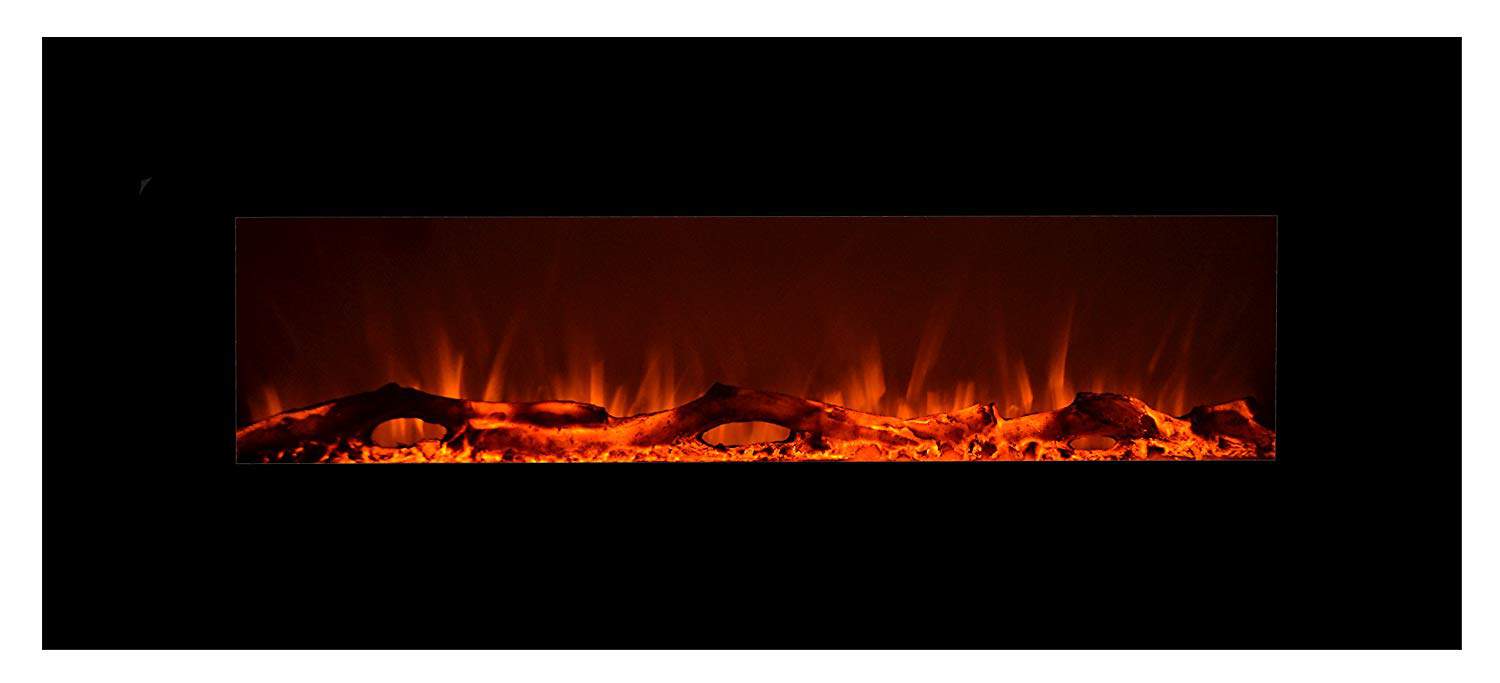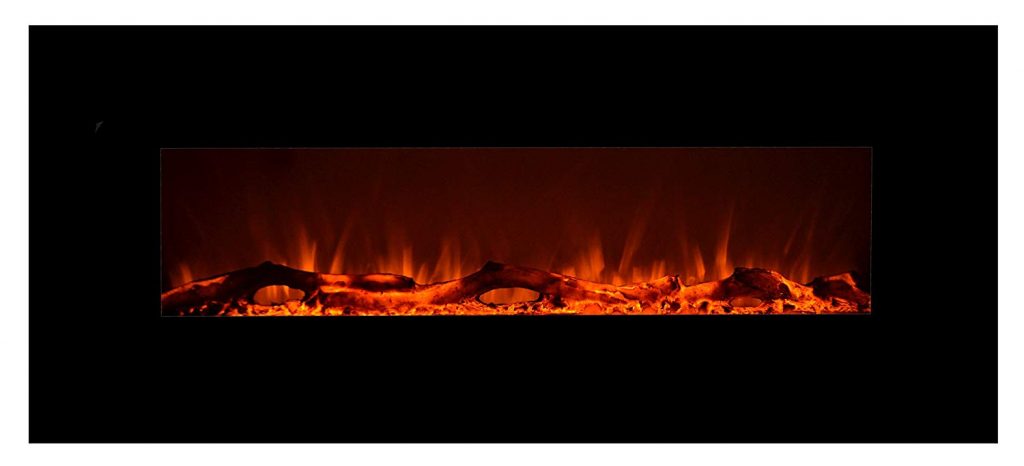 Overview
Our next pick is the 50 inch wall-mounted electric fireplace by Touchstone. We love traditional fires but this super modern looking electric fire has definitely stolen our hearts.
What We Like
First off, it's very easy to mount on the wall. It means that you can easily mount this fireplace in one room and then move it to another if you prefer. It comes with two simple heat settings, high and low, which have the power to warm a room of up to 400 ft. The heat is dispersed from the top of the fireplace, allowing it to spread evenly into the space. You can choose to display burning logs or crystals, depending on the atmosphere that feels right in your home and even put the fireplace on a timer. The auto shut off is essential for ensuring that the fireplace meets USFA safety standards. There are five settings to adjust the flame from a bright, roaring fire to gentle embers. The Touchstone looks so traditional that we find it very hard to tell the difference from real flames. The 50" thin design is perfect for almost any living space, and the electric fireplace comes in various colors from deep black to ivory.
What Needs Improving
Any downsides? Well, if you're looking for a silent electric fireplace you should know that the Touchstone produces a slight humming noise, depending on the settings you're at. But honestly, we're nit-picking here as it's barely noticeable.
The Final Verdict
We really love this electric fireplace and would highly recommend it. For a 50'' electric fireplace that gives you the same sensation as a roaring fire, the price can't be beat.
---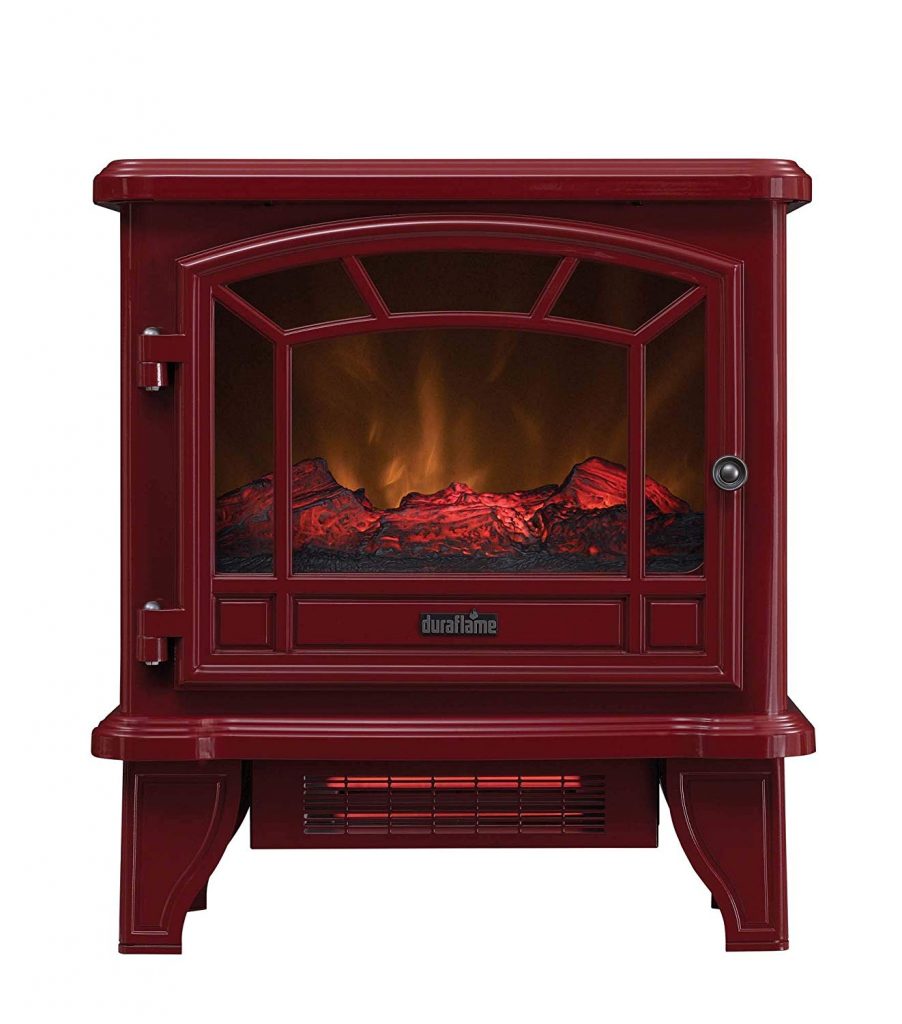 Overview
Are you looking for a free standing electric fireplace that you can conveniently transport from space to space? Our best recommendation is the Duraflame Quartz Fireplace. This electric fire uses infrared technology to keep your room nice and warm throughout the year.
What We Like
What makes it a great electric fireplace? This highly effective zone heater can warm up up to 1,000 square feet in your home. The infrared technology has been shown to maintain a healthy degree of humidity in the air, which will improve the air that you breathe. It comes with a digital thermostat allowing you to monitor and adjust room temperature. Now for the all important display: The Duraflame's claim to fame is it's 3D flame effect, and it looks awesome. There are five ways to adjust the brightness, speed and color of the flames exactly to your liking. The only thing missing is the loud crackle and pop of a traditional fire, but with this in the background, you'll soon be soothed into total relaxation.
What Needs Improving
There is moderate noise that is emitted when the fireplace is in heat mode. It will be easily drowned out in a busy household, but be prepared for a hum!
The Final Verdict
A stand alone electric fireplace has a huge amount of benefits, and the Duraflame is ahead of the game. This company are constantly researching the latest electric fireplace technology, so you can rest assured that you're getting the best quality product. We appreciate the addition of a safety switch, which automatically switches off your fireplace to prevent over-heating, making it extra safe in your home. A great, affordable, electric fireplace that you will love.
---
Get more inspiration for your home: