The geekdom that is the Marvel Universe is laid bare with these super cool gadgets – you can thank us later!
Following the record box office success of new releases such as Thor 3 and Black Panther, the top manufacturers of Marvel merch have gone into overdrive. The fact is there are plenty of superhero-inspired gadgets flooding the market but some are noticeably better in quality than others.
Wherever you are on the Marvel timeline – we've picked out the coolest products to gear up your inner Captain America or Tony Stark in 2021:
Overview
Nothing beats this signature shield belonging to one of Marvel's oldest and most iconic superheroes while also having its own surprise. This piece is essential for any Marvel toy collection.
What We Like
At 11 inches and with precise attention to detail, the Captain America shield replica is the ultimate gadget fit for cosplay or to showcase in your home.
It comes with two connectors and simple instructions for putting it together. Your child can cosplay as Captain America with this amazing shield that's also a Nerf gun! It easily transforms into a blaster that makes it even cooler!
You can also combine it with other Assembler gear, with over 100 combinations possible!
What Needs Improving
The only gripe we have with this product is that the nerf gun will only fire if you put a dart in, so it's not good if you like to dry fire your nerf gun.
The Final Verdict
This is great! What more can we say - we LOVE this. A little bit of fun for any Captain America fan.
check latest price
as of June 27, 2022 2:21 am
Features
Different blaster combinations.
Captain America-inspired design
Connect pieces to build & blast
Launch included Nerf darts into action
Combine with other Assembler Gear set for over 100 combinations (each set sold separately)
---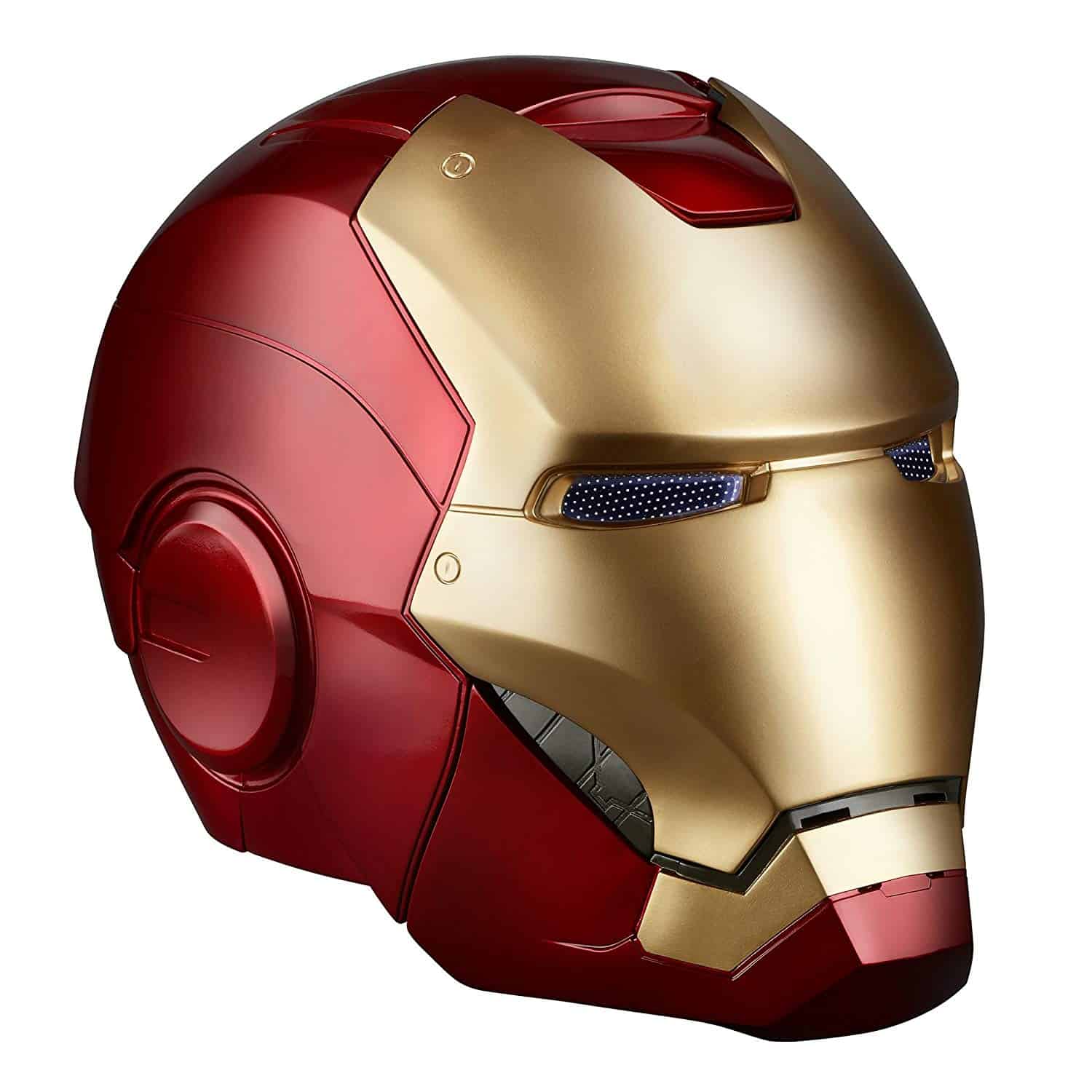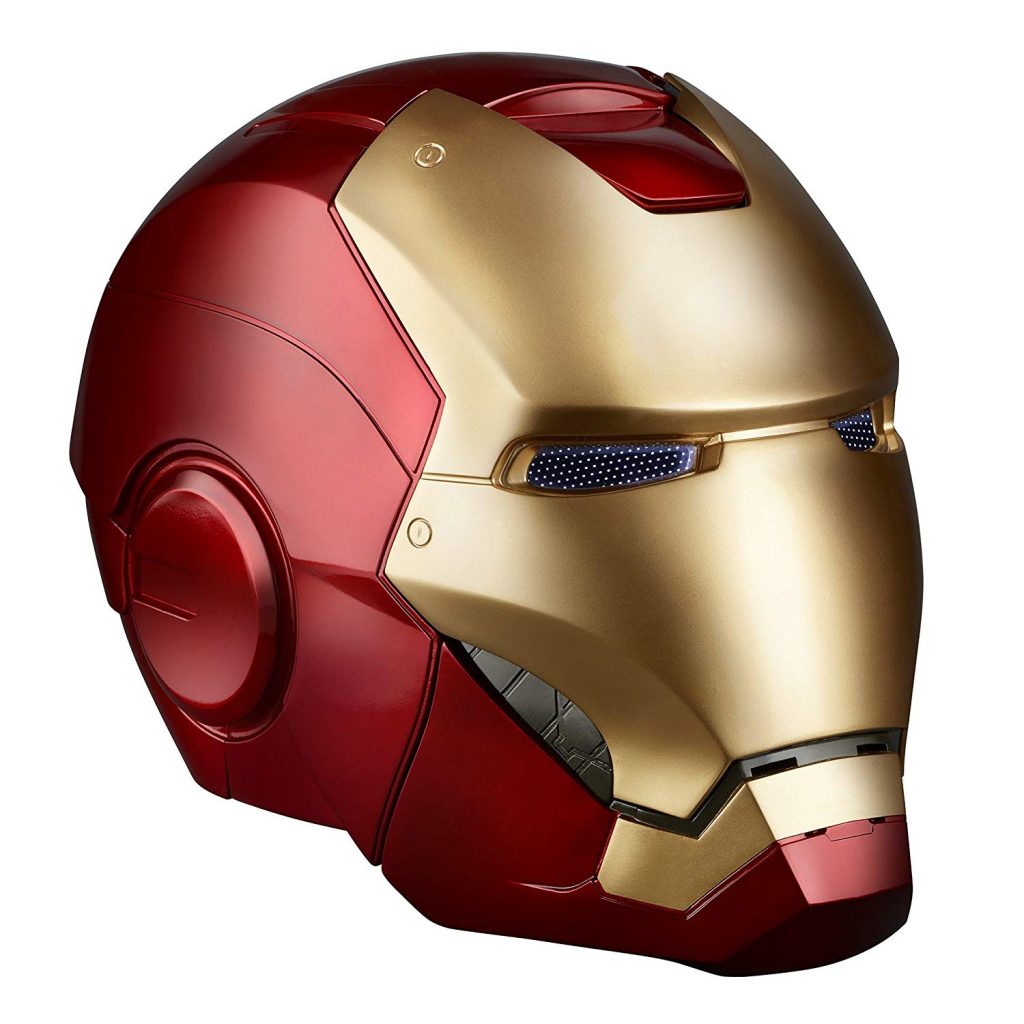 Overview
Genius, witty, cool. Those are just some of the words that describe Tony Stark/Iron Man in his full get up. Now Hasbro have given us the chance to wear his signature armor to battle nefarious enemies in style.
What We Like
The manufacturers of the replica helmet deliver a quality product that does Stark Industries justice. It comes with a magnetized face plate that is 100% detachable. The brightness of the glowing LED eyes is impressive and the FX sound is dramatic.
What Needs Improving
If we had to nitpick, we noticed that the some of the paint will start to chip in heavy use.
The Final Verdict
Perfect for cosplay, ideal for fun, Tony Stark designed the ultimate superhero helmet, and now you can enjoy the flashing eyes and authentic sound effects! High quality, identical to Iron Man's, we love this gorgeously glossy headpiece.
31 new from $131.99
2 used from $122.91
Free shipping
as of June 27, 2022 9:17 am
Features
Create your own Marvel adventures with the world's greatest collection of Super Heroes
Choose from figures, vehicles, and role play toys for heroes of all ages each sold separately
Marvel toys from Hasbro feature iconic characters like Spider-Man, the Avengers, the X-Men, and other favorites
Re-create the excitement of Marvel's hit TV shows and blockbuster movies
Build the ultimate collection of figures featuring Marvel's legendary characters
---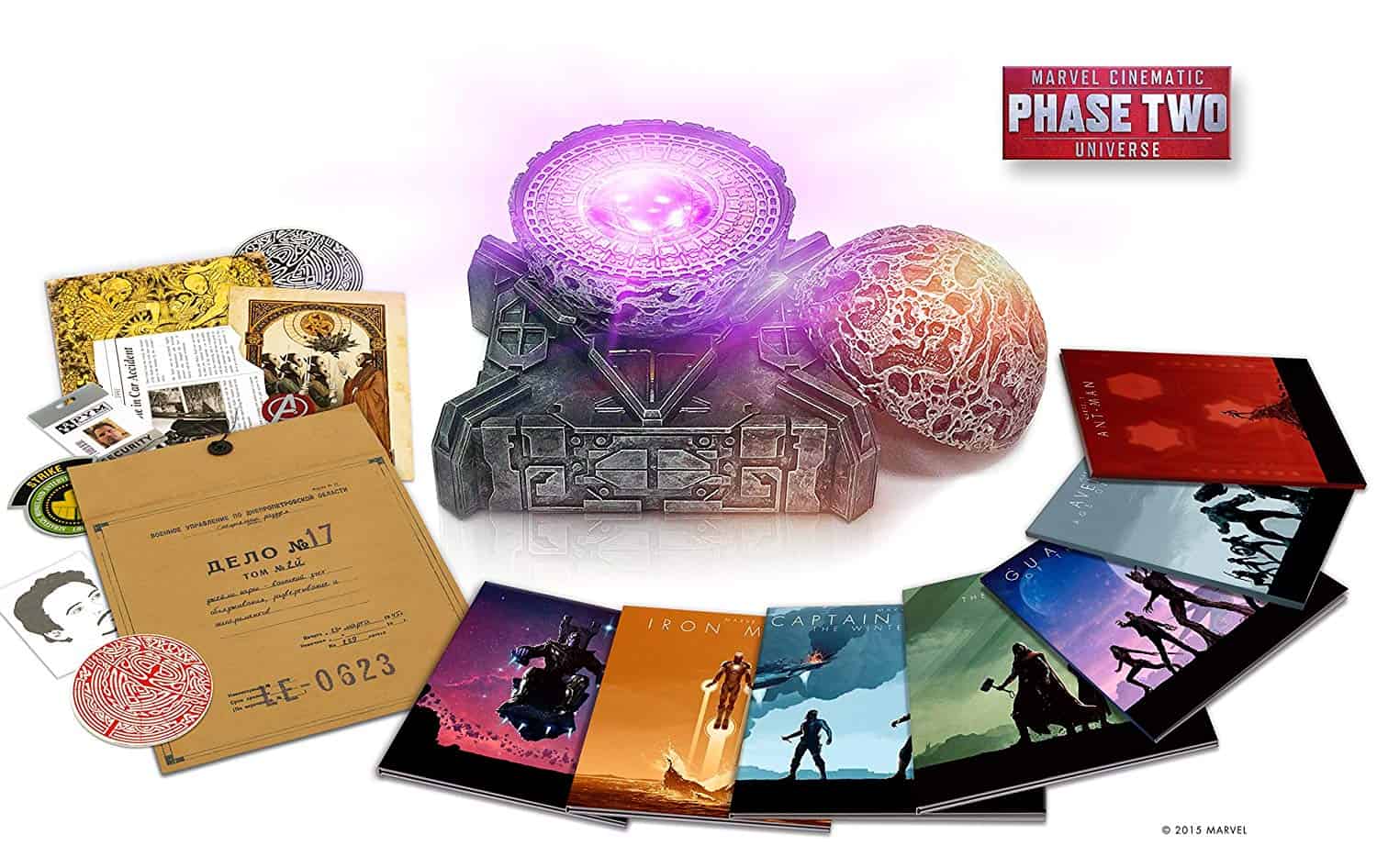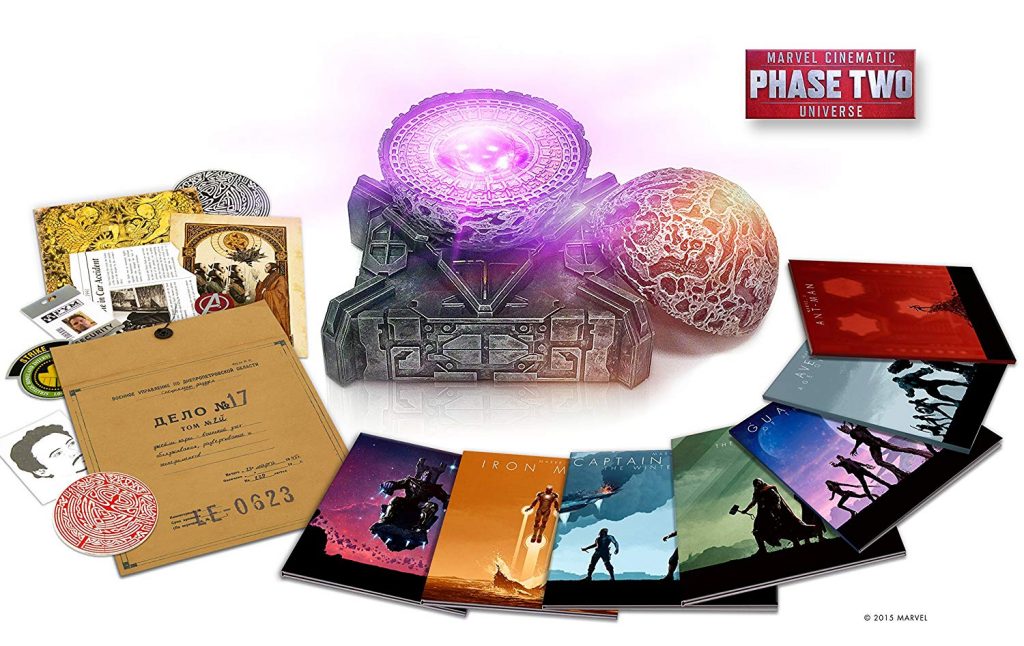 Overview
This is a limited-edition box set containing blu ray, blu ray 3D and digital copies of the best-rated Marvel movies. But it doesn't stop there. You'll also receive a cool LED lit replica of the Morag orb and other surprise gifts (I won't spoil it). Perfect for Marvel fans who love their stuff!
What We Like
If you're looking for the ultimate Marvel DVD collection, this is it. The movies included in this 2nd edition are Iron Man 3, Thor: The Dark World, Captain America: The Winter Soldier, Guardians of the Galaxy, Avengers: The Age of Ultron and Ant Man.
Each Blu Ray also includes extended and never-before-seen scenes, Director's commentary, documentaries, and screen tests with the leading actors.
What Needs Improving
The only drawback is that the disc holder isn't the best quality. If you throw this boxset into a bag while traveling, the discs could fall out and get scratched. So if you buy it, keep this in mind and try not to knock it around.
The Final Verdict
All in all this is a dream for any movie buff or Marvel fan building a complete collection. The fun extra gifts will make you feel special and give you a unique insight into the production of these blockbusters.
2 new from $487.00
4 used from $187.10

as of June 27, 2022 7:27 am
Features
| | |
| --- | --- |
| Is Adult Product | |
| Release Date | 2015-12-08T00:00:01Z |
| Edition | Amazon Exclusive Edition |
| Language | English |
| Format | Blu-ray |
---
Overview
A Marvel collection is never complete without the Infinity Gauntlet. We've seen cheaper replicas of this ultimate weapon in stores before, and frankly the quality has been disappointing on almost every occasion. But not today!
What We Like
Now Hasbro have introduced a modern replica that has finally satisfied my inner warlord. This 19.5 inch fist incorporates lights and sounds that mimic the movie effects. The 6 lit up infinity stones are intricately designed and shine beautifully in both light and dark. This product is stiff, but it gives just enough finger and fist movement for effective role play.
What Needs Improving
The downsides? It's a sizable accessory, so if you're of a smaller build, you might struggle to wield it in cosplay. On the other hand, I'll admit it looks very impressive on any mantelpiece.
The Final Verdict
On the whole we've really enjoyed this product. It looks fantastic from all angles if you're displaying it as a prop. The articulated fist locks into place, so it works well for adults if you do take it out to a convention or for role play.
6 new from $152.00
Free shipping
as of June 27, 2022 9:17 am
Features
Plastic
Articulated fingers with fist lock display mode
Movie inspired sound effects
Pulsating stone glow light effects
Premium roleplay articulated electronic fist
---
Overview
Love Lego? This Marvel Universe box is a dream come true for kids (and big kids). Thanos has captured the infinity gauntlet and now it's up you to help the Avengers get it back. And you'll have hours of fun as you do it!
What We Like
As with any other Lego products, the quality is out of this world. The pieces are also larger than we had anticipated, which was a welcome surprise. In this set, you get to build the Guardian's ship with all the details you could wish for including 2 x stud shooters. You'll get 4 x figures from Infinity War: Iron Man, Star-Lord, Gamora and Thanos (with Infinity Gauntlet). On top there are the infinity stones, and a sword. The total sum of pieces is a whopping 674. The instructions are clear, which makes this an ideal gift for almost all ages.
What Needs Improving
We absolutely loved this lego set and found nothing to fault. The only thing we can say is "we want more!". If this box came with even more infinity stones, we'd be over the moon. For now though, we're perfectly content.
The Final Verdict
The Marvel Lego set is a must for any fan. We had tons of fun reviewing it, and will be ordering more to take home. Get one for yourself or give one as a gift, it will go down a treat.
31 new from $128.99
Free shipping
as of June 27, 2022 6:31 am
Features
Your kids can join the Marvel Avengers Superheroes when they build Infinity War Thanos: Ultimate Battle playset! Featuring the Guardians of the Galaxy Starship building toy, the Benetar, plus a Thanos big figure and a collectible Infinity Gauntlet.
This cool construction toy is built with 674 pieces and includes 4 Infinity War minifigures: Iron Man, Star-Lord, and Gamora, plus a Thanos big LEGO figure with an Infinity Gauntlet, collectable Infinity Stones and a sword.
The Guardians' Starship, features an opening cockpit for the space scooter, opening rear compartment, storage room for the Infinity Gauntlet, 2 stud shooters and adjustable wings. Set includes a stand for the Infinity Gauntlet.
This LEGO Marvel Super Heroes Avengers building set recreates scenes from the thrilling Marvel film - Avengers: Infinity War and is compatible with all LEGO Marvel Super Heroes building toys.
The Guardians' Starship measures over 3" (9cm) high, 8" (22cm) long and 18" (46cm) wide, Space scooter measures over 1" (5cm) high, 1" (5cm) long and under 1" (2cm) wide, Infinity Gauntlet and stand measure over 1" (4cm) high, 1" (3cm) wide and 1" (3cm) deep.
---
---
We're sure all Marvel fans will love these awesome gadgets as much as we did!
---
Before you go, don't miss our hot review of the best Star Wars gadgets or check out some of our other trending reviews below: