Projectors Are Making A Comeback
Projectors are no longer made just for the boardroom or cinemas, but are now accessible for displaying your favorite films, TV series and home videos.
But what should you look out for when buying one?
The first thing to consider is room size – how much space do you have to display the image?
Short throw projectors can be placed close to a wall or screen, while still projecting a large, clear image. You can reliably get a 100'' diagonal widescreen image from just a few feet away
Long throw projectors are better for a larger space and are designed to be placed up to 15 meters from a screen or wall.
Once you've decided on the space available, there are a few other points to consider before parting with your dollars.
Resolution:
The higher the number of pixels, the better and more detailed the image quality will be. To give you an approximate idea if you plan to use Blu-ray player, consider a projector with 1920 x 1080 pixel resolution.
Lumens:
Lumens refer to how bright the image is – the higher the number the brighter. For a small audience in a house, a good lumen count is around 1500-3000. This will give a decent contrast ratio.
Connectivity:
Projectors can be connected to Blu-ray players, set top boxes, laptops, smart phones, or games consoles. The most important connection will be with your audio. To do justice to your projector, pair it with the best home theater system, leaving the video projector to elevate the visual home entertainment experience.
Let's take a closer look at the best projectors of the year: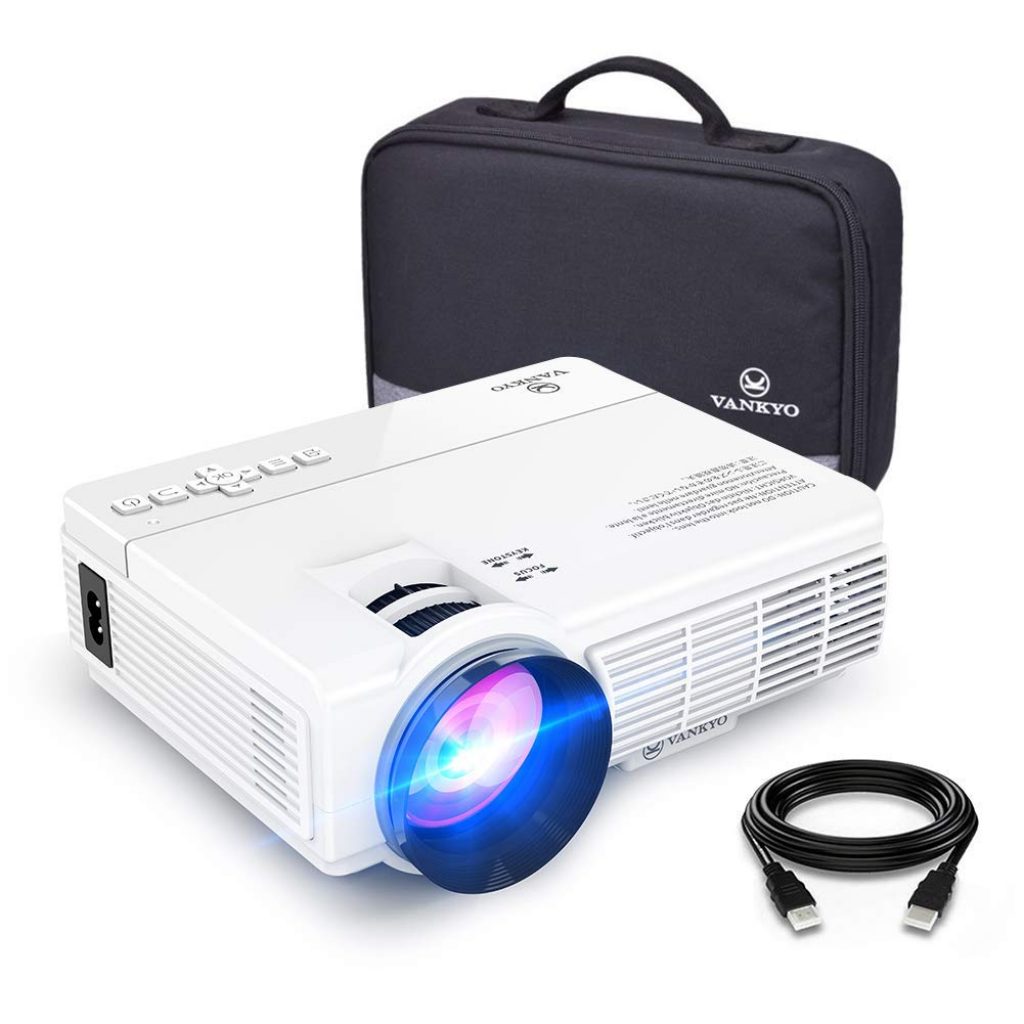 Overview
On unpacking this projector, we were surprised by how small and neat it is. Everything fits nicely into the rugged carrying bag, which makes moving it hassle-free. It comes with any cable you could possibly need, ever – they have really thought of every set-up. It's easy to install – we just followed the simple instructions and were ready to go within a couple of minutes.
What We Like

The image quality is second to none, every frame was in focus with bright clear colours, and great contrast. There are plenty of options when it comes to adjusting the picture, too, so you can have it exactly how you wish. The sound is excellent thanks the two built-in speakers; either with or without headphones, it's crisply clear, without any distortion. The internal fan works near silently and is very efficient – the projector didn't overheat even after nearly four hours on the go. This is just perfect for watching movies, TV series and sports. You can also use it in schools and colleges as an amazing teaching aid, or connect it to your smartphone, PS3 & 4, Xbox One and Wii.
What Needs Improving
After putting the Vankyo through its paces, we are happy to report that our only issue was that the power cable was quite short, probably due to trying to keep the whole thing small and compact.
Included: Vankyo Leisure 3 Projector, User Manual, Power Cable, 3-in-1 AV Cable, HDMI Cable, VGA Cable, Remote Control
The Final Verdict
This is an awesome, well designed projector. The image quality and sound are excellent, it's sturdy and lightweight enough to be easily portable, plus the price is great. Happy to recommend this!
8 new from $99.99
2 used from $69.99
Free shipping
as of November 27, 2023 8:55 am
---
Overview
This projector is small, neat and cleverly designed to be easily portable. The included tripod is lightweight but very stable, while even the remote feels robust and solid. Full of tips to achieve the best performance, the user manual is easy to follow. It took a few minutes to get it set up, and a couple more to play around with the settings; the interface follows a logical pattern, so even a tech novice can plug in and play easily.
What We Like

Having two USB ports is an awesome idea, making copying and sharing files or using multiple sources simple; this is a feature unique to the QKK, but more manufacturers should adopt it, in our opinion.
Having a 2200 lumen output allows the projector to be used in most light conditions, even near total darkness; it also means that any text is clear and easy to read. There is an incredible 50,000 hours of lamp life, almost unheard of for mini projectors. The picture quality is excellent, and the sound is amazing, with no distortion whatsoever. However, hook it up to a surround sound system and you'll be blown away with the quality!
This projector also comes with ports for AV, HDMI, SD cards, as well as VGA, which makes it compatible with almost any device.
What Needs Improving

For such a great projector, we felt the lack of built-in Bluetooth let it down. But, as with most little niggles, there are ways around this.
The Final Verdict
If you're looking for a decent projector, with a budget friendly price tag, this is definitely one to go for – efficient, effective and does what it's meant to do very well, whilst managing to look good. We love it.
3 new from $64.58
7 used from $56.83
Free shipping
as of November 27, 2023 10:11 am
---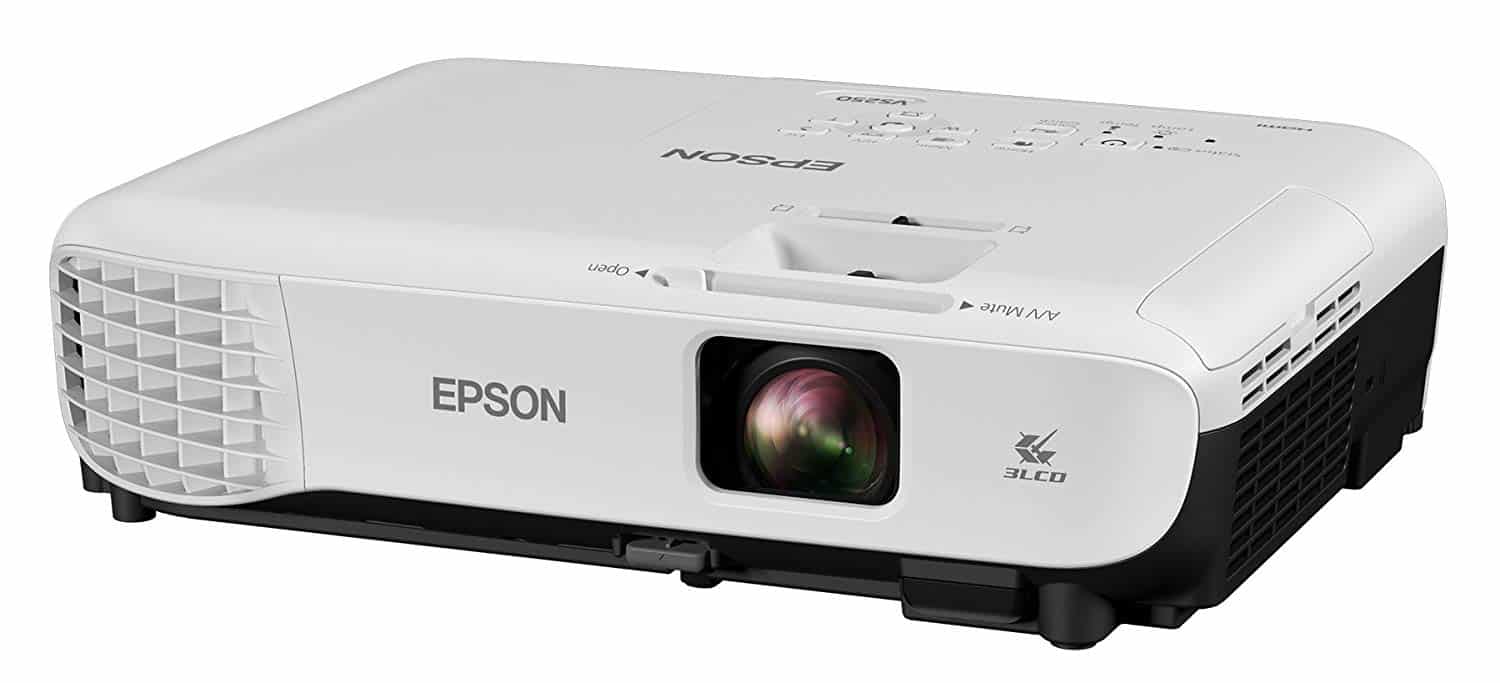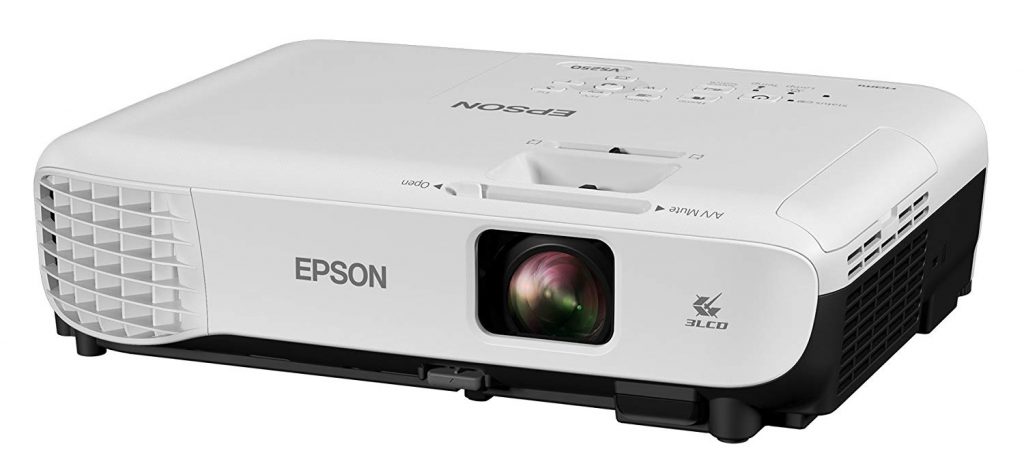 Overview
This projector has the quality you expect from Epson – it's slick, sleek, stylish, and easily portable. We love the little in-built stand which allows for painless height adjustment in an instant. Following the concise instructions, we had this installed within 5 minutes.
What We Like

With its intuitive interface, everything is simple to adjust in any situation. As you'd expect from Epson the colors are true and well balanced, image resolution is excellent, and the sound quality is awesome. Couple that with the great price, and this is looking good.
What Needs Improving

Our only complaint is against the remote control – the buttons are quite small; however, the controls on the actual projector are very user friendly, so it's not a deal breaker.
The Final Verdict
The VS 250 is a great looking projector, plus its color brightness, image quality, resolution and audio are all awesome, too. This is a winner!
---
---
Check out our other hand selected recommendations!