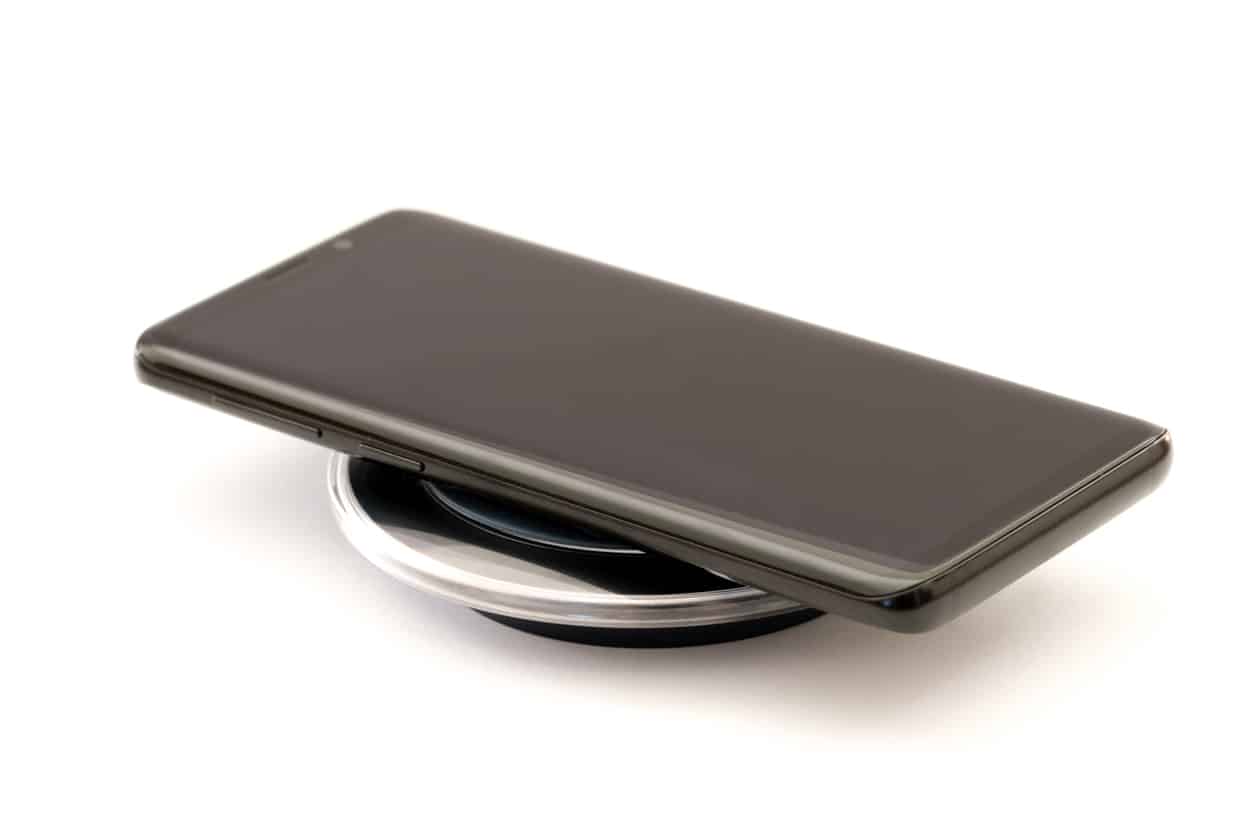 These Reviews Were Last Updated
Qi? We Review the Best-Selling Wireless Chargers
Qi is the Chinese for energy flow and in the case of smartphone technology, refers to the flow of energy between the charging station and your phone. This occurs through wireless electromagnetic induction, instead of the normal cable connection.
The main advantages for the user are that it is vastly quicker, has no annoying cables and that either component can be from a different manufacturer as long as they are both Qi enabled.
Between us we have a huge range of mobile devices, so why not give one of these top rated Qi Chargers of March, 2019 a go:
Overview
This is a neat piece of kit – quiet, obedient and effective. It is solid enough not to get pushed around on the desk, but small and light enough to slip into your pocket when you go out.
What We Like
The speed of charging with the Yootech is impressive, and it took on our phones quickly and efficiently. The majority could be charged whilst still in their cases, and only the thickest leather prevented a good connection being made.
And it lights up!
What Needs Improving
The positioning on the pad can sometimes be a little tricky, and you may need to wiggle your phone about a bit before finding the optimum placement to charge effectively.
The Final Verdict
Overall, a great little Qi charger – easy to use, quick to charge and at a decent price, what more do you need? Happy to recommend this one!
【7.5W,10W and 5W WIRELESS CHARGING MODELS】7.5W model *Using QC2.0/QC3.0 adapter (9V,1.67A) is ONLY compatible with iPhone 8/ iPhone 8 plus/iPhone X so far; 10 W model *Using QC2.0/QC3.0 adapter(9V,1.67A) is ONLY for Samsung Galaxy S9/S9plus/S8/ S8plus/S7/S7 edge/S6 edge plus/Note 5 series devices so far;5W model *Using 5V,2A adapter is for Any Qi-enabled devices like iPhone X/8/8 plus and other Qi-enabled phones. Please use the most appropriate adapters for best results.
Free shipping
Last update was on: March 21, 2019 11:45 am
in stock
---
Overview
This neat Qi charger packs a punch. It claims to charge up to 10% faster than other wireless chargers, and we're pretty convinced that's true. This charger is compatible with a ton of models including iPhone X, XS, 8, 8 Plus; Samsung Galaxy 9, 9+, S8, S8 Plus, Note 8, S7, S7 Edge, S6 Edge +, Note 5, Lumia 830, Google Nexus…
What We Like
This really does what it says on the tin, and charge smartphones in extra quick time, and this seems to be across a wide spectrum of makes and models.
What Needs Improving
Some models of smartphone had to be more carefully placed on the 'hotspot' than others in order to start charging.
The Final Verdict
This Anker charger doesn't have the disco light effect of the Yootech, but it's great value for money and does a good job.
The Anker Advantage: Join the 20 million+ powered by our leading technology.
Charge Forward: Using highly efficient components and an advanced chipset, PowerPort Wireless charges any Qi-compatible device in 10% less time than other 5W wireless chargers.
1 used from $21.55

Free shipping
Last update was on: March 21, 2019 11:45 am
in stock
---
Overview
This smart Qi charger looks a little unconventional, but it works a treat. With 3-warranty, you really can't go wrong. This charger is compatible with all the latest models from the iPhone X to Samsung Galaxy Note 8 (check description for full list).
What We Like
It is very simple just to place your phone on this and hit the sweet spot straight away. There's no need to keep shifting it around to find the optimum position for speedy charging.
What Needs Improving
The 'sleep friendly' design is a useful addition but needs getting used to; the tiny glowing light could be dimmer.
The Final Verdict
This Qi charger is a certified best seller that impresses with its futuristic design and reliability.
World-leading Wireless Charger Brand-As the leader of wireless charger industry, Seneo focuses on the innovation of design and technology to provide the best wireless charging experience to customer from all over the world. Seneo has sold more than 2,000,000 wireless chargers and always be committed to offer THREE YEARS WARRANTY to our friendly customers
Free shipping
Last update was on: March 21, 2019 10:45 am
in stock
---
Overview
This charger has a beautiful and unique copper coil design, it arrived ahead of schedule and was well packaged. Compatible with a wide range of iPhones, Samsung phones, Google phones (check the listing for your smartphone).
What We Like
This stand works really well as a Qi charger.
Our phones were charged in super quick time, even if we just dumped and ran (so to speak) – perfect.
What Needs Improving
Not much to fault with this Qi charger. It was fast and stayed put on the table.
The Final Verdict
The range of compatible phones is huge, it charges quickly with no hassle, and it's a good price. Everything you would want from a Qi charger.
【3 COILS OF SENSING AREA FOR QUICKER RESPONSE】Built-in 3 coils(upgraded charging chip) offer you much WIDER CHARGING AREA that you can just place down your phone or any QI-enabled devices on qi wireless charger. The qi charger stand starts charging with QUICK RESPONSE. 3 coils gives you a better charging experience than 2 coils
Free shipping
Last update was on: March 21, 2019 10:45 am
in stock
---
Overview
This JETech is sleek, stylish, shiny and lights up – perfect so far. It's of universal application, which makes it compatible with most smartphones. It's possible the most multi-useful charging pad out of everything we tested.
What We Like
This is lightweight, well designed and has non-slidey pads to prevent it being swept off your table. It was so easy to set up, charged our phones quickly, and looked stylishly cool. And it has lights.
What Needs Improving
We tried charging a Smartwatch and that didn't work out as good. For phones it's great. Positioning takes a little getting used to.
The Final Verdict
We are more than happy to recommend this Qi charger, it performs well and is useful if you have multiple devices from different brands.
Wireless Charging: simply place down any Qi-enabled device or device equipped with a Qi-compatible cover, no cables or USB interface required
Equipped with power-efficient idle mode that never overcharges your battery or wastes energy
Free shipping
Last update was on: March 21, 2019 10:45 am
in stock
---
If you liked this post, then also make sure you check out…