Qi? We Review the Best-Selling Wireless Chargers
Qi is the Chinese for energy flow and in the case of smartphone technology, refers to the flow of energy between the charging station and your phone. This occurs through wireless electromagnetic induction, instead of the normal cable connection. As a result, the Qi charger is one of the best power banks that you can buy to power your smartphone.
How to choose the right Qi charger:
On the market, at present, two different wireless charging methods are in the race, and they are not interchangeably compatible. Therefore, be sure that whatever you pick up supports your phone's specs; however, if you got a newly released phone (2018 and beyond), its wireless charging standard is almost certainly Qi.
The speed at which the charger can charge a phone is probably the most important factor, and with base charging starting at 5W, the higher the watt, the quicker the charge time. iPhones charge at approx 7.5, whereas Samsungs are 9W. A 10W will ensure that whatever phone you have, you're covered.
Most Qi chargers plug into the wall outlet via an adapter, but some use jacks, or MicroUSB/USB-C so you'll need to check whether your plug and charger support them. If you can, though, it's an easier and better idea to pick a standard connector.
Once the technical details are sorted, the size and appearance of your Qi charger are down to personal choice. They are available in lots of styles – big, small, flat or spherical. Some offer stable bases, some are more 'arty' and sculptural. The choice is yours.
Between us we have a huge range of mobile devices, so we've put the best selling Qi chargers through their paces.
Overview
This is a neat piece of kit – quiet, obedient and effective. It is solid enough not to get pushed around on the desk, but small and light enough to slip into your pocket when you go out.
What We Like
The speed of charging with the Yootech is impressive, and it took on our phones quickly and efficiently. The majority could be charged whilst still in their cases, and only the thickest leather cases prevented a good connection being made. And it lights up!
What Needs Improving
The positioning on the pad can sometimes be a little tricky, and you may need to wiggle your phone about a bit before finding the optimum placement to charge effectively.
The Final Verdict
Overall, a great little Qi charger – easy to use, quick to charge and at a decent price, what more do you need? Happy to recommend this one!
---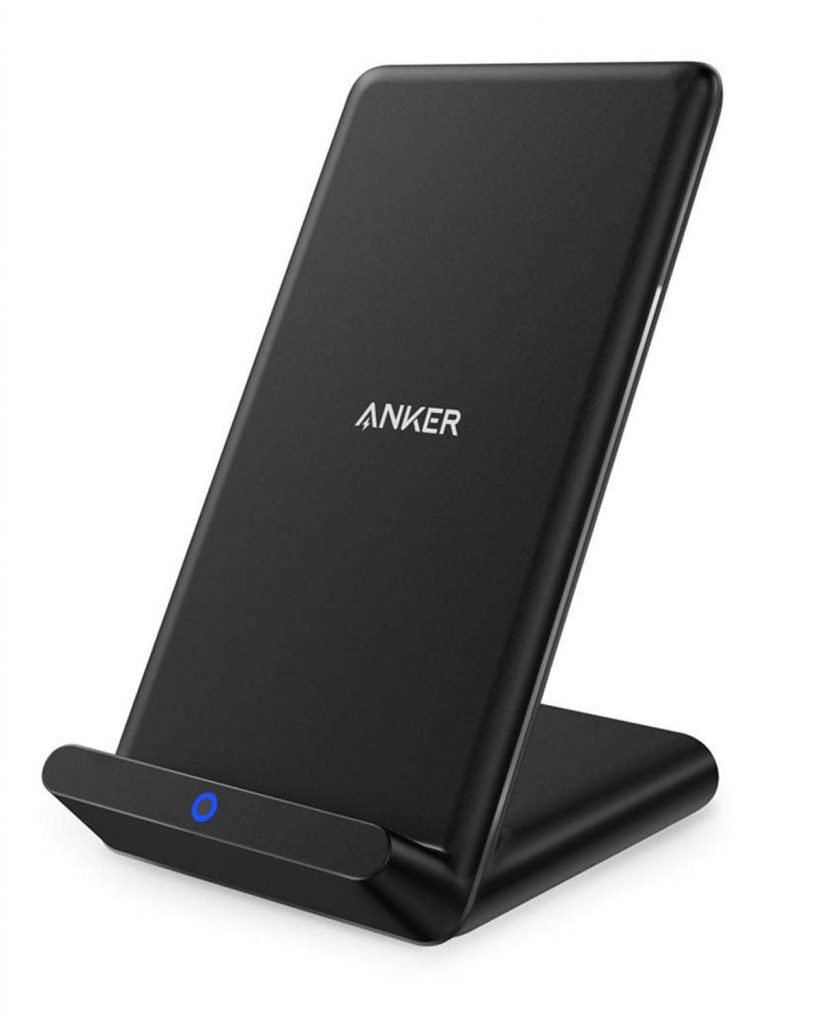 Overview
The upright stand look of this charger gives it a professional, efficient appearance, which based on its durability and sturdiness, it rightly deserves. Heavy enough to stay put, and easily connectable, Anker have done it again!
What We Like
This really does what it says on the tin – charges smartphones in extra quick time, and this seems to be across a wide spectrum of makes and models. Our phones were fully charged with impressive rapidity, considering this is a 5W charger.
By changing the angle of our phones to landscape, we were able to enjoy movie watching whilst still on charge. Time well spent, we thought!
What Needs Improving
Some models of smartphone had to be more carefully placed on the 'hotspot' than others in order to start charging.
The Final Verdict
Anker have designed a charger that works efficiently, charges quickly and is great value for money.
---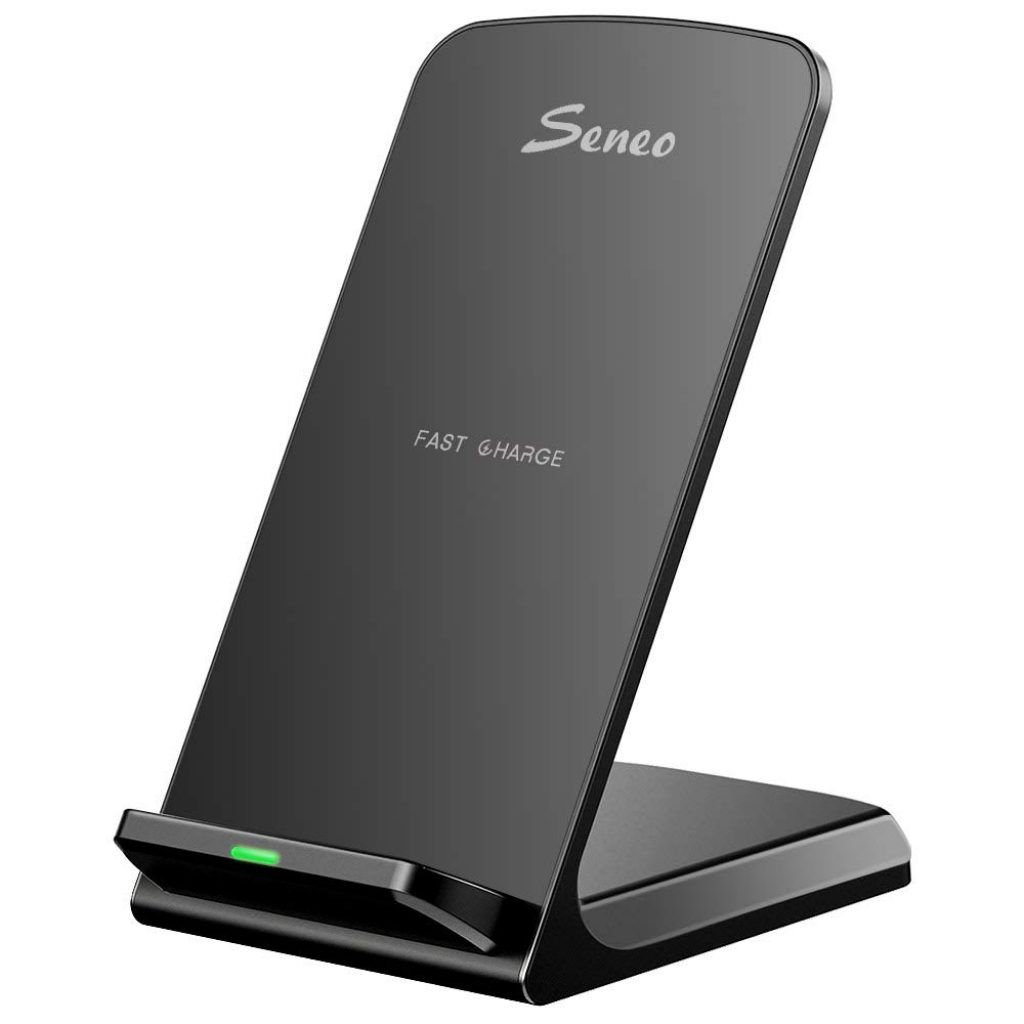 Overview
This smart Qi charger from Seneo looks like it means business. Nicely designed to charge in either portrait or landscape positions, it offers both 5W and 10W charging speeds, and is temperature protected.  It's compatible with all the latest models from the iPhone X to Samsung Galaxy Note 8 (check description for full list).
What We Like
It is very simple just to place your phone on this and hit the sweet spot straight away. There's no need to keep shifting it around to find the optimum position for speedy charging.
We like the double charging modes – this makes a lot of sense when you consider that phone models require different power settings.  The intelligent LED system is another great touch.
What Needs Improving
The 'sleep friendly' design is a useful addition, we did, however, place a tiny piece of tape over the power light as it could be distracting for some. This eliminated any potential issues – easy!
The Final Verdict
This Qi charger is a certified bestseller that impresses with its futuristic design and reliability.
---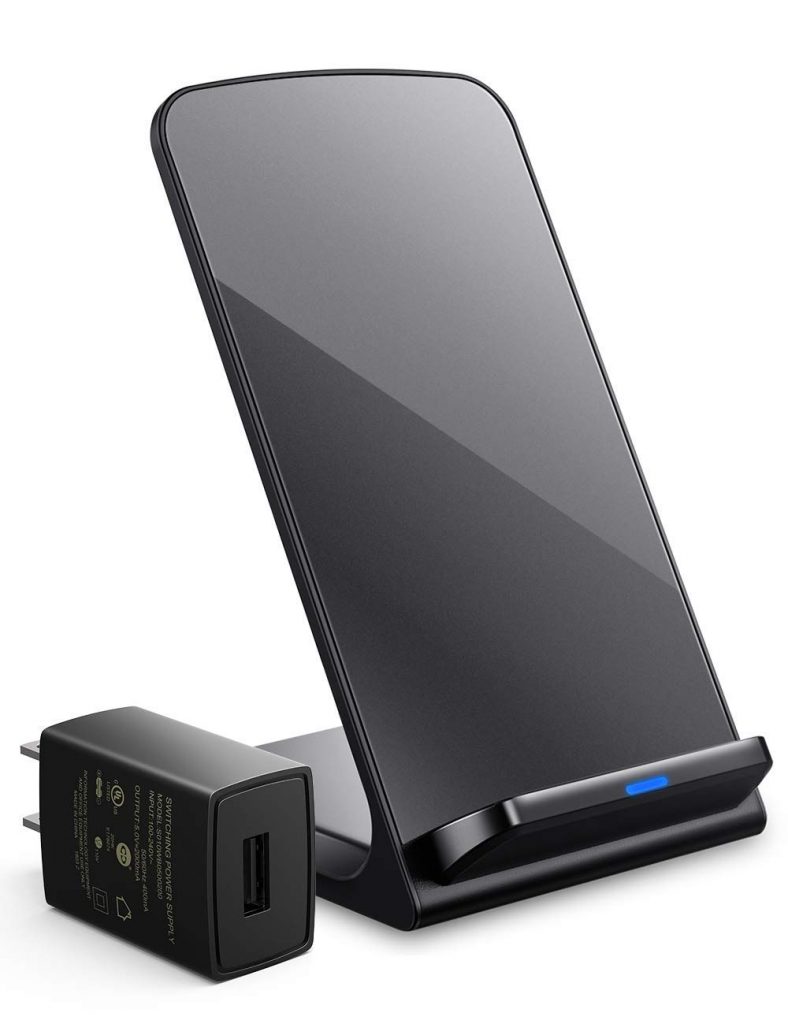 Overview
With a unique copper super charging system, this Ellesye Qi charger works either vertically or horizontally. Arriving with an impressive amount of extras, including rubber pads for surface stability, this is a nicely designed charger.
What We Like
Charging quickly without any temperature fluctuations, this is a neat little device. The LED alert system works perfectly and isn't overly confusing. Its 10W of power is compatible with a huge range of phones, charging ours rapidly and responsively. We could even answer calls without removing it from the charging stand!
What Needs Improving
The included power cable is a little short, but that was easily rectified with an extension.
The Final Verdict
The range of compatible phones is huge, it charges quickly with no hassle, and comes in at a great price. Everything you could want from a Qi charger.
---
Overview
This model is sleek, stylish and shiny. A circular disc of perfectly smooth plastic, with the charging pad at the center – you know how much we like our aesthetic designs, and this is gorgeous! Very sturdy, and durable enough to go everywhere with you, it's compatible with most smartphones.
What We Like
This is lightweight, well designed and has non-slidey pads to prevent it being swept off your table. With temperature control and auto switch-off, this is easy to use – we love its simplicity. Plug in, charge, and go – awesome.
What Needs Improving
We tried charging a Smartwatch, which took a while to find the 'sweet spot', but it filled up quickly once we had.
The Final Verdict
We are more than happy to recommend this charger. It performs well, looks super cool, is cheaper than the average charging pad, and is awesome if you have multiple devices of differing brands.
3 new from $9.99
Free shipping
as of November 27, 2023 12:23 am
---
While you're here, take a look at our latest reviews: