More Power To Take You Further

With our increasing use of battery powered equipment and a need for charging on the move, power banks, or portable chargers, are becoming commonplace. With a multitude of charging uses, powerbanks can keep mobile phones, tablets and more powered up and working at full capacity. Power banks are charged up using a USB charger or thunderbolt dock when power is available, and then used to charge your battery powered devices.
Power banks come in a variety of shapes and sizes to suit your requirements, including solar powered chargers for the eco-minded and QI wireless chargers ideal for smartphones. Solar powered chargers have photovoltaic panels, and are really only able to trickle-charge the internal battery when placed in sunlight because the solar cells are relatively small, but nevertheless this can be a very useful function. The solar charging is a good back-up, especially if you are travelling away from mains power.
Power banks are usually powered by Lithium Polymer or Lithium Ion batteries.
Lithium-Ion batteries are more packed with power and less costly to produce; however, they can age which is an issue.
Lithium-Polymer batteries are more expensive, but are a good choice as they don't deteriorate with age.
It's looking increasingly likely that soon we'll all need our own power bank, so here's our take on the best-selling ones.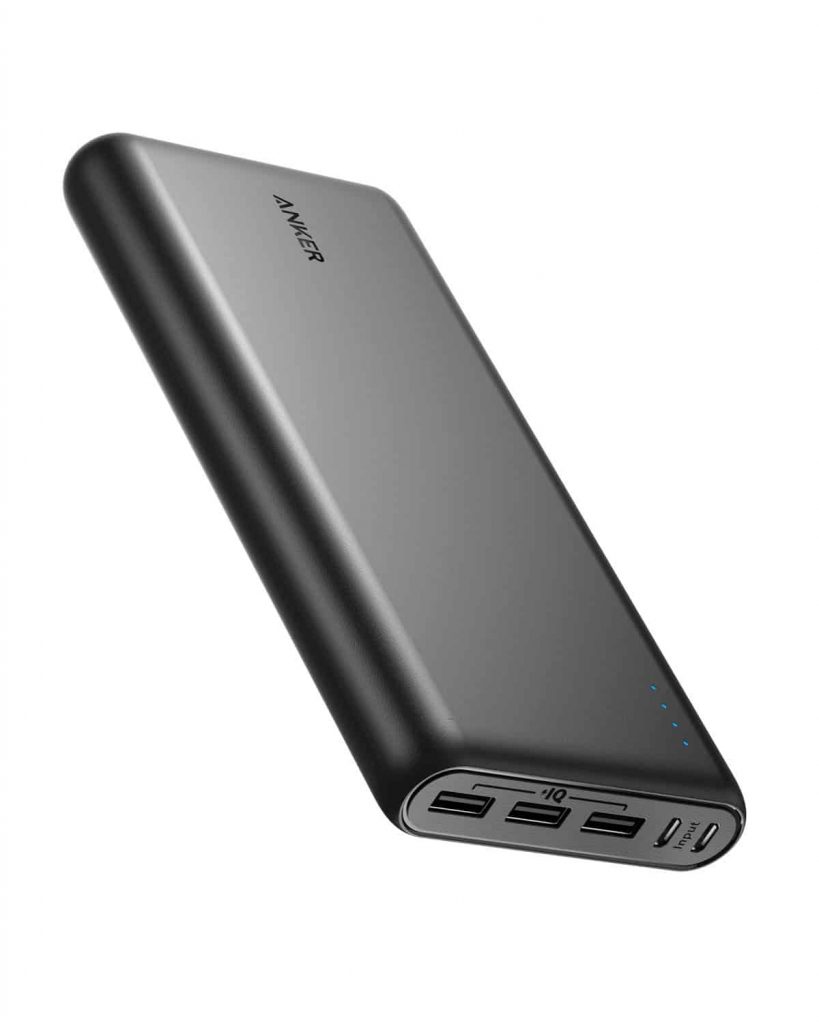 Overview
This neat little power bank from Anker packs a real punch – 26800mAh of power from 3 ports, which is enough to fully charge most phones over 6 times. It's nicely durable, scuff resistant, and comes with two USB cables.
What We Like
Charging at an impressive speed, we could simultaneously power up our devices, and the power bank itself holds a charge for over a week, depending on usage. It's neat and very user friendly.
What Needs Improving
Some may consider it a bit pricey, but for us it's worth it.
The Final Verdict
If you're looking for a rapid charging, ultra powerful power bank that has the ability to charge up to three devices at once, this is one we'd recommend.
5 new from $63.99
12 used from $42.99
Free shipping
as of June 27, 2022 2:21 am
Features
The Anker Advantage: Join the 50 million+ powered by our leading technology.
Colossal cell capacity: 2,6800 mAh of power charges most phones over 6 times, tablets at least 2 times and any other USB device multiple times.
High-Speed Charging: 3 USB output ports equipped with Anker's PowerIQ and Voltage Boost technology ensure high-speed charging for three devices—simultaneously (Not compatible with Qualcomm Quick Charge).
Recharge 2X Faster: Dual Micro USB (20W) input offers recharge speeds up to twice as fast as standard portable chargers—a full recharge takes just over 6 hours while using both input ports (wall charger not included).
What you get: Power core 26800, 2X Micro USB cable, Travel Pouch, welcome guide, our worry-free 18-month and friendly customer service. Usb-c cable and Lightning cable for iPhone/ iPad sold separately. Input: 5V ⎓ 4A (5V ⎓ 2A Max Per Port) Output: 5V ⎓ 6A (5V ⎓ 3A Max Per Port)
---
With four USB ports, this deceptively small power bank is a well thought out accessory. The smart circuitry provides protection against overcharging, short-circuiting, and voltage instabilities, so any device is safe. It also has a built-in flashlight for when you're scrabbling in the dark for USB cables, which are handily included.
What We Like
Ergonomically designed, and with in-built polymer to protect against dust particles, rusting, knocks, and being dropped, Bonai have really thought this one out. The flashlight is an awesome inclusion and it comes in a range of colors. Even charging four phones at once didn't stop its battery lasting nearly a week.
What Needs Improving
Whilst still small, it's a little larger than some of the packs we tested.
The Final Verdict
Bonai have designed a good looking, efficient, and very useable battery pack. Definitely one for the gift list.
as of June 27, 2022 5:13 am
Features
High Speed Charging with Dual Charging Cables: Highest charge output through 4 USB ports with High Speed 5V / 2.8A output, 5V / 4A input and allows for simultaneous charging of your iPad, iPhone, Android, Samsung and more at high speed. Charging adapter doesn't included
Polymer Battery: **Larger capacity of 30000mah, it cannot boarding a plane in your handbag.** Ideal for long time road trip, camping, self-driving or in case there's a power cut in your home: Fully charge your iPhone 6s Plus 7.2 times or a Galaxy S7 6.6 times, or an iPad Mini 3 times. Please be fully charged for the first time
Built in LED flash lights: The power bank has built in LED flash lights which are bright enough to help in emergency situations. Built-in Li-polymer ensures definitely safe, metal body prevents from dust, knocking, dropping and more
Advance safety functions: Our backup battery charger is designed to protect your device. The smart circuitry ensures protection against overcharging, short-circuiting, voltage instabilities, and even over discharging
Satisfactory service: There are TWO 8-pin charging cables included for iPhone charging or power bank recharging(Charging by 2 cables will be faster). If you have other android devices, you can use other USB cables to charge. If you have any problem with your purchase of BONAI, do not hesitate to contact us by email, we are very happy and we will do our best to help you solve it
---
Overview
With pleasingly rounded corners, and neon blue LEDs, this stylish solar power bank holds a pretty decent 10000mAh of power. It has two USB ports enabling a couple of devices to be charged simultaneously, a 3 mode flashlight, whistle and compass which make it ideal for those weekend trips off the beaten track.
What We Like
This eco-friendly power bank from Beartwo has two means of charging up – via a power outlet or by using solar technology. This means it's great for camping trips or long-distance traveling, especially with the compass, emergency whistle and hanging hook. It's also water and dustproof and, being incredibly robust, designed to survive being dropped.
What Needs Improving
For some reason our Samsung Note 4 took longer to charge with the Beartwo than other models, not excessively so, but longer nonetheless.
The Final Verdict
Beartwo's addition to the power bank market is hard wearing, aesthetically pleasing and environmentally sound. It does the job perfectly.
check latest price
as of June 27, 2022 2:21 am
Features
【Portable Design & Ultra-Compact 】: The solar power bank is one of the smallest and lightest solar charger on the market (only weighs7.4oz). Easily hang the solar charger on your backpack with the included hook, hands-free on the go. Perfect for camping, hiking and various outdoor activities.
【Two Charging Methods-DC Power & Solar Power】:The portable solar charger can be powered by 5V/2A adapter(not included) or solar power.The solar power bank has dual USB ports that can charge two devices at the same time, which is convenient for yourself and your friends. Note: Solar charging is for emergency use, not primary charging source. It is highly recommend you fully charge the solar battery charger via wall charger upon first use. Best choice for resources of emergency power.
【Outdoor Design with Strong LED Flashlight】: The solar power bank built in strong led flashlight is powerful that provides long run times. The solar phone charger with three modes available (Normal /SOS /Strobe), convenient to control with one button. SOS mode is specially designed for emergency use. Perfect for outdoor camping, outdoor adventure, car maintenance, maintenance, machine tools, warehouses, machine rooms, construction, daily emergency and other occasions.
【Durable and Sturdy Design】: The solar phone charger is made of durable ABS+PC+Silicone material, The USB ports are well protected by plastic caps, to further keep the solar panel charger away from normal rain and dust. Highly sturdy and durable. It features Ip65 waterproof, dustproof, shockproof. Suitable for various harsh environments. Ideal for outdoor travel and other emergency situations.
【Thanks for Choosing us 】: You will get 1 x 10000mAh Solar power bank, 1 x Charger cable, 1 x Carabiner, 1 x User manual. This portable phone charger has passed professional certification. Your satisfaction is our #1 goal, We try our best for customer as we said. If you have any questions, please feel free to contact us, We will be respond you in time.
---
What else is popular at The Gadget Nerds?