Always Running Out of Ports? Those Days Are Over!
Around since 2011, Thunderbolt technology, originally called Light Peak, was developed by Intel and Apple. It's a hardware interface that allows the connection of any external peripherals to your PC, Macbook Pro, or computer. Superseding the FireWire interface, it supports a distance of up to 300 feet. And that's not all – thunderbolt docks also allow your computer to act as a power bank by enabling you to connect multiple devices.
There are 3 types of Thunderbolt interfaces – Thunderbolt 1,2 and 3.
Thunderbolt 1:
Introduced in 2011, it uses a Mini Display Port (MDP) connector, and has 2 channels each supporting 10 Gbps. It uses protocol 4 x PCI express 2.0 and Display Port 1.1a.
Thunderbolt 2:
This was introduced in 2013 and is an update to the original Thunderbolt specification and takes the original's two 10 Gbps bidirectional channels and combines them into a single 20 Gbps bidirectional channel. It also uses Display Port 1.2. Thunderbolt 2 supports up to six peripherals and will continue to support USB and FireWire via adapters.
Thunderbolt 3:
This hit the shelves in 2015, and uses USB-C connector. Supporting a bit rate of 40Gbps, it uses protocol 4 x PCI express 3.0, DisplayPort 1.2, HDMI-2 and USB 3.1.
Do I need Thunderbolt?
If you want to connect your notebook to multiple 4K displays, add a graphics amp, and transfer data heavy files, or grab RAW video from your ulta high tech camera, it's far easier and quicker with Thunderbolt. In the past six months, there's been a steady stream of new laptops with Thunderbolt 3 ports on board, while more peripherals and docks are hitting the shelves. If high-speed connectivity matters to you, you'll want to make sure you jump on the Thunderbolt train.
We're busy grabbing every peripheral, RAW video, and as much heavy artillery as we can to test out the best selling Thunderbolt Docks.
Overview
With 15 ports, this Thunderbolt 3 Dock can provide 85w to charge your devices. It's ideal for 2016+ MacBook Pro, 2017+ iMac Pro, Mac OS 10.12 or Windows 8/10 with a Thunderbolt 3 port. This sturdy, well built dock provides the option to connect dual extended 4K 60Hz monitors or a single 5K 60Hz monitor.
What We Like
This superfast dock from CalDigit has everything you need in a dock – SD card reader, ports aplenty including USBs with both Type-A and Type-C options and a 10 Gbps Type-C port.
With a compact footprint, this can stand vertical or horizontal, and looks sleekly superior either way.
What Needs Improving
There is no doubt that this Thunderbolt 3 is on the pricey side, but in our opinion, it does offer great value for money.
The Final Verdict
If you're looking for an efficient way to connect external peripherals, this Thunderbolt 3 is more than capable of improving your setup beyond your expectations. Highly recommended.
2 new from $239.95
2 used from $207.00
Free shipping
as of November 27, 2023 1:11 pm
---
Overview
Capable of charging at 60w, and with 11 ports, plus an SD card reader, this compact, well designed docking station comes with extra ports for a 3.5mm audio headset and a 3.5mm microphone. It works best with Windows devices, such as Dell, Acer, Asus, and Toshiba, and has super-fast USB 3.0 charging ports for smartphone charging.
What We Like
Although geared towards Windows fans, we found it worked brilliantly with our MacBook Pros. It's a real plug 'n' play docking station, with no hassles or hidden problems. It provided steady, consistent power and supports dual 4K display at 60Hz for ultra clear, smooth scrolling graphics ideal for a heavy duty gaming session. Design wise this is neat, shiny and stylish, and small enough to be tucked away anywhere.
What Needs Improving
The cable could do with being a couple of feet longer, however this was soon rectified with an extension cord.
The Final Verdict
Good things come in small packages, and this compact Thunderbolt dock is awesomely good.
---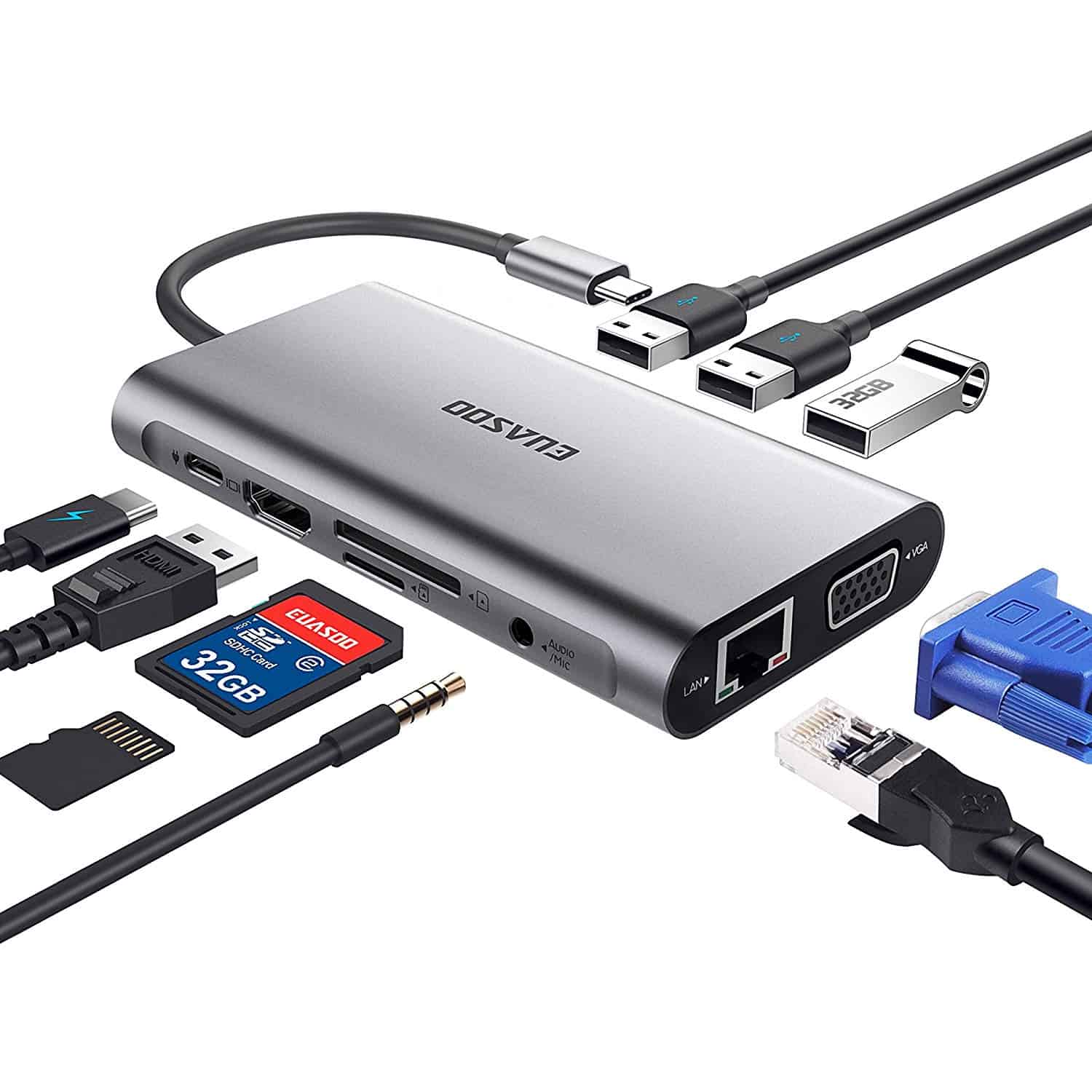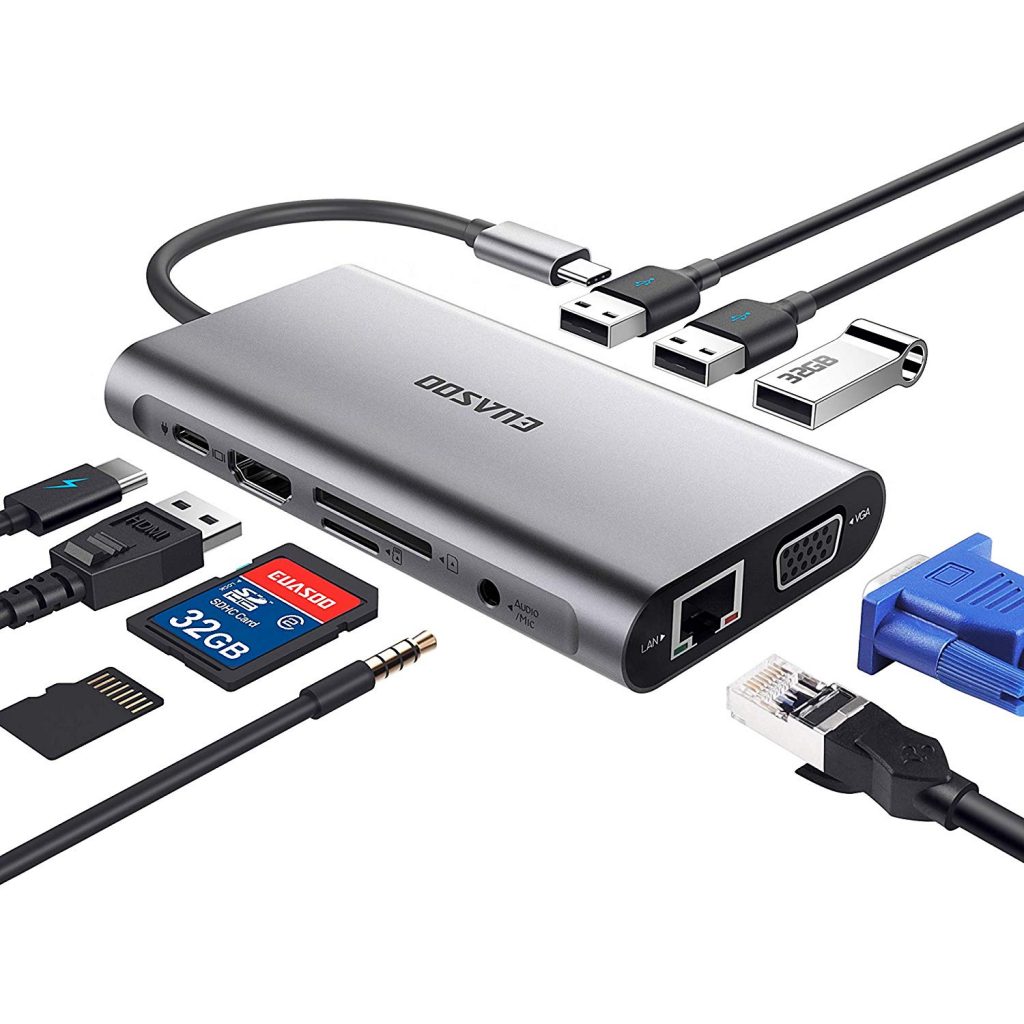 Overview
This Thunderbolt 3 has 9 ports, including a USB-C charging port, 3 USB 3.0 ports, a 4K HDMI port, MicroSD card slot, SD card slot and a headphone/mic jack. It's been designed to have enough space between the ports, despite it being a slim and compact docking hub. Made from robust high evaluation aluminium, it doesn't get hot, and is tough enough to be thrown in your bag if you need it at work.
What We Like
This coped well with everything we threw at it. We loaded up all the ports and it kept powering through. Performance wise we've been impressed with the speed, connectivity and audio quality. There was no lag, despite our heavy usage, and we were all able to benefit from the superior graphics this dock allowed. For a device the size of a smartphone, this is a great piece of kit, solving the eternal not-enough-ports issue.
What Needs Improving
The cable connecting the dock to the laptop could be a foot or so longer, but this isn't a deal breaker for us.
The Final Verdict
A super neat, slimline docking hub that is easy to use, works excellently, and comes in at a decent price. This is an easy recommend.
2 used from $41.39
Free shipping
as of November 26, 2023 10:20 pm
---
If you're nerdy like us and are leaning towards the techy side of things, feast your eyes upon the ultimate guide for Thunderbolt technology.
---
What else do we recommend?