The Best Outdoor Solar Powered Lights
Solar lights are economical, ecological and adaptable – there's no wonder that solar lanterns are at the peak of their popularity. Perfect for inside and outdoor use, we just can't seem to get enough of them. So what's the secret to their success?
Well, it's quite simple! Solar lanterns are a useful source of energy, cutting your energy bills as they light up your home. These lights are great for outdoor spaces, but the solar panel (which is often independent from the light itself) needs to be placed in a sunny spot in order to soak up as many rays as it can. Once fully charged, you can expect up to 8 hours of shine time.
Every light contains a rechargeable battery that holds the solar energy. These generally last for 2 years or more before replacing, which is great news for saving those dollars for other fun!
Let's get down to it. Check out our favorite Solar Lights of the year: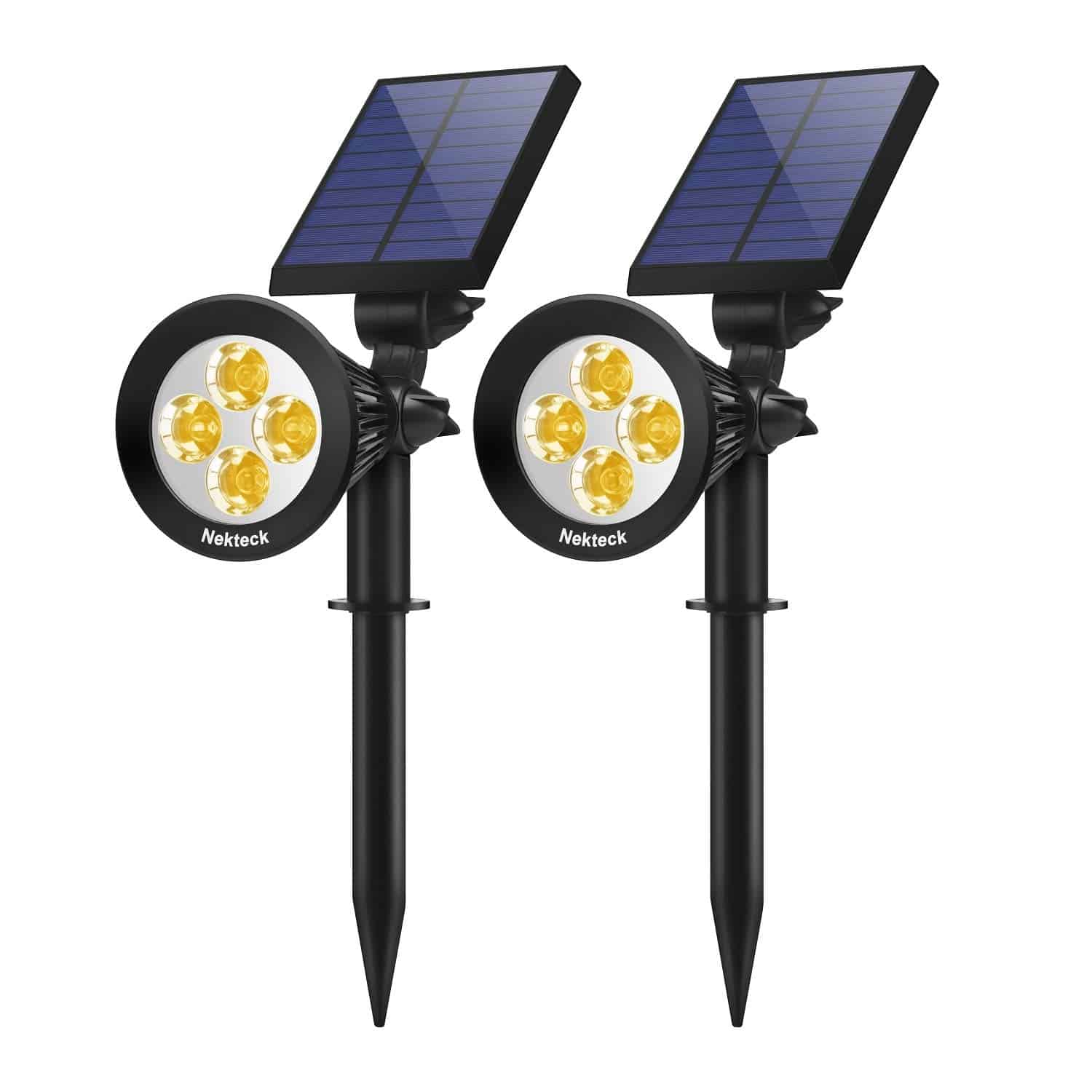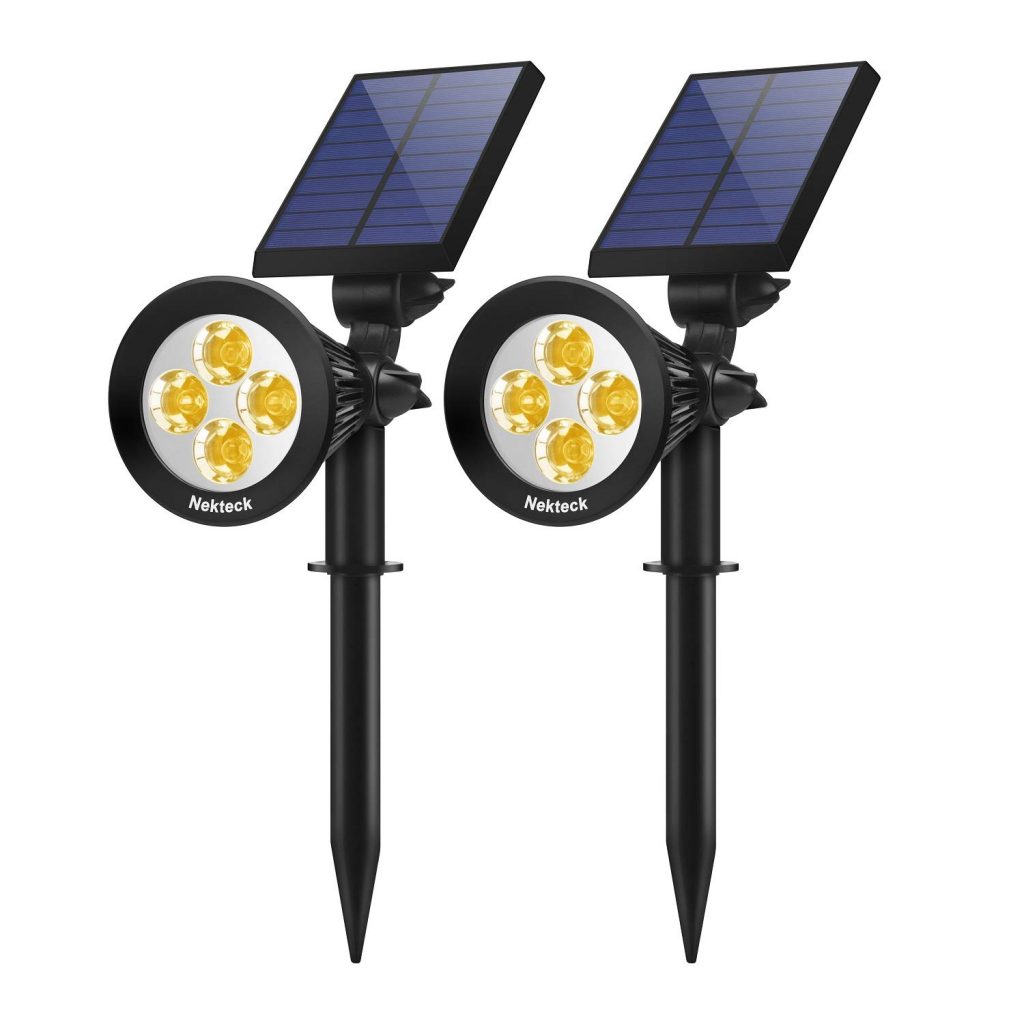 Overview
This pack of 2 solar lanterns is a good little set of four lights that can be used virtually anywhere. They arrived quickly and were all nicely wrapped up. These lights are also waterproof, come with a sensor, as well as a larger solar panel to absorb more energy.
What We Like

We tested these lights in multiple outdoor locations including our office garden, around the front driveway, and fixed to the walls for security lighting. They are so simple to move and although the solar panel is attached to each light, they are unobtrusive and will just sit there quietly until dark, when they suddenly light up the entire neighborhood.
What Needs Improving
From an aesthetic point of view, the solar panel is a little unsightly, but honestly, you don't really notice it.
The Final Verdict
These are fantastic. A stellar product for a decent price.
Nekteck Solar Lights Outdoor, 2-in-1 Solar Spotlights Powered 4 LED Adjustable Wall Light Landscape Lighting, Bright and Dark Sensing, Auto On/Off for Yard, Pathway, Walkway, Garden, Driveway, 2 Pack
as of July 28, 2021 4:10 pm
---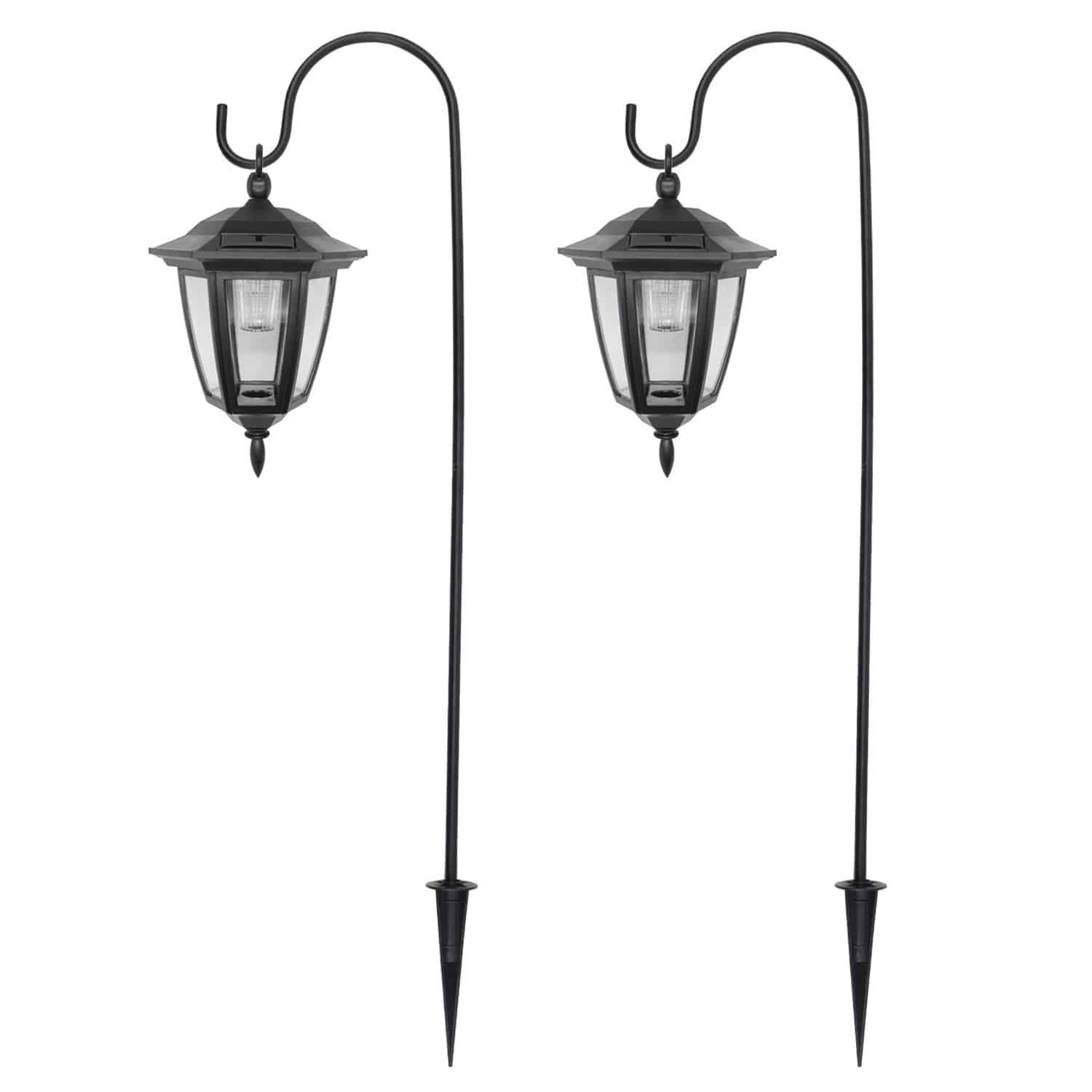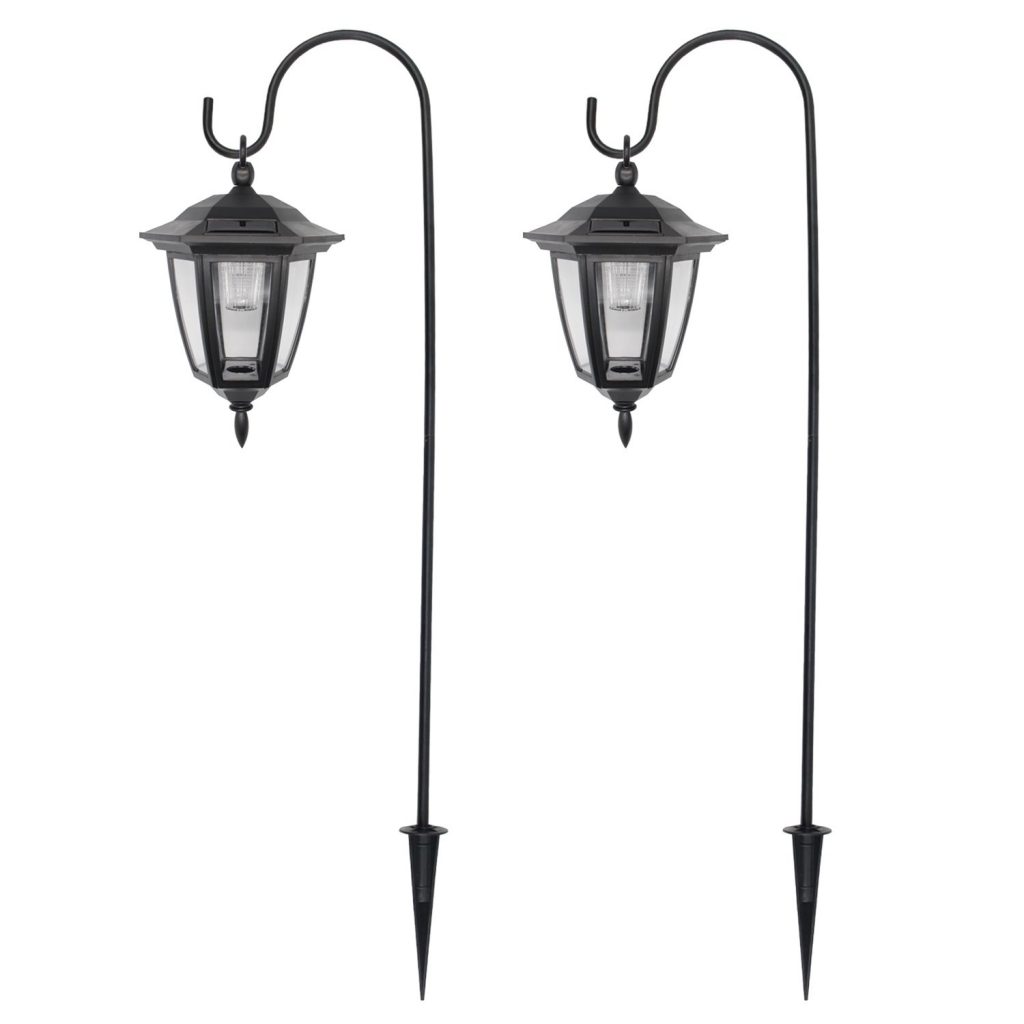 Overview
We loved the look of these, and were not disappointed when we unpacked them. They're unusually charming, nicely made and with an equally nice price tag.
What We Like
We had a really windy night whilst we were trying these lights, and when they swung gently, a lovely effect was created – the light and shadows moving across the pathway in a really pretty way. This is enhanced when they're hung from the tree branches. Maggift have very kindly included the batteries with these lights – great.
What Needs Improving

They could do with being a little bit brighter. The light given off is more of a soft glow than a 'there are no shadows to hide in' glare. But for the cheap price, we're happy.
The Final Verdict
We really liked these ornamental 2 for 1 lights for their atmospheric effects, but to actually see anything, they need more lumens; however, for the price, a very nice product.
MAGGIFT 26 Inch Hanging Solar Lights Dual Use Shepherd Hook Lights with 2 Shepherd Hooks Outdoor Solar Coach Lights, 2 Pack
1 used from $17.19
Free shipping
as of July 28, 2021 11:11 am
---
Overview
These lights are a great bargain buy if you love doing any outdoor activities that involve being in the dark. They seem solidly made and shine bright even in bad weather.
What We Like

Neat, lightweight and practical pretty much sums up this lantern. Incredibly simple yet effective. There are three ways of powering up these lights, which is extra convenient. There is a solar strip, battery supply and you can even charge up using a USB connection.
What Needs Improving

This is super affordable so of course you could get even brighter lights by investing more, but in all honesty, we doubt you'll need to. A great solar lantern.
The Final Verdict
This light is like a good friend – it sits waiting, patiently and unobtrusively, and then, when you need it, there it is! For the cheap price, you can't go wrong.
GIGALUMI Hanging Solar Mason Jar Lights, 6 Pack 30 Led String Fairy lights Solar Lanterns Table Lights, 6 Hangers and Jars included. Great Outdoor Lawn Decor for Patio Garden, Yard and Christmas Décor
2 used from $33.51
Free shipping
as of July 28, 2021 11:11 am
---
Overview
This year has seen the rise in popularity of mason jars in everything from fancy cocktails to interior design. These solar powered mason jar lights are right on trend. Moreover, they feel well made and durable.
What We Like

These super fun mason jar lights are simple to install and look amazing in any space. The lights are 100% solar powered and there is one AAA battery that you can put in as a back up. They seem to last a long time from a day's sun exposure, and, although not super bright, give off a lovely soft light.
What Needs Improving

Given that these lights are at the more affordable end of the spectrum, they're not as dazzlingly bright as the more expensive counterparts.
The Final Verdict
This is a very nice set of lights, perfect for dinner parties and get togethers' in your backyard. For lights that look good all year around for the price, these are ideal.
Aobik Solar Mason Jar Lid Lights, 6 Pack 30 Led String Fairy Star Firefly Jar Lids Lights,6 Hangers Included(Jars Not Included), Best for Mason Jar Decor,Patio Garden Decor Solar Laterns Table Lights
2 new from $22.98
Free shipping
as of July 28, 2021 11:11 am
---
Overview
This vivid torch display looks beautifully realistic and is ready to impress. Well made and powered by solar, these torches are a great find and will last you for years.
What We Like

Made with 96 LED light beads, these torches will gently flicker to create the perfect atmosphere whether it's an ordinary day of the week or a special occasion. They will light up for up to 10 hours on a single charge. They are waterproof so you can leave them exposed in your garden even in the rain, snow and hail.
What Needs Improving

The charging time is a little slow at 5 hours, but if you keep them exposed to some sunlight most days, you won't have an issue.
The Final Verdict
Fantastic, atmosphere solar lights that require no installation. These torches look realistic and will delight anyone who sees them.
8-Pack Solar Torch Lights with Flickering Flames for Halloween Decorations Outdoors Garden Path Light, Waterproof Landscape Lighting for Pathway, Yard, Patio, Lawn, Porch, Christmas Lights Decor
4 new from $108.99
Free shipping
as of July 28, 2021 11:11 am
---
How do you charge solar lights without sun?
While it is not as effective as sunlight, artificial light will charge the batteries in a solar light.
What kind of batteries do solar lights use?
Generally solar lights that are used in gardens will use low capacity rechargeable batteries. This makes them easy to replace if you find that your lights have stopped working as well as you expect.
Why are electric bikes limited to 20mph?
Although electric bikes have the capability of going faster than 20mph, regulations in the US state that 20mph is the maximum pemissable speed.
---
See our other top recommendations for the home: