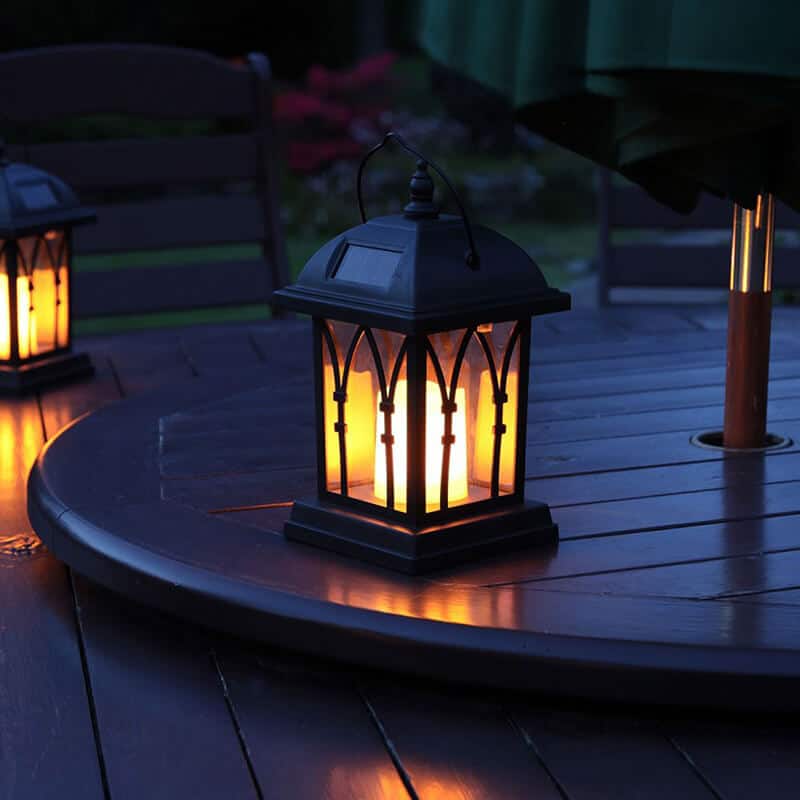 Last Updated on
Shining the Light on Solar Lanterns
Solar lights are economical, ecological and adaptable – so we have a play with the top sellers, just for you.
These lights are great for outdoor spaces, but the solar panel (which is often independent from the light itself) needs to be placed in a sunny spot in order to soak up as many rays as it can. Once fully charged, you can expect up to 8 hours of shine time.
Every light contains a rechargeable battery that holds the solar energy. These generally last for 2 years or more before replacing, and if your light fails to well…..light, then this is the most likely cause.
Overview
This is a good little set of four lights that can be used virtually anywhere. They arrived quickly and were all nicely wrapped up. I am always impressed when batteries are included (see, it doesn't take much), as they were with these.
The instructions were simple, and all the mounting bits kept together in a bag thus avoiding my usual trick of throwing everything out with the packing.
So far, so good.
Features
Upgraded frosted solar panel, no protective film needed. IP65 waterproof, heatproof and super bright-200 lumen output, 4 x 50 lumen enhanced LED
2-in-1 Tool-free Installation – Stick into the ground / Use included screws to mount on the wall.
Auto on at night / Auto off at sunrise; 2 Level Brightness working modes; Longer Working Time with built-in 18650 lithium rechargeable battery (2200mAh)
Adjustable Light and Solar Panel – Full range adjustable light angle to illuminate perfect spot and adjustable solar panel angel for optimum sun exposure
Note: Please make sure to turn on the switch before use. The spotlight is light sensitive and won't light up in bright place. To turn on the light in the daytime, please fully cover the solar panel and make sure there is no light source or sunshine detected.
Pros
I really like these lights. I tried them in my garden to light the way to the end, around my front driveway, and fixed to the walls for security lighting. They are so simple to move, and although the solar panel is attached to each light, they are unobtrusive and will just sit there quietly until dark, when they suddenly light up the entire neighbourhood and several small outlying villages, besides.
Brilliant – quite literally.
Cons
If you live in the neighbourhood or aforementioned outlying village, and are an astronomer pointing his telescope towards the furthest reaches of the galaxy, you might as well give up now – these babies will drown out any dark skies and can actually be spotted from space, themselves.
From an aesthetic point of view, I find the solar panel a bit ugly, but you don't really notice it, unless you're as picky as I am.
Final Verdict
These are fab – a great price, and a great product (unless you're that astronomer)!
---
Overview
I really liked the look of these, and wasn't disappointed when I unpacked them. They're unusually charming, nicely made and with an equally nice price tag.
Features
Solar powered– powered by free solar energy and no electricity required. The solar panel supports long-term operations. Package includes 2 lights, 2 shepherd hooks.
Two installation modes–easy to install, just hang in the branches or push the stake on the unit down into soft earth. There's an INSULATION TRIP on the light cover, turn 30 degrees counter clockwise to separate the light, make sure TAKE INSULATION TRIP OUT before charging.
Decorative–suitable for outdoor use, add a charming ambience, perfect use on pathways, decorate your garden, porch or yard. 4 lumens,
Measures 26 inches from top to bottom, above ground height after installation is approximately 20 inches, depending on the depth you install the stake.
100% SATISFACTION GUARANTEE – With 180 days product warranty, if you have any questions, please contact us, we would be more than happy to assist.
Pros
We had a really windy night whilst I was trying these lights, and when they swung gently on their poles, a lovely effect was created – the light and shadows moving across the pathway in a really pretty way. This is enhanced when they're hung from the tree branches!
Maggift have very kindly included the batteries with these lights – brilliant!
Cons
They could do with being a little bit brighter. The light given off is more of a soft glow than a 'there're no shadows to hide in' glare. This is very nice, but not particularly practical.
Final Verdict
I liked these lights for their atmospheric effects, but to actually see anything, they need more lumens; however, for the price, a very nice product.
Overview
These lights appear very good. They seem solidly made, and with the pegs to hold them in place, look like they'll be an excellent addition to my garden – which could be mistaken for a modern art light installation on my now crowded patch of lawn.
Features
Solar-powered LED bulbs accumulate and store clean energy during the day to allow 10+ hours of illuminating power at night.
Easy assembly and mounting – attach the included stakes, and mount Disk Lights on the ground. The four-corner stake maintains stability and eliminates accidental dislodging of product e.g. during lawn mowing or when pets and children are playing around.
Disk Lights can be manually switched off by clicking the switch button located on the underside section of the product.
Moisture-proof design ensures that Disk Lights remain unaffected even after a heavy downpour. Our product also does not utilize electricity – an added bonus as far as safety and cost-efficiency are concerned.
Durable construction for long-term usage. The metal casing is rust-resistant, lightweight, and durable.
Pros
Neat, unobtrusive, and effective pretty much sums up these little lights. Incredibly simple to install, and move around, I would happily recommend them.
Cons
The On/Off switch is a bit hard to read, so I did find myself having to adjust it when they didn't light up at nightfall.
Final Verdict
These lights are like a good friend – they sit waiting, patiently and unobtrusively, and then, when you need them, there they are!
---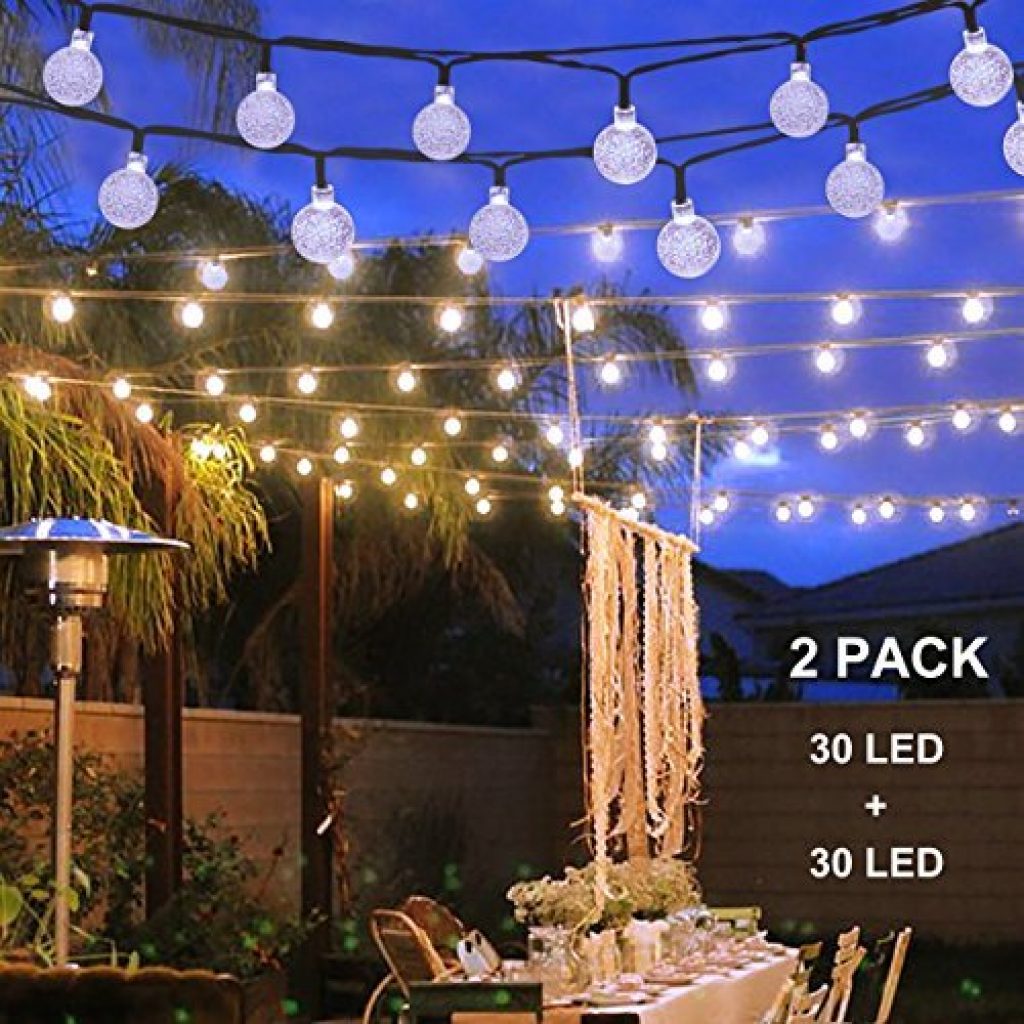 Overview
Going by the picture on the box, these attractive little lights will bring all my neighbours round for a jolly old knees up – worth a try, I guess.
However, on first appearance, they do seem well made, with simply written instructions.
Features
Warm White LED Crystal Ball Lights provides Friendly and casual vibe
Water Resistant: The waterproof grade of the String Lights is IP44, perfect for indoor and outdoor decoration. No worry for rain drops. Also a perfect gift for your friends or families.
Specification: With a high-efficiency solar panel, more durable and convenient. About 6.5ft lead cable and 19.7ft total length meet the needs of chic art decor.
Two Light Modes: Flash and steady-on. Just adjust the light modes to match with your restaurant, bars, cafes, gazebo, wedding or party event and make your ambiance more active and vivid.
Long working time: Being fully exposed to sunlight during the day, this outdoor festive string light begins to light up at night automatically when power on. 8 hours working time if it absorbs enough sunshine.
Pros
Although they took me a while to put up, they are simple to install and they are so pretty that it was worth it.
They seem to last a long time from a day's sun exposure, and, although not dazzlingly bright, give off a lovely soft light.
Cons
A couple of the individual lights thought that I wanted them to flash rather than the steady glow I had requested, however after a quick fiddle with the settings, they soon got the message.
Final Verdict
Although the images on the box lied, and I am still sitting here all alone like I do every night, sadly waiting for my neighbours to arrive with fun and alcohol, I like these lights, and they're much more fun than my neighbours. Now, where's that alcohol?
---
Overview
I'll be honest here, I had to calm down before I could even open the box with this Innoka glowing ball of magic. A short sit down later, and I hold the Globe of Enchantment in my hands – wow!
It looks and feel sturdy and well worth its price tag. So far, so oooooooh!
Features
Perfect for Anywhere: Brighten up any environment with the addition of this light up LED Ball. Place the light anywhere and instantly change the feel and atmosphere of the area. Great nightlight for outdoors and indoors! Ideal for any area such as your lounge, bathroom, garden, bedroom, etc. Use as a standard lighting device or get everybody in the mood for partying with the several lighting modes
Waterproof: Leaving the light outside during heavy rain will be perfectly fine as the IP68 waterproof rating makes it completely safe Position the light next to swimming pools, ponds and decorative ornaments to enhance the attractiveness of the space. The floating capabilities of the light ball make it perfect for pool and garden parties
Multiple Colour & Effect Options: Change the colour of the LED light to any of the huge number of options available by using the remote controller and simply selecting the colour you wish to display. Multiple lighting effects include Flash, Strobe, Fade and Smooth. Choose the effect that best matches the current situation for the best ambience. Adjust the brightness for the perfect lighting balance
Smart Design: The built-in metal hanging hook can be used to suspend the light, making it excellent for outdoor adventure camping trips. Attach the grass stake to the light and securely fasten it into the soil. An included light stand is available for you to use the ball light as an awesome home desk lamp
Extended Long Use: A long lasting 2200mAh rechargeable battery will allow for 12 hours of working use per single full charge
Pros
It glows, it flashes, it fades, all in a multi-colour magical experience – enough said!
I have floated it in my rather unimpressive pond; result – pond becomes remarkably impressive.
I have hung it in a very dead looking tree; result – who cares if the tree is dead, look at the glowing globe.
I have even placed it on my desk at night; result – no work done, too busy staring at glowy ball. Must put ball away now……….
Cons
They're addictive – need more magic globes!
Final Verdict
These are fab – a really innovative idea that works brilliantly, and is impressively well made.
Will be buying many, many more!
---
Liked this page? Then check out some of other our featured articles!