Modern Watches with Record Battery Life
We're the first to admit our addiction to well-crafted luxury watches. It's our guilty pleasure and together we've probably poured one too many paychecks to expand our collections.
In 2023, we're more aware of the world and our impact upon it than ever before,  and even our self-proclaimed affinity for a classic Rolex cannot detract from the pull of solar watches.
Don't worry: We're not talking about those awkward and ugly solar strips plastered across your favorite accessory. The technology, first used in the 1960's, now hides the solar cells beneath the dial so that the solar powered watch looks like any other.
Many of us also harbor doubts over the reliability of an eco-watch. In the beginning, we couldn't fathom how the watch could work after sustained periods in the dark or on a dull day. The truth is that a good solar watch will have a battery reserve of an incredible 6 months (as opposed to an average of 50 hours for automatic watches), and charging it requires minimal light exposure.
So if you're like many of us this year interested in investing in renewable products, or simply enjoy cool advancements in technology – check out our guide to the best solar watches available: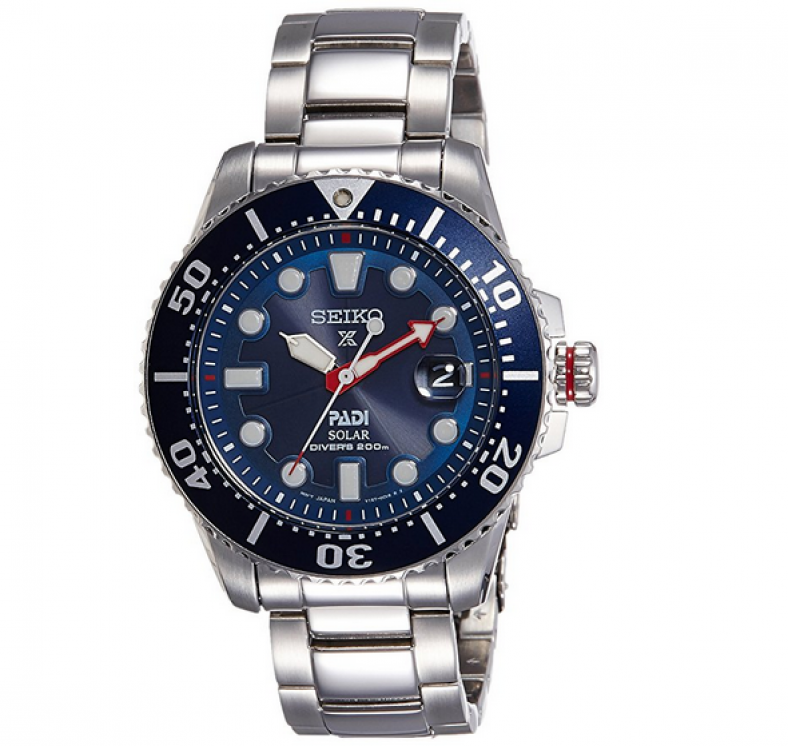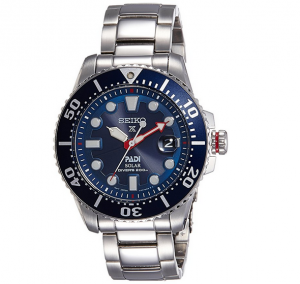 Overview
This mesmerizing watch from Japanese purveyors Seiko exudes cool masculinity. As we slip the sculpted stainless steel bracelet around on our wrist, we feel like we're putting on a power suit.
What We Like
The is a substantial watch but the double click safety mechanism ensures that it stays perfectly in place. The analog display with Japanese quartz is lit up beautifully, and easily legible even in the dark. There is a trio of sub-dials making sure that this watch is always on point.
As if it couldn't get any better, this solar watch is an excellent choice for anyone who's into outdoor sports, from golf to adrenaline inducing diving – and it's water resistant up to 200 meters.
What Needs Improving
This is a real heavy duty watch so if you're looking for something very slight, it may not be for you.
The Final Verdict
I was surprised to find such a premium model on Amazon, the prices are GREAT right now. If you're due a new timepiece or know someone who's birthday is coming up, this will make their jaw drop.
4 new from $364.00
Free shipping
as of June 5, 2023 5:18 am
---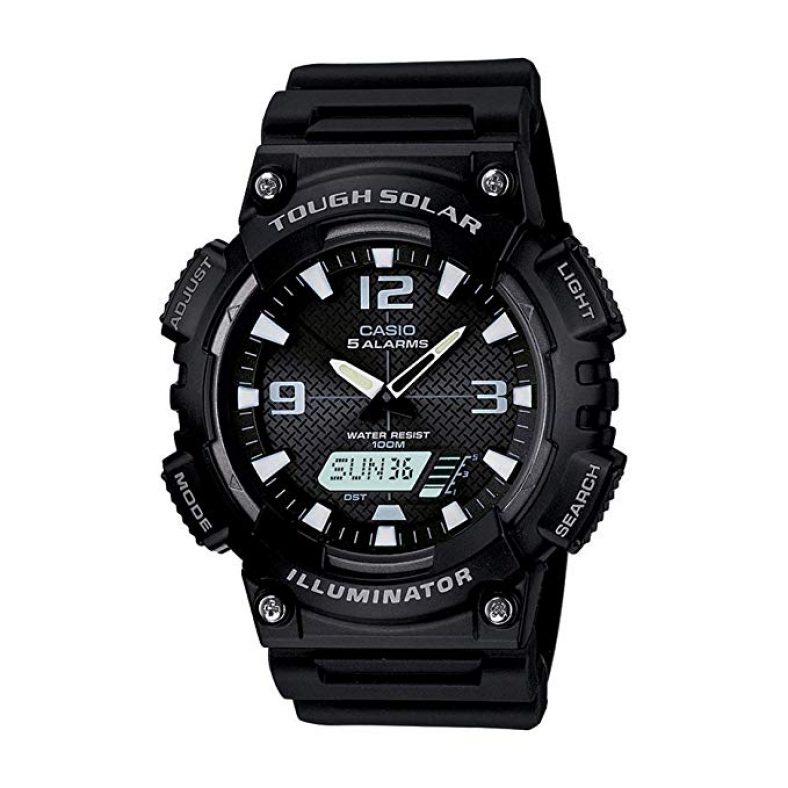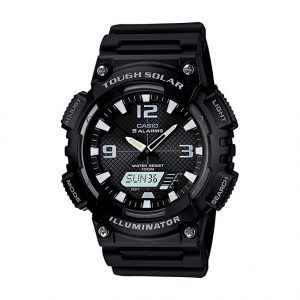 Overview
Casio are championed for making super hard-wearing watches fit for extreme conditions. This flagship solar/sport watch is no exception.
What We Like
Set in a midnight black ribbed bracelet, this classic design will never go out of style. But the real kicker is the luminous display. Lit up by LED lights, the neo-brite hands make this watch equally as appropriate in an office job downtown as on a construction site.
The high-tech features don't end there. There is a world clock, multi-lingual day of the week (English, Spanish, Portuguese…) On top you get water resistance, 5 daily alarms, an hourly signal, 1/100 second stopwatch – to name a few. Finally, since this is a solar watch, the battery life is around 10 months. Not bad, not bad at all.
What Needs Improving
One minor drawback is that this watch doesn't illuminate as brightly as some of it's counterparts. It still works well in minimal lighting and you shouldn't have to strain your eyes.
The Final Verdict
Casio have outdone themselves again. There's nothing missing from this tech-driven, no nonsense, watch. My guess is that you'll be loving this one for years.
17 new from $30.99
3 used from $27.21
Free shipping
as of June 5, 2023 1:23 pm
---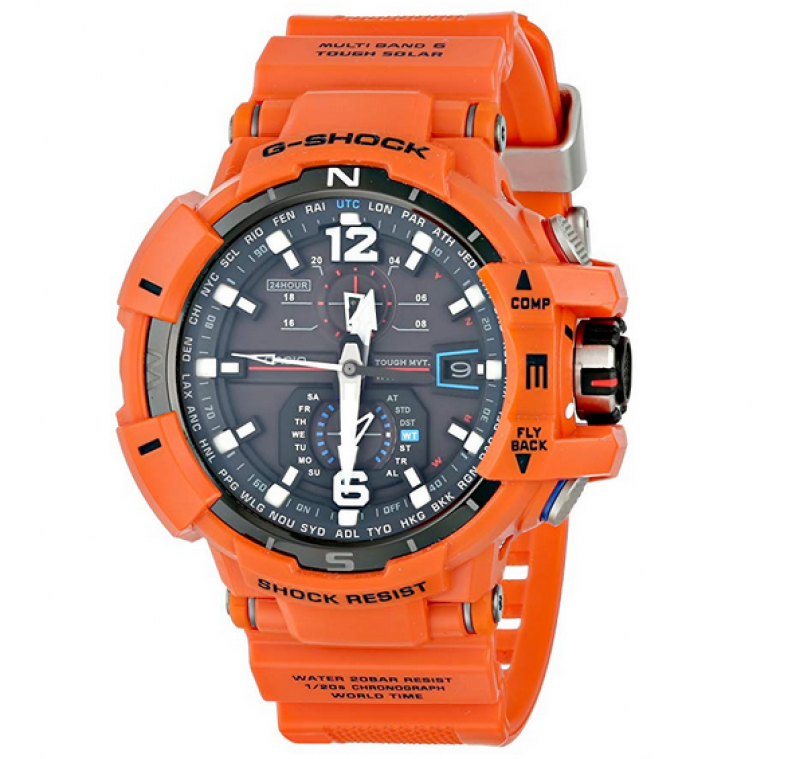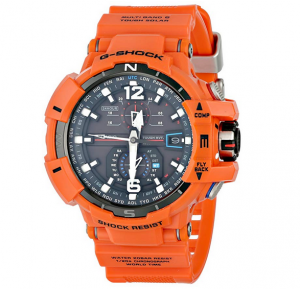 Overview
This shock-resistant, powerful solar powered watch from Casio is a showstopper.
What We Like
Equipped with an analog display, this wrist watch has luminous markers with a full LED backlight (afterglow). As you might have guessed from looking at it, it's Triple G protected and waterproof, making this the only choice if you love extreme sports or have a very physical job. It also includes a 1/100 second stopwatch so you won't have to pull out your phone to time yourself!
There is also a battery power indicator and power-saving function, which comes in handy if you rely on your watch. (But of course, with solar watches you already have the benefit of a 6-month reserve!)
What we love about the Casio is that the strap is extremely comfortable, which means that it fits nicely on almost any size of wrist. The shock resistance puts our minds at ease as we rarely remove our watches and often forget to be cautious – especially while running after little kids!
What Needs Improving
The only drawback is that it doesn't come with a built-in light. We found this surprising and it's a great shame, as otherwise we'd give the Casio a 10/10. The LED display does illuminate in the dark, but for those of us whose eyes are a little worn, it's not as bright as it could be.
The Final Verdict
In every other way, this is a fantastic and sturdy watch that will last you a lifetime. And if you're a frequent traveler, it packs the added bonus of working across 29 different time zones around the world.
---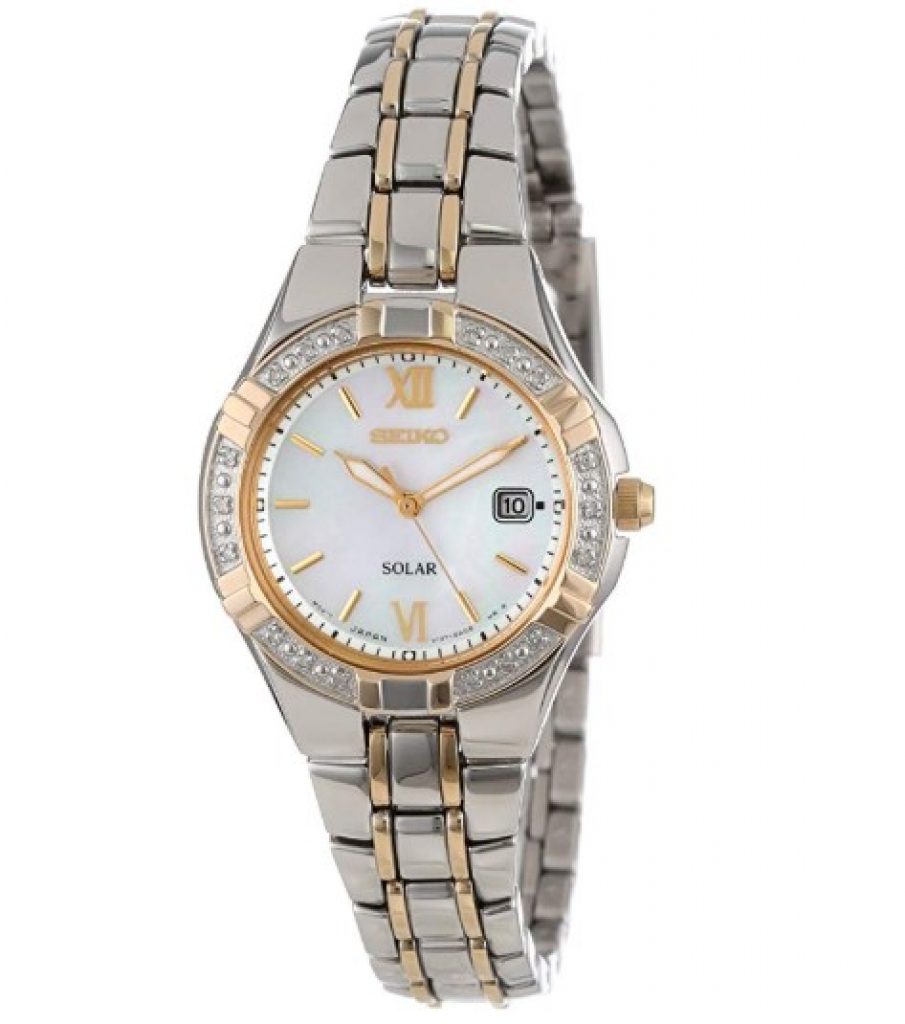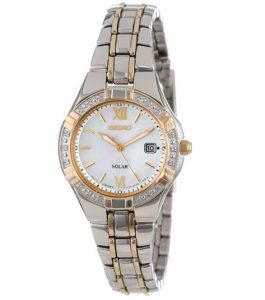 Overview
This elegant and feminine solar watch is a beauty to behold. In a world where many solar watches look like they're designed for extreme sports, this delicate watch decorated with Swarovski is so pretty that it could pass for jewelry. It proves that watches for women can look as beautiful as they are practical.
What We Like
While this watch will garner plenty of admirers, it's so much more than an accessory. We had it out in sunlight for one afternoon, and in all seriousness, the battery charge lasted almost a year. The pearlescent dial is beautifully presented, with a protected window to prevent cracks and scratches. And you wouldn't think it, but as with other solar watches, it can withstand some degree of water exposure.
What Needs Improving
Some care should be taken to look after the crystals, but even they can be easily replaced.
The Final Verdict
This shimmering watch makes a perfect gift for yourself or a special woman in your life. In terms of quality, this watch is among the best. In terms of ladies watches, it's a modern keepsake.
2 new from $318.75
Free shipping
as of June 5, 2023 8:17 am
---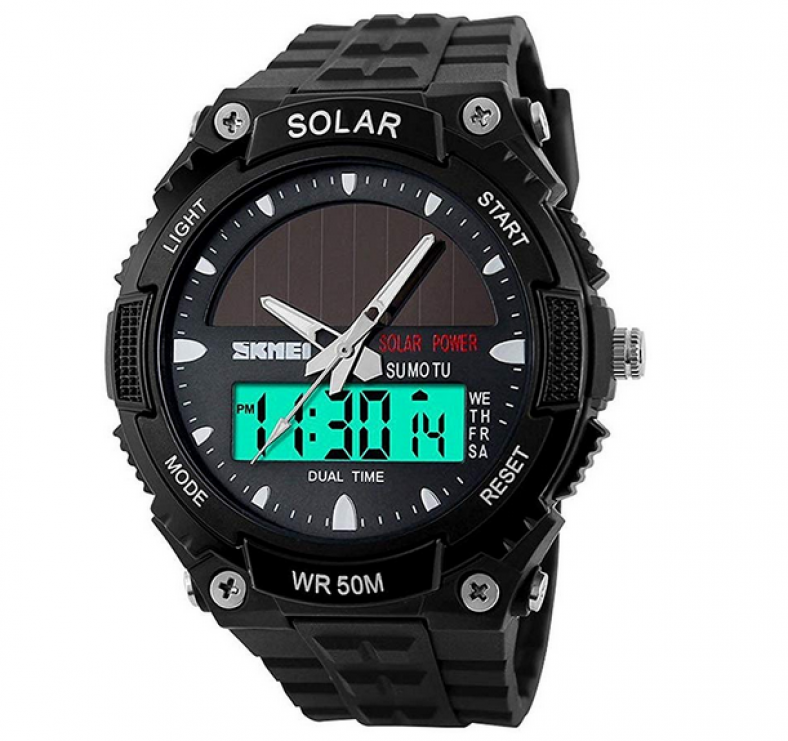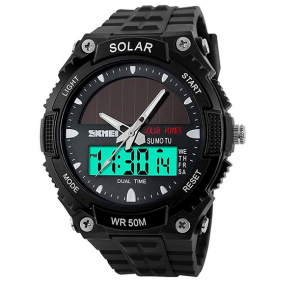 Overview
Finally, our prize for best affordable solar watch goes to…the Fanmis. This super economical solar powered watch is ideal if you're looking for good quality, cheap watches for men and women.
What We Like
It comes with a battery as well as a solar panel. If there isn't enough sunlight to power the watch, it will automatically revert to the normal battery, saving you the hassle. There is a useful two-way display, digital and analog, that allows you to display two different timezones. Other perks include a stop watch, snooze alarm, and backlight for night time. Lastly, as it's designed with sports in mind, it's also waterproof – so you can splash without a care in the world.
What Needs Improving
Since it's one of the more affordable models, the solar function is limited to the solar strip that may need back up from the traditional in-built battery. However, this is a blessing rather than a curse – as the chances of you ever running out of charge, are next to none!
The Final Verdict
For less than the price of your weekly grocery shop, you can't go wrong with this cheap and cheerful watch. It simply does what it says on the tin, and works perfectly fine even in heavy use. Worth every cent.
---
If you liked this page then feel free to check out some of our other trending articles!