Treat Your Feet!
Cold weather, if you have to spend any length of time outdoors or suffer from arthritis, is a nightmare of discomfort if you're not properly prepared, and having freezing cold toes can be very painful. If feet get too cold, it can also lead to chilblains, blistering and in extreme cases, frostbite.
So if you have to be outdoors for any period, suffer from arthritis or poor circulation, it makes sense to treat your feet to some heated socks.
Heated socks use thin carbon filaments that heat up via a rechargeable battery pack, to warm up the soles and toe areas. Some have adjustable temperature controls that allow you a choice of settings, and the longevity of the battery life is dependent on the power output eg a higher setting means a shorter time between battery recharges.
In case you particularly hate the cold weather and heated socks aren't enough – we have reviewed the best heated scarves, jackets, pants and gloves for you.
We've trudged through snow, ice and some pretty heavy rain to bring your our favorite heated socks:
Overview
These breathable, fleecy lined heated socks from Snow Deer, are reassuringly thick and plush. Well made in the extreme, the power pack is hidden away in the cuff of the sock, and features 3 heat settings for personalized comfort.
What We Like
The tiny battery pack is in a well padded sleeve at the top of the sock, and although initially noticeable, that didn't last long. However the battery did! With 4 hours on the highest mode, which is perfect if you're working, or moving around outdoors.
What Needs Improving
The one-button mode cycling can take a while to get the hang of, but get that figured and your feet will thank you.
The Final Verdict
If you want warm toasty toes for up to 17 hours in a pair of well made, durable socks, then you need to add these to your basket.
---
Overview
With reinforced heels and toes, this pair of heated socks feel especially hard wearing. The recessed battery pack tucks away neatly, but is easily accessible for charging, and the one-size-fits-all sizing eliminates any sizing issues. They can also be popped in the machine on a gentle cycle for washing.
What We Like
The heating elements in this pair of socks extends over the entire sole which efficiently allows the whole foot to be warm and comfortable, whilst still remaining perfectly flexible. With 3 heat settings you can manage the battery life, which runs from 5 – 10 hours.
What Needs Improving
The charger is a very snug fit inside its pocket, so when it comes to washing the socks, it can be a bit of a struggle to remove the pack. However, this isn't a deal breaker for us.
The Final Verdict
Greatssly have designed a great pair of heated socks. With the heating elements extending over the whole sole, any outdoor role becomes a pleasure.
---
Overview
With a wide range of color options, these socks from Rabbitroom are extremely stretchy, soft and well made. Unusually the heating element is placed on top of the foot, and time will tell how comfortable this is, but with 3 heat settings, and the battery securely attached to the cuff, these are looking good, so far.
What We Like
We were slightly concerned with the placement of the heating element vs comfort level, but actually it's supremely comfy, and even on the hottest setting remains luxuriously toasty, rather than baking hot. Hand washing and drip drying is recommended, and they arrive in a gorgeous little gift box, perfectly wrapped for a present.
What Needs Improving
Although these socks are perfect in every way, the battery life could be improved. This ranges from 3 – 7 hours depending on the selected setting.
The Final Verdict
A really well made, durable pair of heated socks. Ideal for hiking, working or any outdoor chore, they're comfortable and offer three heating modes.
---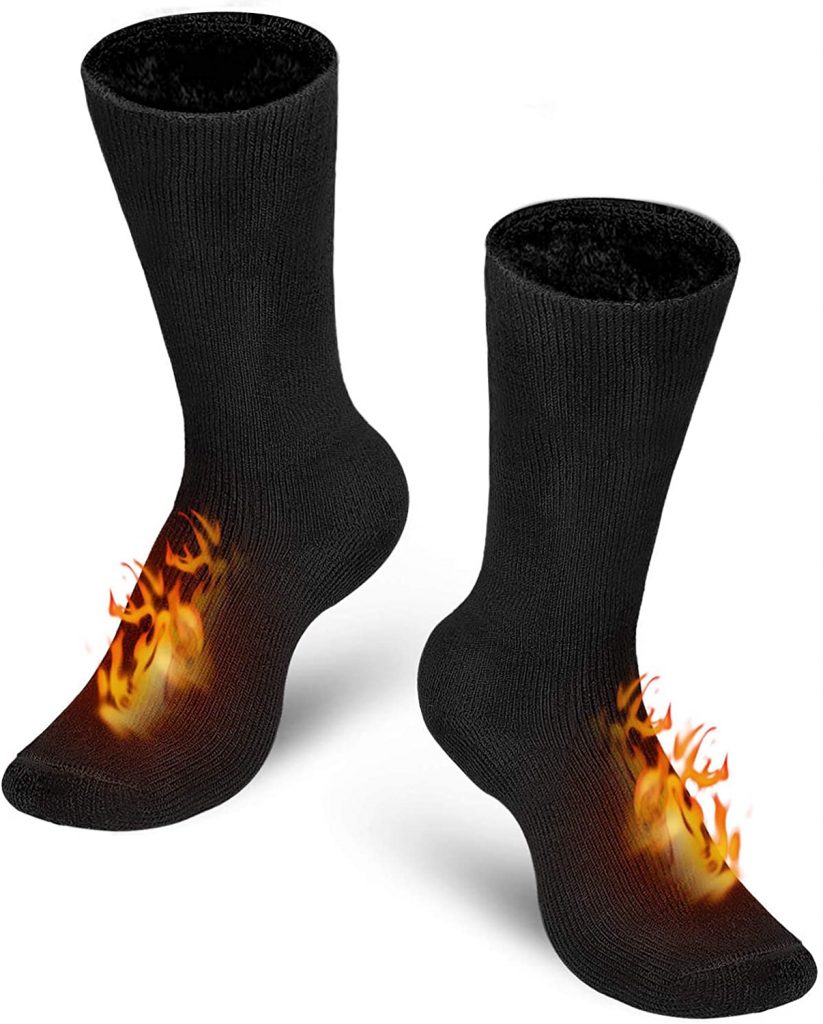 Overview
Qimh have designed this pair of socks to extend to a mid-calf point, and although the heat is concentrated in the toe and ball of foot area, the level of warmth offered will keep everything warm and cozy. The usual 3 heat settings, one-size-fits-all, and a nicely stretchy cuff, containing the battery pack, completes the overview.
What We Like
These socks are a great length, coming halfway up our calves, and although the battery is secreted into the cuff, they are very comfortable. With the elements positioned in the toe area, they still manage to warm the whole foot to a glowing toastiness, on 3 heating modes. The battery life extends from 4 hours on the hottest setting, up to a reasonable 10 hours, and the whole lot can be hand washed.
What Needs Improving
Although one-size-fits-all the cuff could be a little tight on people with larger calves, but they do stretch slightly with wear.
The Final Verdict
Coming in at a comfortable length, these socks are great for anyone who has to be outdoors in the coldest weather. Efficiently warming, cozy to wear, and a budget-friendly price - what's not to like?
---
5) Rechargeable Battery Heated Socks – Unisex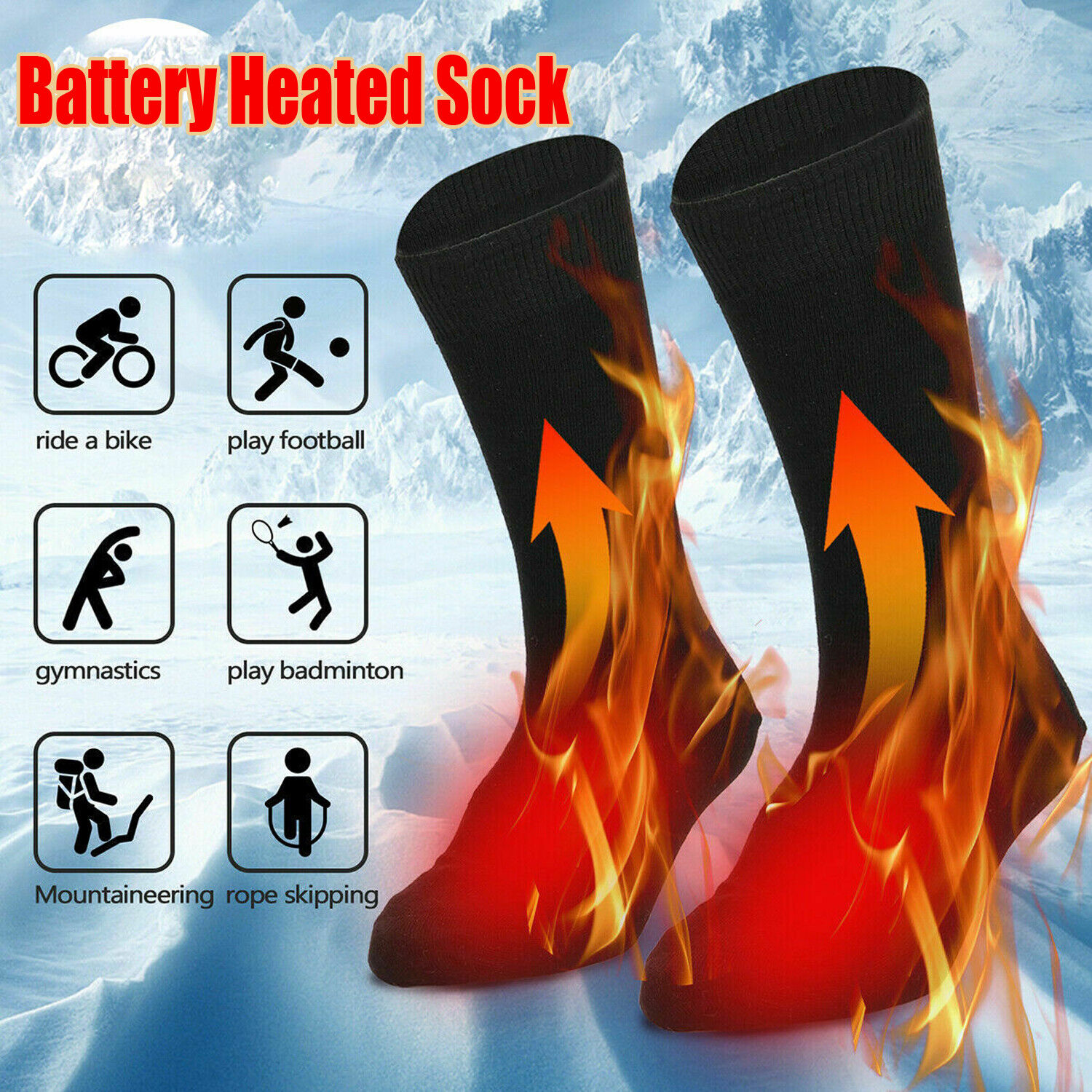 Overview
With a larger than average heated area, these high-quality socks extend to mid-calf, and with the battery pack nicely tucked away in a cuff pouch, and 3 heat settings, we're liking these. Throw in the almost 15 hours battery life and wow!
What We Like
Long length, comfortable and with an extra large heated area providing up to 15 hours – yes, you did read that right, of gorgeously cozy warmth. The highest heat setting will drain the power much faster, but we found that even the lowest temperature was plenty warm enough.
What Needs Improving
It's a shame these are hand wash, but you can't have it all!
The Final Verdict
Providing an excellent 15 hours of battery power, this well-made calf-length sock, with 3 efficient heat modes, is a must-have for outdoor - and if you suffer from painful joints, indoor wear. We love them!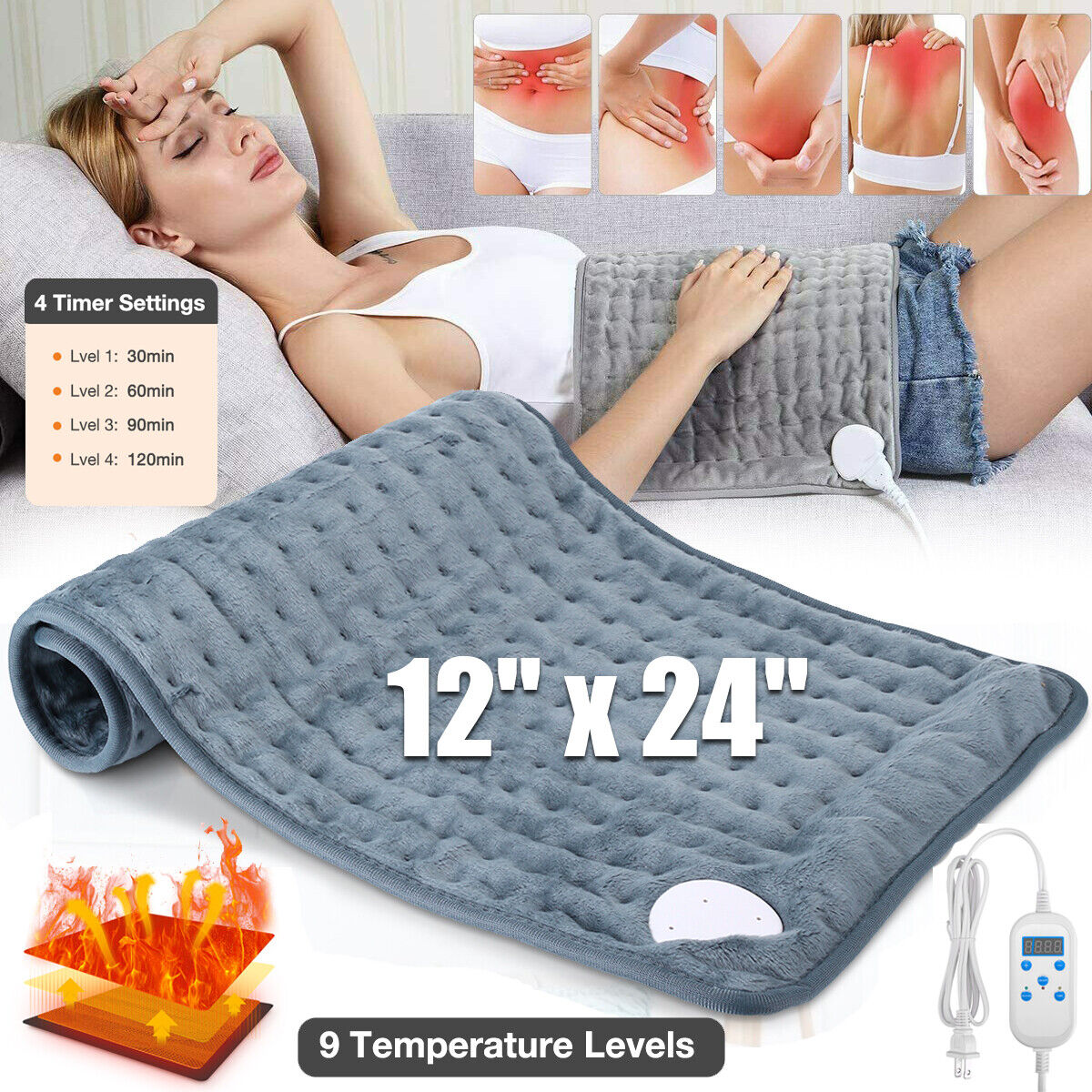 $

22.89
check latest price
as of September 28, 2023 3:15 pm
1 x Pair of socks. As the socks are elastic, the size is approximate. Safe, specially designed battery pocket. 2 x Battery box (Not include 2 AA batteries). Knit dense, good texture. Color: black. Heating temperature: 50 degrees.