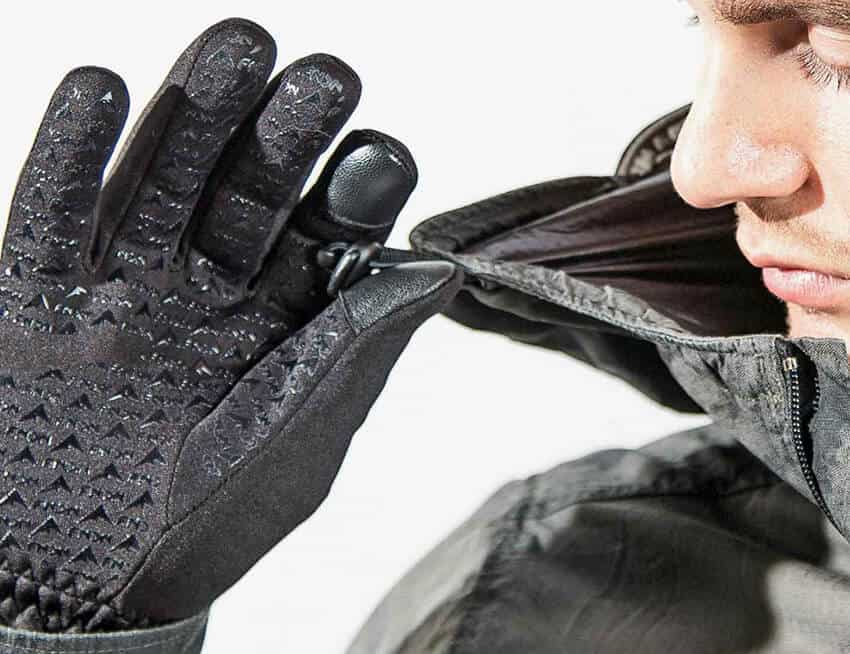 Last Updated on
It Must Be Glove . . . We put the 5 best selling heated gloves  through their paces!
Heated gloves are brilliant – keeping hands warm and hiding cold-chapped fingers.
The majority are battery powered, with some pairs being rechargeable.
When choosing heated gloves, you need to ensure that you can do whatever you want to do, even when fully gloved up.
Overview
Initially I was disappointed to find that these gloves didn't posses the x-ray vision that seemed to be suggested by the sales promotion. However I was impressed with the temperature controlled colored light, instructing me that my hands would be 'red' hot.
Features
100%fabric cotton lining
Breathable and Waterproof: Four Layers Special Design: Waterproof Coating Fabric + Extra Heavy Cotton + Invisibility Heat Chip + Reinforced PU leather.80% cotton+20%sponge Upgraded Lining
Large Heating Area: Mainly Heat Palm, Back of Hands, Small Part of Fingers. Large Heating Area Provide Hands with Enough Warm for Indoor Outdoor Sports Activities. Especially Good for People with Chronically Cold Hands to Spend Long Cold Winter Days!
Adjustable Temperature: Powered with Rechargeable 7.4V Li-ion Batteries, the temperature Can up to 150 Fahrenheit with the highest setting. Customized with 3 Heating Levels for Different Peoples' Needs—Red/Green/Blue This Kind of Heated Gloves can Not Only Offer Cosy Temperature with Long Lasting Using Hours, but Also Better Griping Experience.
Pros
The temperature in these gloves is adjustable; this, along with a large heating area means that these gloves get my vote. The glowing x-ray vision thing would've been extra cool though.
Cons
After a couple of wears I noticed that, although still very secure, a thread was coming loose on the left glove. It isn't an issue, and certainly wouldn't put me off buying any more.
Final Verdict
I have contacted Autocastle regarding the possibility of making a glowing x-ray pair of these gloves. However, disappointingly they haven't responded – yet. I like these gloves anyway, so x-ray or not, I'll wear them.
---
Overview
Okay, so these might not have x-ray vision, but according to the sales pitch, my hand will glow with all the power of a nuclear reactor on full throttle. Right, okay then, Geiger counters ready?
Features
Feel Warm and Comfortable: with the battery heated hand warming gloves that are best in hand warmers. Indulge yourself in luxurious heated plush comfort with these gloves that are better than mittens or other hand warmers. These thermal gloves heat up to a warm comfortable temperature for those ultra chilly days or when outdoors skiing, or for other sports events.
No Frozen Fingers: with the battery operated heated gloves you can stay longer outdoors in the snow, doing your favourite activity without feeling your hands cold or icy.
Soft Fleece Inner Liner
Carbon Fibre Heating Element: to keep your hands warm and for hot therapy for your hands.
Battery Operated: The hand warmer heating gloves can be easily turned with one touch by inserting batteries and flipping the ON-OFF switch to ON or OFF. It is recommended to use alkaline batteries. Each Glove Uses 3 "AA" size batteries (not included).
Unisex, suitable for men or women. One size fits most adults
Pros
These heated gloves are great for the price, and the batteries last for ages, as long as you remember to switch them 'off'
Cons
The batteries drain really quickly when you forget to turn them 'off'.
Final Verdict
A good fit, a great price and they keep my hands warm and toasty.
---
Overview
As I pulled these gloves on, they felt soft and supple, fitting like a …..well…..like a glove. They seem well made and I like that the battery pack fits very securely into a Velcro pocket inside the glove.
Features
Materials: The battery operated heated gloves are made of high quality material – faux leather and cotton blended, waterproof and breathable, make hands feel comfortable and warm. Adjustable wrist belt design suitable for men and women, keep wind away.
Instant heat: Rechargeable heated gloves powered by 6 AA batteries (NOT INCLUDED), heat temperature will up to 95-113°F (35-45?), heating elements run to the tips of the fingers, not just in the hand.
Healthy and safe: Winter warm electric gloves promote blood circulation, relieve fingers caused by cold of stiffness, and keep hands warm and cosy!
For many occasions: Electric heating winter gloves perfect for all kinds of outdoor activities like racing, fishing, hiking, skiing, motorcycling, hunting, climbing, running, sledding etc. Enjoy outdoor sports even in a harsh winter!
Size: Total length 11.4 inches, middle finger length 3.9 inches.
Pros
These warmed up very quickly, and kept my hands toasty all day. That, along with the great price, and comfortable fit, put these at the top of my list.
Cons
The only rather small niggle I have with these Perfect Life Ideas gloves is why isn't there heating in the thumb bit? It's not an issue, as I can easily slip my thumb into the palm or another finger to keep it warm.
Final Verdict
Out in the winter, dealing with horses, frozen pipes, and electric fencing, these kept me good and warm, and I could carry out all my tasks without removing them once!
---
Overview
Volt have made a fantastic addition to the shelves of heated gloves. Although they appear expensive at first glance, look again.
Features
Textile, Leather
Imported
Pre Curved Gloves
Rechargeable
Heats back and palm
Pros
I thought, being 'pre curved', that these gloves might feel rigid and tough, but no, not at all. I can do everything in them, from nailing fence struts, to clipping dog harnesses on with great feeling and sensitivity.
There isn't a part of my hand that the warmth doesn't reach either; from above my wrists to my fingertips, the temperature is soothing and comfortable.
Cons
According to the instructions, your Volts have to be charged every few months, whether you are using them or not. So, over the summer, you need to set that reminder to recharge these bad boys.
Final Verdict
Although the price of these could be off putting, the quality, length of battery life, and comfort makes them, in my opinion, worth the money.
---
Overview
On unpacking the Savior Heated Gloves, I thought that, for a similar price, the Volt gloves were better. However, apart from one thing, they are very similar in quality.
Features
External layer: leather
Three gear heats quickly and you can feel the temperature in 30 seconds
Including 2 7.4/2000 MA Lithium batteries, the battery lasts 2.5-4 hours
Velvet lining: put on the most comfortable feeling for your hands
Pros
Although I have small hands, these fitted perfectly, and reach a nice length up my wrist. They are supple and I find picking up even the tiniest things easy.
The tough outer fabric isn't going to get damaged by any outdoor work, and they would be excellent for biking, skiing, or mountaineering.
Cons
The batteries could last longer; at up to 4 hours, they are one of the shortest charges I've found, and this is where, I feel, that the Volt gloves win.
Final Verdict
I like these gloves; they fit perfectly and keep every part of my hand and wrist warm. I just wish that the batteries lasted longer.
---
If you liked this page then check out some of our other cherry picked recommendations!