If you're not particularly keen on having freezing hands, gloves are an essential part of your winter wardrobe. However, most of us like to use our smartphones on the go, and there are still people to contact and tasks to finish when we're out and about in the cold weather – a difficult task that usually ends up in trading warmth and comfort for functionality. However, you no longer need to make this tradeoff by simply getting yourself a pair of touchscreen gloves. The reason they work on touchscreens is because of extra stitching, either on the fingers or the entire glove, using conductive fabric.
There are several things to consider while choosing the best touchscreen gloves to fit your needs, so here's our list of the pros and cons of the best-selling ones.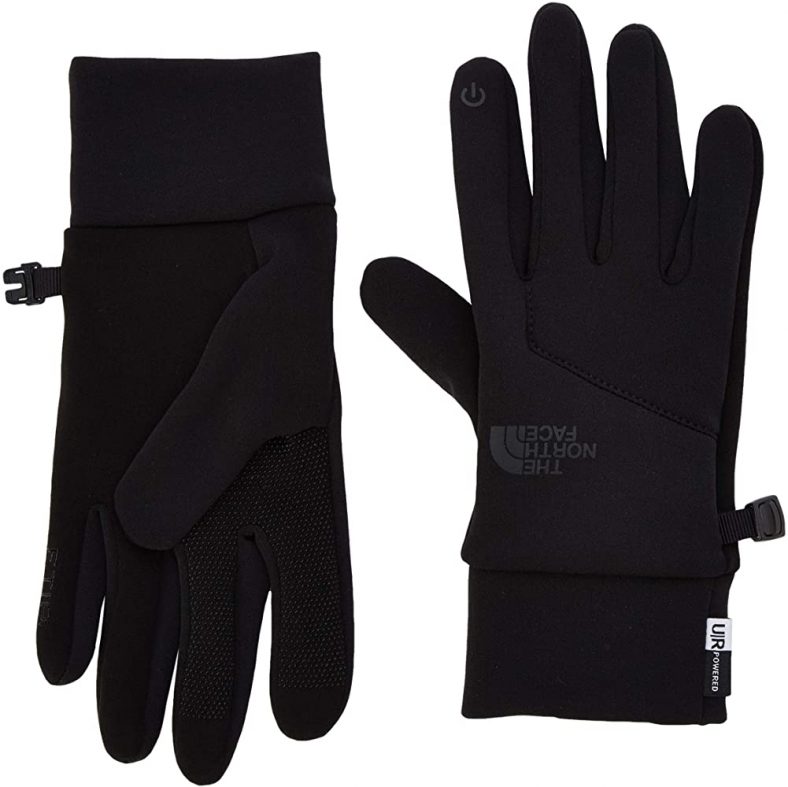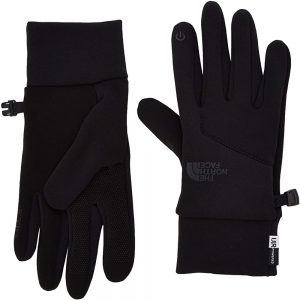 Overview
These gloves come with conductive fabric that works on touchscreens on the thumb and index finger of each glove. The conductive fabric is actually silver fiber, an innovative technology by The North Face, and is interwoven into the fingertips of the glove. The gloves are made out of stretchy nylon, making them a snug and comfortable fit for your hands.
What We Like
Apart from being a snug fit, the fabric on these gloves also contains a grippy textured pattern on the palms and fingers. This allows for a firmer and more secure-feeling grasp of your smartphone, as well as adds extra insulation. The overall design is fashionable, with a power symbol depicted on the index finger to represent their touchscreen-friendly function. An additional perk is that they come in various sizes, so you can be sure to find your best fit. They also work on both capacitive and resistive touchscreens, including smartphones, trackpads and others.
What Needs Improving
While these gloves do provide warmth, they are not made for extremely cold and windy weather. We find that it is best to use them on your daily commutes and occasional walks.
The Final Verdict
These gloves are perfect for everyday driving or commuting for those average and mild winter days.
---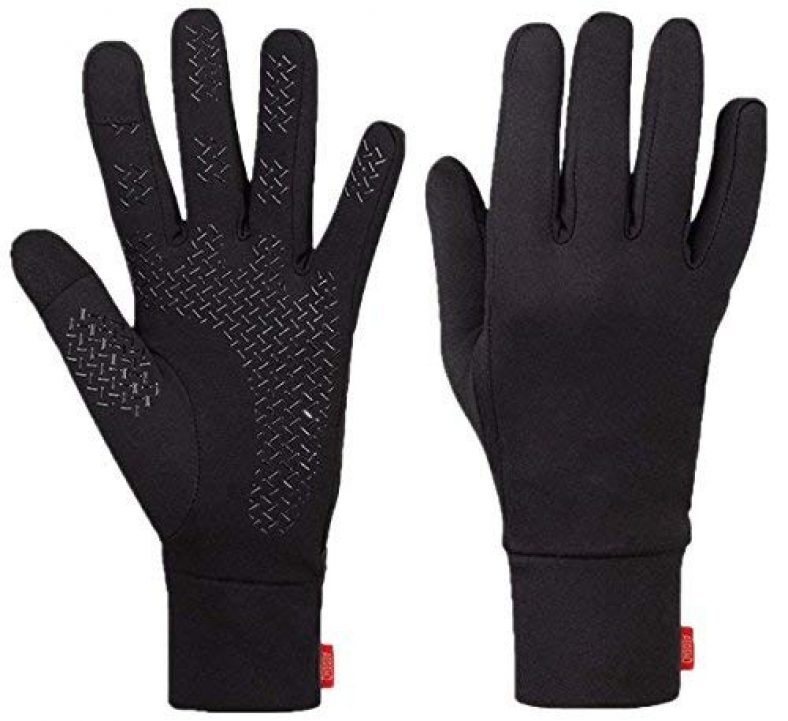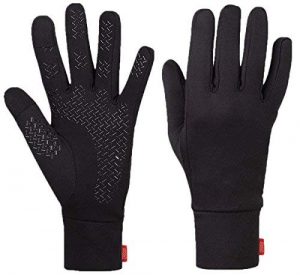 Overview
The touchscreen capacity on these gloves is concentrated in the thumb and index finger of the glove. They are made of polyester and spandex, which makes them stretchy and a tight fit. Anti-slip silicone is featured on the palms and inner fingers to provide a secure hold of your devices.
What We Like
The gloves look very good on the hands and are warm enough to be worn on their own, but also small enough to be used as glove liners – a pair of gloves under your big padded ski gloves or other types of bulky gloves. The material is breathable and quite durable, so you can wear them for any winter activity, such as hiking, skiing, cycling, etc.
What Needs Improving
As the name suggests itself, these gloves are "lightweight", which means they do not provide too much warmth on their own during very cold days, although they are a good choice for milder cold weather. Furthermore, the sizing seems to be a bit off due to the stretchy material, so make sure you choose a smaller than normal size for yourself.
The Final Verdict
Choose these gloves if you are an outdoorsy winter person who either lives in climates with mild winters, or needs to use a top pair of gloves for sports activities such as skiing.
---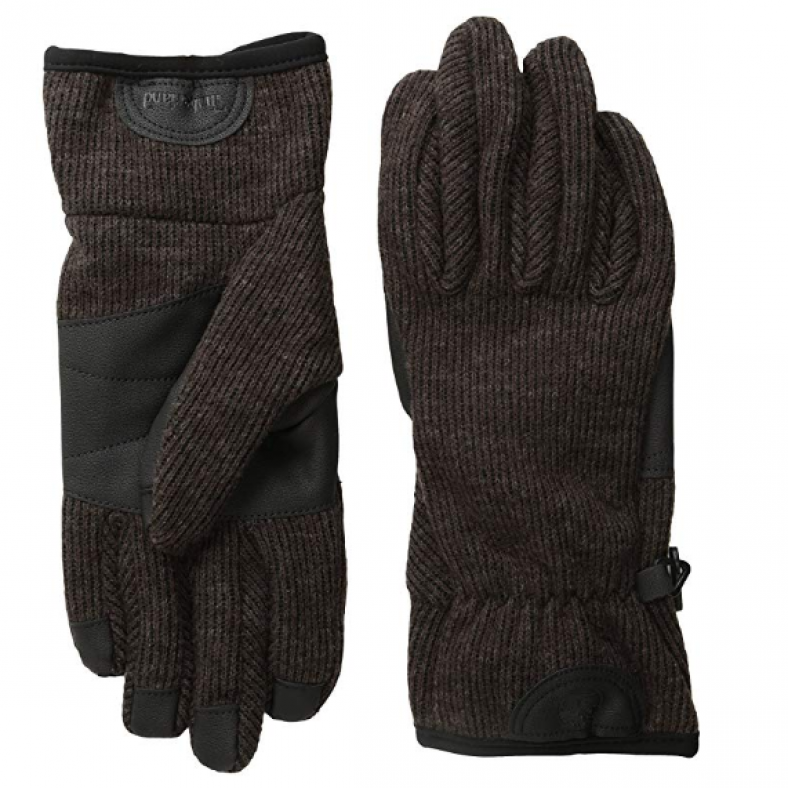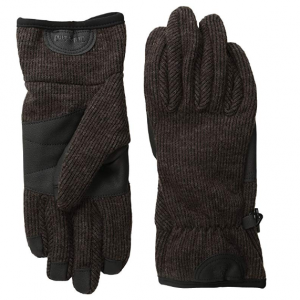 Overview
The Timberland's version of touchscreen gloves come with wool, polyester and nylon – a great combination of materials for both warmth and a snug fit for your hands. Again, the fingers and palm of the glove have patches of reinforced material for extra grip.
What We Like
As opposed to most other touchscreen gloves, these come with touchscreen capacity on every fingertip. The accuracy of the touchscreen capacity is very reliable, allowing you to use these gloves for more than just an occasional short message or answering calls. The fabric makes these gloves more durable than most other touchscreen gloves.
What Needs Improving
The seams on the inside of the fingers are a bit too reinforced which slightly restricts movement. As with most other gloves, these are also not made for extreme cold weather.
The Final Verdict
These are a nice pair of popular brand gloves for everyday use that will last you longer than a few seasons.
---
While touchscreen gloves are a great way to have an extra layer on your hands while using your gadgets, there are also other options to explore to keep warm – such as heated gloves and heated scarves.