Cozy and Therapeutic

Heated wearables are a wonderful invention, and essential to battling the chill in the colder months. In fact, the best heated gloves and heated scarves have been proven to alleviate the symptoms of long-term conditions such as arthritis. That's not to mention their practicality for anyone who loves the great outdoors and sports ranging from skiing to motorcycling. Combine these with a matching heated jacket, heated socks and heated pants – and you never have to be afraid of the harshest of winters ever again!
Heating methods include batteries, a blast in the microwave or even a pouch that when shaken, starts a chemical reaction, warming the surrounding area which, while sounding scary, is actually a bit fun as well as incredibly practical.
With so many variations of heated neck warmers out there, which ones are worth it?
We've selected our Top 3 Heated Scarves on sale this year:
---
Overview
The good news: This handy neck warmer doesn't need clunky batteries. It's USB powered so plug it in and you'll be ready to go.
Not only is this soft scarf a useful for days out in the snow, it can also have a therapeutic effect to help with neck and shoulder aches.
What We Like

This heated scarf is made with good quality materials so feels luxurious against the skin. It retains the warmth perfectly well and can be used inside and outside, to fight off the cold, and eliminate aches and pains.
What Needs Improving
Next time, Alibuy, can you include a powerbank, please. However, as these are inexpensive and readily available, this is far from being a deal breaker.
The Final Verdict
These are going to make great gifts for all our friends and family - everyone will love them.
USB Electric Heating Scarf Heated Wraps Pad for Female Girls Neck Cervical Vertebra Warmers (Brown)
out of stock
as of July 28, 2021 12:13 pm
---
Overview
This heated scarf from SunnyBay feels soft and beautifully fleecy. It's well made with decently sized and is great for children and adults. It is basically a scarf and a heating pad.
What We Like
We love how soft and comfortable the fleece material is, ensuring that this scarf not only looks good, but keeps you warm too. The size is suitable for either wrapping around your neck, but also for folding and placing on any other part of your body that benefits from warmth – such as those with back pain or cold extremities.
What Needs Improving
It's a shame that it only comes in one color – we would love to see this in bright vibrant shades. But other than that, it's great.
The Final Verdict
If you suffer from the cold, or even arthritis, this scarf helps to ease the symptoms, keeping muscles and joints warm and mobile.
Sunny Bay Extra Long and Wide Neck Heating Wrap, Heat Therapy Pad for Sore Neck & Shoulder Muscle Pain Relief - Thermal, Personal, Reusable, Non Electric, Hot Pack Pads or Cold Compress, Blue
2 new from $24.99
Free shipping
as of July 28, 2021 12:13 pm
---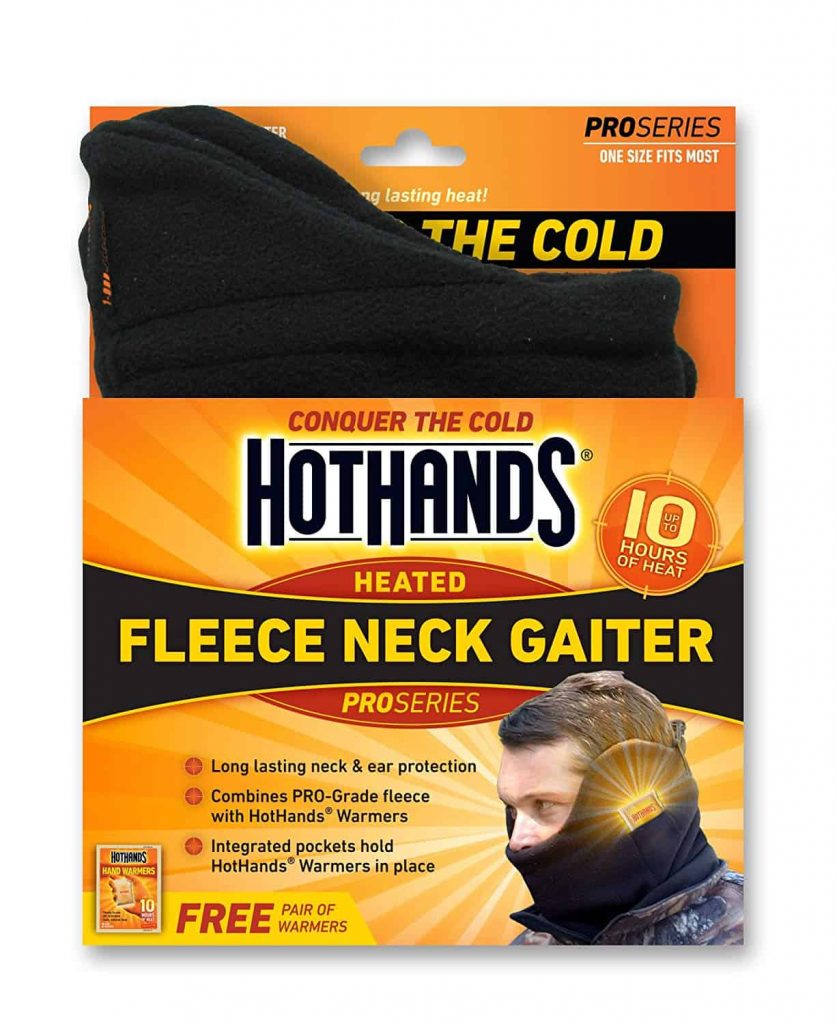 Overview
This fleece gator has an integrated pocket for the HotHands warmers to slip into. These little warmers work like magic – one shake of the pouch and they start heating up and they're reusable!
What We Like

This is comfortable and well made, retains its heat for several hours, and comes in a choice of colors. It's one of those things that promises and delivers on that promise every single time!
What Needs Improving

The gator is a little large, but it doesn't affect the warmth or coziness of the scarf.
The Final Verdict
HotHands have made a brilliant neck warmer that does exactly what it's meant to at a knock down price. Bargain.
HotHands Heated Fleece Neck Gaiter
9 new from $14.99
4 used from $13.55
Free shipping
as of July 28, 2021 8:10 am
---
How do heated scarves work?
Heated scarves either use an integrated battery powered heating element or has a pouch to hold a hand warmer.
Do Heated scarves have controllable temperatures?
Yes, most heated scarves have several temperature options, allowing you to personalize your levels of warmth
Are heated scarves good for arthritis?
Heated scarves are great if you suffer from arthritis as the warmth can help to soothe sore joints.
---
Check out some of our other recommended articles at The Gadget Nerds: